If you're looking for a rowing machine for home use, then you've come to the right place. The Incline Fit Water Rowing Machine with an LCD monitor offers a real-life rowing experience, as it simulates actual outdoor rowing. You will now be able to enjoy that in your own home.
Build muscle, burn fat, and tone your body by engaging your whole body naturally, with a low-impact motion. Whether if you're an avid rower or someone just looking to improve their fitness, this machine is a must to add to your home gym.
Its ergonomic design, from the placement of the footpads and straps to the seat cushion's firmness. The Incline Fit rowing machine makes sure you feel comfortable as you work to be your best. It's for people of various fitness levels, from beginners to rowing experts. Namely, to utilize the rower to help themselves accomplish their health goals through a safe and low-impact exercise.
The included LCD monitor keeps track of essential statistics during your workout like Strokes Per Minute (SPM), Time, Distance, and Average Calories Burnt per hour. With every stroke, you are engaging in a full-body workout and activating your major muscle groups. As a result, you'll reap the benefits of both muscle building and cardio-respiratory activity.
Learn more in my complete review below!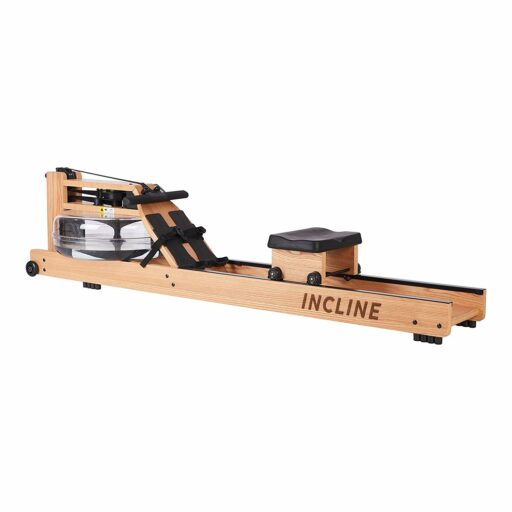 Product: Incline Fit Water Rowing Machine
Price: For a great deal on this rower, merely go here on Amazon
Warranty: 1 year limited
My rating: 9/10
Affiliate Disclosure: As an Amazon Affiliate Program participant, I earn commissions on purchases made through links in this post. Full disclosure
Details and Specifications
Assembled dimensions: 84.2″L x 22″W x 21.3″H inches (214L x 56W x 54H cm)
Assembled weight: 53 lbs (24 kg)
Supported weight: 275 lbs (125 kg)
Frame: Oakwood
Footrests: Size-adjustable, with straps
Resistance type: Water
LCD monitor:
Warranty: 1 year limited
Incline Fit Frame construction
Most of the rower's frame is oak wood, oiled for extra protection, and has a glossy varnish for a more aesthetic aspect. However, the framework also integrates several metallic and ABS parts.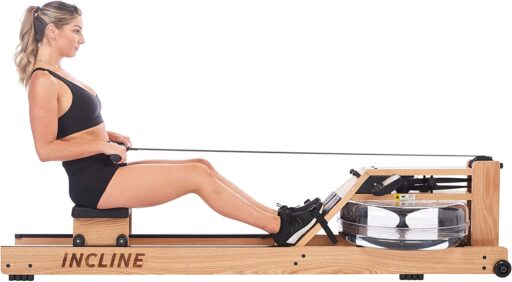 It is essential to note that the rails' extrusions (the top covers) on which the seat glides are PVC material. This results in a smoother and quieter flight for the seat.
The fully assembled unit is relatively large. It is approximately 84″ (214 cm) long and 22″ (56 cm) wide. The rails offer plenty of travel room for the seat, so the rower can accommodate users up to 6'5″ (196 cm) with no problem, allowing a complete leg extension.
Considering its size, this rower requires a usage area of at least 110″ x 60″ (280 x 152 cm). Therefore, it may not fit well in a small room or apartment. The unit's frame does not fold but can be stored vertically. When stored in a vertical position, its footprint becomes approx. 22″ x 21″ (56 x 54 cm). Also, the water can remain in the tank when the unit is stored vertically; this is advisable as it will provide more stability.
The machine is relatively sturdy. It has a maximum user weight capacity of 275 lbs (125 kg). So, as long as you don't exceed this weight, both the seat, the rails, and their extrusions should support you with no problem.
The base stabilizers are non-adjustable. The unit rests on four large rubberized "feet," which provide protection for the floor and a bit of extra elevation. In terms of weight, the machine isn't weighty. Without water in the tank, it weighs approx — 53 lbs (24 kg). The two small wheels at the front facilitate its relocation.
Seat and other parts
The Incline Fit Oak water rower comes with a seat designed for optimal comfort. Its base is the same oak wood as the rest of the frame. Its top cushion is large enough to provide a comfortable contact. It is approximately 12″ (30.4 cm) wide and 8.5″ (21.5 cm) deep. It integrates a layer of foam material contoured for better positioning, while its upholstery is a durable vinyl material.
The seat features two sets of wheels, two on each side. They are attached to two metallic rods that go through the seat frame's side wooden panels, improving its structural sturdiness. In addition, the wheels integrate stainless steel ball bearings as well as a set of stoppers for each. This provides a smooth glide on the machine's tracks.
The machine's rails are completely horizontal, so the seat provides a neutral, optimal movement. Other rowers have a slightly inclined track, so the recovery motion is a bit faster. Also, in case you're wondering, the top of the seat stands at approx. 18″ (45 cm) above floor level.
The footrests of the Incline Fit water resistance rower are heavy-duty PVC material. They are large enough to accommodate athletic shoes of all sizes. In addition, you can adjust their length. They also feature straps and heel guards, and you can correctly secure your feet on them.
However, you cannot adjust the footrests' angle. This is because both footrests are directly attached to their board, which is an approx — 50 ° angle.
Last but not least, the pulling handle is a short and straight bar. Its grips are ovalized and covered by a layer of rubber foam material for extra comfort. It is attached to a heavy-duty, abrasion-resistant nylon strap, which comes with a few advantages.
First of all, it does not require lubrication as a chain drive. Second of all, it produces minimal vibration, even during the most intense workouts. And third, there is very little chance for it to jump off its pulley.
Incline Fit Resistance system
The Incline Fit rower comes with a water resistance system. Its water tank is a durable polycarbonate material featuring clear and transparent walls, and it integrates a 2-blade impeller, which connects to the machine's pulley system. Therefore, when you pull the handle, the impeller spins inside the tank through the water, generating resistance.
Unlike most First Degree Fitness rowers, the Incline Fit machine does not have a resistance dial on the water tank. In other words, if you want to adjust the overall resistance, you either have to add or remove water from the container.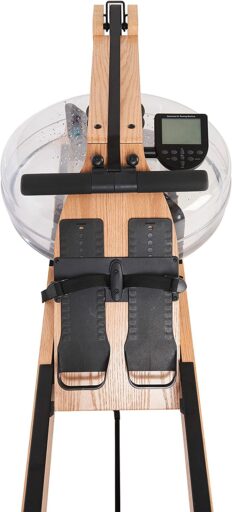 Also, the resistance system does not integrate any magnetic elements, and the included exercise meter does not adjust the resistance automatically.
Similar to other water resistance rowers, the Incline Fit machine provides a dynamic response for each stroke. To put it differently, the harder you pull the handle, the faster the impeller will spin into the tank, and the more resistance the machine will produce.
This leads to a sensation that is similar to rowing a real boat through the water. This is one reason water resistance rowers are for users who want to train on a professional level.
In case you're wondering, the machine isn't too noisy. On the contrary, most users have described the sound generated by the impeller's spinning inside the tank as relaxing.
LCD Monitor
The Incline Fit Oak water resistance rower comes with a fitness console that the average basic unit. To begin with, it has an LCD that can show up to four readings at a time.
It tracks time, distance, strokes per minute, speed (MPH), time/500m, and calories burned per hour.
The unit is battery-powered. It requires two AA batteries, which (are included). It does not have any preset programs but does offer the possibility to set up goals for time, distance, and calories burned.
Incline Fit Assembly and Maintenance
The machine comes in two separate boxes: the two main rails, the other with the water tank, and most other components. The assembly isn't too tricky, though. All you need to do is attach the two side rails, the board with the footrests, the seat, connect the cords, and the exercise meter. This shouldn't take more than an hour. The manual provides all the necessary assembly instructions, and an essential toolkit comes with the machine.
In terms of maintenance, the frame doesn't require any. For the water tank, chlorine pills come with the package. You should add one new tablet every 2-6 months into the water to prevent algae formation.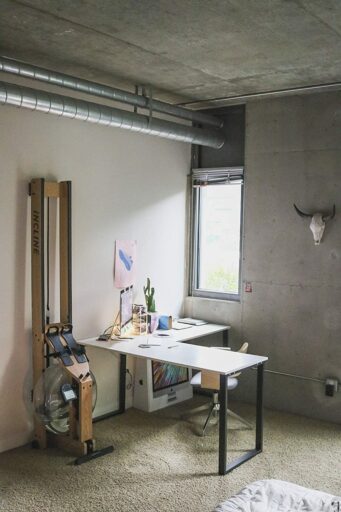 Additionally, wiping off the rails with a cloth before using the machine is advisable. This will remove any small objects such as sand, for example, that may damage the rollers or the rail extrusions.
Pros
Durable frame, capable of supporting users up to 275 lbs;
Aesthetic frame, made of varnished oak wood;
Can be stored vertically to save space;
Easy to handle and transport;
Rubberized stabilizers for extra floor protection;
Water-resistance system, providing the most natural rowing feel that you can get;
Contoured, ergonomically designed seat, with 2″ padding;
LCD monitor included;
Its operation is smooth and quiet;
The rower is for users of all levels;
Little maintenance required;
Easy to assemble.
Cons
The LCD monitor isn't backlit;
It doesn't have a pulse reading function;
The footrest angle isn't adjustable.
Incline Fit Water Rowing Machine Summary
The Incline Fit Oak rower features a water resistance system with a heavy-duty polycarbonate material tank and an ergonomic, aesthetic oak frame. It also includes an LCD monitor that can track the essential workout metrics.
It's a machine for users of all levels, from beginners to professional athletes, for home use or commercial use. It provides a full-body workout, which targets approximately 84% of all muscles. In all, it's a water resistance rower which offers excellent value for the price.
I hope you found this article helpful and informative. If you have anything you'd like to share or opinions about my website, please speak up. I look forward to your comments, questions, and the sharing of ideas.