The Leikefitness 2280 Folding Bike features an advanced folding frame design and multi-seating positions that maximize your use of space while providing a comfortable and effective workout. Exercise the arms, thighs, abdomen, and hips, shake off the unwieldy fat, and eliminate exhaustion and pressure after work.
The Leike 2280 comes equipped with a 12-level manual magnetic resistance system. Therefore, you can customize your exercise intensity to maximize the results. In addition, the two built-in arm resistance bands help exercise your arm muscles and upper body while riding.
The Leikefitness 2280 folding bike has a fitness monitor that tracks time, distance, odometer, speed, calories, and pulse. In addition, the comfortable seat & backrest have thickened cushions, more extensive than regular models.
Save your space even in a small apartment; you can put the Leike 2280 in the corner or under the bed when you are not using it. Furthermore, the folding frame design is easy to move when not used, as its front base has transport wheels.
Learn more in my complete review below!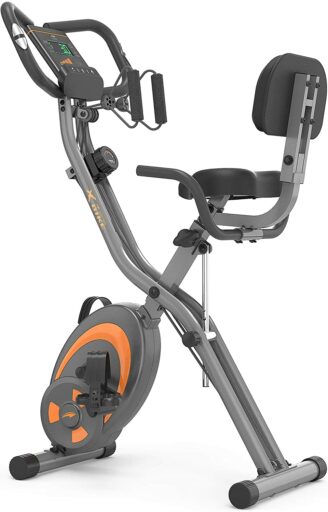 Product: Leikefitness 2280 Folding Bike
Price: For a great deal on this bike, merely go here to Amazon.com
Warranty: 1 year limited
My rating: 8.5/10
Affiliate Disclosure: As an Amazon Affiliate Program participant, I earn commissions on purchases made through links in this post. Full disclosure
Details and Specifications
Assembled dimensions: 32.7L x 15.4W x 53.5H inches (83L x 39W x 136H cm)
Assembled weight: 39.25 lbs (17.8 kg)
Supported weight: 286 lbs (130 kg)
Seat: Adjustable
Resistance: Magnetic, 12 levels
Fitness Monitor: Time, distance, odometer, speed, calories, pulse, goals, scan
Extras: Device holder, elastic cords for arm exercises
Warranty: 1 year limited
Leike 2280 Frame construction and accessories
The Leikefitness 2280 folding bike features an X-type frame with two main sections connecting in the middle. The most significant frame part features two parallel bars and holds the fitness monitor, the front handlebars, and the two elastic cords.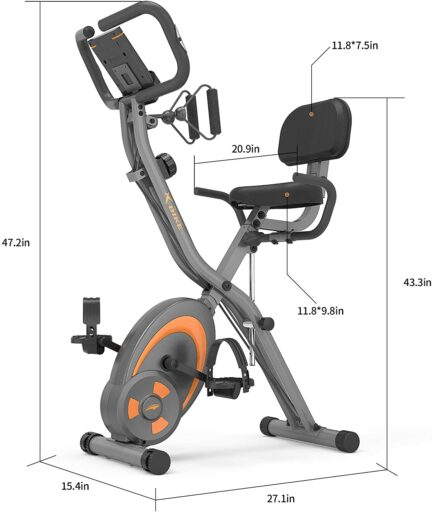 The other frame section is smaller; it serves as a main tube for the seat post and holds the drive and resistance system.
The bike's frame has three positions: recumbent, upright, and folded. With the frame extended in the recumbent position, its length is 32.7″ (83 cm) long and 42.5″ (108 cm) high, while in the upright position, it is 26.7″ (68 cm) long and 47.2″ (120 cm) tall. In its folded positions, its footprint becomes 16.1″L x 15.4″W (41 x 39 cm), while its height gains approx—2″ (5 cm).
The bike is pretty light. Its net weight is only 39.25″ (17.8 kg). Therefore, one person can carry and assemble the bike. Also,  moving is easier once completed as its front base is equipped with transport wheels.
Unlike the Leike X 2200 models, the 2280 model integrates a set of elastic cords, similar to the Exerpeutic 4119. These attach to the main section of the frame and pass over a set of pulleys. They're finished with D-handles featuring thick foam grips for improved contact. In addition, they offer the possibility to perform several arm exercises, like tricep kickbacks, seated rows, bicep curls, and more.
Seat and handlebars
The Leikefitness 2280 folding bike comes equipped with a reasonably decent seat. It is approx. 11.8″ (30 cm) wide and 9.8″ (25 cm) long, so it provides plenty of contact surface. In addition, its top is high-density foam and has contouring for improved comfort.
The backrest is smaller; its size is 11.8″ (30 cm) wide and 7.5″ (19 cm) tall. However, it integrates a thicker cushioning layer than the seat, providing excellent lumbar support.
The seat is two-way adjustable. Its post has several adjustment positions, and the bike comfortably accommodates users between 5'1″ and 6'4″ (155 – 193 cm). It also has a maximum user weight limit of 286 lbs (130 kg), which is not bad for a home-use exercise bike.
Unfortunately, the backrest does not adjust independently from the seat, though. Like other recumbent bikes, it does not have a reclining feature or a vertical slider. However, it can fold forward over the seat to save extra space with the bike folded up.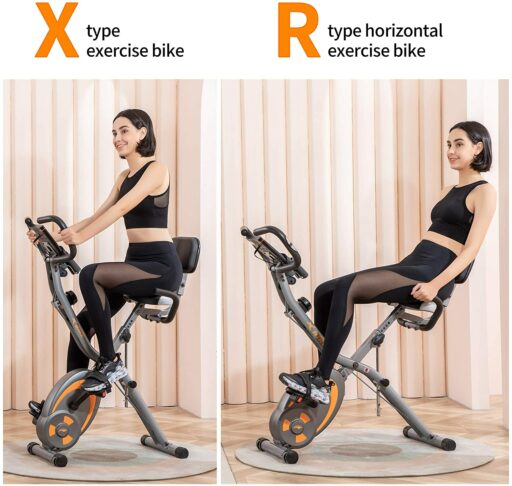 The bike comes equipped with two sets of handlebars. One is attached to the front section of the frame, and the other to the seat.
The front handlebars feature a multi-grip design. They offer the possibility to adopt a climbing grip, an off-road grip, and a standard grip. In addition, they have a thick layer of PVC foam for improved contact. They also integrate HR pulse sensors.
The seat handlebars do not have pulse sensors but have the same PVC foam sleeves for improved comfort and contact. Unfortunately, they offer only one type of grip (parallel), and the distance between them is approx—20.9″ (53 cm). Unfortunately, neither of the handlebars is adjustable.
Leike the 2280 Resistance system
The Leike 2280 bike comes equipped with a manual magnetic resistance system. Therefore, it does not require an external power source, an adapter, or a power cord. But on the other hand, the console does not have pre-set programs like the bikes with eddy current resistance, and it does not adjust the resistance automatically.
The bike's resistance system includes a magnetic brake attached to the tension knob under the fitness monitor. Unfortunately, when you turn the knob clockwise, the magnets move closer to the flywheel, which increases the pedaling difficulty.
Conversely, if you turn the knob to the left, the brake pad moves away from the flywheel, reducing the magnets' pull and decreasing the workout load.
The main advantage of the magnetic brake is that the brake pad does not touch the flywheel. Therefore, the pedaling motion is very smooth and quiet. Also, since the pad does not touch the flywheel, there is no internal wear and tear, and you don't need to lubricate or replace the brake pad.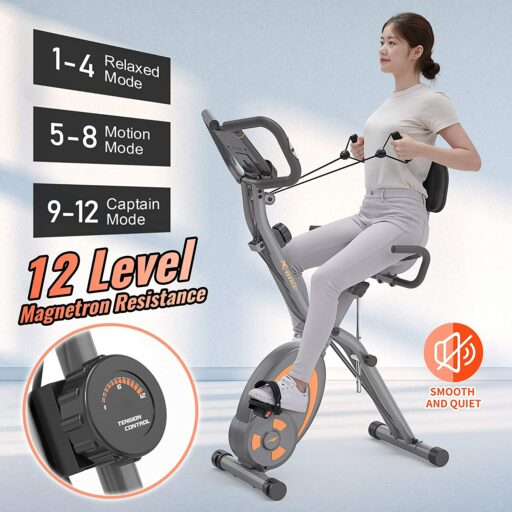 Compared to the Leike 2200 models, 2280 makes available 12 levels of resistance. The first few levels deliver a relatively light pedaling difficulty, great for recovery training or a quick warm-up. Conversely, the 11-12 tension levels provide more resistance, simulating a hill climb.
Drive system
The Leikefitness 2280 folding bike has a small flywheel concealed by large plastic guards. Its exact weight is not specified, but the bike's net weight is only 39.25 lbs (~17 kg), so the flywheel probably doesn't weigh more than 10 lbs (4.5 kg). In addition, it is perimeter-weighted to provide improved inertia.
The flywheel is also bi-directional. Therefore, it allows pedaling in reverse. However, coasting is impossible on this bike because the pedals continue to spin for as long as the flywheel is spinning. Also, when pedaling in reverse, the fitness monitor continues to track your distance traveled, speed, etc.
The bike has a solid crankset featuring flattened arms like road bikes, painted black. The pedals are made of durable thermoplastic material with a metallic base. They have a textured surface and adjustable straps for improved foot stability. It's important to note that the bike is not for spin workouts, and standing on the pedals is not advisable.
This Leike 2280 exercise bike comes equipped with a belt drivetrain. It uses a poly-v belt designed for superior traction and is highly resistant to abrasion and stretching. In addition, this type of transmission comes with several advantages. For example, the belt does not require lubrication. It also generates slightly less vibration than a chain.
Leike 2280 Fitness monitor
The Leikefitness 2280 folding bike has a fitness monitor featuring an LED display that6778 tracks time, speed, distance, total distance (odometer), calories, and pulse. The speed and distance are in MPH and miles.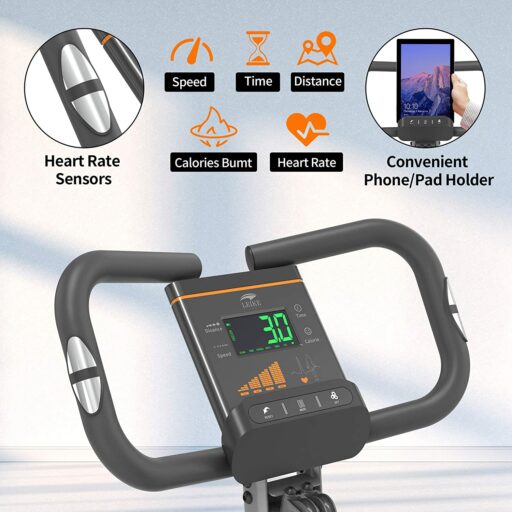 The pulse reading function is hand-grip only. Unfortunately, the monitor cannot track your pulse from a wireless transmitter like an HR chest strap or armband.
The fitness monitor does not have pre-set programs or Bluetooth connectivity. It also isn't compatible with any fitness apps. However, it allows setting workout goals for time, distance, and calories burned.
If, for example, you put a 30-minute time goal, the monitor will count down from 30 minutes until it reaches zero. For instance, this feature can be quite a plus as it helps you keep track of your progress, and you can push your limits with every workout.
The fitness monitor features three buttons: Set, Mode, and Reset. The Set button covers the goal-setting feature. The Mode button allows you to select the workout metric or scan mode you want to view.
In scan mode, the monitor rotates all the metrics showing each one for a few seconds. The Reset button allows you to clear all the values on the display to zero except the odometer.
The fitness monitor is battery-powered. It begins tracking your data when you start pedaling. It also automatically turns off after a short while if it does not detect any activity on the bike. In addition, it integrates a small shelf that can serve as a phone or tablet holder. However, it does not have any connection ports for your device.
Leike 2280 Assembly and Maintenance
The main body of the bike comes pre-assembled. You only have to attach the two base bars, the seat, the handlebars, the fitness monitor, and the pedals. Therefore, it shouldn't take more than 30 minutes of your time. All the necessary tools come with the bike, and the manual provides precise assembly instructions.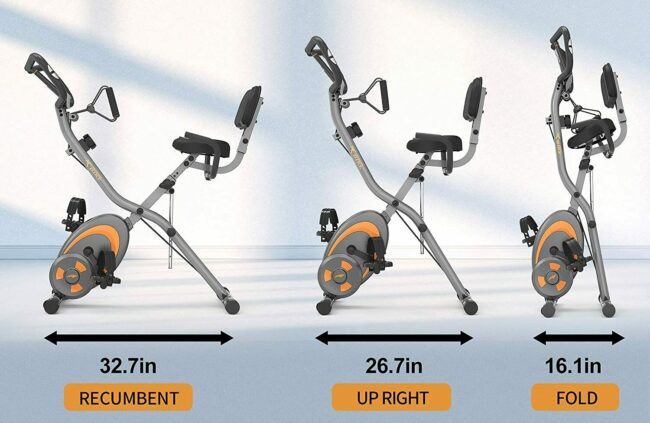 For maintenance, you only have to keep the bike clean, wipe the sweat that may fall onto the frame at the end of the workout, and periodically check for loose bolts and retighten them. The internal parts do not need any lubrication.
Pros
Sturdy construction – can support users up to 286 lbs;
The 3-position frame (recumbent, upright, folded);
Adjustable levelers on the rear base;
Transport wheels on the front base;
Small footprint;
Large and padded seat with foldable backrest;
Can accommodate users between 5'1″ and 6'4″;
Multi-grip front handlebars with pulse sensors;
Seat handlebars included as well;
Durable crankset with weighted pedals;
Smooth and quiet operation;
Frictionless magnetic resistance (12 levels);
Fitness monitor included – it tracks time, distance, total distance, speed, pulse, and calories burned;
Device holder included;
Resistance bands for arm exercises included;
Easy to assemble;
Tools for the assembly included;
Little maintenance is required.
Cons
No bottle holder;
The fitness monitor does not have an RPM reading function.
Leikefitness 2280 Folding Bike Summary
The Leikefitness 2280 is a folding bike made for home use. It features a 3-position X-type frame, a 12-level manual magnetic resistance, resistance bands for arm exercises, and a comfortable adjustable seat.
Furthermore, it also comes equipped with an LED fitness monitor that tracks time, speed, distance, total distance, calories, and pulse. Moreover, it's a bike for low to high-intensity cardio workouts, muscle toning, stamina development, and weight loss.
I hope you found this article helpful and informative. Would you please speak up if you have anything you'd like to share on the topic or any opinions about my website? I look forward to your comments, questions, and the sharing of ideas.
Please remember to consult your physician to determine if you have any medical or physical conditions that could risk your health and safety or prevent you from using the equipment properly. In addition, your physician's advice is essential if you are taking medication that affects your heart rate, blood pressure, or cholesterol level.