The MBH Fitness Water Rowing Machine is durable, affordable, and comfortable. It features an ergonomic seat and heavy-duty frame, making the water rowing machine stable and solid. In addition, the steel mainframe makes the rowing machine extraordinarily sturdy and durable, max weight capacity of up to 330 lbs (150 kg).
The resistance is noticeably challenging, depending on how much water you put in the tank. For instance, it has multiple levels of resistance and a specially designed ball-bearing system that allows for smoother rowing, improving the movement's fluidity.
The MBH Fitness water rowing machine has a large and wide ergonomic seat cushion (1″ L x " W) that fits the hips better and brings you a more comfortable boating experience for an extended workout. The fitness monitor tracks time, 500m/time, strokes per minute, total strokes, calories, and pulse. Connect to the MBH Club app via Bluetooth for tracking workout data in real time.
Learn more in my complete review below!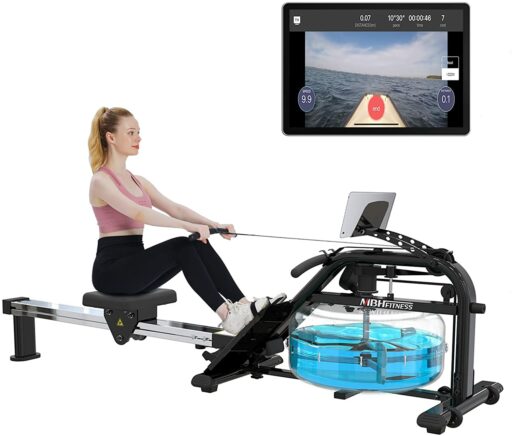 Product: MBH Fitness Water Rowing Machine
Price: For a great deal on this rower, merely go here to Amazon.com
Warranty: 1 year limited
My rating: 8.5/10
Affiliate Disclosure: As an Amazon Affiliate Program participant, I earn commissions on purchases made through links in this post. Full disclosure
Details and Specifications
Assembled dimensions: 79L x 20W x 19H inches (201L x 51W x 48H cm)
Supported weight: 330 lbs (150 kg)
Shipping weight: 77 lbs (35 kg)
Frame: Steel & aluminum
Footrests: Adjustable
Resistance type: Water
Fitness Monitor: Time, 500m/time, strokes per minute, total strokes, calories, pulse, Bluetooth
Extras: Device holder
Warranty: 1 year limited
MBH Frame Construction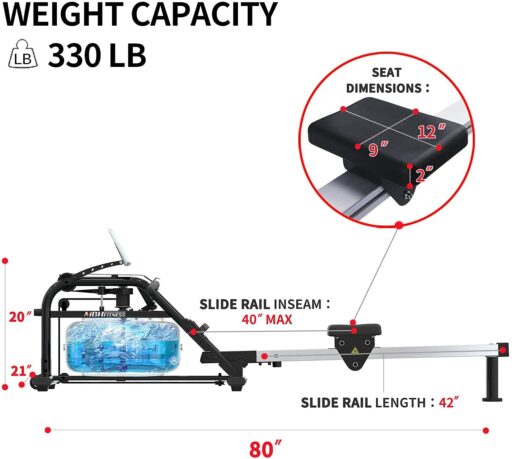 The MBH Fitness water resistance rower combines steel, aluminum, and ABS plastic parts in its construction. The front section of the frame that holds the water tank and the rear stabilizer is steel-made. The rail is aluminum, and the footrests and the tube caps are durable thermoplastic polymers.
The rower is not super extensive. With all the parts assembled, it is approx—79″ (201 cm) long and 20″ (51 cm) wide. The rail is 40″ (102 cm) long, and the machine's maximum applicable inseam is 43″ (109 cm). Therefore, the rower comfortably accommodates users up to6'5″″ (196 cm) with no problem.
The rail of the MBH rower does not fold, such as the Circuit Fitness AMZ-986RW-BT Rowing Machine. However, the unit can store vertically. When stored in a vertical position, its footprint becomes approx. 20″L x 20″W (51 x 51 cm), while its height will reach approx—79″ (201 cm). Therefore, the water can remain inside the tank while the unit stored vertically.
The rower is not too heavy. Its gross weight (while packaged) is approx—77 lbs (35 kg). Therefore, one person can carry and assemble the machine. With water inside the tank, the unit is approx. 35 lbs (16 kg) heavier. However, it has a set of small wheels integrated into its front base, facilitating its relocation if needed.
One last aspect to note here regards the machine's base stabilizers. These are three in number. The two front rests on large rubber feet, while the rear has a flat base.
Seat and other parts
The MBH water rowing machine has a seat designed for optimal comfort. It features a padded top, approximately 12″ (30.4 cm) wide and 7″ (17.7 cm) deep, so it provides plenty of contact surface. In addition, its base frame is steel-made for improved durability. The whole rail and seat assembly have a maximum user weight limit of 330 lbs (150 kg).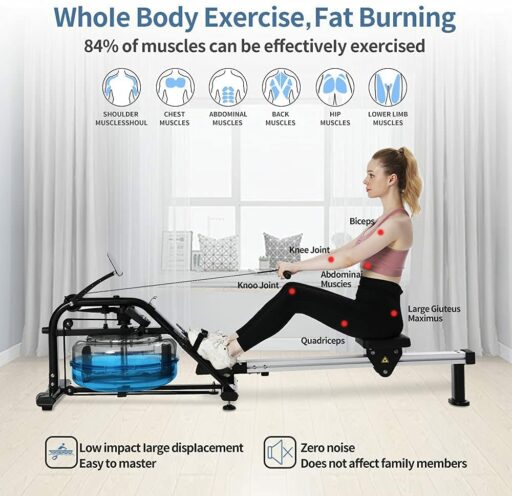 The seat comes equipped with three sets of wheels. Two slide on top of the rail, and the third one slides through the side grooves of the rail for extra stability. All the wheels come equipped with miniature ball bearings for smooth motion.
It's important to note that the machine's rail is not perfectly horizontal. Instead, it slightly inclines by approx. 1-2 degrees. Thus, the seat is somewhat higher when close to the rear of the rail. Its maximum height is approx—10″ (25.4 cm) above the floor level.
The rower comes equipped with an ergonomic handle that curves slightly to reduce the lateral stress on your wrists. It features PVC foam sleeves for improved contact. It connects to a heavy-duty nylon mesh strap attached to the rower's pulley system. Since the machine uses a strap, not a chain, in its drive system, you don't have to worry about its lubrication.
The unit's footrests are size-adjustable and large enough to accommodate athletic shoes of all sizes. They are ABS plastic and feature heel guards and adjustable straps so you can secure your feet on them if needed. Unfortunately, their angle is non-adjustable, though. They are set at an angle of approx.—50  to provide comfortable positioning for your feet.
MBH Resistance system
The MBH Fitness water rowing machine comes with a water tank made from durable polycarbonate material with transparent walls. Its exact capacity is not specified but is similar to other rowers in this price and feature range. Therefore, its volume should be approx. 4 – 4.5 gallons (15 – 17 liters).
The tank does not have a mechanical water level adjustment system. Instead, it has a simple, one-chamber design. Therefore, you must manually remove or add water to the tank with the provided siphon pump to adjust the water level. Consequently, it would be best not to fill the tank past the maximum level marked on its side.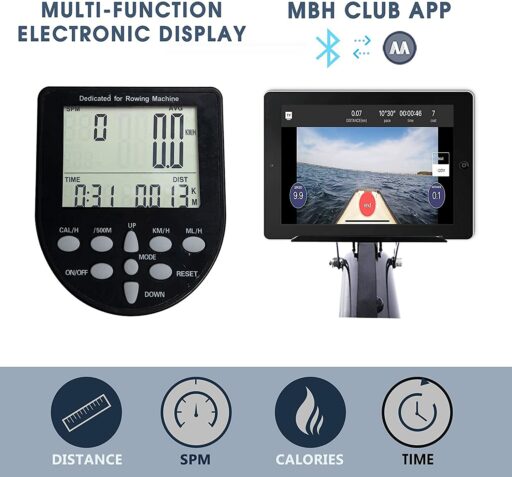 The main resistance generator is a 3-blade impeller incorporated into the tank and connected to the rower's pulley system. Thus, the impeller spins inside the water tank when you pull the handles, generating resistance.
Like other water resistance rowers, the MBH Fitness rower provides a dynamic response during rowing. For example, the resistance depends on how fast you pull the handle (the faster you pull, the more resistance you'll get). Therefore, it is similar to the sensation of rowing an actual boat through the water.
Last but not least, the rower is not too noisy. The impeller's spinning inside the water tank generates a" "woos "noise. However, it is not extremely loud and shouldn't cover the sound of a TV set on a low volume, for example.
Fitness monitor
The MBH fitness water rowing machine has a fitness monitor similar to the one included with the BATTIFE 01 Red Walnut Rowing Machine. It features a large LCD divided into several sub-sections to show multiple workout metrics. It tracks time, time/500m, strokes, strokes per minute (SPM), speed, distance, calories, and pulse.
The speed can either be KM/H or MPH; the distance is in miles or kilometers. The unit has buttons for the quick selection of the desired units. It also has buttons for changing calories to cal/hour and time/500. The pulse reading function requires a wireless chest strap or armband. Unfortunately, this accessory does not come with the machine, though.
The fitness monitor does not have pre-set workout programs. However, it offers the possibility to select goals for your workouts. For example, you can set a 2-mile distance goal, and the monitor will count down from the chosen goal until the distance reaches zero.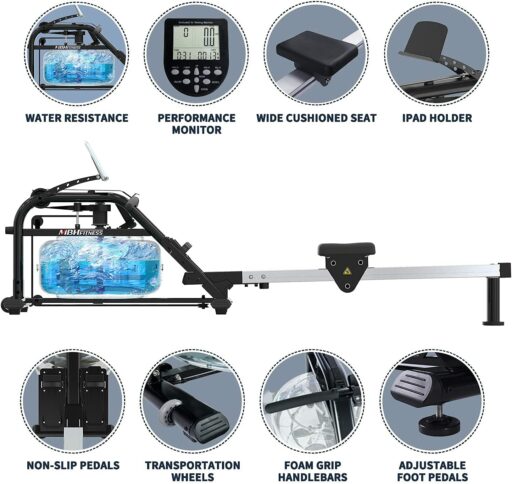 The monitor also has Bluetooth connectivity and is compatible with the MBH Club App. The app is available for both iOS and Android systems. Once you download it on your device, you can sync it with the rower's fitness monitor to benefit from extra features such as a virtual rowing setting, online stats tracking, and more.
The fitness monitor is battery-powered. When it detects flywheel movement, it begins counting your data. It also has a sleep mode which initiates if the monitor does not see any activity on the rower for a few minutes.
MBH Assembly and Maintenance
The water tank comes pre-assembled. Therefore, you only need to attach the rail to the tank unit, the base stabilizers, and the seat. The manual provides clear assembly instructions, and all the necessary assembly tools come with the machine.
For maintenance, it is advisable to change the water in the tank every 3-6 months and treat it with rower chlorine pills. In addition, the machine requires cleaning, especially the rail, so that the seat's wheels don't damage debris or textile fibers. Other than this, it is also advisable to inspect your rower periodically to ensure that all the parts still function correctly.
Pros
Durable construction – can support users up to 330 lbs;
It can store vertically;
Rubberized stabilizers for extra floor protection;
Transport wheels on the front base of the machine;
Long rail (40″) – the unit can accommodate users up to6'5″″;
Water-resistance system for a dynamic response;
Ergonomic seat with a padded and contoured top;
Adjustable footrests;
Fitness monitor included – it tracks time, distance, average speed, calories, strokes, strokes per minute, and pulse;
Bluetooth connectivity and compatibility with the free MBH Club App;
Goal selection function;
Smooth and quiet usage;
All the necessary assembly tools included;
Siphon pump included;
Device holder included;
Dust cover included;
Easy to put together;
Little maintenance is required.
Cons
No backlight on the fitness monitor LCD;
An HR chest strap for pulse reading does not come with the rower.
MBH Fitness Water Rowing Machine Summary
The MBH water resistance rower is a fitness machine made for home use. It comes equipped with a large water tank featuring a 3-blade impeller, a long (40″) rail, a comfortable seat, and a fitness monitor that tracks the essential workout metrics.
In addition, the monitor also has Bluetooth connectivity and is compatible with the MBH Fitness app. Moreover, it's an excellent fitness machine for full-body cardio, muscle toning, and stamina development. It is also one of the most affordable water-resistance rowers available.
I hope you found this article helpful and informative. Would you please speak up if you have anything you'd like to share on the topic or any opinions about my website? I look forward to your comments, questions, and the sharing of ideas.
Please note that you should consult your physician to determine if you have any medical or physical conditions that could risk your health and safety or prevent you from using the equipment properly. In addition, your physician's advice is essential if you are taking medication that affects your heart rate, blood pressure, or cholesterol level.