Reach your fitness goals with the foldable Circuit Fitness AMZ-986RW-BT Rowing Machine, with its 20-pound (9 kg) flywheel that offers 8-levels of resistance for a customizable workout. In addition, this specialized equipment featuring a 20-lb flywheel coupled with magnetic resistance will help increase your cardiovascular endurance.
The ergonomically designed contoured foam seat pad ensures you stay comfortable throughout your entire workout. The foam-covered handles are anti-slip so that you can focus on your exercise. In addition, the adjustable foot pedal straps provide a customizable fit.
The AMZ-986RW-BT allows you to track your workout with the easy-to-read LCD that tracks time, speed, distance, calories burned, RPM settings, date, and temperature. It also has a built-in pulse feature allowing you to pair the rower with any heart rate transmitter belt (sold separately) to monitor your pulse during exercises.
The Circuit Fitness AMZ-986RW-BT Rowing Machine requires minimal floor space thanks to its sleek and uncomplicated frame. The quick-release pin makes it easy to fold up the rower and lock it into position for storing; talk about a space saving-design! In addition, the built-in transport wheels make it easy to move the rower from your living room to your closet for storage when not in use.
Learn more in my complete review below!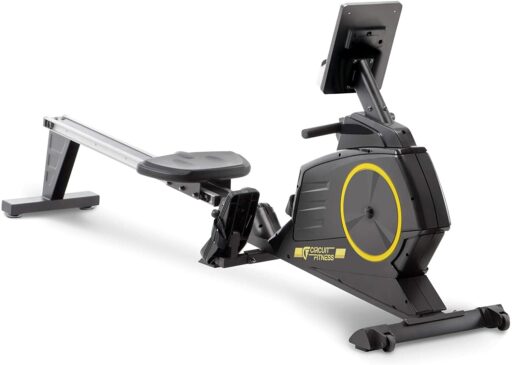 Product: Circuit Fitness AMZ-986RW-BT Rowing Machine
Price: For a great deal on this rower, merely go here to Amazon.com
Warranty: 2 years limited
My rating: is 8/10
Affiliate Disclosure: As an Amazon Affiliate Program participant, I earn commissions on purchases made through links in this post. Full disclosure
Details and Specifications
Assembled dimensions: 91L x 20.5W x 36H inches (231L x 52W x 91.4H cm)
Assembled weight: 93 lbs (42.1 kg)
Flywheel weight: 20 lbs (9 kg)
Weight capacity: 300 lbs (136 kg)
Footrests: Pivoting, with straps
Resistance type: Magnetic, eight levels
Fitness console: Time, count, distance, RPM, calories, goals, Bluetooth
Warranty: 2 years limited
AMZ-986RW-BT Frame Construction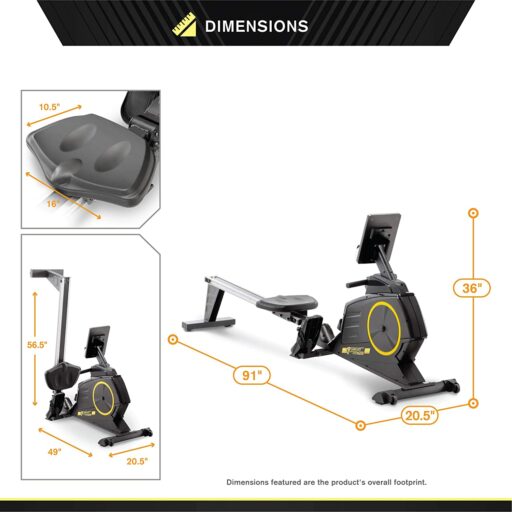 The Circuit Fitness AMZ-986RW-BT rowing machine features a steel frame with side aluminum covers for its main rail and thermoplastic covers for the drive and resistance elements. All the steel parts come coated with a corrosion-resistant paint finish, black. The surfaces of the drive system are also mainly black to match the rest of the rower.
The fully assembled machine is relatively large, especially lengthwise. It is approx. 91″ (231 cm) long and 20.5″ (52 cm) wide, while its highest point is 36″ (91.4 cm). It is advisable to allow at least two feet of clearance on each side and at its rear for easy access and correct usage. The rail is long enough to accommodate users up to 6'5″ (196 cm), allowing a complete leg extension. It has a maximum user weight capacity of up to 300 lbs (136 kg).
The rower is foldable. Its rail with the seat folds up to save some space. With the rail folded up, the machine's length reduces to 49″ (124 cm) while its height reaches 56.5 (143 cm).
The AMZ-986RW-BT rower is relatively heavy. It weighs approximately 93 lbs (42.1 kg) with all the parts assembled. Thus, two people should carry the packaged rowing machine. However, once completed, one person can quickly move the rower.
Its front base stabilizer integrates a set of wheels that facilitate its relocation. Also, the rear stabilizer comes equipped with two adjustable levelers.
Seat and other parts
The Circuit Fitness AMZ-986RW-BT rower comes equipped with a mold-injected seat with a contoured top for improved comfort and breathability. It is also pretty significant, approximately 16″ (40.6 cm) wide and 10.5″ (26.6 cm) deep, so it provides plenty of stability and contact surface.
The base of the seat is steel. It integrates three sets of wheels that slide through the grooves of the rail's aluminum sidetracks. They integrate sealed bearings for a smooth seat motion, while their outer layer is high-density silicone rubber to reduce noise.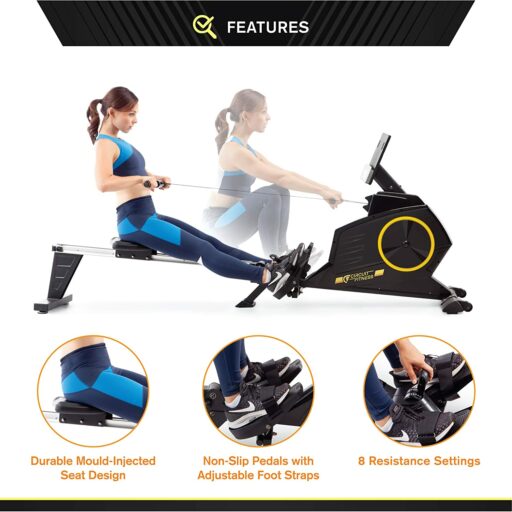 The machine's rail is slanted forward. Therefore, the seat is slightly higher when it's closer to the rear part of the rail. Its highest point is 16″ (40.6 cm) above floor level, and at its lowest point, it is approx. 12″ (30.5 cm) above floor level.
Unlike the older AMZ-986RW rower, the Circuit Fitness AMZ-986RW-BT model features a set of fixed footrests. They do not pivot on their axis. Instead, they sit at an angle of approx. 70°.
Their base plates are steel-made, while their top trays are durable thermoplastic material. They are adjustable and feature heel guards and straps to keep your feet secured.
The rower's pulling handle consists of a simple straight bar with rubber foam grips for maximum comfort. It's attached to a heavy-duty nylon mesh strap, providing a smooth operation. The pulling handle does not integrate any controls or pulse sensors. However, the console of the machine does have a pulse reading function.
AMZ-986RW-BT Drive and resistance
The Circuit Fitness AMZ-986RW-BT is a manual magnetic rower. Therefore you don't need an adapter or an external power source. It also means that the resistance elements do not touch, so the usage of the machine generates very little noise, as opposed to air resistance rowers or water resistance rowers.
The machine's resistance system consists of a magnetic brake connected to the tension lever between the two footrests through a steel cable.
If you pull the lever towards you (from the seated position), the brake will move closer to the flywheel, increasing the rowing difficulty. Conversely, if you press the lever forward, the magnets will move away from the flywheel, decreasing the workout load.
The brake has eight tension levels. The first level delivers a relatively low rowing difficulty. Although the 8th level provides distinguishably more resistance, it still doesn't offer a super tough workout load.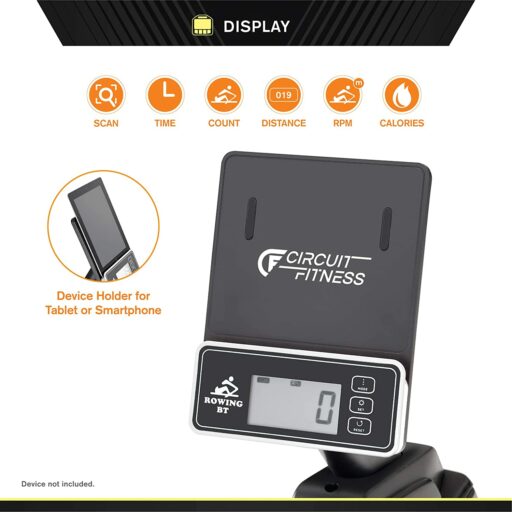 The internal flywheel is perimeter-weighted for improved motion stability. However, it is also reasonably heavy; it weighs 20 lbs (9 kg), while the previous model only weighed 11 lbs (5 kg).
Since it does not have any air or water resistance elements, so it provides a constant rowing difficulty. Thus, the machine does not offer a dynamic response.
Therefore, the rowing difficulty won't increase if you row faster, for example, as is the case with a real boat or a water-resistance rower. Nonetheless, the machine still provides a pretty consistent, full-body workout.
Console
The Circuit Fitness AMZ-986RW-BT includes a fitness monitor with fewer built-in features than the older AMZ-986RW. However, it has Bluetooth connectivity and is compatible with the Kinomap app. In addition, this app can track your workout history and offers various coaching videos, pre-set interval workouts, and more.
The unit itself features a relatively simple construction. An LCD tracks time, distance, RPM, stroke count, and calories burned. The distance is shown in miles and does not have a metric setting. The older model has no split time/500m function.
The unit can also track your pulse, but the machine does not have any sensors, so for it to track your pulse, you will need to wear a wireless HR chest strap that does not come with the rower.
The console does not have pre-set workout programs but goals for time, distance, count, and calories. A goal will count down from the specified value until zero if it is selected. It also has a Scan Mode, which rotates all the workout metrics on display, showing each one for 6 seconds.
The console is straightforward to use. It has three buttons – Mode, Set, and Reset. The Mode button allows you to select the workout metric you want to view on the display or the Scan Mode.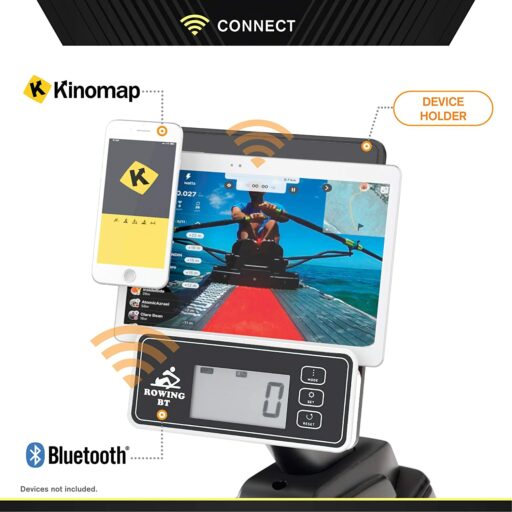 The Set button allows you to choose workout goals, and the Reset button clears all the values on the console to zero. The console is battery-powered and requires 2 AAA batteries that do not come with the rower. It also integrates a device holder.
AMZ-986RW-BT Assembly and Maintenance
The front unit of the rower with the drive and resistance elements comes pre-assembled. However, you still have to assemble the rest of the parts.
Therefore, you will have to connect the rail to the front part of the rower, insert the seat onto the railing, and add the rear stabilizer, the front stabilizer, the footrests, and the fitness console. Therefore, it shouldn't take more than 40 minutes of your time. The manual provides explicit assembly instructions for all the necessary tools with the rower.
It is advisable to keep the machine clean, especially the aluminum tracks, to prevent any damage to the seat wheels for maintenance. The internal parts do not need any lubrication. It's also necessary to periodically check for loose bolts and parts and retighten them as required.
Pros
Sturdy rail rated for a maximum user weight limit of 300 lbs;
Folding frame, space-saving design;
Transport wheels integrated into the front base;
Adjustable stabilizers on the rear base;
Mold-injected, large seat for optimal comfort;
Large, adjustable footrests with rear guards and straps;
Tranquil and smooth magnetic resistance system;
Eight levels of resistance for light to medium workouts;
Fitness console included – it tracks time, distance, count, RPM, and calories burned;
Goal setting for time, distance, count, and calories;
Bluetooth connectivity and compatibility with the Kinomap app;
Device holder included;
Easy to assemble;
Little maintenance is required.
Cons
An HR chest strap for pulse monitoring does not come with the rower;
No pre-set programs;
No time/500m;
The LCD does not have a backlight.
Circuit Fitness AMZ-986RW-BT Rowing Machine Summary
The Circuit Fitness AMZ-986RW-BT is a full-magnetic rower designed for home use. It has an 8-level manual magnetic resistance system, an extra-long rail, a large seat, and a fitness console with Bluetooth connectivity compatible with the Kinomap app.
Moreover, it's a fitness machine that can perform a full-body cardio workout, tone muscles, develop stamina, and lose weight. It's also considerably more affordable than a commercial-grade rower.
I hope you found this article helpful and informative. Would you please speak up if you have anything you'd like to share on the topic or any opinions about my website? I look forward to your comments, questions, and the sharing of ideas.
Please note that you should consult your physician to determine if you have any medical or physical conditions that could risk your health and safety or prevent you from using the equipment properly. In addition, your physician's advice is essential if you are taking medication that affects your heart rate, blood pressure, or cholesterol level.