For an efficient approach to weight loss and toning, the UREVO Foldable Home Treadmill is your perfect companion. It's compact and sturdy with its powder-coated steel frame. In addition, the treadmill allows you to perform essential cardio exercises within the comfort of your home.
Its energy-efficient 2.5 HP peak duty motor produces smooth and seamless operation with 0.5 – 7.5 MPH speeds. In addition, the anti-slip belt and soft-grip handlebar make your session a comfortable and controlled experience. And when finished, fold and store away the compact treadmill easily.
A workout on this UREVO Foldable Home Treadmill is akin to running or brisk walking for approx. 2 miles every day. The treadmill features 12 preset training programs designed to simulate natural terrain. In addition, a user-centric fitness console with an LCD lets you track your time, speed, distance, and calories burned.
Learn more in my complete review below!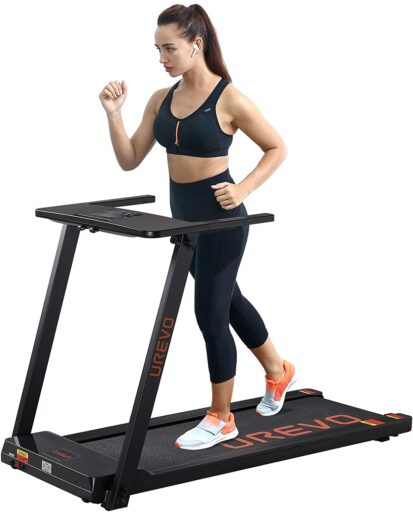 Product: UREVO Foldable Home Treadmill UR9TM0010
Price: For a great deal on this treadmill, merely go here to Amazon.com
Warranty: 1 year limited
My rating: is 8/10
Affiliate Disclosure: As an Amazon Affiliate Program participant, I earn commissions on purchases made through links in this post. Full disclosure
Details and Specifications
Assembled dimensions: 55.2L x 27.8W x 38.2H inches (140L x 71W x 97H cm)
Tread belt dimensions: 45.7L x 16.5W inches (116L x 42W cm)
Shipping weight: 75 lbs (34 kg)
Supported weight: 260 lbs (118 kg)
Motor: 2.5 HP, 0.5 – 7.5 MPH
Incline: No
Console: 12 programs
Extras: Remote control
Warranty: 12 months
UR9TM0010 Frame Construction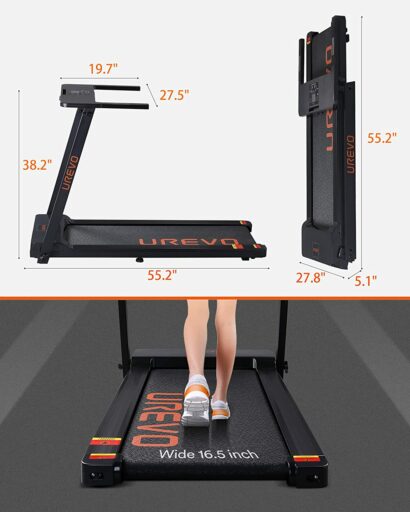 The UREVO UR9TM0010 has a rectangular tubing steel frame like most other treadmills. In addition, all the steel parts come coated with a rust-resistant paint finish. There are two models available, one black and one white. Both offer the same features, and the only difference is the color.
Of course, the treadmill integrates several plastic parts as well. The most notable ones are the covers of the side rails, the motor cover, and the console dashboard. Again, depending on the treadmill version, these are black or white to match the rest of the unit.
The UREVO UR9TM0010 is a home-use treadmill, so it's not super large. With all the parts assembled, it is only 55.2″ (140 cm) long and 27.8″ (71 cm) wide. It is advisable to allow at least 24″ (61 cm) of clearance on each side of the unit and at least 36″ (91.4 cm) at the rear of the deck for ease of access and safe usage.
The UREVO UR9TM0010 treadmill has a folding design. The two side arms with the console fold down over the deck. In its folded position, the machine's height is only 5.1″ (13 cm), so you can store it under a couch or bed if there is at least 5.5″ (14 cm) of clearance underneath it. The treadmill can also hold vertically, leaning against a wall.
Since it's a pretty small treadmill, it's not too heavy. Its net weight is only 75 lbs (34 kg). However, two people should carry the boxed treadmill, but one can unbox and assemble the unit. Also, once completed, it is easily moved by one person as its front base bar comes equipped with two small transport wheels.
Deck Construction
First, the UREVO UR9TM0010 electric treadmill does not have an incline system. Therefore, you cannot adjust the angle of the running platform. However, the unit offers a running surface of 45.7″L x 16.5″W (116L x 42W cm), a little narrower than the URTM003 model, which has a 17.3″ (44 cm) wide belt.
Due to the belt dimensions, the unit comfortably accommodates up to 6'1″ (185 cm) for running and even taller users if they only walk.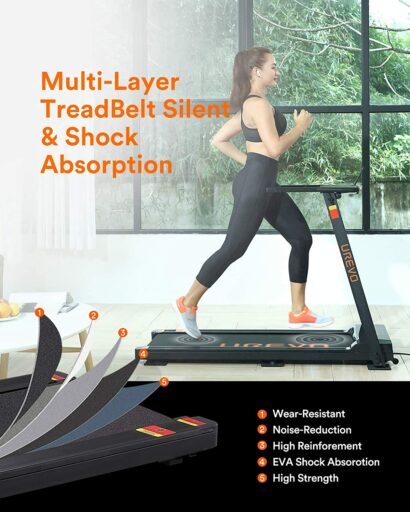 The internal deck board is pretty sturdy for a home-use treadmill. The specified user capacity for this treadmill is 260 lbs (118 kg). Unfortunately, the deck doesn't have any significant, visible cushioning elements. Still, it does integrate several shock absorption pads, so a walk or run on this machine reduces some of the impacts on your joints. Also, the deck board has a bit of flex.
The machine's belt features several layers. The top layer has a textured surface to provide a superior grip for all athletic footwear and minimize the static effect. The internal rollers are not too thick in diameter. However, they have a crowned design to provide better traction for the belt. They also come equipped with high-grade ball bearings for a smooth belt motion.
The running surface step-up height is only approx—4″ (10 cm). Thus, the ceiling height shouldn't be an issue. However, make sure to use this machine in a room with a ceiling at least 5-6 inches (12 – 15 cm) higher than your height or the height of the tallest user.
UR9TM0010 Drive motor
The UREVO UR9TM0010 is a motorized treadmill. It comes with a power cord featuring a standard US 3-prong plug and requires an external 110V power source. The cable is approximately four ft. (122 cm) long. In addition, there is an On/Off switch at the front of the deck.
The machine comes equipped with a 2.5 HP drive motor. Although it's not a super powerful motor, it still supports prolonged usage without overheating or losing performance. It also incorporates a small flywheel for improved motion stability.
The motor offers a reasonably decent speed range of 0.5 – 7.5 MPH. The speed adjustment increments are 0.5 MPH; unfortunately, you cannot manually adjust the speed in 0.1 MPH increments. However, when a program is in use, the machine adjusts the speed in 0.1 MPH increments.
The console only features +/- buttons for gradual speed adjustment. For example, there are no quick selection speed buttons for 3 MPH or 6 MPH, so you cannot quickly select a higher or lower speed; you will always have to hold + or – to reach the desired speed.
The motor itself doesn't generate too much noise. However, depending on your footwear, weight, running technique, and other factors, your cadence may create more or less noise. Nonetheless, the noise generated during the usage of this treadmill shouldn't cover the sound of a TV on a moderate volume setting.
Console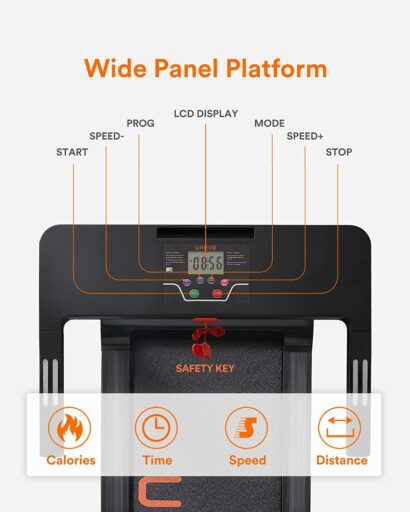 The UREVO UR9TM0010 treadmill comes equipped with a reasonably simple console. It features an LCD with an LED backlight. It tracks time, speed, distance, and calories burned. The speed and distance are in MPH and miles; there is no option for setting them to metric units. Unfortunately, the console does not have a pulse reading function.
The console does not have Bluetooth or online connectivity. It also isn't compatible with any fitness apps. However, it does have 12 built-in programs. Each program has a specific segment layout.
Some programs have an interval layout, others progressively increase and decrease speed, and others focus on helping you burn more calories. When a program is in use, the machine will automatically adjust the speed, and the adjustment increments will be 0.1 MPH, as opposed to 0.5 MPH when adjusting the speed manually.
The console is pretty easy to use. It has +/- buttons for gradual speed adjustment, Start/Stop buttons, a Program button that allows you to select the desired program, and a Mode button that allows you to scroll the workout metrics on display. Unfortunately, the unit only shows three at a time.
The console dashboard has a simple, minimalistic design. There are no bottle holders, speakers, or connection ports for your phone. However, it has a slot above the display to place your phone at hand during the exercise.
UR9TM0010 Assembly and Maintenance
The machine comes almost completely assembled. All you have to do is remove it from the box, unfold the two upright bars and console, and secure them in the usage positions.
The vertical bars joints feature butterfly nuts, so you can quickly tighten/untighten them when you fold/unfold the machine. The included manual offers fairly decent assembly and usage instructions, and all the necessary tools come with the treadmill.
For maintenance, it is advisable to keep the machine clean, especially the belt, to prevent any dirt or textile fibers from being caught in the rollers or the motor. In addition, the belt requires periodic lubrication, and a bottle of lubricant comes with the machine. Straightforward lubrication guidelines are also in the manual.
Pros
Sturdy construction – can support users up to 260 lbs (118 kg);
Folding design and low profile;
Transport wheels at the front base of the machine;
Shock absorption elements integrated into the deck;
Speed settings up to 7.5 MPH;
Low power consumption;
Accessory tray built-in the dashboard;
LED-backlit display;
12 preset workout programs;
Minor assembly is required;
Little maintenance is needed;
Lubricant for the deck included.
Cons
No pulse reading function;
No incline;
Manual speed adjustment increments only 0.5 MPH.
UREVO Foldable Home Treadmill Summary
The UREVO UR9TM0010 is an electric home-use treadmill. It comes equipped with a 2.5 HP motor, offering a speed range between 0.5 – 7.5 MPH, has a folding design, and includes a console with 12 workout programs.
In all, it's a fairly decent machine for light to medium-intensity cardio training, interval training, stamina development, muscle toning, and weight loss.
I hope you found this article helpful and informative. Would you please speak up if you have anything you'd like to share on the topic or any opinions about my website? I look forward to your comments, questions, and the sharing of ideas.
Please note that you should consult your physician to determine if you have any medical or physical conditions that could risk your health and safety or prevent you from using the equipment properly. In addition, your physician's advice is essential if you are taking medication that affects your heart rate, blood pressure, or cholesterol level.