Perform shrugs, squats, deadlifts, biceps curls, and everything in between more efficiently and effectively on the Body-Solid GLGS100 Corner Leverage Machine. The swingarm/press arm station has a large radius to simulate a straight up and down motion.
In addition, the GLGS100 press armbar can be used as a pull-up/chin-up station when the press armbar is at its highest position. An adjustable knee lock-down makes lat pulldowns more accessible than ever, while the low pulley station is perfect for curls and multiple-row exercises.
Works with almost any Flat/Incline/Decline Bench, or add the optional, premium Body-Solid GFID100, Flat / Incline / Decline Bench that can slide in and out, allowing for ease of use and a smooth transition from exercise to exercise. At the same time, attached wheels make transport a breeze. In addition, a stand-alone design allows the bench to be used entirely independently of the gym system.
The Body-Solid GLGS100 Corner Leverage Machine fits comfortably into most home and commercial settings with a revolutionary space-saving design. With an all-new, high-tech/high-gloss anodized red finish, this gym stands out for its performance and looks.
Learn more in my complete review below!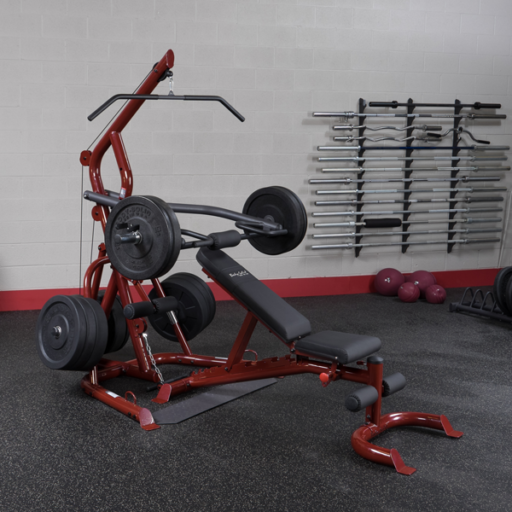 Product: Body-Solid GLGS100 Corner Leverage Machine
Price: For a great deal on this gym, merely go here to Amazon.com
Warranty: In-home Lifetime (see the commercial warranty below)
My rating: 9.25/10
Affiliate Disclosure: As an Amazon Affiliate Program participant, I earn commissions on purchases made through links in this post. Full disclosure
Please note that the Olympic Bumper Weight Plates and Bench shown in the images do not come with the leverage machine and sell separately. 
Details and Specifications
Assembled dimensions: 69L x 67W x 82H inches (175L x 170W x 208H cm)
Assembled weight: 191 lbs (86.6 kg)
Weight limit: 600 lbs (272 kg)
Workout stations: Lat pulldown, press/squat, low pulley
Possible exercises: 40+
Accessories: Lat bar, short bar, revolving cable handle, 2x spring collar
Commercial Warranty: Frame lifetime / Parts 3 years / Wear parts one year
In-home Warranty: Lifetime
GLGS100 Frame Construction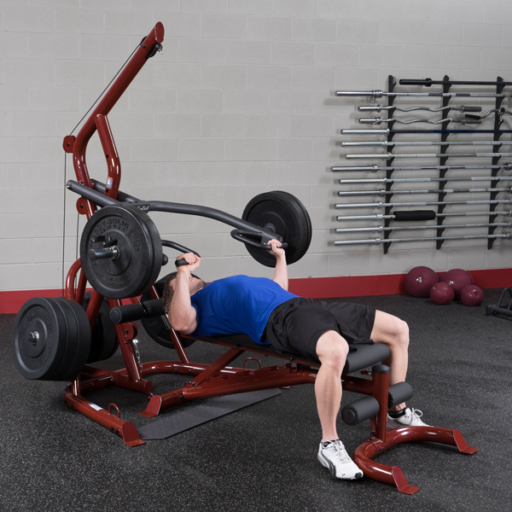 The Body-Solid GLGS100 corner leverage machine features a heavy-duty cylindrical tubing steel frame. The unit's primary body tubes are thicker, and due to their cylindrical structure, they offer more structural strength for the machine than rectangular tubing.
The main body features a high-tech/high-gloss anodized red finish, resistant to corrosion, abrasion, and chipping. The press arm assembly has a dark gray finish, while the plate storage pegs are chrome-plated.
The machine is not super extensive. With all the parts assembled, it is approximately 69″ (175 cm) long and 67″ (170 cm) wide. It is advisable to leave at least 2 feet (61 cm) of clearance on each side and at least 3-4 feet (91 – 122 cm) of clearance at the front to execute all the exercises correctly without any hindrance.
The unit's height is 82″ (208 cm). Thus, it should fit in a room with a 7-foot (213 cm) ceiling. However, it would be a pretty tight fit, and you may be unable to execute all the pull-up exercises correctly.
The machine is also pretty heavy. Its net weight is approximately 191 lbs (86.6 kg). In addition, its base bars are not pre-drilled for anchoring it to the floor, but they should provide excellent stability due to their weight.
However, you can continually improve its stability by loading weight plates on lateral storage pegs. The base bars also have two small rings welded at their front, to which you can attach elastic ropes.
The unit's main upright tube has several adjustment positions for locking the press arm. Therefore, you can have it in a high position for pull-ups or chin-ups, a horizontal position for dips, or a low position for inclined push-ups.
Other parts and accessories
First, the Body-Solid GLGS100 leverage gym system has five large pulleys. They're a durable nylon material with integrated ball bearings.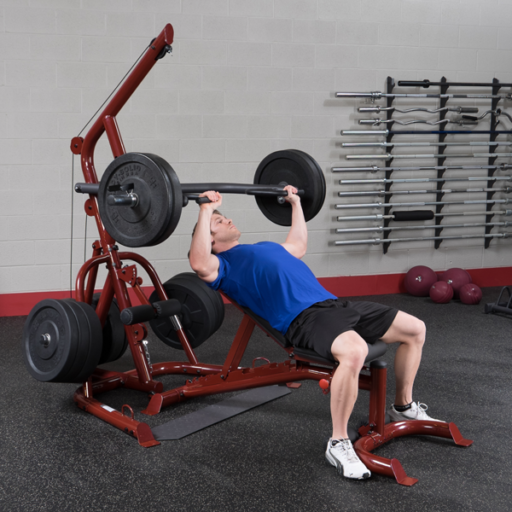 The cables are steel-made, featuring PVC sleeves to prevent the pulleys from scratching. The Aircraft Grade Cables should be able to withstand much more than the specified limit of the machine.
The unit's weight plate storage pegs are 2″ thick, meant for Olympic plates with 2″ holes in diameter. They are not easily removable, but they can be if desired. They are approx. 9.75″ (25 cm) long, so they should fit at least 3-4 heavy plates each.
The press arm handles offer the possibility to adopt three types of grips. First, they weld to the main tube of the press arm for improved sturdiness. In addition, they have PVC foam sleeves for a comfortable and secure grip. Also, a squat bar with a foam cushion comes included; this can attach to the front section of the press arm for improved comfort and control.
Like the Body-Solid G6BR, this machine includes a knee stopper for lat pulldowns with heavy loads. This element is adjustable. Its adjustment plate features five holes. The top hole allows you to lock it horizontally to use it as a support to hold on to when performing one-arm cable exercises.
Regarding accessories, the GLGS100 corner leverage machine has a standard, wide-grip lat bar, a short bar for low rows, a revolving cable handle, and a short extension chain. Two spring collars for fixing plates on the storage pegs also come with the machine.
Unfortunately, the weight plates and bench do not come with this model. However, the Body-Solid GLGS100P4 corner leverage machine comes with a bench included. Unfortunately, it does not have weight plates that sell separately.
GLGS100 Workout Stations
The Body-Solid GLG100 corner leverage machine features three main workout stations. These are:
High-pulley station. The machine's high-pulley station has only one terminal pulley and cable. It connects to the weight carriage at the back of the unit, and you can join the included lat bar or the revolving handle. However, you can also opt for an ab harness or tricep rope for different exercises. The last two accessories (tricep rope and ab harness) do not come with the machine.
Press/squat station. This element is quite versatile. As mentioned, you can lock the press assembly in several positions. If locked in the highest position, you can perform pull-ups. If locked in a median position, you can perform dips. In addition, you can also move it freely and execute exercises such as shrugs, squats, etc. It's important to note that the two arms of the press assembly are connected and cannot move independently.
Low-pulley station. Like the high-pulley station, the low-pulley station connects to the weight carriage at the back of the machine. It offers the possibility to perform low rows, tricep kickbacks, lateral side raises, front arm raises, bicep curls, leg kickbacks, or leg abductions. The last two exercises require an ankle cuff which does not come included.
BODY FOCUS
Adductor/Abductor
Biceps
Bodybuilding
Calves
Circuit Training
Delts
Forearms
General Fitness
Glutes
Hamstrings
Lats
Muscle Endurance
Pectorals
Power Lifting
Quads
Shoulders
Strength Interval Training
Total Body
Traps
Triceps
GLGS100 Possible Exercises
The Body-Solid GLGS100 corner leverage gym machine can execute more than 40+ exercises. The list includes:
Triceps Pushdowns
French Presses
Standing French Presses
Tricep Presses
Tricep Extensions
Bicep Curls
Tricep Kickbacks
Wrist Extensions
Trunk Rotations
Woodchops
Ab Crunches
Oblique Ab Crunches
Standing Wide Angle Lat Rows
Narrow Pulldowns
Seated Lat Rows
Stiff Arm Pulldowns
High Rows
Low Rows
Low Back Extensions
Shoulder Pullovers
Lat Pulldowns
Chest Presses
Pull-ups
Dips
Shrugs
Squats
Deltoid Rows
Shoulder Presses
Shoulder Extensions
Front Shoulder Raises
Scapular Protractions
Scapular Retractions
Leg Kickbacks
Hip Abductions
Hip Adductions
Prone Leg Curls
and more.
You can perform a few variations for most exercises in the list above. Also, some of the exercises listed here will require certain accessories that are not included. For example, seated or horizontal chest presses require a bench, while leg kickbacks require an ankle cuff.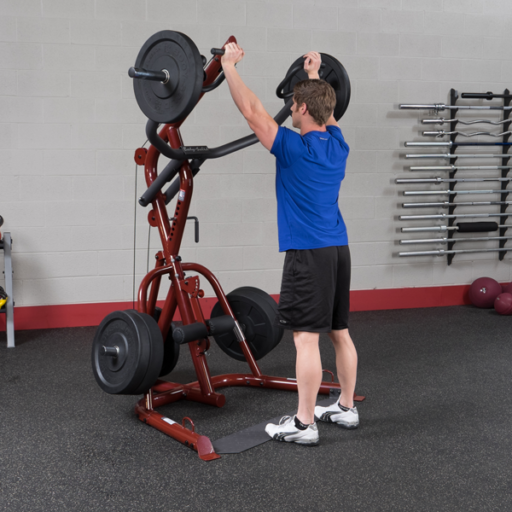 Assembly and Maintenance
The Body-Solid GLG100 leverage machine requires complete user assembly. However, the process is not too complicated; the manual provides clear step-by-step assembly instructions and schematics.
Tools for assembly do not come with the gym. Therefore, you will need a set of wrenches, a Phillips screwdriver, and a rubber mallet. Consequently, the whole task shouldn't take more than two hours of your time.
Once assembled, maintenance doesn't require much. However, the joints of the moving parts may need some lubrication occasionally. Besides this, you only need to keep the machine clean and periodically inspect it to ensure that all the parts still function correctly.
Pros
Commercial quality construction, extremely sturdy frame;
600 lbs weight limit;
Three workout stations, including front press station, lat pulldown station, and low pulley station;
Multiple locking positions for the press arm;
Front base footplate for improved stability;
Angle-adjustable knee stopper element for lat pulldowns with a heavy load;
Heavy-duty pulleys and cables;
9.75″ plate storage pegs for Olympic (2″) plates;
Lat bar included;
Squat bar included;
Revolving handle included;
The short bar for rows included;
Collar springs for securing plates included;
Offers the possibility to perform more than 40+ exercises;
Reasonably easy to set up;
Little maintenance is required;
Excellent warranty.
Cons
Tools for assembly not included;
Ankle cuff not included.
Body-Solid GLGS100 Corner Leverage Machine Summary
The Body-Solid GLGS100 is a commercial-grade leverage gym machine. It features three workout stations: high-pulley, low-pulley, and arms press. The arm press has a locking feature, and the machine integrates a knee stopper. In addition, it also includes a lat bar, a squat bar, a revolving handle, and a short bar for rows.
Moreover, it offers the possibility to perform more than 40+ exercises with different variations. In all, it's a heavy-duty gym machine, great for users of all levels, and comes with an excellent in-home warranty.
I hope you found this article helpful and informative. Would you please speak up if you have anything you'd like to share on the topic or any opinions about my website? I look forward to your comments, questions, and the sharing of ideas.
Please remember to consult your physician to determine if you have any medical or physical conditions that could risk your health and safety or prevent you from using the equipment properly. In addition, your physician's advice is essential if you are taking medication that affects your heart rate, blood pressure, or cholesterol level.