The Merach 526 Elliptical Trainer gives you a gentle and low joint impact yet effective cardio workout for your upper and lower body. It is ideal for your entire family to exercise and improve their health. Everyone could get appropriate and adequate aerobic exercise, from beginners to advanced trainers.
The 526 elliptical comes equipped with a 20-pound (9 kg) smooth magnetic flywheel that supports front and bidirectional rear movement, which exercises the front and back muscles of the body and quickly burns fat. In addition, the flywheel uses super-smooth premium alloy bearings, adopts magnetic control, and does not need a connection to an additional power supply.
The Merach 526 elliptical machine features eight levels of manual magnetic resistance, a scientific 14-inch (35.5 cm) stride, and a maximum weight limit of 350 lbs (159 kg). Using the cross trainer can effectively burn the upper and lower body fat, enhance the endurance and strength of the arm, waist, and leg muscles, and improve cardiopulmonary function.
During your training, the Merach 526 elliptical trainer fitness monitor LCD can display critical exercise data such as pulse, speed, distance, time, and calories burned in real-time to help you adjust your exercise intensity. In addition, there is also a device holder to place a tablet or smartphone on it, which is suitable for watching online videos while training.
Learn more in my complete review below!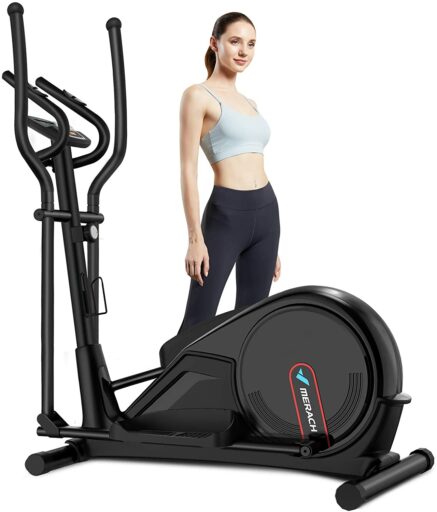 Product: Merach 526 Elliptical Trainer
Price: For a great deal on this elliptical, merely go here to Amazon.com
Warranty: 1 year limited
My rating: 8/10
Affiliate Disclosure: As an Amazon Affiliate Program participant, I earn commissions on purchases made through links in this post. Full disclosure
Details and Specifications
Assembled dimensions: 47.2L x 23.6W x 62.2H inches (120L x 60W x 158H cm)
Assembled weight: 84 lbs ( kg)
Flywheel weight: 20 lbs (9 kg)
Weight capacity: 350 lbs (159 kg)
Stride: 14 inches (35.5 cm)
Incline: N/A
Resistance: Manual magnetic, 8 levels
Fitness Monitor: Time, speed, distance, calories, pulse, goals, recovery
Extras: Device holder, bottle holder
Warranty: 1 year limited
526 Frame construction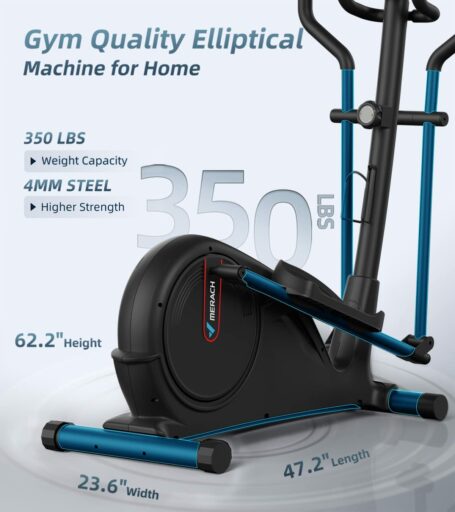 The Merach 526 elliptical trainer features a steel tubing framIt'st's made of 44mm steel tubes. Most of the tubes in its construction are cylindrical, except for the median base bar, which is rectangular, and the oval pedal bars. All the steel tubes come coated with a black, corrosion-resistant paint finish.
The machine features two sets of handlebars. The mobile ones have extended grips with ball grips at the top, and they attach to the front upright mast and the pedals. Therefore, they will move for as long as you pedal and cannot be locked stationary.
The fixed handlebars attach to the front mast under the fitness monitor. They have integrated HR pulse sensors, so the monitor can track your pulse and run its recovery function if you hold on to them.
The machine is relatively heavy. It weighs approx. 84 lbs. Therefore, two people should carry or use a hand-truck to transport the packaged elliptical. However, you can quickly relocate it once assembled as its front base comes equipped with small wheels. Also, the rear base bar caps have a polygonal design and are floor stabilizers.
This elliptical trainer is not too large compared with other models, such as the NordicTrack SE9i. However, it is only 47.2″ (120 cm) long and 23.6″ (60 cm) wide. In addition, it's advisable to allow at least two feet of clearance all around it for ease of access and safe usage.
Pedal construction, stride, and elliptical path
The Merach 526 elliptical trainer comes equipped with a set of durable pedals. The pedal trays are a durable type of thermoplastic material. Although they are 14″ (35.5 cm) long and 5″ (12.7 cm) wide, they're large enough to accommodate shoes of all sizes.
They have front, inner, and rear guards for improved foot stability. Furthermore, they reach approximately 16.5″ (42 cm) above the floor at their highest position. Therefore, it is advisable to place and use the elliptical in a room with a ceiling of at least 20 – 25 inches (51 – 63 cm) higher than the height of the tallest user.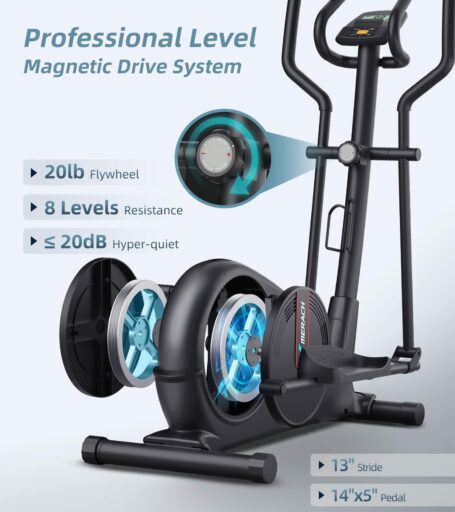 Tmachine'se's pedals do not have any articulations or additional cushioning. However, their bars have three attachment positions for the trays. Thus, you can move them a few inches closer to the front or the rear of the machine. Also, they have a maximum user weight limit of 350 lbs (159 kg).
This elliptical trainer does not have an incline system like the Schwinn 470. Thus, the length of its stride and the angle of the elliptical path are non-adjustable. However, it offers 14″ (35.5 cm) of stride, so it should comfortably accommodate users up 6'2″'2″ (188 cm) with no problem. Taller persons should still be able to use this elliptical, but they may not benefit from a complete leg extension.
The Merach 526 has a slightly inclined forward elliptical path similar to other rear-drive trainers. In particular, the pedaling motion feels like a descent on a soft path and leads to a workout that puts more focus on your thighs, glutes, and calves.
526 Resistance and drive
Unlike the Merach 526D model, the Merach 526 elliptical has a manual magnetic resistance system. Thus, you don't need a power adapter or an external power source. But on the other hand, the fitness monitor cannot adjust the resistance automatically.
The resistance system consists of a magnetic brake connected to the tension knob on the front upright bar of the machine. Therefore, when you turn the knob left or right, the magnets change their position to the flywheel. Consequently, it changes the intensity of the internal magnetic field, which leads to more or less pedaling difficulty.
The machine only offers eight resistance levels instead of the Merach 526D, which offers 24. The first tension level delivers a relatively light tension level. Conversely, the 8th level of resistance simulates a hill climb and provides a more challenging workout setting.
This Merach elliptical trainer integrates a perimeter-weighted flywheel. For instance, this type of construction is for superior inertia and more consistent momentum. The flywheel is also reasonably heavy; it weighs 20 lbs which is not bad for a home-use machine.
The flywheel is bi-directional. Thus, you can pedal in reverse if you want. The resistance remains constant when pedaling in reverse, given by the selected tension level. Also, coasting is not possible on this trainer. If you stop pedaling, the internal flywheel will also stop spinning.
Last but not least, the machine comes equipped with a belt drive system. It integrates a poly-v J6 belt, highly resistant to stretching and abrasion. Since it's a belt and not a chain, it does not require periodic lubrication. In addition, it also provides very smooth traction, generating slightly less vibration than a chain.
Fitness monitor
The Merach 526 comes equipped with a fitness monitor that offers a few extra features over a simple one. First of all, it has an LCD that divides into multiple sub-sections. It shows time, distance, speed, calories burned, and pulse simultaneously, so you won't have to keep scrolling through them manually.
The pulse reading function is hand-grip only. Unfortunately, it cannot read pulse from a wireless transmitter.
The monitor does not have Bluetooth connectivity or pre-set programs. However, it offers the possibility to select workout goals for time, distance, and calories. After choosing a goal for any metrics, the monitor will count down from the specified value until it reaches zero.
The fitness monitor also has a pulse recovery function. Thus, it can give you a fitness score based on your pulse recovery at the end of your workout. The scores range is between F1 – excellent and F6 – poor.
The fitness monitor is battery-powered, and it requires two AAA batteries which do not come with the rower. It starts up when you begin pedaling and automatically turns off if it does not detect any activity on the machine for more than 8 minutes.
It also integrates a small shelf that can serve as support for your smartphone or tablet. However, it does not have any connection ports for your device.
526 Assembly and Maintenance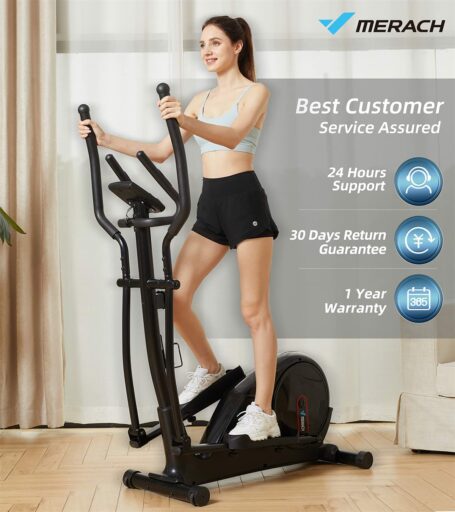 The main body of the elliptical with all the drive and resistance elements comes pre-assembled. However, the rest of the parts do require user assembly. You will have to attach the two base bars, the front mast, the pedals, the moving arms, the fixed handlebars, and the fitness monitor.
Therefore, it may take more than an hour of your time, but the process is pretty straightforward. Plus, the manual provides clear assembly instructions, and all the necessary assembly tools come with the elliptical.
You have to check for loose bolts and parts and retighten them for maintenance. If the joints begin to squeak, you'll need to lubricate them. It's also advisable to keep the machine clean and wipe the sweat that may fall onto the frame at the end of the workout. The internal mechanism does not require lubrication.
Pros
Solid construction – can support users up to 350 lbs;
Transport wheels on the front base;
Fixed handlebars with pulse sensors;
Moving arms with ball grips at the top;
Perimeter-weighted (20 lbs) flywheel for improved inertia and motion stability;
Oversized pedals with front and side guards for enhanced foot stability;
Three attachment positions for each pedal tray;
Eight levels of magnetic resistance (manual adjustment);
Fitness monitor included – it tracks time, distance, speed, calories, and pulse;
Workout goal functions for time, distance, and calories;
Recovery function;
LCD backlit display;
Device holder included;
Bottle holder included;
Quiet operation;
Reasonably easy to assemble;
Little maintenance is required;
All the necessary assembly tools come with the elliptical.
Cons
The fitness monitor does not have online connectivity;
No backlight on the fitness monitor LCD;
There are no pre-set programs on the fitness monitor.
Merach 526 Elliptical Trainer Summary
The Merach 526 is an elliptical trainer made for home use. It comes equipped with an 8-level manual magnetic resistance system, a 20-lb flywheel, and a fitness monitor that tracks the essential workout metrics.
Furthermore, it can support users up to 350 lbs and offers 14″ of stride. Overall, it provides a pretty decent construction and range of features. Moreoveit'st's great for light to intense cardio workouts, muscle toning, stamina development, and weight loss.
I hope you found this article helpful and informative. Would you please speak up if you have anything you'd like to share on the topic or any opinions about my website? I look forward to your comments, questions, and the sharing of ideas.
Please note: Before starting any exercise program, you should consult your physician to determine if you have any medical or physical conditions that could put your health and safety at risk or prevent you from using the equipment properly. In addition, your physician's advice is essential if you are taking medication that affects your heart rate, blood pressure, or cholesterol level.