The NordicTrack SpaceSaver SE9i Elliptical is the top trainer in the NordicTrack SpaceSaver Series. It shares many performance specs with the SE7i model, but it carries a much more extended warranty. In addition, it's the most advanced NordicTrack SpaceSaver elliptical featuring an 18-inch stride and an 18-pound effective flywheel.
The SE9i has 24 resistance settings to add a cardio challenge and help you target-tone your muscles. In addition, the pedals have power incline settings up to 10 degrees and are oversized and cushioned to help make elliptical training exceptionally comfortable.
The new SE9i comes equipped with a 7″ touchscreen, high definition, and ready for browsing the web while exercise stats are in the background. In addition, it comes with 30 workout programs, it's already iFit enabled, and it has Bluetooth connectivity. Another upgrade is wireless heart rate monitoring with a Bluetooth chest strap included.
SpaceSaver Series ellipticals have a rear-drive design, and rear drive ellipticals are known for their natural-feeling strides and natural balance during exercise. The size of a rear-drive elliptical can be a drawback, but obviously, the SpaceSaver SE9i is a space-conscious model. You can fold it vertically for everyday storage after workouts (and it also has wheels to make it easier to move).
Learn more in my complete review below!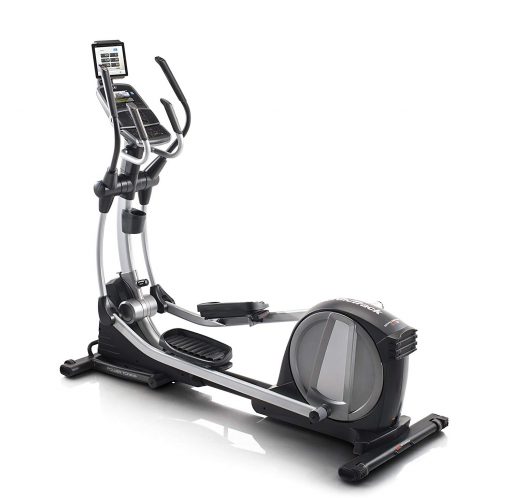 Product: NordicTrack SpaceSaver SE9i Elliptical
Price: For a great deal on this elliptical, merely go here on Amazon
Warranty: Frame lifetime / Parts 5 years / Labor 2 year
My rating: 8/10
Affiliate Disclosure: As an Amazon Affiliate Program participant, I earn commissions on purchases made through links in this post. Full disclosure
Details and Specifications
Assembled dimensions: 80L x 32W x 77H inches (203L x 81W x 195H cm)
Assembled weight: 190 lbs (86.1 kg)
Flywheel weight: 18 lbs (8.1 kg)
Supported weight: 325 lbs (147.4 kg)
Stride: 18 inches (46 cm)
Incline: Automatic, 0°-10°
Pedals: Cushioned, angle-adjustable
Resistance system: Eddy current, 24 levels
Console: 30 workouts, Bluetooth and iFit enabled
Amenities: Sound system, cooling fan, tablet holder, bottle holder
Warranty: Frame lifetime / Parts 5 years / Labor 2 year
SE9i Frame construction
The NordicTrack SpaceSaver SE9i features sturdy construction with a weight capacity of 325 lbs (147 kg). It's heavy-duty steel tubing with precision-welded joint points. All the steel bars in its structure are double-coated by a corrosion-resistant and scratch-resistant paint finish. The color used for the moving parts and the console mast is light gray, while the unit's base is black, these being the only colors available for this unit.
In terms of construction, this NordicTrack elliptical trainer is similar to many other commercial-grade models. However, it only comes with an in-home warranty, so it is considered an elliptical trainer for home use only.
The fully assembled unit is relatively large. It's approximately 80″ (203 cm) long and 32″ (81 cm) wide. On top of that, NordicTrack recommended assigning at least two feet of clearance all around the unit for safe operation. Therefore, it's not exactly a machine for a small room or apartment.
But on the other hand, since it's a unit from the SpaceSaver Series, it has a folding design and provides excellent storage possibilities. For example, the console mast with the moving arms and console can fold down over the pedals, while the unit can be stored up vertically, resting on its rear part.
Since it's a pretty large machine, it's also considerably heavy. It weighs approx — 190 lbs (86.1 kg). On the one hand, though, all this weight plays an essential role in the machine's overall stability and sturdiness. Even if you're close to its maximum weight capacity, you can be sure that it won't rock when you exercise. Plus, it comes with adjustable stabilizers with rubberized caps, which also enhance its stability.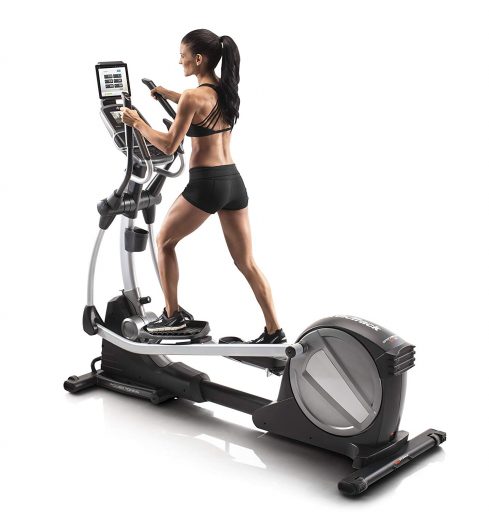 Handlebars and Pedals
The NordicTrack SpaceSaver SE9i elliptical trainer features two sets of handlebars, one mobile and one fixed. The mobile handlebars are attached to the console mast and the pedal bars, and they have a simple grip design with rubber foam grips for superior hand adherence and comfort.
The left mobile handlebar integrates incline controls, while the right one has built-in resistance controls. The fixed handlebars integrate stainless steel grip pulse sensors. However, the console unit is also telemetric and can track your pulse via an HR chest strap.
The unit's pedals are extra-large; they can accommodate athletic shoes of all sizes. They also have an inner border and a cushioned surface for superior shock absorption, foot stability, and traction. They're also angle-adjustable; each comes with a small handle at the rear, allowing you to lock it into the desired position. The pedal angles adjust from heel to toe.
The joints between the moving arms, the console mast, and pedal bars integrate stainless steel, sealed ball bearings. Thus, it results in a very smooth motion, and the joints are less likely to develop squeaking noises.
SE9i Stride & Incline
The NordicTrack SpaceSaver SE9i elliptical trainer features an 18″ (46 cm) stride. Therefore, when it comes to stride, this machine is perfect for users between 5'3″ and 5'7″ (160 – 171 cm). Taller users can, of course, use the unit as well with no problem, but in this case, their range of motion will be limited.
This trainer comes with an automatic incline system. It consists of a lever assembly attached under the front part of the unit. It's fully motorized, so you can only make the incline adjustment from the console or the left grip controls.
It offers an incline range between 0° and 10°, which can only be adjusted gradually; there are no quick incline settings for the resistance adjustment.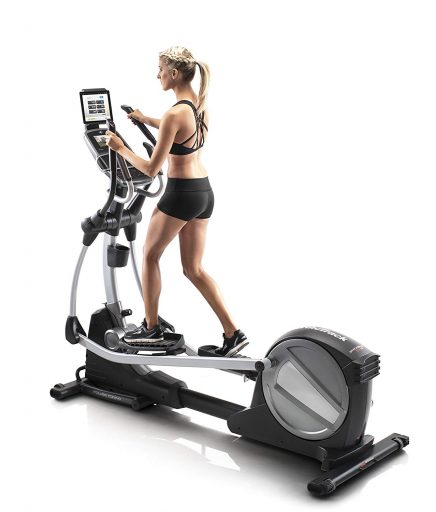 Since this is a rear-drive elliptical, the ride's feel may resemble going down on a gentle ramp even when the incline is zero. Also, the pedals deliver quite an elevation when the slope is at maximum. The highest pedal position reaches approx. 27″ (68 cm) above floor level.
Drive & resistance
As I've mentioned earlier, the NordicTrack SE9i is a rear-drive elliptical machine. It has a mid-range flywheel (18 lbs / 8.1 kg), which has a balanced design, providing a reasonably consistent momentum and a steady pedaling motion.
The flywheel and brake assembly also permit reverse pedaling. Therefore, you can put some diversity into your workouts. Also, if driving in reverse, the console will continue to track your workout metrics, and the resistance will remain constant, depending on the selected level from the console.
The transmission between the unit's main pulley and the flywheel is via a heavy-duty v-belt, which delivers whisper-quiet operation. Also, as opposed to a chain drive, it doesn't need lubrication and generates considerably less vibration.
This NordicTrack elliptical trainer comes with a motorized magnetic resistance system. It consists of a small motor and a magnetic brake assembly, which requires a connection to a power source, a standard plug with cable (are included).
There are 24 levels of resistance available. The first 1-3 tension settings provide very little resistance, being perfect for anyone who requires recovery training from specific injuries, or in general, a very light workout.
The higher resistance settings offer a much more intense cardio workout, and with the added incline, the unit can generate the feel of a pretty steep climb.
Finally, the unit's resistance can be adjusted gradually, in increments of 1 level. However, there are quick resistance adjustment keys on the console for the 2, 4, 8, 10, 12, 14, 16, 18, 20, 22, and 24 tension settings.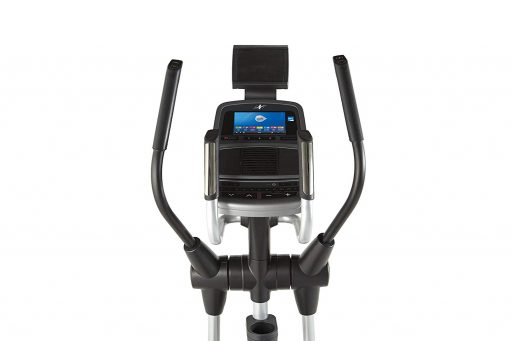 SE9i Console
The NordicTrack SE9i comes with a 7-inch LCD touchscreen console with an LED backlight and a full-color display. The first feature to mention is the safety options to hide the unit's gears button to prevent unauthorized access. In addition, there's a child safety passcode feature and also a lock screen pattern feature.
The console unit is Wi-Fi, Bluetooth, and iFit enabled. Therefore, you can sync it with your tablet, smartphone, or laptop to directly stream your workout data into your iFit account. Not only that, the console already has several iFit shortcuts installed.
It gives you customizable virtual trails via GoogleMaps, downloads with personalized workouts, and competition with other users. Also, you'll be able to set goals for calories, time, or distance, watch high-definition videos with simulated exercises, and much more.
The downside of these features is that an iFit membership does not come included with the unit. However,  you can still benefit from a wide array of training possibilities even without an iFit account.
The SE9i console has 30 preset workouts in its memory. Specifically, each program has its focus; some promote calories and fat burning, others are for muscle toning, and others are heart rate focused.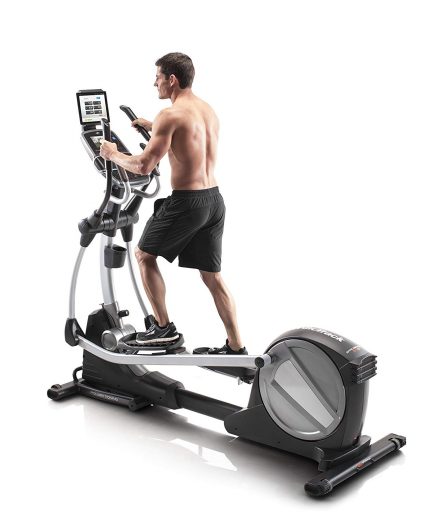 When using one of the onboard programs, the unit will auto-adjust the incline and resistance. In addition, the console will show all the important workout metrics, including time, distance, speed, RPM, calories, and heart rate.
Speed and distance reading is in metric or imperial units. In addition, it has integrated sensors in the stationary handlebars or the included Bluetooth HR chest strap for heart rate reading.
Amenities
There are several extra features built-in in the unit's console. One is the sound system, which consists of two speakers and is compatible with most MP3 players or smartphones. Also, there's an audio jack input above the quick speed buttons along with volume controls.
The second one is the built-in cooling fan, which has several speed settings. Compared to the fans on the older ellipticals, this one is slightly larger and more effective. And finally, there's a tablet holder placed at the top of the console, which can host just about any tablet. Unfortunately, however, the unit does not have a USB port for docking your tablet.
SE9i Assembly and Maintenance
Most of the machine comes pre-assembled and folded. Therefore, you only need to attach the base stabilizers, the tablet holder, unfold the unit, and connect it to a power source.
This shouldn't take more than 15 minutes. The manual provides all the instructions necessary for this task. The essential tool for the assembly of the unit's bases is a Phillips screwdriver.
The unit is pretty compact, so there isn't much to be done in terms of maintenance. In addition, the internal parts and the unit's joints are pre-lubricated from the factory and shouldn't require further lubrication for many years of use. Therefore, you only have to check for loose bolts and parts from time to time, remove the unit's dust, and keep liquids away from the console.
Pros
Extremely sturdy construction – can hold users up to 325 lbs;
Space-saving design – the unit can store vertically;
Transport wheels on both bases;
Adjustable stabilizers on both bases;
Angle-adjustable pedals with cushioning;
Mobile handlebars with incline/resistance adjustment keys;
It has fixed handlebars with integrated HR pulse sensors;
A smooth and quiet drive;
Motorized incline, with up to 10°;
Automatic eddy current resistance system with up to 24 levels;
7-inch, full color, touchscreen console;
The console is iFit enabled and has several iFit built-in shortcuts;
The console is Bluetooth enabled – can read your pulse via a wireless HR chest strap;
HR chest strap included;
30 preset workout programs;
The possibility to set up workout goals for time, distance, and calories;
Sound system included;
Cooling fan included;
Tablet holder included;
Bottle holder included;
Minimal assembly required;
Very little maintenance required;
Excellent warranty.
Cons
No USB port for docking your phone or tablet;
An iFit membership is not (included) with the machine.
NordicTrack SpaceSaver SE9i Summary
The NordicTrack SpaceSaver SE9i is a heavy-duty elliptical trainer featuring an eddy current resistance system, an automatic incline system, and an iFit enabled touchscreen console. Furthermore, its folding design offers the possibility to be stored vertically.
It's an excellent trainer for light to intense cardio exercising, interval training, weight loss, and stamina development. Moreover, it's one of the best trainers available in this price and feature range.
I hope you found this article helpful and informative. If you have anything you'd like to share or opinions about the content on my website, please speak up. I look forward to your comments, questions, and the sharing of ideas.