The Nautilus E618 Elliptical Trainer is the top of the line in the Performance series. It is a heavy-duty fully-featured elliptical and can handle up to 350 lb — maximum user weight. A highlight of this cross trainer is its 30-pound drive. In addition, it supports smooth striding for users, and the magnetically controlled resistance can be precisely calibrated with a choice of 25 settings.
The E618 console has 29 workout programs that control the resistance, incline, and duration of training. It lets each user profile save customized routines, and it arrives with more than two dozen preset options in categories such as weight management, heart rate, and interval training.
This cross trainer moves handlebars to increase calorie burn and sculpt the upper body. The handlebars provide more than one gripping position for workout diversity. In addition, the E618 has a power incline of 0 degrees to 10 degrees for lower-body sculpting and strength training.
This model has upgraded features such as a powered incline, more resistance levels, more programs, a backlit screen, Bluetooth, and telemetric wireless heart monitoring. This model also has an extended warranty. The Nautilus E618 is a great deal for the money for Elliptical Trainers.
Learn more in my complete review below!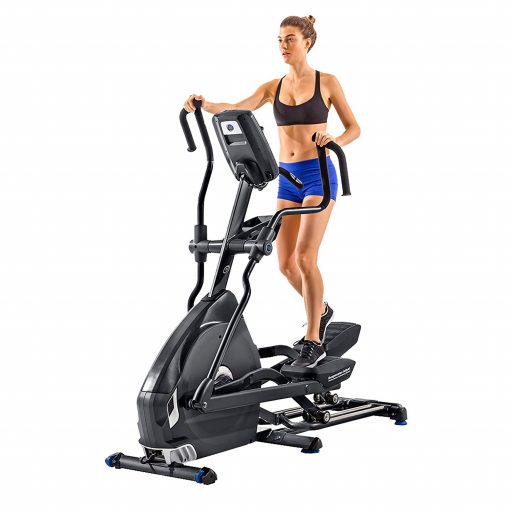 Product: Nautilus E618 Elliptical Trainer
Price: For a great deal on this elliptical, merely go here to Nautilus.com
Warranty: Frame 15 years, Parts 5 years, Electronics 5 years, Labor 2 years
My rating: 8/10
Affiliate Disclosure: As a Nautilus and Schwinn Partner Program participant, I earn commissions on purchases made through links in the post. Full disclosure
Details and Specifications
Assembled dimensions: 73L x 27W x 67H inches (186L x 67W x 170H cm)
Assembled weight: 210 lbs (95.2 kg)
Flywheel weight: 30 lbs (13.6 kg)
Supported weight: 350 lbs (158.7 kg)
Stride: 22 inches (56 cm)
Incline: Motorized, 0°-10°
Pedals: With adjustable cushioning
Handlebars: Both mobile and fixed (with pulse sensors)
Resistance: Motorized magnetic, 25 levels
Console: 29 programs, four user profiles, Bluetooth enabled, USB port
Amenities: Cooling fan, sound system, media tray, accessory tray
Warranty: Frame 15 years, Parts 5 years, Electronics 5 years, Labor 2 years
E618 Frame construction
The Nautilus E618 elliptical trainer features a frame built like a tank, extremely sturdy, supporting users up to 350 lbs (158.7 kg). It also has a massive construction, with a total assembled weight of 210 pounds (95.2 kg).
This weight provides a lot of stability for it, but on top of that, all its three base bars feature large, adjustable stabilizers with rubber caps.
Therefore, even if your weight is near its maximum capacity, you can ensure that it won't wobble or rock when you engage in a more intense workout. You can correctly stabilize it on any flooring, the rubber coating on the stabilizers delivering an excellent "grip" onto the floor.
The machine's weight shouldn't be an issue for its transport, as its front base integrates a set of wheels that facilitate its relocation. The rear plate also has a lifting handle to provide a better grip.
Thus, when moving to change its location, you will handle less than half of its weight. For example, if you can lift 45 lbs, you can move this elliptical.
This Nautilus elliptical trainer doesn't have a folding design, though. It also takes quite a bit of space, being 73″ long (186 cm) and 27″ wide (67 cm). Therefore, it requires at least two clearance feet on each side and at the rear for safe operation. Therefore, if usage and storage space is an issue, this may not be the best choice for a cardio training machine.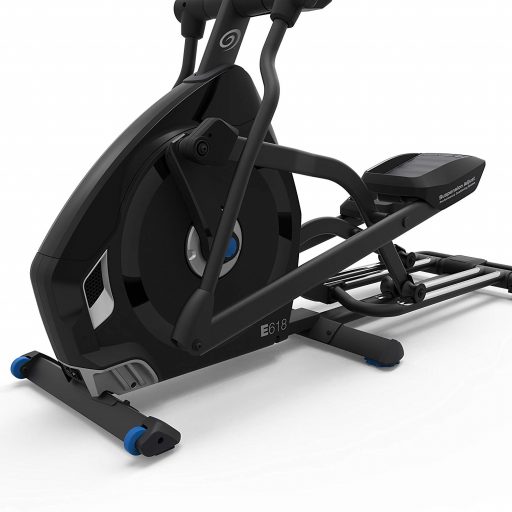 The elliptical is mostly steel except for the flywheel covers and several other covers. All tubes feature a non-corrosive and abrasion-resistant powder coating. However, each of the four rail bars has a stainless steel plate with a chrome finish.
Incline, stride & elevation
This Nautilus elliptical machine comes with a motorized incline system. The rear double-rail assembly is attached to a small lever, which connects to the machine's lift.
Since it's a motorized incline system, its adjustment is from the console or the controls integrated into the top grip of the right mobile arm of the machine. Also, the machine must (be connected) to a power source for the incline to become operational.
This trainer offers an impressive incline span between 0° and 10°, a feature that can put a lot of diversity in your workouts, allowing you to focus on different groups of muscles. You can adjust the incline as you pedal, or, in case you use one of the onboard programs that include incline adjustment, the ramp will adapt automatically.
The Nautilus E618 offers a fixed stride of 22″. Therefore, it comfortably accommodates users between 5'2″ and 6'5″ (157 – 196 cm).
One last aspect to note here regards the elevation that the pedals will give you when on the elliptical, an element that you should not overlook if the elliptical will be in use in a room with a low ceiling.
At their lowest position, the pedal's surface stands at approximately 13″ (33 cm) above floor level, while at the highest place, with the incline up, it will be at approx. 20″ (51 cm) above floor level. Therefore, to avoid any issues, ensure that the ceiling height in the room where you will use the machine is at least 30″ (76 cm) higher than your size.
E618 Drive system
The Nautilus E618 comes with a belt drive system powered by a heavy-duty belt. It integrates a reasonably heavy flywheel for an elliptical trainer, with a total weight of 30 lbs (13.6 kg). It's also perimeter-weighted, so, therefore, the wheel delivers smooth and steady motion with a consistent momentum.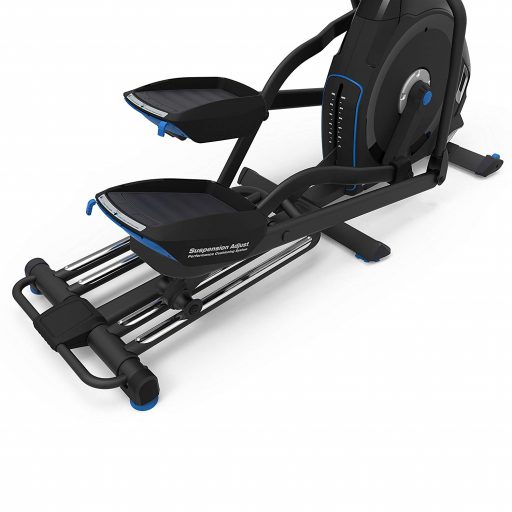 This Nautilus elliptical comes equipped with oversized pedals featuring a non-slip surface. In addition, the pedals integrate the Suspension Adjust™ Performance Cushion System, which adjusts their impact resistance and offers a slight adjustment of their angle.
The rear of each pedal has a small lever that can set the angle and firmness of the action according to the weight of the user: 0 is the lowest cushion setting (flat); 1 for under 150 lbs (68 kg); 2 for 150-225 lbs (68-102 kg); 3 for over 225 lbs (102 kg). Therefore, just by adjusting the pedals, you can focus on different muscle groups.
Pedaling in reverse is possible. Thus, you can put a lot of diversity into your workouts. And when driving in reverse, the console will continue to keep track of your workout metrics.
Last but not least, the machine's mobile arms come with versatile, ergonomic grips. These grips integrate controls for resistance and incline adjustment. The incline controls are in the right grip, while the resistance ones are in the left grip.
Conversely, the fixed handlebar features stainless steel pulse sensors. However, the console can also track your pulse via a wireless chest strap.
Resistance system
The Nautilus E618 elliptical trainer features a motorized magnetic resistance system. Thus, it requires a connection to a 120V circuit—a 120V AC, 60 Hz input, 2 Amp adapter (is included) with the machine. The jack for the adapter is near the front base.
Since it's a motorized machine, the resistance is (set) from the machine's console or keys in the handlebars. The system consists of a magnetic brake assembly and a small servo motor. As you select a certain resistance level, the servo will change the magnetic element's position to the flywheel, reducing or increasing drag.
You can adjust the resistance as you pedal from the keys on the console. In addition, if you choose to exercise by using one of the onboard programs, resistance will be adjusted automatically, depending on the workout's current segment.
There is no contact between the resistance elements. Thus, not only that, the pedaling motion is tranquil, almost silent, the wear-and-tear of the resistance elements is minimal.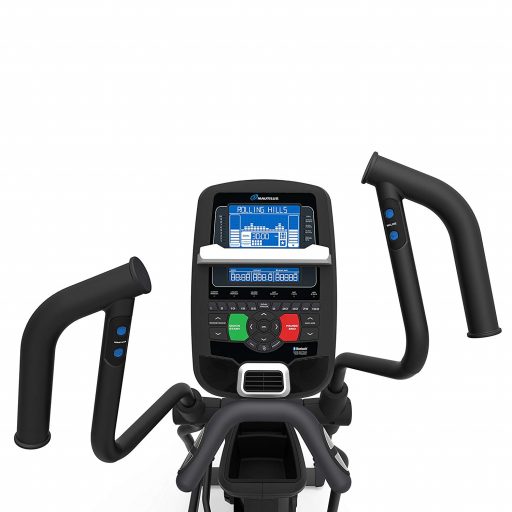 This fitness machine offers 25 levels of resistance. The lowest resistance levels promote light workouts, perfect for warmups or recovery training. In contrast, the 23-25 resistance settings provide the possibility to undertake exercises for strength development or high-intensity cardio workouts.
E618 Console
The console supplied with the new Nautilus E618 is similar to the older model, but it has received a bit of a "face-lift." First of all, it has two LCDs, with a blue LED backlight and significant digits for easy reading.
The top larger display shows the workout program profiles, the selected goal, your progress towards it, the current workout program's name, the incline and resistance levels, and the heart rate interval.
The lower display shows time, speed, distance, RPM, resistance level, calories burned, and heart rate. The distance is tracked in miles and kilometers, while speed is MPH and km/h.
Heart rate is (monitored) via the sensors in the fixed handlebars of the machine. Additionally, the console is also telemetrically enabled; this means it's compatible with wireless chest strap HR transmitters and one HR chest strap (is included) with the elliptical.
Bluetooth connectivity is also one of the features included with this fitness console. This function offers the possibility to sync it with your smartphone or tablet to track your workout data via the free Explore the World™ App — or transfer data to any of the Nautilis fitness app partners.
In addition, you'll be able to sync with the Explore the World™ App — and run through 19 locations with 27 routes alongside people from all over the world in real-time. Take control of your fitness journey by exploring dozens of high-definition destinations and course lengths to choose from, including the Japanese Countryside, the Scottish Highlands, the streets of Prague, and many more.
The console also has a USB port, so if you don't use the Bluetooth connection, you can still import/export your data. Also, the USB port provides battery recharging for your tablet or smartphone.
Workout Programs
The console has 29 customizable workout programs, including Rolling Hills, Ride in the Park, Easy Tour, Stream Crossing, Pike's Peak, Mount Hood, Pyramids, Summit Pass, Uphill Finish, Cross-Training, Intervals, and Stairs, and more. Therefore, it allows you to set up goals for time, distance, and calories. There's also a Fitness Program, a Recovery Program, and an HR control program with four difficulty levels.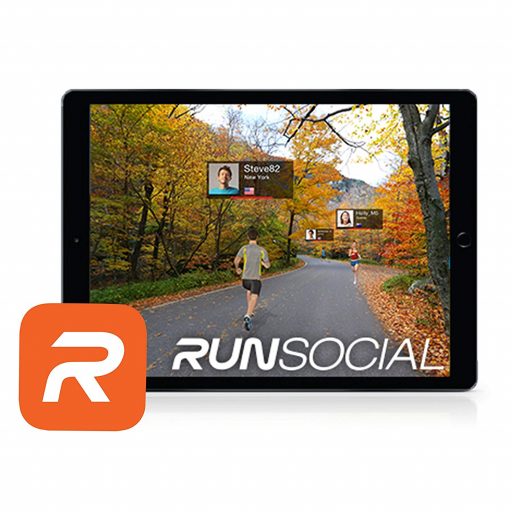 The console unit lets you store and use 4 User Profiles, each profile recording the workout results for later review. It's a great function to have if multiple persons use the machine.
Also, since you can input data regarding age, gender, weight, and height, the unit can accurately determine your calorie-burning percentage.
Amenities
The console integrates a media tray, a sound system, and a cooling fan. The media tray is placed right under the large LCD. The sound system is compatible with most MP3 players, smartphones, and tablets, consisting of two speakers at the lowest corners of the console.
Although not too large, the workout fan does provide some cooling for your workout, and you can change its angle by tilting the console.
E618 Assembly and Maintenance
Due to its considerable weight, the Nautilus E618 elliptical requires two people for assembly. The assembly process is straightforward, but it may take up to two hours due to the many parts. However, with the pulleys, magnetic brake, motors, belt, etc., the machine's body comes already pre-assembled.
You'll have to connect the rear part of the frame with the rails to the assembly front section. Then attach the console mast, the pedal arms, the mobile handlebars, the pedals, and the console.
A small bottle of silicone lubricant (is provided); therefore, it's advisable to lubricate the joints a little before assembly. This way, you won't have to re-lube the machine for a long time.
The most important aspect is keeping the rails free of any debris for maintenance. Thus, it can damage either the tracks or the gliding wheels. Besides this, ensure you don't spill any liquids on the console and the flywheel case.
Pros
Sturdy construction, similar to commercial machines;
High weight limit – the unit can support users up to 350 lbs;
Adjustable levelers;
Adjustable pedals, with three-position angles and three pressure levels;
Heavy perimeter-weighted flywheel for a consistent momentum and smooth pedaling;
Multi-grip handlebars, with incline/resistance controls and pulse sensors;
Motorized incline, with a range between 0° and 10°;
Quiet operation, ideal for apartment use;
25 levels of eddy current resistance;
29 workout programs;
Bluetooth connectivity;
Compatible with the Explore the World app;
Goal tracking functions for time, distance and calories;
Four user profiles;
DualTrack monitor system that allows you to see your workout data even if you have a tablet on top of the console;
LED backlight for each monitor for better readability
Cooling fan included;
Sound system included;
A USB port for workout data transfer, which also doubles as a charging port for your device;
Media tray included;
Bottle/accessory holders included;
Little maintenance required;
Great warranty plan.
Cons
A tablet placed on the media tray will cover the top display of the LCD;
The cooling fan is not too overpowering.
Nautilus E618 Elliptical Trainer Summary
The Nautilus E618 is a reliable elliptical trainer, with a construction similar to the commercial models, motorized resistance and incline, and a multi-functional console. For example, it offers an impressive array of features, including adjustable pedals, 29 workouts, 25 levels of resistance, Bluetooth connectivity, wireless pulse tracking, etc.
With this in mind, it's a machine for all types of workouts, from light cardio to intense interval training. On top of that, it costs less than $1,000 (at least for the moment), while most commercial models cost more than twice. So, in all, it's a fitness machine with an outstanding price/quality/value ratio.
I hope you found this article helpful and informative. Would you please speak up if you have anything you'd like to share on the topic or any opinions about my website? I look forward to your comments, questions, and the sharing of ideas.