Are you looking for an elliptical to shed a few pounds in the comfort of your home? The Exerpeutic 4322 Magnetic Elliptical trainer will fit your exercise needs. The sizeable exposed flywheel will also provide extra smooth momentum for better performance. So get started and get fit with the Exerpeutic Elliptical Trainer.
It has a fitness monitor with a backlit LCD to track time, speed, distance, calories burned, pulse, odometer, RPM, and watts. The monitor is also Bluetooth enabled and compatible with the free MyCloudFitness App available on iOS/Android to track and monitor your workouts.
Featuring 24 preset workout programs, 16 levels of motorized magnetic resistance, and three workout goal settings, the Exerpeutic 4322 Magnetic Elliptical trainer can provide you with all the challenges you need to push your limit.
Learn more in my complete review below!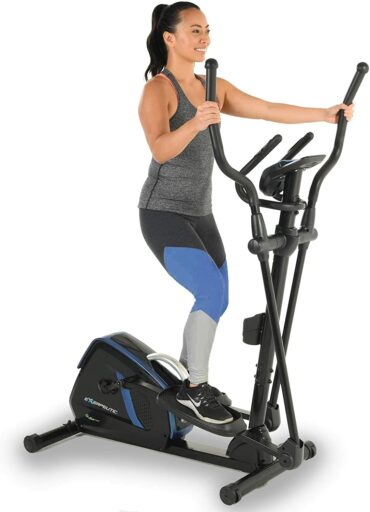 Product: Exerpeutic 4322 Magnetic Elliptical
Price: For a great deal on this elliptical, merely go here on Amazon
Warranty: 1 year limited
My rating: 7.5/10
Affiliate Disclosure: As an Amazon Affiliate Program participant, I earn commissions on purchases made through links in this post. Full disclosure
Details and Specifications
Assembled dimensions: 53L x 25W x 63H inches (135L x 63.5W x 160H cm)
Assembled weight: 81.6 lbs (37 kg)
Supported weight: 275 lbs (125 kg)
Stride: 13 inches (33 cm)
Incline: No
Resistance: Eddy current, 16 levels
Fitness Monitor: 24 programs, two user profiles, three-goal workouts, Bluetooth, MyCloudFitness compatible
Extras: Device holder, bottle holder
Warranty: 1 year limited
4322 Frame construction
The Exerpeutic 4322 Magnetic Elliptical trainer features a steel frame combining cylindrical and rectangular tubing in its construction. This model features a black paint finish and a black/blue casing for the drive and resistance system. The flywheel protrudes from its case, and its top is visible. It has a chrome plating finish.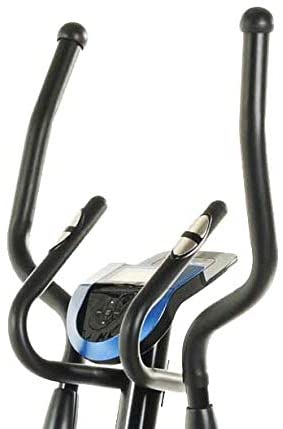 Compared to other elliptical machines, the Exerpeutic 4322 is not too bulky. It is approx. 53″ (135 cm) long and 25″ (63.5 cm) wide, while its highest point is the moving arms, which reach approx. 63″ (160 cm) above floor level. It is advisable to leave at least two feet of clearance all around the machine for safe usage and ease of access.
The trainer is relatively heavy. Its net weight is approx—81.6 lbs (37 kg). Therefore, two people should carry the packaged unit. However, one person can relocate the elliptical once assembled, as its front stabilizer has a transport wheelset. It's also important to note that this elliptical trainer is not foldable. Therefore, once set up, it does not fold for better storage.
Like many other elliptical trainers, the 4322 comes equipped with two handlebars. One is mobile; the other is stationary. The mobile handlebars have extended grips and ball grips at the top. They are directly attached to the pedal bars, so they continue to move for as long as you pedal. Thus, they do not lock to remain stationary and cannot move independently from the pedals.
The fixed handlebars attach directly to the front mast of the machine via screws. They are non-adjustable. They have short grips and integrate metallic pulse sensors for pulse reading.
Elliptical path, stride, and pedal height
The Exerpeutic 4322 elliptical trainer does not have an incline system. Therefore, the angle of its elliptical path and its stride length is not adjustable. As a result, it offers a relatively short stride of 13″ (33 cm). Thus, it's not the best choice for users above 6'0″ (183 cm). Taller persons than this can use the trainer but may not benefit from a complete range of motion.
Since the machine features a rear-drive system, its elliptical path is slightly inclined forward. Thus, the pedaling motion resembles a descent on a smooth trail. A ride on this trainer will focus more on your glutes and thighs.
The trainer comes equipped with a set of sturdy pedals. The pedals and the crankset withstand users up to 275 lbs (125 kg) with no problem. The pedal bars are steel, while the pedals are made of heavy-duty thermoplastic material (probably polypropylene).
They have a textured surface to prevent slippage and inner guards for extra foot stability. They are non-adjustable and do not have extra cushioning or articulations. However, like most other elliptical trainers, the 4322 delivers a low-impact workout.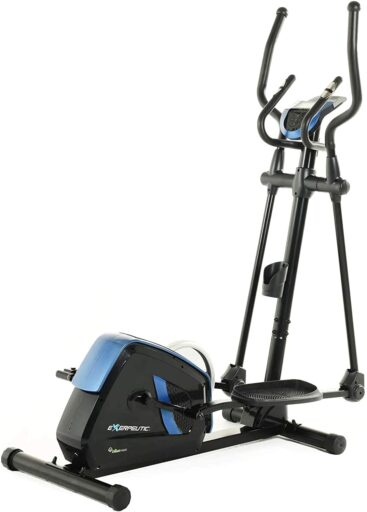 The machine's step-up height (lowest pedal position) is approximately 9″ (23 cm). However, at the highest point, the pedals stand at approx. 16″ (41 cm) above floor level. Therefore, placing and using this elliptical cross trainer in a room with a ceiling at least 20″ (51 cm) higher than the tallest user is advisable.
4322 Drive and resistance
The Exerpeutic 4322 elliptical trainer comes equipped with a large flywheel. Its exact weight is not specified, but considering the machine's total weight is 81.6 lbs (37 kg), the flywheel probably doesn't weigh more than 20 lbs (9 kg).
The flywheel has a perimeter-weighted design. Due to this flywheel construction, the machine provides a pretty consistent momentum. In addition, the flywheel is also bi-directional. Thus, you can diversify your workouts by alternating forward with backward pedaling sessions.
The Exerpeutic 4322 elliptical machine comes equipped with a motorized magnetic resistance system. In addition, it comes with a power adapter, requiring an external power source to utilize the console and adjust the resistance. Furthermore, it also means that the fitness monitor can adjust the resistance automatically.
The machine's resistance system consists of a magnetic brake integrated into the flywheel system and a servo motor connected to the brake and the fitness monitor. Therefore, when you adjust the monitor's resistance or when a selected workout program makes automatic resistance adjustments, the servo motor shifts the magnets' pull, increasing or decreasing the pedaling load.
As opposed to the Exerpeutic 6000 QF, the 4322 model only offers 16 levels of resistance. However, the first resistance level is not super light due to the heavy and perimeter-weighted flywheel. Nevertheless, it does provide some consistency to the ride. Conversely, the top (16th) resistance setting delivers considerably more pedal tension so you can perform a strength workout.
Like most other fitness machines with a magnetic resistance level, the Exerpeutic 4322 features a belt drive system. It integrates a poly-v belt resistant to stretching and abrasion. A belt drive system does not require lubrication. It also provides slightly less vibration than a chain drive, contributing to the ride's smoothness.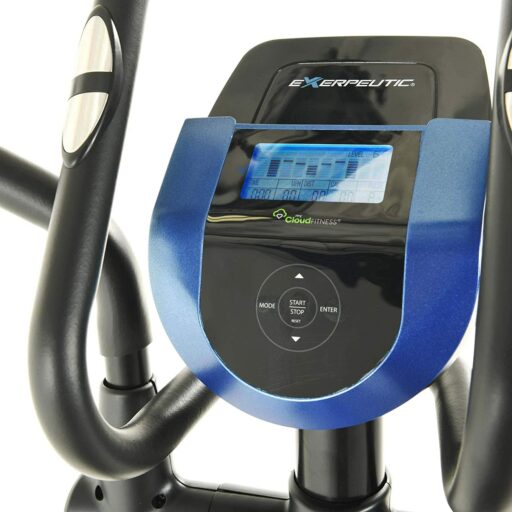 Fitness monitor
The Exerpeutic 4322 elliptical trainer has a mid-range fitness monitor featuring an LCD with a blue LED backlight. The LCD divides into multiple sub-sections to show as many workout metrics as possible.
It tracks time, distance, speed, RPM, watts, calories, and pulse. The speed and distance are English units by default, but changing them to Metric units is possible. You must hold on to the sensors integrated into the stationary handlebars for the monitor to read your pulse. Unfortunately, it cannot read your pulse from a wireless HR chest strap.
The fitness monitor offers multiple workout programs. First, it has the Manual mode, which allows ride while adjusting the resistance manually from the monitor controls.
The possibility of setting workout goals for time, distance, and calories burned is possible. When choosing a goal, the monitor will count down from the selected value until it reaches zero.
Next, there are 24 preset workouts. Each has its specific segment layout, addressing a particular type of training.
For example, some of the programs have an interval layout. Others have a peak layout, progressively increasing the resistance up to a point, then gradually decreasing it until the program's end. In contrast, others focus on helping you maintain a constant cardio level throughout the workout.
Two user profiles are available on the monitor of the Exerpeutic 4322 elliptical. Therefore, two users can save their workout program settings and data such as gender, weight, height, and age for a more accurate calorie reading.
MyCloudFitness app
An important feature to note here is Bluetooth connectivity. This allows you to sync your exercise bike with your smartphone or tablet, track your progress online, or view your workout history via the MyCloudFitness app for iOS and Android. Try it free for 30 days, then $14.99 a month. The 30-day free membership gives you access to the following:
Hundreds of coaching videos led by top trainers
Bike scenic routes in Paris, Central Park, and more with World Tour Maps
Row with an Olympic champion on the water in beautiful San Diego
New Content is added monthly
The MyCloudFitness app is reshaping wellness with personalized workout programs, award-winning trainers, workout tracking, on-demand fitness classes, world tour maps for cycling and rowing, and live fitness reports.
With a MyCloudFitness subscription (free for 30 days), you can view hundreds of workouts with top trainers, get personalized programs, and World Tour Solo allows you to work out in Paris, Central Park, and more. Take a day trip or ride at night, and with Scenic workout videos, you can transport anywhere, anytime you want, without ever leaving the comfort of your home.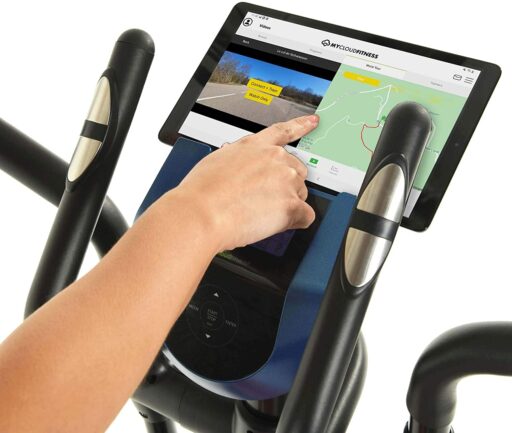 4322 Assembly and Maintenance
The drive and resistance unit of the machine comes pre-assembled and is already attached to the base frame. However, the rest of the parts do require user assembly. You will have to connect the two base stabilizers, the pedal bars, the pedal trays, the front upright mast of the machine, the mobile handlebars, the fixed handlebars, and the fitness monitor.
Therefore, it may take up to two hours of your time, but the process is not too complicated. The manual provides clear assembly instructions and schematics. Also, all the necessary tools come with the machine.
For maintenance, the machine's joints may require lubrication occasionally. However, applying extra grease to them during the assembly will take care of it for an extended time. The internal parts do not need any lubrication or maintenance.
Besides this, you only have to keep your elliptical clean and periodically inspect it to ensure that all the moving parts function correctly and hold tight in their places.
Pros
Sturdy construction – can support users up to 275 lbs (125 kg);
Fairly small footprint;
Adjustable stabilizers on the rear base;
Transport wheels on the front base;
Fixed and mobile handlebars;
Metallic pulse sensors built-in the fixed handlebars;
Perimeter-weighted flywheel for improved inertia;
Extra-large, durable pedals;
Frictionless, automatic (motorized) magnetic resistance;
16 tension levels available;
Easy-to-use fitness monitor;
LCD with backlight for improved readability;
24 workout programs available;
Two user profiles
Goal settings for time, distance, and calories;
Bluetooth-enabled fitness monitor, compatible with the MyCloudFitness app for iOS and Android;
Device holder included;
Bottle holder included;
Quiet operation;
Reasonably easy to assemble;
Little maintenance is required.
Cons
No quick keys for resistance adjustment;
No USB charging port;
A relatively short stride – only 13″.
Exerpeutic 4322 Magnetic Elliptical Summary
The Exerpeutic 4322 is an elliptical trainer made for home use. It has a 16-level motorized magnetic resistance system, a large flywheel for consistent momentum, and a fitness monitor with 24 workout programs. The monitor is also Bluetooth-enabled and compatible with the free MyCloudFitness app.
Moreover, it's a fairly decent machine for the price, great for light to medium-intensity cardio workouts, interval training, muscle toning, and weight loss.
I hope you found this article helpful and informative. Would you please speak up if you have anything you'd like to share on the topic or any opinions about my website? I look forward to your comments, questions, and the sharing of ideas.
Please remember to consult your physician to determine if you have any medical or physical conditions that could risk your health and safety or prevent you from using the equipment properly. In addition, your physician's advice is essential if you are taking medication that affects your heart rate, blood pressure, or cholesterol level.