The Life Fitness IC1 Exercise Bike is for the no-frills fitness enthusiast that values durability and longevity over anything. You can get more tech and more cutting-edge features from some of this bike's competitors, but if you're more the type that wants to "disconnect" during a workout, this bike has you covered for years to come.
The IC1 indoor cycle is a classic example of focusing on the fundamentals. Rather than trying to add in as much other tech and as many frivolous features as possible, Life Fitness spent money where it counts. This thing is built like a tank from tip to tail, right down to the linking structures used for its seat adjustment.
The Life Fitness IC1 Exercise Bike's key features are a 40-pound perimeter-weighted steel flywheel for even pedaling, a Poly-V belt drivetrain for smooth, low maintenance quiet operation, and On-Board blue backlit RPM console.
The Life Fitness IC1 exercise bike is a straightforward but powerful machine that can improve your fitness and provide all the necessary data required to make it more effective. Although it is not as advanced as some of the other spin bikes in the market, this bike will last for a long time.
Learn more in my complete review below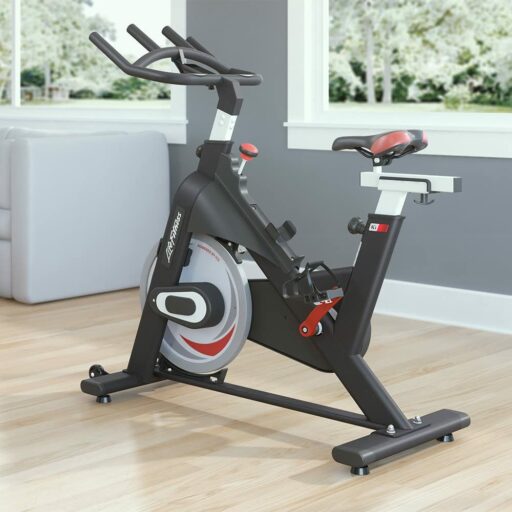 Product: Life Fitness IC1 Exercise Bike
Price: For a great deal on this bike, merely go here on Amazon
Warranty: Frame 5 Years / Mechanical components 3 Years / Other parts 1 Year / Labor: 1 Year
My rating: 8.5/10
Amazon Affiliate Disclosure: I may earn commissions on purchases made through links in this post.
Details and Specifications
Assembled dimensions: 45.3L x 21.7W x 43.3H inches (115L x 55W x 110H cm)
Assembled weight: 112 lbs (51 kg)
Flywheel weight: 40 lbs (18 kg)
Supported weight: 287 lbs (130 kg)
Seat: 4-way adjustable
Drive system: Belt
Resistance: Friction
Fitness console: Time, distance, cadence, pulse, and calories burned
Extras: Bottle holder
Warranty: Frame 5 Years / Mechanical components 3 Years / Other parts 1 Year / Labor: 1 Year
IC1 Frame construction
The Life Fitness IC1 indoor cycle features a heavy-duty frame made of thick steel tubing. It combines ovalized and rectangular tubes in its construction for improved sturdiness and aesthetics. The mainframe section is double-coated with a corrosion-resistant and abrasion-resistant paint finish. The color used is black, with the "Life Fitness" logo painted white, these being the only colors available for this bike. The seat post, the handlebar post, and the flywheel have a chrome finish.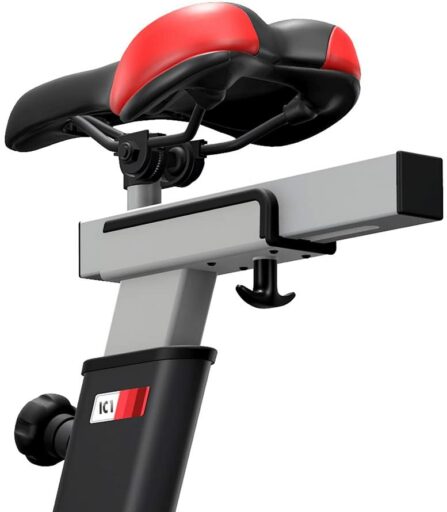 The fully assembled bike is relatively heavy. Its net weight is approximately 112 lbs (51 kg), which is more than twice most road bikes' weight. All this weight adds plenty of stability. Plus, both base tubes come equipped with adjustable and rubberized levelers.
Although the bike is heavy, once assembled, it is easy to move. Its front base integrates a set of wheels. So, you won't be handling more than 35% of the bike's total weight by using these wheels.
Similar to other spin bikes, the Life Fitness IC1 is not an extremely large fitness machine. It is 45.3″ (115 cm) long and 21.7″ (55 cm) wide. It is advisable, though, to leave at least 24″ (61 cm) of clearance on each side for ease of access.
It's important to mention that the bike's frame features a step-up bar; again, another element that other spin bikes don't have. This is the small oblique bar that connects the seat tube with the mainframe tube. It's for specific spin workouts or as support for stretching and other exercises.
Seat and handlebars
The Life Fitness IC1 comes equipped with a standard spin seat. It's not too slim, though, and has a generous layer of cushioning, especially in its rear section. Its top is made of durable vinyl material and also has a central groove for improved breathability.
The seat's attachment system to the adjustment slider features a standard collar with a bolt and nut. Therefore, if you will ever need or want to replace it, compatible options are widely available.
The bike's seat offers four-way adjustability (up, down, front, back). Its upright post has 15 adjustment positions, while the horizontal slider adds several inches of front-to-back adjustment. Thus, the bike will accommodate users between 5'1″ and 6'6″ (155 – 198 cm). It is also has a maximum user weight capacity of up to 287 lbs (130 kg).
The Life Fitness IC1 has a slightly different handlebar design than your average spin bike. To begin with, it offers multiple grips, including standard, climbing, aero, and parallel. It also has a curved bar at the center to which the console is attached. This bar offers an extra grip.
A layer of urethane material covers the bike's handlebar assembly. Its lowest bar integrates a set of metallic pulse sensors. So, by holding on to them, they can monitor your pulse rate.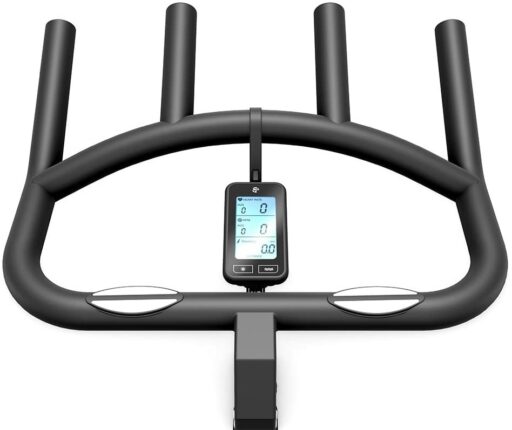 IC1 Resistance system
The Life Fitness IC1 indoor cycling bike is equipped with a standard friction resistance system. This means you don't have to connect it to a power source. But on the other hand, it also means that it doesn't automatically adjust the resistance and does not have pre-set workout programs.
The bike's resistance system consists of a felt brake pad attached to the tension knob on top of the frame's top tube. By turning the knob clockwise, the brake pad applies more friction to the flywheel, which increases the pedaling difficulty.
The bike's resistance system doesn't have pre-determined tension levels or clicks on it. You tighten it until you get the desired pedaling difficulty. As a general idea, the brake pad can compress on the flywheel up to the point you can barely pedal, simulating a very steep climb.
The bike integrates a perimeter-weighted, 40 lb flywheel. This perimeter-weighted design improves inertia, adding consistency to the ride, which is quite essential for spin workouts.
Drive system
The flywheel allows reverse pedaling as well. However, since the bike's drivetrain has a simple transmission, coasting or free-wheeling is not possible on this bike. The pedals continued to spin for as long as the flywheel is turning, and when you're pedaling in reverse, you will get the same resistance as when pedaling forward.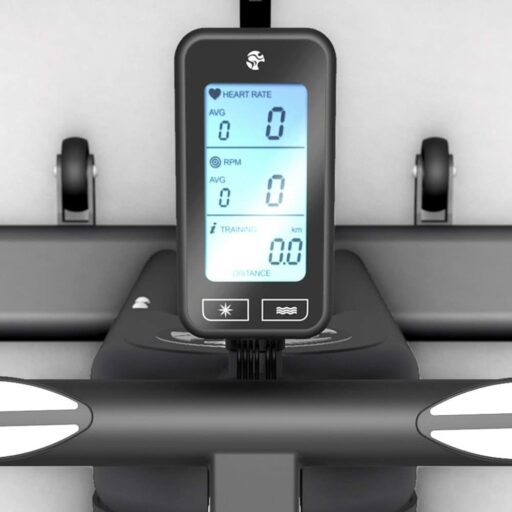 The bike's tension knob also has an emergency brake function. You can press it down to stop the flywheel from spinning if needed. This may be necessary, especially if you've been pedaling at high speed.
The bike's drivetrain uses a poly-v belt resistant to stretching. Thus, it doesn't require any lubrication. Also, a belt generates less vibration than a chain and contributes to the ride's overall smoothness.
The Life Fitness IC1 comes equipped with a 3-piece crankset featuring solid steel arms. It will support any spin workout as long as it doesn't exceed the specified 287 lbs (130 kg) weight limit.
The included pedals don't have SPD elements for spin shoes, but they do have adjustable toe cages. They also have standard 9/16 threads, so compatible options are widely available if you ever need to replace them.
Last but not least, the bike has a pretty narrow Q-Factor (spacing between the pedals). It is 6.81″ (173 mm) so that your feet have a natural positioning on the pedals without being too far apart. This eliminates the lateral stress on the knees and ankles.
IC1 Console
Although the included LCD isn't too fancy, as it doesn't have Bluetooth or online connectivity, it still is better than the average basic unit. Its LCD divides into three sub-sections so that you can see up to three workout metrics at once. It tracks time, distance, speed, RPM, calories burned, and pulse.
Speed and distance are set either to metric units (km/h, kilometers) or English units (MPH, miles). Additionally, the fitness console is not telemetric. In other words, it can only read your pulse if you hold on to the sensors integrated into the handlebars. It cannot communicate with a wireless heart rate chest strap.
The console is easy to use. It only has two buttons – Flow and Reset. The Flow button allows you to scroll through the workout metrics to select the ones you want to view, or select the Scan Mode to rotate time, distance, and calories on the bottom display section. The Reset button clears all the values to zero.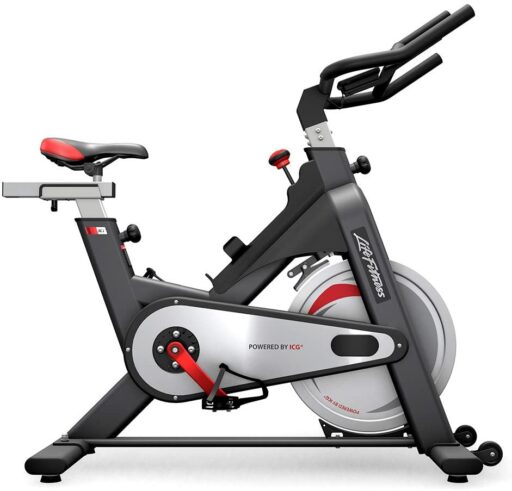 The console is battery-powered and requires two AA batteries, which are (included) with the bike. It starts up when it detects flywheel movement or when you press the Flow button. It also automatically turns off to save battery life.
IC1 Assembly and Maintenance
Most of the bike comes pre-assembled. You only have to attach the two base bars, the seat post, the seat, the handlebar post, the handlebars, the fitness console, and the pedals. This shouldn't take more than 30-40 minutes. The manual provides clear assembly instructions, and an essential toolkit is also (included) with the bike.
Since the bike's drivetrain uses a belt, not a chain, it doesn't require periodic lubrication. However, the bike's brake pad may need a bit of silicone lubricant, especially if it squeaks when it makes contact with the flywheel. Other than this, you only have to inspect the bike periodically and re-tighten any potential loose bolts or parts.
Pros
Sturdy construction, similar to light-commercial bikes;
Can support users up to 287 lbs;
Adjustable stabilizers on both base bars;
Transport wheels on the front base bar;
4-way adjustable seat;
High-comfort saddle with a central groove and a collar-based attachment system;
Multi-grip handlebar;
Pulse sensors integrated into the handlebar;
Smooth, almost silent belt drive;
Inertia-enhanced, 40 lbs flywheel;
Friction resistance for a wide array of pedaling difficulty levels;
Heavy-duty pedals with toe cages;
Narrow Q-Factor (173 mm) for reduced lateral impact on the joints;
Fitness console included – it can track time, distance, speed, RPM, calories, and pulse;
Easy to assemble;
Tools for assembly come included with the bike;
The bottle holder comes included;
Little maintenance required.
Cons
No SPD elements on the pedals (only toe cages);
The fitness console doesn't have online connectivity;
The pulse reading function is not too accurate.
Life Fitness IC1 Exercise Bike Summary
The Life Fitness IC1 is a heavy-duty indoor cycling bike designed to support any spin workout. It comes equipped with a friction resistance system, a comfortable seat, and a fitness console that can track all the essential workout metrics. It offers excellent micro-adjustability and comfort factors.
It's a great exercise bike for intense cardio workouts, intervals, leg muscle strength development, stamina development, and weight loss. It's not exactly an affordable bike but offers excellent value for the price.
I hope you found this article helpful and informative. If you have anything you'd like to share or any opinions about my website, please speak up. I look forward to your comments, questions, and the sharing of ideas.