The Velocity Exercise Magnetic Rower (CHR-2001) frame is durable, sturdy, and lightweight aluminum. The rowing beam is anodized aluminum with rectangular tubing support for added durability. Additionally, the Velocity Magnetic Rower has double-bearings, which significantly reduces the bearings' wear over time.
The Velocity Magnetic Rower is a magnetic resistance rowing machine that is extremely quiet and offers adjustable resistance. It comes equipped with a Drum Magnetic Control (DMC) system, which is essentially a magnetic braking system.
As you pull the rowing handle, you spin the metal flywheel inside the front housing. Inside the housing is a magnet that can move closer or farther from the metal flywheel. The closer the magnet is to the wheel, the stronger the resistance. The farther the magnet is from the flywheel, the weaker the resistance.
The Velocity Fitness Magnetic Rower comes with a 5-button multi-function fitness monitor. It is at the base of the rower and easy to access while rowing. The fitness monitor keeps track of essential workout data, including Time, Count, Distance (in km), Calories, Strokes per minute, Watts, and Pulse.
Learn more in my complete review below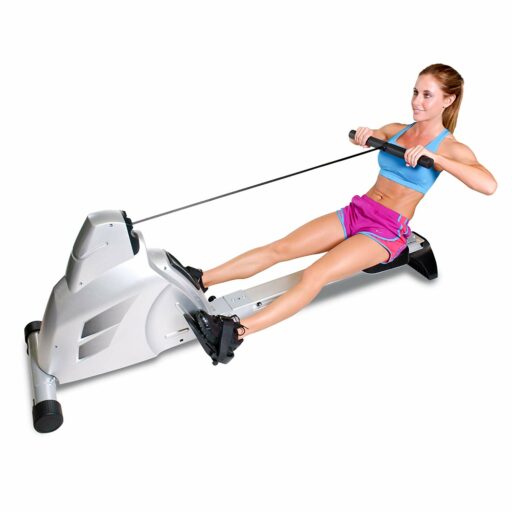 Product: Velocity Exercise Magnetic Rower (CHR-2001)
Price: For a great deal on this rower, merely go here on Amazon
Warranty: Frame 5 years / Console 90 days / Parts 30 days
My rating: 7.5/10
Amazon Affiliate Disclosure: I may earn commissions on purchases made through links in this post.
Details and Specifications
Assembled dimensions: 80L x 20W x 25H inches (203L x 51W x 63.5H cm)
Product weight: 75 lbs (34 kg)
Supported weight: 275 lbs (125 kg)
Frame: Anodized aluminum
Footrests: Pivoting, with straps
Resistance type: Magnetic, eight levels
Progress tracking computer: 12 workout programs
Warranty: Frame 5 years / Console 90 days / Parts 30 days
CHR-2001 Frame
The sliding rail and the front base are anodized aluminum, and this rower is quite sturdy. Even though it's rated for a maximum user weight of 275 lbs (125 kg), it should sustain users up to 300 lbs with no problem. The rear base is made of hard plastic, giving the sliding rail a slight slope. This particular aspect offers a better workout for the legs.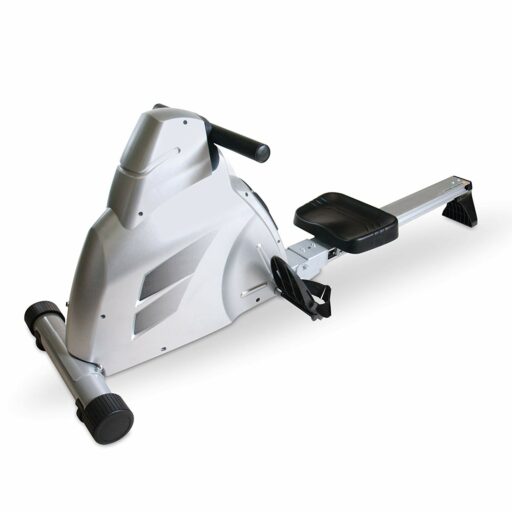 The flywheel and motor cover is made of hard plastic and comes already attached, protecting the machine's drive and brake systems. The front base is cylindrical, with plastic caps on its ends, also comes equipped with small transport wheels.
Although it's not an extremely heavy piece of equipment, it's not exactly easy to relocate and store after each session so that the wheels may come in handy.
Overall, the frame is pretty long, with an 80″L x 20″W footprint. However, it's foldable, as the gliding rail lifts. This way, the machine will take only 36″ of floor, length-wise.
Footrests and Seat
The footrests on the Velocity CHR-2001 are wide enough to accommodate feet of all sizes. They're thick, hard plastic, with a ribbed design. They're also equipped with straps to prevent slippage of the feet during workouts.
But most importantly, the footrests are angle-adjustable, so you can tilt them at the angle that you feel most comfortable. They're not horizontally adjustable, though, so they cannot be adjusted front-to-back. Also, the rowing strap's length and the seat's rail are for users between 4'10" – 6'1″ (147 – 185 cm).
Last but not least, regarding the frame of this rower, its seat is a polyurethane material. It's a pretty hard seat, without cushioning, but its contoured design offers enough comfort. If you're new to rowing and the seat may be too hard for you at first, a gel seat cover should solve the problem.
CHR-2001 Resistance system
This rowing machine features a drum magnetic control system (DMC). In other words, its resistance system involves a magnetic flywheel, a tension pulley, and a small servomotor.
The Velocity CHR-2001 features a rowing strap, not a chain, connecting to a pulley of about the same diameter as the flywheel. The pulley and the wheel connect via a high-torque transmission belt.
Therefore, since there's no connection between the flywheel and the brake pad, and the "drive" of the machine involves a belt, not a chain, there's virtually no maintenance required to the machine's insides. On top of that, this rower does not emit too much noise. The only sound you will hear as you work out is the whirring of the seat's wheels on the gliding rail.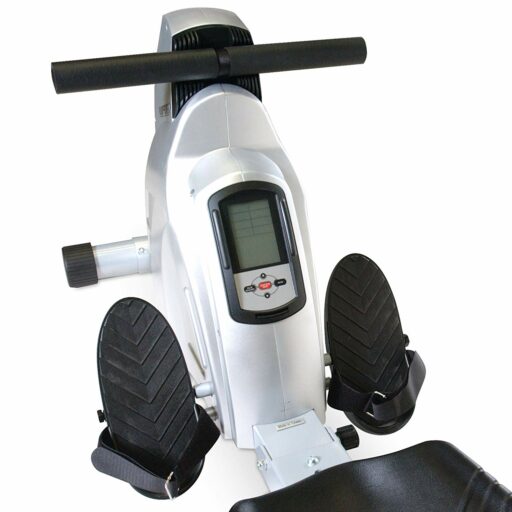 The resistance adjustment is made exclusively through the machine's incorporated console. The machine is capable of 8 resistance levels. However, you can workout without powering it on and use the default level 1 resistance setting.
Its maximum resistance level is comparable to about 3/4 of the maximum resistance setting that a gym-grade air rower can provide. Differently put, you will benefit from more than enough resistance for a consistent workout.
Also, to use the programs on the console and adjust resistance, the machine requires a connection into a 110V circuit. The unit comes with an adapter. To be more specific, it's an AHEAD AC Adaptor, class 2, with an input of AC120V, 60Hz, and 14W, and an output of DC 6V, 1000 mA. This adapter does not work with a 220V outlet.
Console
The console included with the Velocity Exercise magnetic rower isn't precisely the most advanced one, but it has much more to offer than a basic rower console. First, this performance monitor can track time, distance, strokes per minute, total strokes, calories, Pulse, and wattage.
It gives you the possibility to set goals for distance and time. Also, it has 12 workout apps, including six preloaded workout programs, one manual, 1 for heart rate, and four user profile programs.
The manual program is best to use if you want to adjust the resistance as you row manually. The HR program focuses on providing a cardio-focused workout, while the six preset programs will automatically adjust the resistance as you row, simulating windy or stronger currents. The user profiles offer an essential function to have in case multiple persons use the machine.
The console is telemetry enabled and tracks Pulse via a heart rate chest strap, which is (included) with the rower. It also features a Pulse Recovery function, which rates your Pulse after your workout.
To use this function, you need to press down the Pulse Recovery button for 1 minute, and via the chest strap, the console will rate your heart rate F1 – F6 (F1-best, F6-worst).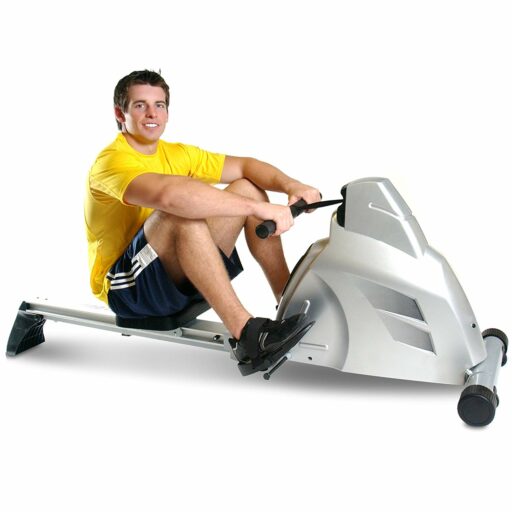 Other than this, the console is pretty easy and straightforward to use. It has a Start/Stop button, two arrow buttons for resistance or scanning through the programs, and an Enter button for selecting values, and, of course, the Pulse as mentioned above Recovery button.
CHR-2001 Assembly and Maintenance
One of the most simple fitness machines to assemble, this Velocity rower only requires you to attach the front base to the mainframe, the gliding rail, the seat, and the footrests. Along with the "insides," the console is already connected and covered by the plastic shrouds.
The manual included with the box offers excellent step-by-step guidance throughout the whole process. The tools required for the assembly also come included. The entire task shouldn't take longer than 20 min.
Maintenance doesn't require too much hassle either. Since it's a magnetic resistance machine, there's no wear and tear to the braking system, so you don't have to worry about replacing brake pads.
The whole maintenance only requires you to keep the seat rail free of any debris that might damage the rollers. Also, if it begins to squeak, some silicone-based lubricants should solve the problem.
Pros
Solid and sturdy frame, with quite an appealing design;
Space-saving, as it has a foldable frame;
Gliding rail slightly inclined for a better leg workout;
Angle-adjustable footrests;
Contoured seat for optimal ergonomics;
Adjustable, electric-powered, magnetic resistance, with eight levels;
12 workout apps;
Goal setting functions;
Includes chest strap for monitoring heart rate;
Tranquil machine;
Little maintenance required;
Cons
Although it has a pretty large footprint, it doesn't accommodate extra tall users, only up to 6'1″ – 6'2″;
Resistance doesn't have such a natural feel, such as in air or water rowers, but this doesn't stop the machine from offering a solid aerobic workout.
Velocity Exercise Magnetic Rower Summary
The Velocity Exercise Magnetic Rower (CHR-2001) provides just about everything you want from a magnetic rower.
Diversity in workout routines, variable resistance, and an excellent setting for a consistent daily cardio workout are some of the main benefits that this machine will bring into your life. Above all, it comes with an excellent price/quality ratio, and it's a pretty solid machine.
I hope you found this article helpful and informative. If you have anything you'd like to share or any opinions about my website, please speak up. I look forward to your comments, questions, and the sharing of ideas.