The Life Fitness Row HX Trainer combines a tempered steel frame and natural wood. As a result, the machine looks attractive, stylish, and durable. You will feel proud of the device, and you can place it in any room in your house.
When you use a rowing machine to work out, it is imperative for you to feel natural during each stroke. Many jerks during your training on such a machine may cause several injuries. Keeping this in mind, the Life Fitness Row HX Trainer is exceptionally smooth so that you do not feel a single jerk during your workout.
Regularly using the Life Fitness Row HX Trainer at the same resistance level may make you feel bored after a few days. Therefore, the machine comes equipped with four different resistance levels. You can adjust the levels very quickly. You must turn the dial and switch from one resistance level to another.
Everybody wants to lose weight and look good. However, simply wanting something will not help you achieve your goals. You also have to work hard to move towards your mission. One of the most effective machines to use is a rowing machine. Along with a proper diet plan, it helps to exercise your entire body and remain fit.
Learn more in my complete review below!
Product: Life Fitness Row HX Trainer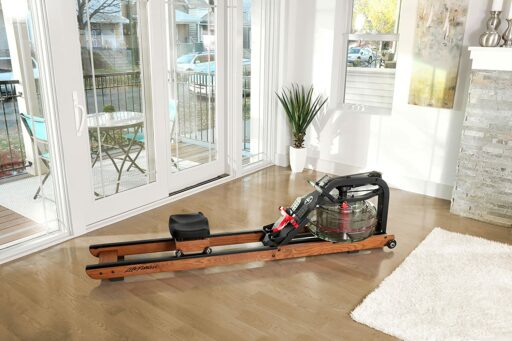 Price: For a great deal on this rower, merely go here on Amazon
Warranty: Frame 5 years / Tank & seals three years / Mechanical two years / Console 1 year / Labor 1 year
My rating: is 8/10
Affiliate Disclosure: As an Amazon Affiliate Program participant, I earn commissions on purchases made through links in this post. Full disclosure
Details and Specifications
Assembled dimensions: 83.5L x 20.4W x 22H inches (213L x 52W x 56H cm)
Assembled weight: 71 lbs (32.2 kg) w/o water; 108.3 lbs (49 kg) w/ water
Supported weight: 330 lbs (150 kg)
Frame: Wood & steel
Footrests: Adjustable, with straps
Resistance: Water, adjustable (4 levels)
Fitness Monitor: Time, time/500m, pulse, strokes per minute, calories per hour, distance, watts, USB port
Warranty: Frame 5 years / Tank & seals three years / Mechanical two years / Monitor one year / Labor 1 year
Row HX Frame Construction
Fitness Row HX Trainer combines steel and wood parts in its construction. The two main sliding rails of the machine are hardwood, oiled, and polished. The exact type of wood is not specified (probably Ash), but what's important here is that the wooden frame structure is durable enough to support users up to 330 lbs (150 kg).
The front section of the machine, which holds the water tank, is steel-made and coated with a corrosion-resistant paint finish. The color used is black, the only color available for this model.
The fully assembled unit is relatively large. It is approx 83.5″ (213 cm) long and 20.4″ (52 cm) wide. Thus, it can accommodate users up to 6'5″ (196 cm) with no problem, allowing a complete leg extension. However, leaving at least two feet of clearance all around the machine is advisable for easy access and safe usage.
Like other wooden frame rowing machines, the Life Fitness Row HX does not fold but can store vertically. When vertical, its height is 83.5″ (213 cm), which fits in a room with a 7-foot ceiling. It's also important to note that the water can remain in the tank when stored vertically.
The fully assembled rower is reasonably substantial. It weighs 71 lbs (32.2 kg) with its tank empty, and approx. 108 lbs (~49 kg) with the tank filled to maximum. Nonetheless, its front base comes equipped with rubberized wheels, which facilitate its relocation.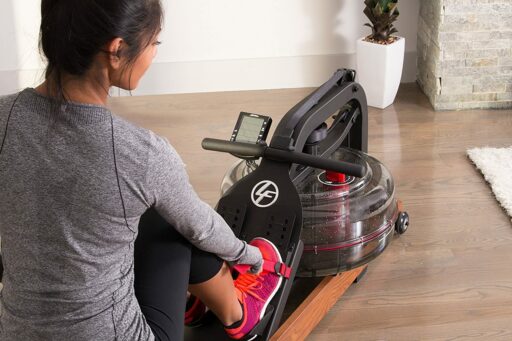 One last aspect to mention here regards the machine's stabilizers. The unit rests on four rubberized pads, which are non-adjustable. Therefore, a rubber mat may stabilize it correctly on an uneven floor.
Seat and other parts
The Life Fitness Row HX Trainer has a seat designed for optimal comfort. Its top is a durable polyurethane material featuring a contoured surface. Unfortunately, it does not integrate air cell cushioning, but it's not too hard either.
The seat offers plenty of contact surfaces; it is approx 12.5″ (32 cm) wide and 11″ (28 cm) deep. Moreover, its frame is durable enough to support up to 330 lbs (150 kg). Also, its height is 11.5″ (29 cm).
The seat features eight wheels; 4 of them slide on top of the unit's rails, and the other four slide on their inner side for extra stability. The wheels have a rubberized outer layer and internal ball bearings to provide a smooth and quiet seat.
The Life Fitness Row HX, a water-resistance rower, has two adjustable footrests. They are durable and flexible nylon materials, and they're attached to a rigid metallic plate. They are large enough to accommodate athletic shoes of all sizes, and they also come equipped with straps and heel guards for improved foot stability.
The angle of the footrest is non-adjustable. They do not pivot on their axis, such as other rowers. Their plate has an incline of approx—45 °.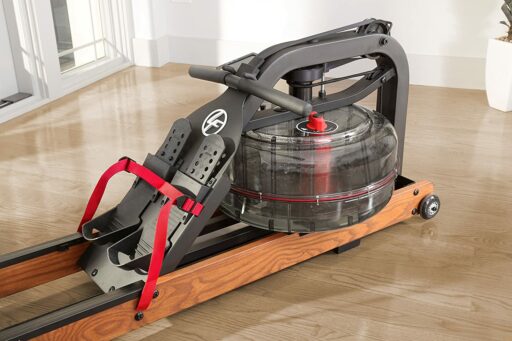 The unit's pulling handle consists of a metallic bar approx. 21″ (52 cm) long. Its grips are rubberized and slightly curved to reduce the impact on your wrists. Unfortunately, they don't have pulse sensors or other accessories.
The pulling handle is attached to a durable nylon strap, which passes through a system of pulleys. Since it's a strap, not a chain, it doesn't need lubrication. It also generates less vibration, quieter than a chain drive.
Row HX Water tank and resistance system
Like other water resistance rowers, the Life Fitness Row HX comes equipped with a durable polycarbonate water tank. Its capacity is approx. 4 gallons (15 liters). The tank features an internal impeller attached to a pulley and cord system. When you pull the handle, it spins into the water tank and generates resistance.
The water tank offers four adjustable levels of resistance. It is divided into two chambers (active and passive) and has an adjustment dial on top. Therefore, you turn the dial up to increase the overall rowing load.
This way, some water from the passive chamber transfers into the active chamber, so you won't have to add or remove water from the tank manually. Thus, it is a plus, as other fluid rowers do not have this feature.
It's also important to note that the HX rower provides a dynamic response and a rowing sensation similar to an actual boat's rowing. Therefore, it depends on how hard you pull the handle. So, for example, if you start rowing at a faster rate, you will get more resistance.
Finally, the level of noise generated by the water tank is minimal. In general, water-resistance rowers create less noise than air-resistance rowers. In addition, the sound produced by the impeller in the water tank can have a relaxing, disconnecting effect.
Fitness monitor
The Life Fitness Row HX Trainer includes a fitness monitor with more features than the average basic model. First, it has an LCD divided into sub-sections to show up to 7 workout metrics at once. Therefore, you don't have to use a Scan Mode to rotate them. Second, the monitor tracks time, time/500m, pulse, strokes per minute, calories per hour, distance, and watts.
The distance is in meters; there is no option for miles. The unit can also track your pulse only if you opt for the wireless HR chest strap, which does not come with the machine.
The fitness monitor does not have preset workout programs but has a distance target function. By pressing the large (left) button, you can set up a distance target for each workout. This button also has a Reset function. By pressing and holding it down for 3 seconds, you can clear all the unit values to zero.
The two (+ / -) buttons allow you to correlate the console adjustments to the tank's selected resistance level. For example, when setting the 3rd level of difficulty on the tank. In that case, you should also set the 3rd level on the monitor to provide more accurate readings for calories, watts, and time/500m.
The fitness monitor also has a USB port to connect to a PC or laptop and transfer your workout data into the Life Fitness App. This way, you can better track your workout data and progress.
Last but not least, the monitor is battery-powered. It requires two AA batteries, which come included with the machine. It starts up when you begin rowing. The monitor will keep your workout data for 5 minutes after you stop exercising, but after this time, it will enter its battery-saving mode, and all of your workout data will reset to zero.
Row HX Assembly and Maintenance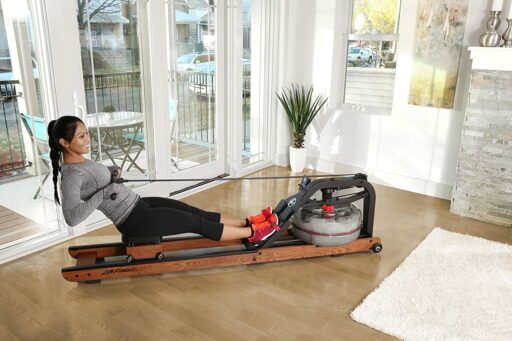 The machine's water tank comes pre-assembled and attached to the metallic front frame. However, the rest of the rower does require user assembly. Therefore, you will have to attach the two main rails, add the seat, and connect the rail system to the metallic frame, the footrests, and the fitness monitor.
Therefore, it may take up to an hour, but the assembly process is not too complicated, and the manual provides precise assembly instructions. Also, all the necessary tools come included with the machine.
For maintenance, the water inside the tank requires treatment with chlorine pills. One pack of chlorine pills comes with the rower, and one is put into the tank every 12 months. In addition, the unit's rails must be clean to prevent any damage to the seat wheels. Also, you should periodically inspect your rower for loose bolts or damaged parts and retighten them if necessary.
Pros
Sturdy frame construction – can support users up to 330 lbs;
Aesthetic design;
Storable in an upright position;
Easy to handle and transport;
Transport wheels on the front base;
Adjustable footrests with heel guards and straps;
Water-resistance system, delivering a dynamic response and a natural rowing feel;
Dual-chamber water tank with adjustable resistance (4 levels);
Contoured, ergonomically designed seat;
Multi-window fitness monitor that tracks time, time/500m, pulse, strokes per minute, calories per hour, distance, and watts;
USB connection for online workout data tracking;
Smooth and quiet operation;
Rowing machine for users of all levels;
Little maintenance is required;
Easy to assemble;
Excellent warranty.
Cons
No workout programs on the fitness monitor;
An HR chest strap does not come with the rowing machine.
Life Fitness Row HX Trainer Summary
The Life Fitness Row HX Trainer is a water-resistance rower designed for home use. It features a sturdy frame with an aesthetic design and a dual-chamber water tank with four resistance levels. It also includes a multi-window fitness monitor that tracks seven workout metrics.
Moreover, it's a rowing machine for users of all levels, great for a low-impact, full-body cardio workout, muscle toning, stamina development, and weight loss.
I hope you found this article helpful and informative. Would you please speak up if you have anything you'd like to share on the topic or any opinions about my website? I look forward to your comments, questions, and the sharing of ideas.
Please remember that you should consult your physician to determine if you have any medical or physical conditions that could risk your health and safety or prevent you from using the equipment properly. In addition, your physician's advice is essential if you are taking medication that affects your heart rate, blood pressure, or cholesterol level.