Discover the power of your core strength by building endurance and improving cardio health on the LifePro Electrostride Folding Treadmill. Aerobic exercise transforms the mind and body by reducing stress, decreasing chronic pain, regulating weight, and strengthening your core.
Regular exercise builds muscle mass and boosts metabolism, so you keep burning calories more efficiently, even while resting. Reach speeds up to 8.7 mph on the 48L x 17.7W inches (122L x 45W cm) track, powered by a high-end 2 HP motor. Running for just 15 minutes every day can increase your muscle strength, improve cardiovascular health, and boost your metabolism.
The LifePro Electrostride Treadmill features 36 pre-set training programs or three manual training programs with customizable time, distance, or calorie goals. Handrail controls allow you to adjust workouts while running efficiently. Connect with fitness apps on your phone or tablet to track your health and achieve your goals. Stow, your device on the built-in tablet holder.
Pulse sensors on the handrail monitor your heart rate, alternating it with speed and time on an LED display. Another LED display shows the distance covered and calories burned. The LifePro Electrostride treadmill folds to a slim 5.5" width for convenient storage anywhere: vertically against a wall or horizontally beneath the furniture.
Learn more in my complete review below!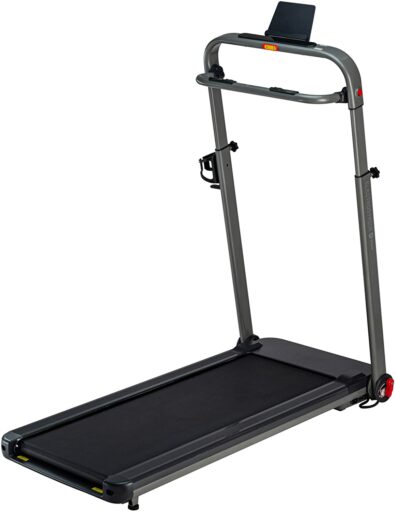 Product: LifePro Electrostride Folding Treadmill
Price: For a great deal on this treadmill, merely go here on Amazon
Warranty: Lifetime
My rating: 9/10
Affiliate Disclosure: As an Amazon Affiliate Program participant, I earn commissions on purchases made through links in this post. Full disclosure
Details and Specifications
Assembled dimensions: 57.8L x 30W x 51.2H inches (147L x 76W x 130H cm)
Tread belt dimensions: 48L x 17.7W inches (122L x 45W cm)
Assembled weight: 91.5 lbs (41.5 kg)
Supported weight: 198 lbs (90 kg)
Motor: 2.0 HP, 0.6 – 8.7 MPH
Incline: No
Console: 39 programs, BMI, Bluetooth
Extras: Bottle holder, the device holder
Warranty: Lifetime
Electrostride Frame construction
The LifePro Electrostride treadmill has a frame made from steel. It combines oval, cylindrical, and rectangular tubes in its construction, all coated with a thick, corrosion-resistant, and abrasion-resistant paint finish, gray.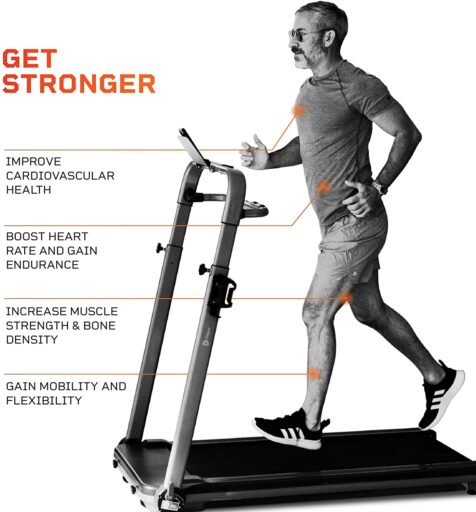 The fully assembled unit has a pretty compact footprint, which is great for apartment use. It is approximately 57.8″ (147 cm) long and 30″ (76 cm) wide. It is also advisable to allow at least two feet of clearance on each side of the walking platform and at least three feet at its rear for safe usage and ease of access.
One of the essential features that I must note here is the adjustability of the two upright bars. They offer several inches of height adjustment, up to 6′ (183 cm) above floor level, while the console's lowest position is approx—51″ (130 cm). In addition, two turn knobs secure the two adjustable sections of the upright bars.
Like many other treadmills made for home use, the LifePro Electrostride features a folding design. The two upright bars with the console fold down alongside the deck, and the machine can store either vertically or even under a bed if there is at least 6″ (16 cm) of clearance underneath it. The dimensions of the folded unit are 65.7″L x 30″W x 5.5″H (167 x 76 x 14 cm).
Although it's not a super large treadmill, the LifePro Electrostride is fairly heavy. Its net weight is approx. 91.5 (41.5 kg). Therefore, two persons should carry the packaged unit. However, one person can easily move the treadmill once assembled as its front base bar comes equipped with two transport wheels.
Deck construction and step-up height
First of all, the LifePro Electrostride treadmill doesn't have an incline system. Therefore, you cannot adjust the angle of the deck. Also, the deck is horizontal, not slightly slanted, as is the case for some other running machines. Thus, it provides a neutral, natural stride.
The belt has a multi-layer structure. The top layer is rubberized, designed for an improved grip. The inner layers reduce impact and for superior contact with the rollers.
The machine doesn't have a super large walking platform. The active surface of the belt is 48″L x 17.7″W (122 x 45 cm). Therefore, this treadmill is designed for walking and jogging, even though it provides speed levels up to 8.7 MPH.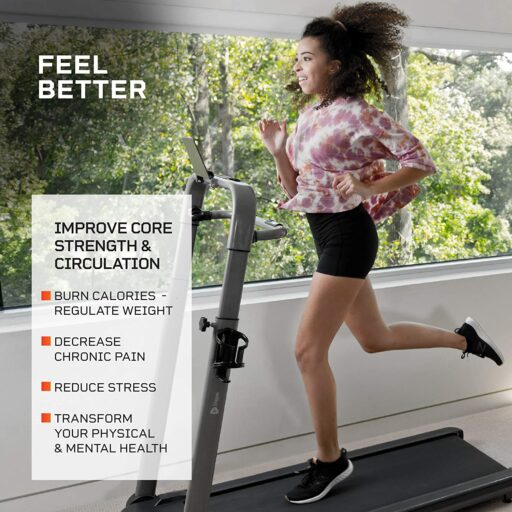 Almost anyone should use it as long as they don't exceed the specified 198 lbs (90 kg) weight limit for walking. However, users over 6'0″ (183 cm) may not benefit from a complete range of motion for running.
The LifePro Electrostride treadmill doesn't have large cushions visible on each side of the deck like most commercial machines do. However, the deck does have several internal shock absorption elements concealed by the side rail covers. The deck also has a bit of flex. So a walk or jog delivers a lesser impact on your joints than a walk on asphalt or cement.
The exact dimensions (diameter) of the internal rollers are not specified. However, they have a crowned design for improved traction, and they integrate industrial-grade ball bearing for smooth operation.
Last but not least, the height of the walking surface is approximately 4.5″ (12 cm). This facilitates entry and exit and shouldn't result in any ceiling issues, even if you use the machine in a room with a low ceiling level.
Electrostride Drive motor
The LifePro Electrostride treadmill comes equipped with a 2.0 HP motor. It's not a super-powerful treadmill motor but still offers the possibility to run for a relatively long time without overheating. It also comes equipped with a small flywheel for improved motion stability.
The machine offers a speed range between 0.6 MPH and 8.7 MPH. The speed adjustment increments are 0.1 MPH. There are controls for gradual speed adjustment available on the console and the front handlebar of the machine. This treadmill does not have controls for quick speed adjustment. So, when you want to reach 6 MPH, you will have to press and hold one of the + speed controls.
Since the treadmill's motor is not super powerful and only offers a peak output of 2.0 HP, its power consumption is minimal. Thus, even if you use it daily, it shouldn't add more than a few dollars to the electricity bill. Also, the motor itself doesn't generate much noise when in use, but depending on how fast you go, your cadence may create more or less noise.
Console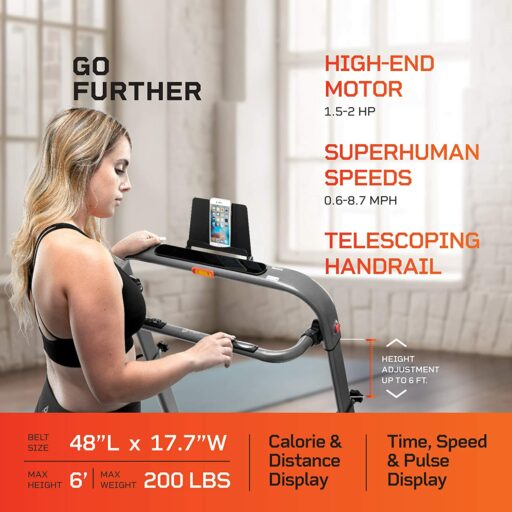 The LifePro Electrostride treadmill features a minimalistic console with a 2-window LED display. It tracks time, speed, distance, calories, and pulse. Distance and calories share the left window, while speed, time, and pulse display in the right window.
The speed and distance are by default set to English units (MPH and miles), but there is also the option of putting them to Metric units (kmh and kilometers). The pulse reading function is grip contact only. Therefore, the console can just read your pulse if you hold on to the sensors integrated into the treadmill's front handlebar.
This treadmill offers a pretty impressive range of workout programs. First, there are three user-defined programs (U1, U2, U3). Thus, you can create three custom programs with ten segments and select each segment's duration and speed.
Next, there are 36 pre-set programs (P1 – P36). Each program has ten segments, and for each part, there is a pre-set speed. For each pre-set program, the default duration is 30 minutes, but you can change this at the programs' start. The duration of each workout segment is a 10th of the total set up duration.
There is also a BMI (or Body Fat) program. This program measures your body fat depending on weight, height, age, and gender. Once you input all these values, the console will calculate your Body Mass Index based on this result. As a result, you can determine whether you need to exercise more, increase, or decrease your diet.
Finally, the machine's console has Bluetooth connectivity and is compatible with various fitness apps such as AnyRun or Kinomap. In addition, it comes with two QR codes that you can scan to sync your treadmill with the desired app for online progress and history tracking, various workout plans, interactive training, virtual training, and more.
Electrostride Assembly and Maintenance
The Electrostride treadmill comes pre-assembled. You only need to remove it from its box, unfold and secure its upright bars into position, unfold the handlebar, attach the tablet holder and the bottle holder.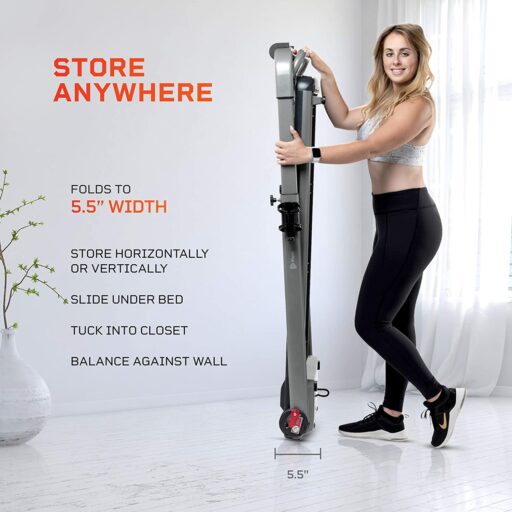 This shouldn't take more than 10 minutes of your time. All the necessary tools come with the machine, and the manual provides clear instructions for the task. It is also important to note that you have to register your product on the official Lifepro website within two weeks from purchase to benefit from the lifetime warranty.
For maintenance, the belt requires periodic lubrication, and a bottle of treadmill oil comes included with the machine. It is also advisable to keep the belt clean and wipe off the sweat after use, if necessary. The motor casing is also easy to remove, and it is advisable to vacuum inside if required. The manual provides all the essential maintenance instructions as well.
Pros
Fairly sturdy deck for a light treadmill – 198 lbs (90 kg);
Height-adjustable upright bars;
Folding design;
Can be stored vertically;
Adjustable levelers and transport wheels;
Start/Stop and speed controls integrated into the handlebar;
Pulse reading function;
Speed levels up to 8.7 MPH;
Speed adjustment increments of 0.1 MPH so you can quickly adapt your pace;
Minimalistic console with two LED displays;
Three user-defined programs;
36 pre-set programs;
Body Mass Index calculator;
Bluetooth connectivity;
Compatible with various fitness apps, including Kinomap;
Device holder included;
Bottle holder included;
Little assembly required;
Little maintenance required;
Excellent warranty.
Cons
No quick speed selection controls (only gradual speed adjustment);
No step count function.
LifePro Electrostride Folding Treadmill Summary
The LifePro Electrostride is a light-capacity treadmill made for home use. It comes equipped with a 2.0 HP peak power motor, a LED console with 39 programs, and Bluetooth connectivity and has height-adjustable vertical bars. It is also foldable and can store vertically or horizontally.
Moreover, it's a great trainer for walking, jogging, and running, offering speed levels up to 8.7 MPH. And finally, it's not exactly the most affordable machine in this feature range, but it provides excellent value for the price.
I hope you found this article helpful and informative. If you have anything you would like to share or any opinions about my website, please speak up. I look forward to your comments, questions, and the sharing of ideas.