The HulkFit 1000-Pound Power Cage is a fully-functional power cage with a multi-purpose design and features. With this in mind, the entire frame is 11-gauge, 2.5″ x 2.5″ heavy-duty steel with an H-shape base for increased stability and safety. The bottom also has rubber feet, which adds to the stability. The cage is a combination of yellow (mainly) and black colors.
Moreover, apart from admiring its capability of sustaining 1000 pounds of weight, I like that it comes with steel safety bars and extra J-hooks. Additionally, it includes two dip bars with safety locks for complete safety during intense training.
You can perform all your power and strength training without any safety concerns, including squats, shoulder and bench presses, and deadlifts. It also provides you with the comfort and ease of 2 diamond-design steps for perfect stepping within the cage, foam grips on the bars, and rubber feet to ensure stability.
The HulkFit 1000-Pound Power Cage gives you another fantastic option for a power cage. You will be able to set this up quickly and easily, and it also has a lot of customizable options (sold separately) to ensure that you get everything you need.
Learn more in my complete review below!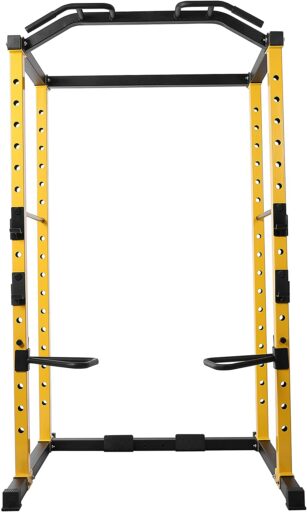 Product: HulkFit 1000-Pound Power Cage
Price: For a great deal on this gym, merely go here on Amazon
Warranty: 2 years limited
My rating: 9/10
Affiliate Disclosure: As an Amazon Affiliate Program participant, I earn commissions on purchases made through links in this post. Full disclosure
Please note that some of the images contain optional accessories.
Details and Specifications
Assembled dimensions: 47L x 49W x 86H inches (120L x 124W x 218H cm)
Assembled weight: 165 lbs (75 kg)
Max. weight capacity:
Rack: 1,000 lbs (453.5 kg)
Dip and chin-up bars: 400 lbs (181.4 kg)
Possible exercises: 30+
Warranty: 2 years limited
Power Cage Frame Construction
The HulkFit 1000-lb power cage has 11-ga, 2.5″ x 2.5″ steel bars that provide a pretty decent sturdiness. As the name suggests, it should support weights up to 1,000 lbs (453.5 kg), applying to the included safety bars and J-hook. Users have also reported it to hold loads up to 800 lbs (363 kg) with no problem.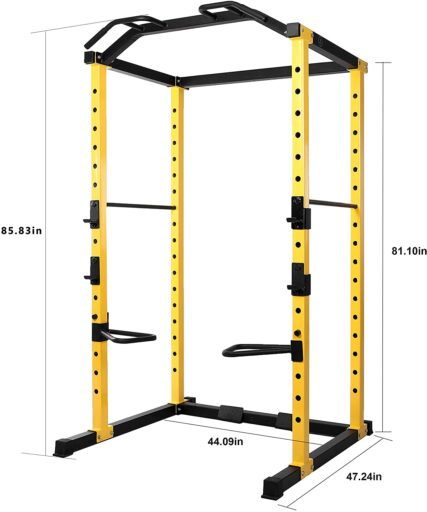 All the bars in the cage construction come coated with a thick layer of a corrosion-resistant paint finish. The colors used are yellow for the uprights, black for the base and top bars, and safety bars. Unfortunately, these are the only colors available for this power rack.
The fully assembled cage is not extremely heavy. It is approximately 165 lbs (75 kg) without any weights attached. This weight alone should provide enough stability. However, if you're wondering, the base bars don't have pre-drilled holes for anchoring them to the floor. They do have nylon caps for extra protection, though.
The HulkFit power cage is a bit smaller than a commercial-grade cage. Nonetheless, it is roomy enough to execute all in-cage exercises, such as squats or dips. Its footprint is approx. 47″D x 49″W (120 x 124 cm), while its height is close to 86″ (218 cm).
The distance between the upright bars inside the cage is approx 44″ (112 cm). Thus, the cage will accommodate Olympic (7′) bars. A bar does not come included with the cage.
The maximum height of the cage (86″) is given by the pull-up bars, while the rear top of the unit is approximately 81″ (206 cm) above floor level. Therefore, you will need a ceiling height of at least 92″ (234 cm) to properly execute all the pull-up and chin-up exercises.
The pull-up bar can be attached upside down to gain a few inches of clearance above the unit, but this way, it may considerably hinder the execution of squats and other exercises inside the cage.
Other parts
The unit's upright bars feature 17 attachment holes for the safety bars, J-hooks, and dip bars. The distance between them is 3″ (7.6 cm), while the distance between their center is ~4″ (10 cm).
The front top bar of the rack comes equipped with a set of pull-up handles. These have a multi-grip design. Therefore, they allow a close standard grip, a close parallel grip, a wide parallel grip, and an extended oblique grip.
The grip bars weld directly to the top frame bar. The distances between the parallel grips are 12″ (30.5 cm) and, respectively, 24″ (61 cm). The side oblique grips distance is approximate—40″ (102 cm).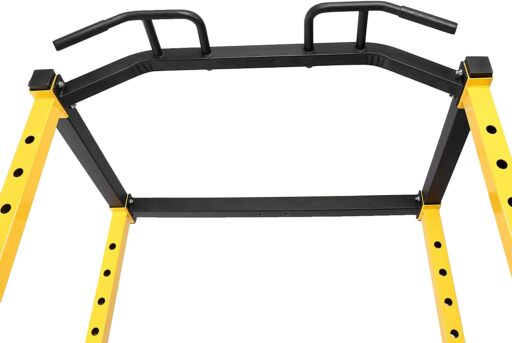 Last but not least, the rack's rear base bar features two diamond-patterned plates for low rows. Of course, you will need the lat attachment to execute low rows, which does not come with the cage.
Power Cage Included accessories.
Apart from the top pull-up bar, which is part of the frame, the HulkFit 1000-Pound power cage comes with three accessories sets. To begin with, just like any other power cage, it includes two safety bars.
However, unlike other power cages' safety bars, the ones included with this cage also have welded J-hooks at their front ends. The safety bars have a maximum weight capacity of up to 1,000 lbs (~453 kg).
The unit includes an additional set of standard J-hooks. These can serve their primary purpose as holders for your main press bar or support another bar. The safety bars and extra J-hooks easily relocate and attach to the upright bars.
The HulkFit 1,000-Pounds Power Cage also includes a set of dip handles. These have a multi-grip design. Their inner grips are at an angle. The average distance between them is 20″ (51 cm).
Their exact weight capacity is not specified, but several users have reported that they could perform dips with a total weight (body + attached weight) of 400 lbs (181.4 kg).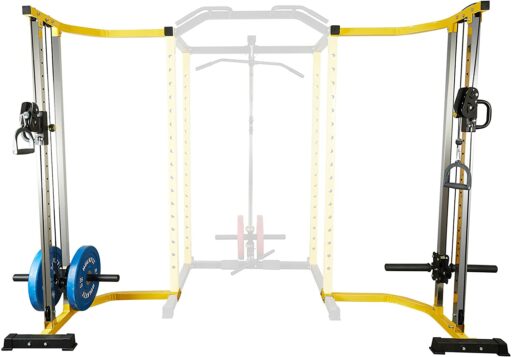 Power Cage Available Add-ons
There are several add-ons available (not included) for the HulkFit 1000-lbs. The first one to mention is the lat pulldown attachment. It is a pretty standard lat pulldown and connects to the rack's rear part.
It has a weight capacity of up to 500 lbs (226.7 kg) and comes with 2″ posts for Olympic weight plates. Its dimensions are 16″D x 28″W x 84″H (40.6 x 71 x 213 cm).
The lat attachment integrates five nylon pulleys with sealed bearings for smooth operation. Its cables are steel-made, PVC-sheathed, and rated for 1,000 lbs (453 kg) tensile strength. This attachment has a standard lat bar and a short, low-row bar.
The other notable add-on for the HulkFit 1000-Pound Power Cage is the Cable Crossover set. The two crossover elements attach to the power cage's side sections rendering it approximately 120″ (305 cm) wide.
Their weight carriages are similar to that of the lat attachment. They can be loaded with 500 lbs (226.7 kg) each and have Olympic (2″) pegs.
The upright bars of the crossover elements feature 19 positions for the mobile pulleys. The distance between the adjustment holes is approx—3″ (7.6 cm). Also, the mobile pulleys swivel 180° side-to-side to adapt better to the exercises you perform. A set of D-handles for them also comes included with the cable crossover.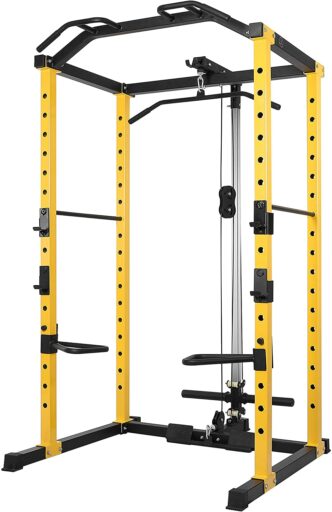 Possible Exercises
Pull-ups
Wide grip pull-ups
Muscle pull-ups
Behind head pull-ups
Around the world, pull-ups
One-arm pull-ups
Cliffhangers
Weighted pull-ups
Chin-ups
Close grip chin-ups
Wide grip chin-ups
One hand chin-ups
Weighted chin-ups
Dips
Weighted dips
Band-resisted dips
Dip to leg raise
Side-to-side dips
Gironda dips
Reverse Gironda dips
Hanging knee raises
Hanging leg raises
Push-ups
Deadlifts
Calf raises
Squats
Wide squats
Twisting squats
and more
Power Cage Assembly and Maintenance
Since this is only the HulkFit power cage without pulley attachments, its assembly is straightforward. It shouldn't take more than one hour. The manual provides clear assembly instructions, and an essential toolkit also comes with the cage.
Once assembled, maintenance doesn't require much. Therefore, you must keep the unit clean, wipe off any sweat droplets that may fall onto the frame after the workout, and periodically check for loose or damaged parts.
Pros
Sturdy frame, all-steel made, rated for loads up to 1,000 lbs;
Multi-grip handles included;
Multi-grip pull-up bars;
Pull-up and dip handles included, rated for loads up to 400 lbs;
Solid steel safety bars with J-hooks at their ends;
An extra set of J-hooks also comes included;
17 adjustment positions for the safety bars, J hooks, and dip handles;
Lat attachment available (not included);
Crossover attachments available (not included);
Over 30+ possible exercises;
Easy to assemble;
Little maintenance is required.
Cons
Weight holders do not come included.
Please note that some of the images contain optional accessories.
HulkFit 1000-pound Power Cage Summary
The HulkFit 1000-Pound Power Cage is a standard power rack featuring a pull-up station with multiple grips, a set of safety bars with J-hooks attached, and an extra set of J-hooks. The power cage also includes a set of dip handles.
Moreover, it's a sturdy piece of equipment that allows you to perform more than 30+ exercises and even more if you opt for the crossover or the lat attachments.
I hope you found this article helpful and informative. Would you please speak up if you have anything you'd like to share or any opinions about my website? I look forward to your comments, questions, and the sharing of ideas.
Please note: Before starting any exercise program, you should consult your physician to determine if you have any medical or physical conditions that could risk your health and safety or prevent you from using the equipment properly. In addition, your physician's advice is essential if you are taking medication that affects your heart rate, blood pressure, or cholesterol level.