The LifeSpan TR1200-DT3 is a top-selling treadmill base and retro console designed to support most users up to 350 lbs (159 kg). The compact under-desk treadmill guarantees a perfect fit and easy placement under your standing desk.
The portable retro console is small enough to fit discretely on your desktop and still provides all the necessary features, including readouts for steps, time, distance, calories, and speed. In addition, the dependable 20″ by 50″ walking surface is equipped with six impact-absorbing compression shocks, supporting users up to 350 pounds.
The LifeSpan TR1200-DT3 provides a quiet operation that lets you stay respectful of coworkers while you walk at your desk for miles each day without impacting office productivity. High-quality components reduce mechanical noise and vibrations, keeping your focus on the task. Get fit while you work with the TR1200-DT3 Under Desk Treadmill.
The TR1200-DT3 features Intelli-Step technology that detects each footstep and informs you of your daily step count. In addition, the integrated Intelli-Guard feature ensures the treadmill only operates when you are actively walking, supporting a safe work environment.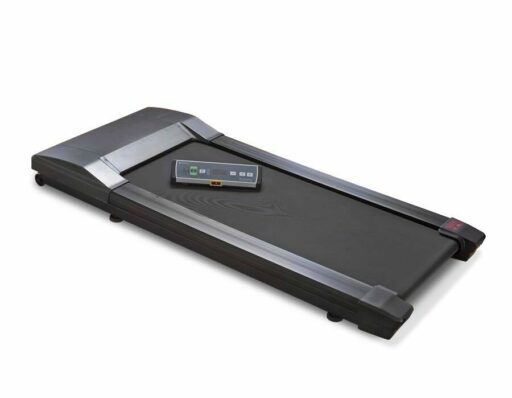 Learn more in my complete review below!
Product: LifeSpan TR1200-DT3 Under Desk Treadmill
Price: For a great deal on this treadmill, merely go here to Amazon.com
Warranty: Frame lifetime / Motor 3 years / Parts 2 years / Labor 1 year
My rating: 8.5/10
Affiliate Disclosure: As an Amazon Affiliate Program participant, I earn commissions on purchases made through links in this post. Full disclosure
Details and Specifications
Assembled dimensions: 63L x 28.5W x 7.2H inches (160L x 72W x 18H cm)
Tread belt dimensions: 50L x 20W inches (127L x 51W cm)
Assembled weight: 119 lbs (54 kg)
Max. weight capacity: 350 lbs (159 kg)
Motor: 2.25 HP, 0.4 – 4.0 MPH
Incline: No
Console: Time, step count, distance, speed, calories
Warranty: Frame lifetime / Motor 3 years / Parts 2 years / Labor 1 year
TR1200-DT3 Frame Construction
The LifeSpan TR1200-DT3 treadmill has a steel frame with a corrosion-resistant black paint finish. Of course, the machine also integrates several parts made from thermoplastic material. The most notable ones are the motor cover and the side rail covers.
The DT3 model is only 63″ (160 cm) long and 28.5″ (72 cm) wide, so it fits under most standard desks. However, it is also advisable to allow at least two feet of clearance on each side of the deck, and at least three feet at its rear, for unhindered usage.
Although it's not a standard treadmill and lacks the front upright supporting bars for the console, the TR1200-DT3 is relatively heavy, weighing 119 lbs (54 kg). Therefore two people should transport the packaged unit. However, once unboxed, one person can move the treadmill as its front base integrates a set of transport wheels.
Last but not least, this treadmill rests on four adjustable levelers. In addition, they have large rubber pads for an improved grip on the floor.
Deck Construction
The LifeSpan TR1200-DT3 treadmill features a cushioned deck. It integrates six shock absorption elements which considerably reduce the impact of the ride. The side rail partially conceals the shock absorption elements. They are non-adjustable.
The machine comes equipped with a 3/4″ (1.9 cm) phenolic deck. Therefore, the internal deck board is pretty sturdy but also has a bit of flex which adds to the overall shock absorption of the ride. The treadmill has a maximum user weight limit of 350 lbs (159 kg) which is not bad for a non-commercial machine.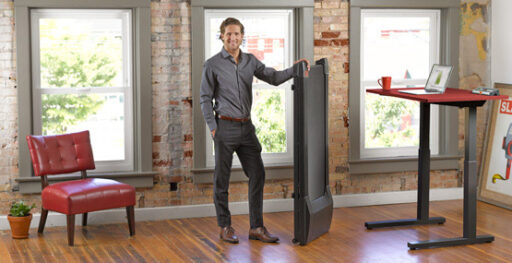 The LifeSpan TR1200-DT3 offers a pretty sizeable walking surface for an under-desk treadmill. It is 50″ (127 cm) long and 20″ (51 cm) wide, while similar models only offer a 40″L x 15″W (101 x 38 cm) active area. In addition, the belt comes multi-layered with a rubberized top layer, improving grip.
The internal rollers are smaller in diameter than the rollers of the average running treadmill. The front tapered roller is 2.4″ (6 cm) in diameter, while the rear tapered roller is 2.0″ (5 cm). As a result, they provide superior traction and prolong the belt's life span.
This treadmill does not have an incline system. Its step-up height is 4.6″ (11.6 cm). Thus, there shouldn't be any ceiling height issues. However, placing and using this machine in a room with a ceiling at least 10″ (25 cm) higher than the tallest user's height is advisable.
TR1200-DT3 Drive motor
The LifeSpan TR1200-DT3 is an electric, motorized treadmill. Thus, it requires an external power source. It comes with a power cord featuring a 3-prong US standard plug mounted to the machine's front base section, next to an On/Off switch.
The treadmill comes equipped with a 2.25 HP motor to withstand prolonged workouts. It is powerful enough to support 350 lbs (159 kg) users without overheating or losing performance. It also integrates a small flywheel which improves its overall motion stability.
The machine's motor offers a speed range between 0.4 and 4.0 MPH. Accordingly, it's a treadmill for walking, but you can also perform a light jog or a power walk at 4.0 MPH. The speed increments are 0.1 MPH, so you can quickly adapt your pace when making adjustments.
The retro console features arrow (Up, Down) controls for gradual speed adjustment. When using these, the speed adjusts in increments of 0.1 MPH. However, the console also has a Preset button, setting up a custom speed for quick selection. The default preset speed is 1.5 MPH.
The machine's motor is pretty quiet. Therefore, the treadmill is perfect for an office environment. However, depending on the user's weight, walking technique, footwear, and other factors, their cadence may generate more or less noise.
Console
The LifeSpan TR1200-DT3 comes equipped with a pretty simple retro console. It's not incorporated into the machine like other under-desk treadmills. Instead, it is attached to the treadmill via a power cord and placed on a desk.
Nevertheless, if you don't use the treadmill while working at a desk, you can set the retro console at the front of the machine.
The retro console features a LED display that tracks time, steps, calories, distance, and speed. By default, the speed and distance are in Imperial units (MPH and miles), but changing them to metric units is possible.
Unfortunately, the treadmill has no pulse reading function; it will not read your pulse from a wireless transmitter.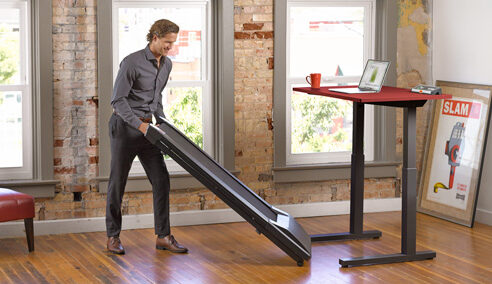 The retro console does not have preset workout programs or Bluetooth connectivity. It also isn't compatible with any fitness apps. However, it is pretty easy to use. It has five buttons. Start/On, Stop/Reset, Preset, Up, Down, and Enter/Mode.
The Start/On button is the power on button. The Stop/Reset button allows you to pause the belt or reset the values on the LCD. Finally, the Preset button allows a custom speed between 0.4 MPH and 4.0 MPH for quick selection.
From the Up/Down arrows, you can increase and decrease the speed. And finally, the Enter/Mode button allows you to scroll through the workout metrics or confirm the desired preset speed.
TR1200-DT3 Assembly and Maintenance
Like many other under-desk treadmills, the TR1200-DT3 doesn't require any assembly. All you have to do is remove it from the box, connect the power cord and the retro console, and the machine is ready.
For maintenance, the belt requires lubrication after every 50 hours of use. It comes pre-lubricated from the factory and shouldn't need lubrication before use. It would help to keep the machine clean, especially the belt, to prevent debris or textile fibers from being caught in the motor or the rollers.
Pros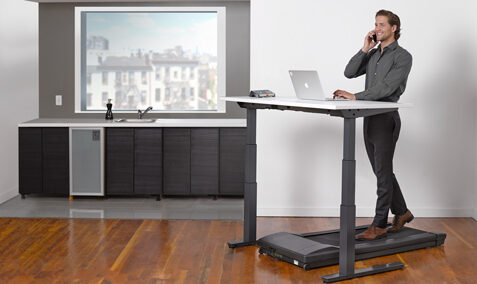 Sturdy construction – can support users up to 350 lbs;
Low profile design – 7.2″ – stores under a bed or couch;
Can fit under most desks;
No assembly is required;
Transport wheels on the front base;
Shock absorption elements integrated into the deck;
Speed adjustment increments of 0.1 MPH give you the possibility to find the perfect pace for your workout;
Fairly decent motor – 2.25 HP;
Preset speed function;
Easy-to-use LED retro console which tracks time, distance, speed, steps, and calories burned;
The speed and distance can either be metric or imperial units;
Sleep mode function;
Low noise level;
Little maintenance is required;
Excellent warranty.
Cons
No pulse reading function;
There are no workout programs.
LifeSpan TR1200-DT3 Under Desk Treadmill Summary
The LifeSpan TR1200-DT3 is a home or office-use under-desk treadmill. It has a 2.25 HP motor, a heavy-duty deck with a maximum user weight limit of 350 lbs, and a retro console that tracks time, speed, distance, steps, and burned calories.
In addition, it also offers a pretty broad 50″L x 20″W active surface for a walking treadmill. Moreover, it's an excellent treadmill for light to medium-intensity cardio, muscle toning, stamina development, and weight loss.
I hope you found this article helpful and informative. Would you please speak up if you have anything you'd like to share on the topic or any opinions about my website? I look forward to your comments, questions, and the sharing of ideas.
Please remember to consult your physician to determine if you have any medical or physical conditions that could risk your health and safety or prevent you from using the equipment properly. In addition, your physician's advice is essential if you are taking medication that affects your heart rate, blood pressure, or cholesterol level.