The foldable Circuit Fitness AMZ-979RW-BT Magnetic Rower is the ideal fitness equipment, with its 9-pound flywheel offering eight levels of resistance for a customizable cardio workout. You'll burn fat and tone muscles whenever you use this training equipment. In addition, it will help increase your cardiovascular endurance and develop a well-defined upper and lower body.
The AMZ-979RW-BT has an easy-to-read LCD fitness monitor, which tracks your workout progress by displaying time, count, strokes per minute (SPM), distance, calories burned, and pulse. Sync your smart devices with the rower via Bluetooth, install the Kinomap app on your smartphone/tablet, and start personalized visual workout sessions from home.
The Circuit Fitness AMZ-979RW-BT magnetic rowing machine features a durable, ergonomically designed mold-injected seat that allows users to exercise comfortably. In addition, the two pedals have a slip-resistant design for safety and comfort, plus their customizable foot straps accommodate people of all sizes.
This stationary rowing machine requires minimal floor space thanks to its sleek and uncomplicated frame. Featuring a foldable design, the AMZ-979RW-BT allows you to store it with two built-in transport wheels that allow easy moving and storage when you're not using the machine.
Learn more in my complete review below!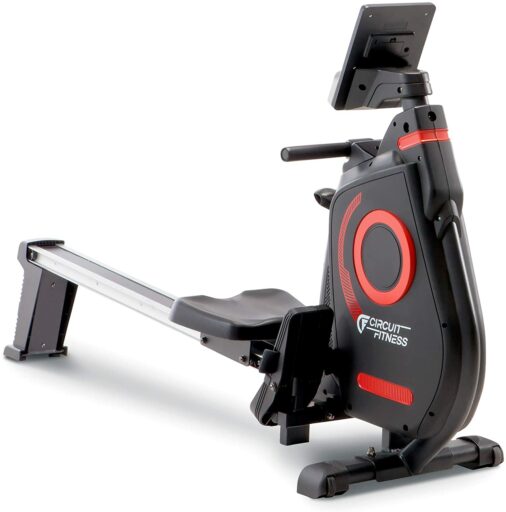 Product: Circuit Fitness AMZ-979RW-BT Magnetic Rower
Price: For a great price on this rower, merely go here on Amazon
Warranty: 2 years limited
My rating: 8.5/10
Affiliate Disclosure: As an Amazon Affiliate Program participant, I earn commissions on purchases made through links in this post. Full disclosure
Details and Specifications
Assembled dimensions: 72L x 19W x 38.5H inches (183L x 48W x 98H cm)
Assembled weight: 72 lbs (32.6 kg)
Flywheel weight: 9 lbs (4 kg)
Weight capacity: 300 lbs (136 kg)
Footrests: Pivoting, with straps
Resistance type: Magnetic, eight levels
Fitness Monitor: Time, count, strokes per minute (SPM), distance, calories, pulse, goals, Bluetooth
Warranty: 2 years limited
AMZ-979RW-BT Frame Construction
The Circuit Fitness AMZ-979RW-BT features a steel frame with thermoplastic covers for its drive system. Also, the main rail of the machine has aluminum tracks attached to its side.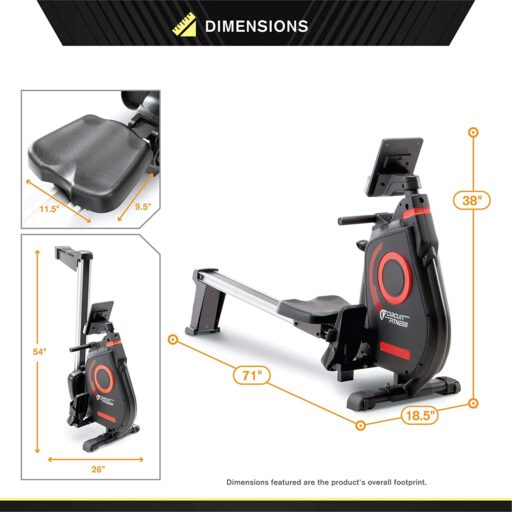 All the steel parts in the machine's construction come coated with a corrosion-resistant black paint finish. The aluminum tracks of the rail have their natural chrome polish. Simultaneously, the covers of the drive system are black and red for an extra aesthetic touch.
The rower is not too large compared to other models. However, it still is approximately 72″ (183 cm) long and 19″ (48 cm) wide. Therefore, it may not fit too well in a small room. In addition, leaving at least two feet of clearance on each side and at the machine's rear is advisable to ease access and use safely.
The machine's frame is foldable. Its rail can fold up to save space. With the rail folded up, the unit's footprint becomes approximately 36″L x 19″W (91 x 48 cm), while its height reaches approx—53″ (135 cm).
The unit's rail is approximately 34″ (86 cm) long. Therefore, the AMZ-979RW-BT rower comfortability accommodates users up to approx—6'2″ (188 cm), allowing for a complete range of motion.
It's also important to note here that the rail is not horizontal. Instead, it slants downward slightly, so the machine delivers a more consistent leg workout.
The fully assembled rower is not super heavy, weighing approximately —72 lbs (32.6 kg). However, one person can move the rower once completed, as its front base stabilizer has transport wheels.
Seat and other parts
The Circuit Fitness AMZ-979RW-BT comes equipped with a reasonably large seat. It is approximately 11.5″ (29 cm) wide and 9.5″ (24 cm) long, so it provides plenty of contact surface. In addition, it is a mold-injected seat with its top contoured for improved comfort and contact.
The seat base is steel-made and painted with the same black powder coating as the rest of the frame. It integrates two wheels that slide through the aluminum tracks' grooves connected to the rail. The wheels have inner ball bearings for smooth motion and a rubber layer outside to reduce noise.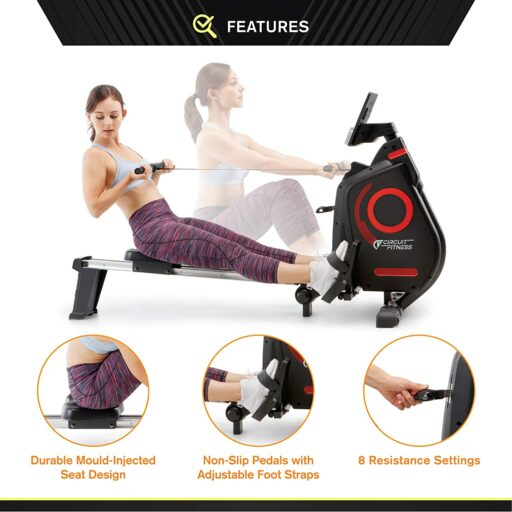 The seat and the rail assembly have a maximum user weight capacity of 300 lbs (136 kg). Thus, it is pretty impressive for a machine made for home use. The seat's highest point above the floor is approx—11″ (28 cm).
The Circuit Fitness AMZ-979RW-BT rowing machine comes equipped with pivoting footrests. Therefore, they tilt forward and backward slightly to provide optimal positioning for your feet throughout the rowing motion. However, they have heel stoppers, so they won't lean back past approximately 70 °.
The footrests are made of a rigid thermoplastic material (probably polypropylene). In addition, they feature a textured surface, heel guards, and adjustable straps for improved foot stability. Furthermore, their size is non-adjustable but large enough to accommodate many athletic shoe sizes.
The pulling handle is a simple, straight bar. It has rubber-foam sleeves for an improved grip. It's attached to the machine's resistance system via a heavy-duty, braided nylon strap, highly resistant to stretching and abrasion. Unfortunately, it does not have integrated HR pulse sensors or other controls.
AMZ-979RW-BT Resistance system
The Circuit Fitness AMZ-979RW-BT is a full-magnetic rower. Thus, it does not have air or water resistance elements. Instead, it has a magnetic brake system attached to the internal flywheel and the tension lever visible on the machine's front.
The brake moves closer or farther from the flywheel by moving the lever up and down, increasing or decreasing the workout load. There are eight difficulty levels available on this rowing machine. You will only work out via the flywheel's rotating force on the lowest tension level.
It's relatively light resistance and great for anyone who needs recovery training. Conversely, the 8th resistance level adds difficulty to the ride, which is excellent for anyone who wants a quicker and more intense cardio output.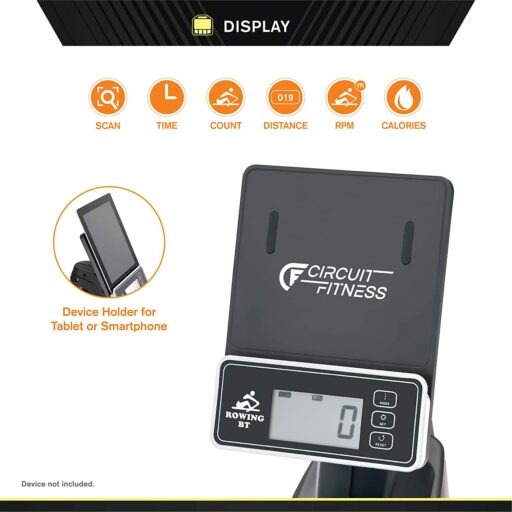 Since the machine's resistance system is manual, you don't need a power adapter or an external power source. However, the included fitness monitor cannot automatically adjust the resistance and does not have pre-set workout programs.
The built-in flywheel is not heavy, weighing only 9 lbs (4 kg). However, it is perimeter-weighted, which improves the overall momentum and adds consistency to the ride. In addition, the internal transmission is also belt-based, so you don't have to worry about its lubrication.
One last aspect to note here regards the rowing sensation generated by this machine. Being a full magnetic rower and not having an air-resistance fan or a water tank does not cause a dynamic rowing response. Thus, the rowing difficulty only depends on the selected resistance level.
Fitness monitor
The fitness monitor included with the Circuit Fitness AMZ-979RW-BT is relatively simple. It does not have any pre-set programs. Instead, it features an LCD that tracks time, distance, count (totals strokes), strokes per minute (SPM), calories burned, and pulse (an HR chest strap is required).
The distance displays in meters, and there is no option to convert it to miles or yards. In addition, the monitor's pulse reading function does not have integrated sensors into the pulling handle. So, to read your pulse, you must wear a wireless HR chest strap, which sells separately.
The fitness monitor included with the AMZ-979RW-BT rower has Bluetooth connectivity. In addition, it is compatible with the Kinomap app, which opens access to various structured interval workouts, has a database of videos to help you with your training, and tracks your progress online.
The monitor is straightforward to use. It has three buttons – Mode, Set, and Reset. The Mode button allows you to select the workout metric you want to view on display or the Scan Mode, which rotates them for 6 seconds.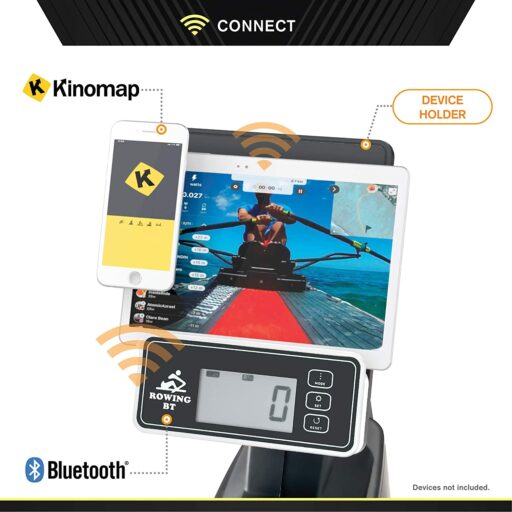 The Set button allows the creation of workout goals for time, count, distance, and calories. After choosing a goal, the monitor will count down from the specified value until zero. And finally, the Reset button clears all the values to zero.
The battery-powered monitor requires two AAA batteries that do not come with the machine. When you start rowing, it begins counting strokes, meters, calories, etc. In addition, it also automatically turns off after 4 minutes of inactivity on the rower.
Last but not least, the fitness monitor integrates a device holder. It has a large backrest and a small shelf that can host your phone or tablet. However, it does not have any connection ports for your device. The only connectivity is the built-in Bluetooth.
AMZ-979RW-BT Assembly and Maintenance
The central unit of the machine with the drive and resistance elements comes pre-assembled. However, the rest of the parts do require user assembly. You will have to attach the front stabilizer, the rail, the seat, the rear stabilizer, the footrests, and the fitness monitor.
Therefore, it shouldn't take more than 30 minutes of your time. In addition, all the included tools for the assembly and the manual provide precise assembly instructions.
Once assembled, you must keep the rower clean, mostly the aluminum tracks. However, the internal mechanism doesn't require any maintenance or lubrication. Besides this, you should only occasionally check for loose bolts and parts and retighten them if necessary.
Pros
Durable frame – can hold users up to 300 lbs;
Compact and aesthetic design;
Folding frame;
Transport wheels integrated into the front base;
Mold-injected, contoured seat for optimal comfort;
Aluminum track system;
Pivoting footrests with heel guards and adjustable straps;
Relatively long rail – can accommodate users up to 6'2″;
Frictionless magnetic resistance system with eight distinct levels;
Fitness monitor included – it can track time, distance, count, SPM, pulse, calories burned, and pulse;
Goal functions for time, distance, count, and calories;
Bluetooth connectivity – compatible with the Kinomap app;
Device holder included;
Easy to assemble;
Little maintenance is required.
Cons
No backlight on the fitness monitor LCD;
An HR chest strap does not come with the machine.
Circuit Fitness AMZ-979RW-BT Magnetic Rower Summary
The Circuit Fitness AMZ-979RW Magnetic Rower is for home use. It has a 34″ slanted rail, an 8-level magnetic resistance system, and a fitness monitor that tracks time, distance, count, count per minute, pulse, and calories burned.
In addition, it also has Bluetooth connectivity and is compatible with the Kinomap app for online workout history tracking, custom interval workouts, videos, etc. Moreover, it's a reasonably decent rower, great for a full-body cardio workout, muscle toning, interval training, and weight loss.
I hope you found this article helpful and informative. Would you please speak up if you have anything you'd like to share on the topic or any opinions about my website? I look forward to your comments, questions, and the sharing of ideas.
Please remember to consult your physician to determine if you have any medical or physical conditions that could risk your health and safety or prevent you from using the equipment properly. In addition, your physician's advice is essential if you are taking medication that affects your heart rate, blood pressure, or cholesterol level.