The space-saving Sunny SF-E3872 Underdesk Elliptical trainer can help move your legs forward with a low impact on the joints. In addition, it's excellent for increasing blood circulation, joint range of motion, and improved lower-body muscular endurance.
Use the tension knob to select eight belt drive magnetic resistance levels paired with a low-maintenance design to provide various exercise intensities to fit your specific needs. Keep your momentum up and your feet moving safely. Furthermore, non-slip foot pedals accommodate all sizes, while the grip ensures safe footing during workouts!
The Sunny SF-E3872 Underdesk Elliptical has a fitness monitor to keep track of your time, speed, calories, and distance. Or choose the scan function to scroll through all variables while working out. Unfortunately, it doesn't have a pulse reading function, so you'll have to use a separate device to track the pulse.
The SF-E3872 arrives fully assembled! Convenient pre-assembly means you can save time, money, and energy on assembling your elliptical; unbox it and begin your fitness journey! This low-profile and compact exercise machine is for use anywhere you sit. In addition, it's lightweight and equipped with a transportation handlebar.
Learn more in my complete review below!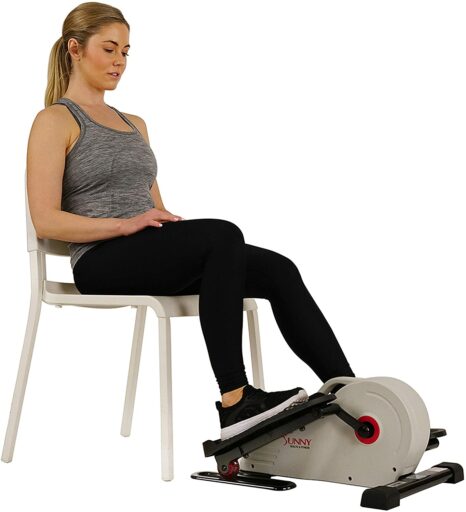 Product: Sunny SF-E3872 Underdesk Elliptical
Price: For a great deal on this gym, merely go here to Sunny Health & Fitness.com
Warranty: Frame 1 year / Parts 180 days
My rating: 8.5/10
Affiliate Disclosure: As a Sunny Health & Fitness Affiliate Program participant, I earn commissions on purchases made through links in the post. Full disclosure
Details and Specifications
Assembled dimensions: 24L x 19W x 11H inches (61L x 48W x 28H cm)
Assembled weight: 24.2 lbs (11 kg)
Stride length: 7 inches (17.7 cm)
Drive: Belt
Resistance: Manual magnetic, eight levels
Fitness Monitor: Time, distance, speed, calories, scan
Warranty: Frame 1 year / Parts 180 days
SF-E3872 Frame Construction
The Sunny Health & Fitness SF-E3872 underdesk elliptical trainer features an internal steel frame and a base plate welded together (no screws involved); this improves the unit's overall sturdiness. In addition, all the steel parts come coated with a corrosion-resistant black paint finish.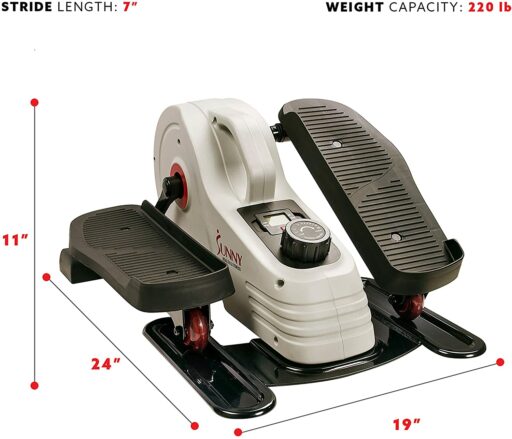 Furthermore, the external covers and the pedal trays are made of ABS material. The ABS covers are white, while the pedals are black, the only colors available for this Sunny elliptical trainer.
The unit comes fully assembled and offers excellent portability. The ABS covers feature a lifting handle at the top, which allows you easily lift and carry your underdesk elliptical. The unit is not too heavy but still weighs approx—24.2 lbs (11 kg).
The Sunny SF-3872 is relatively small. Its footprint is approximately 24″L x 19″W (61 x 48 cm), while the top of the center unit reaches approximately 11″ (28 cm) above floor level. Therefore, it should fit under any desk and store under a bed.
This underdesk elliptical doesn't have adjustable levelers. However, the front metallic base features rubberized end caps, while the rear metallic plate on which the pedal wheels slide has two EVA pads. These improve the unit's adherence, preventing slipping even if placed on a tile or hardwood floor.
The unit's pedals are large enough to comfortably accommodate shoes of all sizes. In addition, they have inner and rear guards for extra foot stability and an anti-slip textured surface. The pedals are attached to two short steel bars featuring wheels on their backside and the front side's crank arms.
The wheels integrate ball bearings for smoother usage. They also have a thick silicone outer cover for noise reduction. Thus, the use of the elliptical is almost entirely silent.
One last aspect to note here regards the unit's stride. Of course, since it's not a standard elliptical trainer, it doesn't offer the long-striding motion. However, its stride length is approximately 7″ (17.7 cm) and should be enough for any user who wants to exercise while seated at the desk.
Resistance and drive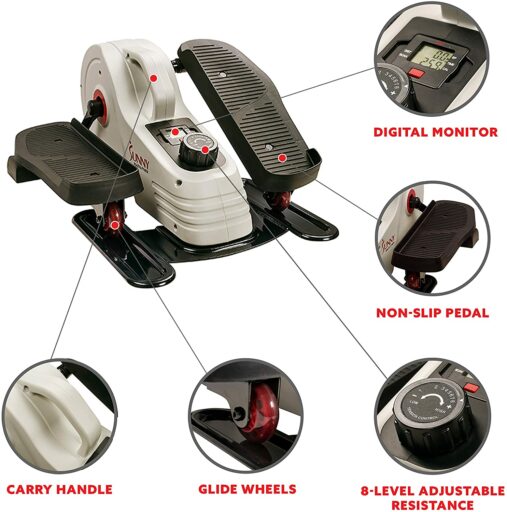 The Sunny SF-E3872 elliptical comes equipped with a manual magnetic resistance system. Therefore, it doesn't require an external power source to increase or decrease the pedaling difficulty.
The only power source it needs is a battery for the fitness monitor. Unfortunately, it also doesn't have preset workout programs and automatically adjusts the resistance.
The unit's resistance system consists of an internal magnetic brake connected to the tension knob on top of the ABS casing via a short steel cable. When turning the knob clockwise, the magnetic brake moves closer to the flywheel, increasing the magnetic field's intensity, which leads to extra pedaling difficulty.
The resistance system offers eight distinct difficulty levels. However, it's an underdesk machine, so it doesn't generate a super pedaling difficulty even if the 8th tension level is selected. The elliptical is for a light-impact workout and muscle toning.
Although it's a small elliptical machine, it does integrate a flywheel. This element weighs approximately 3.5 lbs (1.6 kg). It is perimeter weighted to add a bit of consistency and inertia to the pedaling motion. In addition, it also permits reverse pedaling.
The unit's drive system uses a durable rubber belt. Therefore, you don't have to lubricate its transmission. Also, this belt drive system contributes to the ride's smoothness and quietness, as a belt drive delivers less vibration than a chain.
SF-E3872 Fitness monitor
The Sunny SF-E3872 underdesk elliptical comes equipped with a small fitness monitor. As I've mentioned, this monitor is battery-powered and requires one LR44 battery, which comes with the machine.
The fitness monitor is nothing fancy. Unfortunately, it doesn't have a pulse reading function, preset programs, or online connectivity. Instead, it features an LCD with two main sections which track time, distance, speed, and calories burned.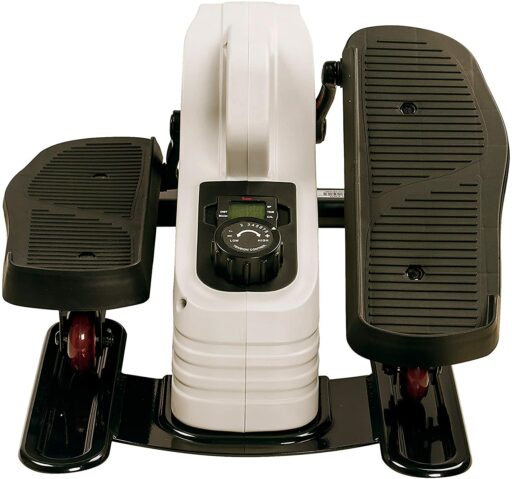 The speed is always shown in the top section of the display, while the bottom part indicates time, distance traveled, and calories burned. The speed and distance are in MPH and miles; there is no setting for metric units (km/h and kilometers).
The fitness monitor is straightforward to use. It has only one button. By pressing the button repeatedly, you can select the values you want to view on display or set the Scan Mode.
When the Scan function is selected, the monitor will rotate time, distance, and calories at the bottom, showing each one for a few seconds. The monitor's button also has a Reset function. It clears all the values on the monitor by pressing and holding it for four seconds.
Last but not least, the monitor has a sleep function. If no activity on the elliptical for four minutes, it will automatically turn off to save battery life. Likewise, when you pedal or press the button, it automatically turns back on.
SF-E3872 Assembly and Maintenance
This Sunny underdesk elliptical comes fully assembled. You need to remove it from the box and start pedaling. The battery is also already installed.
In terms of maintenance, there isn't much to be done either. The internal parts don't require any lubrication. However, if the joints of the pedals or the wheels develop squeaking noises, a bit of WD-40 or lubricant oil should do the trick. Other than this, you only have to keep the unit clean.
Pros
Compact construction, small footprint;
Lifting handle included;
Non-slip front caps and EVA base pads;
Extra-large pedals with inner and rear guards;
Large silicone wheels for reduced noise;
No-friction, magnetic resistance system (8 levels);
Belt drive system for a smooth and quiet pedaling motion;
Fitness monitor included;
Battery for the console included;
Comes fully assembled;
Little maintenance is required.
Cons
It does not support standing-up exercising (exclusively for use while seated).
Sunny SF-E3872 Underdesk Elliptical Summary
The Sunny Health & Fitness SF-3872 is an underdesk elliptical trainer. It has oversized pedals, silicone wheels, an eight-level magnetic resistance system, and a quiet belt drive. It also integrates a fitness monitor that tracks time, distance, speed, and calories burned.
Moreover, it's a machine for light workouts, muscle toning, and burning a few extra calories while working at a desk or seated. It's also an affordable machine, offering excellent value for the price.
I hope you found this article helpful and informative. Would you please speak up if you have anything you'd like to share on the topic or any opinions about my website? I look forward to your comments, questions, and the sharing of ideas.
Please remember to consult your physician to determine if you have any medical or physical conditions that could risk your health and safety or prevent you from using the equipment properly. In addition, your physician's advice is essential if you are taking medication that affects your heart rate, blood pressure, or cholesterol level.