If you seek the ultimate indoor cycling workouts, look no further than the Sunny SF-B1852 Indoor Cycling Bike with Rear Flywheel. The SF-B1852 exercise bike has features to help you achieve your desired workouts and rides.
Having the flywheel positioned in the rear reduces the need for maintenance compared to its front-positioned counterpart. The SF-B1852 high-performance stationary bike features a high inertia 40-pound rear-mounted flywheel with magnetic resistance, offering a smooth and intense riding experience.
The Sunny SF-B1852 indoor cycling bike features toe cages on one side, or flip the pedal and clip in using the SPD elements for spin shoes. Clipless pedals maximize the power and efficiency of every pedal stroke and help you get the most out of your riding sessions. In addition, the SF-B1852 has one of the market's highest-rated maximum user weight limits at 350 lbs (159 kg).
The SF-B1850 has an advanced fitness monitor featuring an LCD to track Speed, Avg Speed, Max Speed, Cadence (RPM), Avg Cadence, Max Cadence, Distance, Calories, Race, Time, Target Time, Target Distance, and Pulse. In addition, integrated HR pulse sensors in the handlebars allow a quick and convenient method to track this essential fitness metric.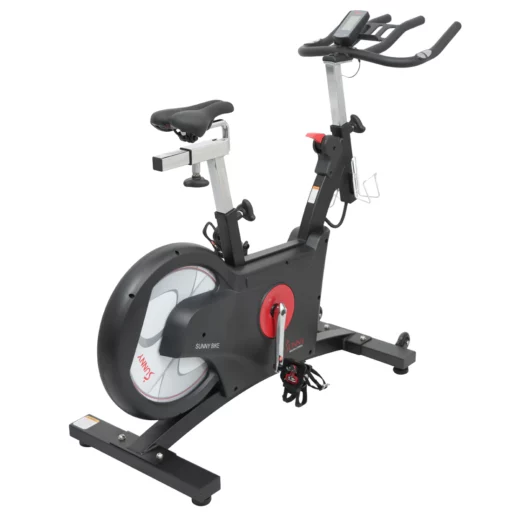 Learn more in my complete review below!
Product: Sunny SF-B1852 Indoor Cycling Bike with Rear Flywheel
Price: For a great deal on this bike, merely go here to Sunny Health & Fitness.com
Warranty: Frame 3 years / Parts 180 days
My rating: 8.5/10
Affiliate Disclosure: As a Sunny Health & Fitness Affiliate Program participant, I earn commissions on purchases made through links in the post. Full disclosure
Details and Specifications
Assembled dimensions: 56.3L x 21.9W x 50H inches (143L x 56W x 127H cm)
Assembled weight: 127.6 lbs (57.8 kg)
Flywheel weight: 40 lbs (18 kg)
Supported weight: 350 lbs (159 kg)
Seat: 4-way adjustable
Drive: Belt
Resistance: Magnetic, seven levels
Fitness monitor: Speed, average speed, maximum speed, cadence, average cadence, max. cadence, time, distance, calories, pulse, race program
Extras: Bottle holder, dumbbell holder, and device holder
Warranty: Frame 3 years / Parts 180 days
SF-B1852 Frame Construction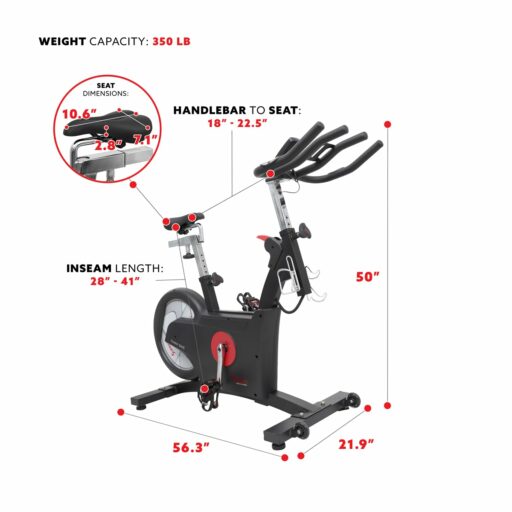 Although the Sunny Health & Fitness SF-B1852 is not a spin bike made for commercial use, it has the construction and sturdiness of a light-commercial model. It features a V-type frame with an H-type base, similar to the Keiser M3i. However, the mid-section of the bike has ABS guards for protection.
The mainframe of the bike comes coated with a corrosion-resistant black paint finish. The seat post, slider, handlebar, and crank arms have a chrome finish. In addition, the flywheel is also chrome-plated, but a circular guard conceals its edge, and it also has ABS side guards.
The bike is a bit larger than most other similar models. However, it's not a super large fitness machine. Its footprint is approximately 56.3″L x 21.9″W (143 x 56 cm), while its highest point is the top of the handlebars; at full extension, the handlebar reaches approx—50″ (127 cm) above the floor.
The bike is considerably heavy, weighing 127.6 lbs (57.8 kg). Therefore, two people should transport and assemble the bike. However, one person can move the bike once completed, as its front base bar has two large silicone wheels.
Due to its weight and low center of gravity, this Sunny Health & Fitness indoor cycling bike offers excellent stability. Both base bars have adjustable levelers with rubber pads that improve grip, especially on a tile or laminated floor.
Seat and handlebars
The Sunny SF-B1852 indoor cycling bike includes a race-type saddle. Its dimensions are 10.6″L x 7.1″W x 2.8″H (27 x 18 x 7 cm). It's a sturdy nylon shell integrated with a generous layer of padding. In addition, it has a median groove for improved breathability.
Also, its attachment system is standard collar-type. Thus, if you ever want to replace it, you can find a compatible replacement in most bike shops.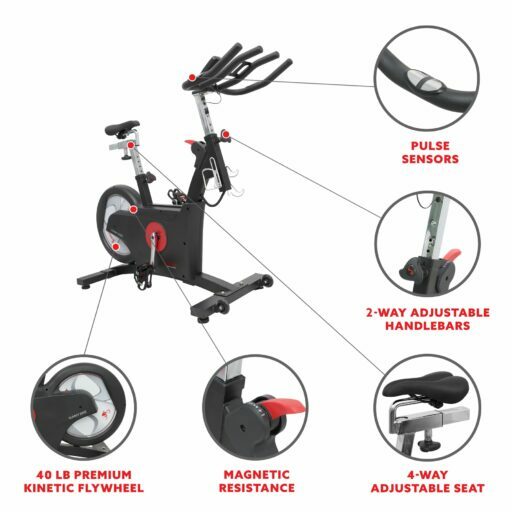 The bike's seat is adjustable (up, down, front, back). In addition, its vertical post offers several adjustment positions, while the horizontal slider adds four more front-to-back adjustment positions.
Therefore, the applicable inseam range for this Sunny exercise bike is 28″ – 41″ (71 – 104 cm). Thus, the bike comfortably accommodates users between 5'0″ – 6'4″ (153 – 193 cm) with no problem. It also has a maximum user weight limit of 350 lbs (159 kg).
The bike comes equipped with a multi-grip handlebar similar to the one included with the Sunny SF-B1805 model. Unfortunately, it only offers two-way adjustability (up, down). It does not have a horizontal slider like the seat, but its tube slants towards the user, so it's also the closest to the user at its highest point.
The handlebar offers the possibility to adopt a standard grip, a cruising grip, a climbing grip, a close parallel grip, and an aero grip. In addition, its side grips integrate HR pulse sensors, and the included fitness monitor can track your pulse. In addition, a layer of PVC foam also covers it for improved contact and comfort.
SF-B1852 Drive system
The Sunny SF-B1852 indoor cycling bike comes equipped with a rear-drive system. As a result, it integrates a heavy, 40-pound (18.1 kg) flywheel.
At the same time, many other exercise bikes with a similar design and a magnetic resistance system only have an 8-10 lbs (3.6 – 4.5 kg) flywheel. Thus, it is a plus, as the bike provides a consistent pedaling motion even on the lowest settings, making it great for leg muscle strength training.
The flywheel is bi-directional. It allows pedaling in reverse. However, like other spin bikes, coasting is impossible on this bike, and when pedaling in reverse, you will get the same resistance as when pedaling forward.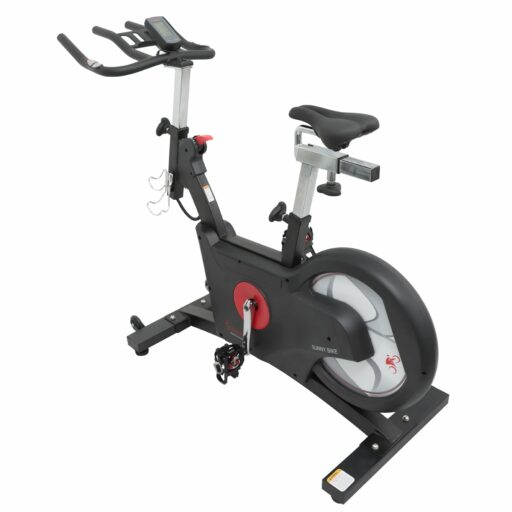 The bike has a heavy-duty crankset featuring solid steel arms and a chrome plating finish. They're also pretty long, promoting a healthy leg extension.
The included pedals are dual-sided. They have SPD elements for spin shoes on one side and toe cages on the other. In addition, they're a durable metallic alloy, which can withstand pedaling while standing up and any other spin workout. They also have standard 9/16″ threads, so compatible pedals are widely available if you want to replace them.
The bike comes equipped with a belt drive system. Therefore, you don't have to worry about separating the covers for drivetrain lubrication. Also, the belt delivers a smoother motion as it doesn't generate as much vibration as a chain. It's also quieter.
Resistance system
The Sunny SF-B1852 comes equipped with a manual magnetic resistance system. Therefore, you don't need a connection to a power source, and you don't need a power adapter or power cord for it. But unfortunately, the bike cannot adjust the resistance automatically.
The resistance system consists of a magnetic brake concealed by the large frame guards. The brake connects to the tension lever on top of the front frame tube through a steel cable. Therefore, when you adjust the resistance, the magnets move closer or farther from the flywheel, increasing or decreasing the workout load.
The bike makes available only seven resistance levels. However, since the flywheel is heavy, even the lowest resistance level delivers a consistent pedaling difficulty. Conversely, the top resistance level simulates a steep climb, a challenge even for the most seasoned users.
Of course, the magnetic brake system has several advantages over a friction resistance system. For example, the brake does not touch the flywheel.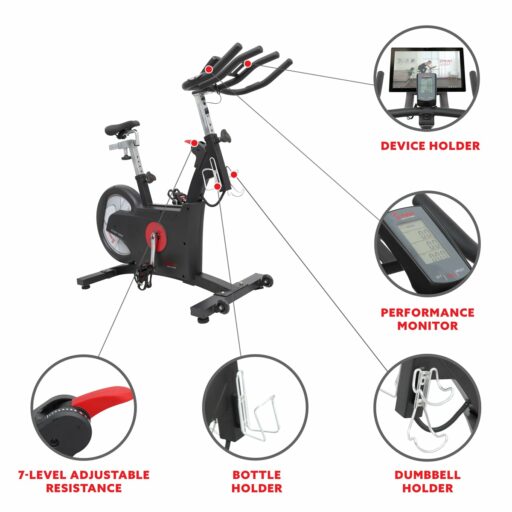 Therefore, the pedaling motion is very smooth. Also, since there is no friction between the brake and the flywheel, the brake doesn't wear out, and the bike usage is quiet.
SF-B1852 Fitness monitor
The bike has a reasonably decent fitness monitor featuring an LCD (without LED backlight) divided into four separate windows. The top one covers the Race program, and the 2nd window covers the speed and cadence. The 3rd window shows distance and watts, and the bottom window covers time and pulse.
The speed and distance are in Imperial units. There is no option for selecting metric units. For pulse readings, you have to use integrated HR pulse sensors. Unfortunately, the monitor is not telemetric; therefore, it cannot read your pulse through a wireless HR chest strap transmitter.
The fitness monitor allows you to set goals for time, distance, calories, and the race program. After choosing a goal for time, distance, or calories, the LCD will show the remaining value towards that goal.
The Race program also allows you to set a goal for your cadence. It displays via a segmented bar, and your current cadence is under it. If you pedal slower, the Cadence bar will fall under the selected Cadence target, so you'll know you must pedal faster. Conversely, if the Cadence bar exceeds the target Cadence, you should pedal slower.
The battery-operated fitness monitor requires two AAA batteries, which come with the bike. In addition, it starts up when you press the Mode button or when you begin pedaling. Furthermore, it also has a self-shutdown function which initiates if the sensor does not detect any input on the bike.
Assembly and Maintenance
The main body of the bike, with all the drive and resistance elements, comes pre-assembled. However, there still are several parts that require user assembly. For example, you must attach the two base stabilizers, the saddle, the pedals, the handlebar post, the handlebars, and the fitness monitor.
Therefore, it shouldn't take more than an hour of your time. The manual provides clear assembly instructions, and all the tools for the task come with the bike.
Once assembled, maintenance doesn't require much. You must keep it clean, periodically check for loose or damaged parts, and retighten or replace them. The internal components shouldn't need lubrication or maintenance for an extended time.
Pros
Durable steel frame – can hold users up to 350 lbs;
Aesthetic design;
Adjustable levelers on both bases;
Transport wheels on the front base;
4-way adjustable seat;
Cushioned and contoured saddle with a median groove;
Multi-grip handlebar;
HR pulse sensors integrated into the handlebar;
Perimeter-weighted, 40 lbs flywheel;
Heavy-duty crank made for standing-up spin workouts;
Metallic alloy, dual-sided pedals, with toe cages on one side, and SPD clips for spin shoes on the other;
Frictionless, wear-free, magnetic resistance with seven levels;
Smooth and quiet belt drive, great for apartment use;
Fitness monitor included – it tracks time, distance, speed, cadence, calories, and pulse;
Goal settings for time, distance, and calories;
Race program;
Bottle holder included;
Dumbbell holder included;
Device holder included;
Easy to assemble;
Little maintenance is required;
Excellent warranty.
Cons
The fitness monitor does not have online connectivity;
The fitness monitor LCD doesn't have a LED backlight.
Sunny SF-B1852 Indoor Cycling Bike Summary
The Sunny Health & Fitness SF-B1852 is a heavy-duty indoor cycling bike for home use. It features a manual magnetic resistance system, a 40-pound flywheel, a 4-way adjustable seat, and a multi-grip handlebar.
In addition, it also includes a fitness monitor that tracks time, distance, speed, cadence, calories, and pulse. In all, it's a pretty solid bike, great for spin workouts, stamina development, strength development, interval training, muscle toning, and weight loss.
I hope you found this article helpful and informative. Would you please speak up if you have anything you'd like to share on the topic or any opinions about my website? I look forward to your comments, questions, and the sharing of ideas.
Please remember to consult your physician to determine if you have any medical or physical conditions that could risk your health and safety or prevent you from using the equipment properly. In addition, your physician's advice is essential if you are taking medication that affects your heart rate, blood pressure, or cholesterol level.