The Marcy NS-908R Recumbent Bike features a premium steel frame that combines design and performance and supports users up to 300 lbs. The powder-coated finish ensures that this exercise bike has maximum durability, making it an ideal investment that will last a lifetime.
Designed for fitness enthusiasts of all skill levels, the Marcy NS-908R comes with a manual magnetic resistance mechanism with eight preset levels that allow you to tailor your workouts according to your training needs.
The Marcy NS-908R Recumbent Bike has an ultra-functional LCD computer screen that acts as an odometer to let you monitor distance traveled, the time elapsed, current speed, and calories burned as measuring your heartbeat through integrated pulse sensors in the seat handlebars.
Designed to let you experience comfortable and efficient workout sessions, the Marcy NS-908R boasts a padded seat with a backrest that helps reduce strain on your back during exhausting exercises. Both the seat and backrest integrate a thick layer of high-density foam, covered by a durable vinyl material sheet.
Learn more in my complete review below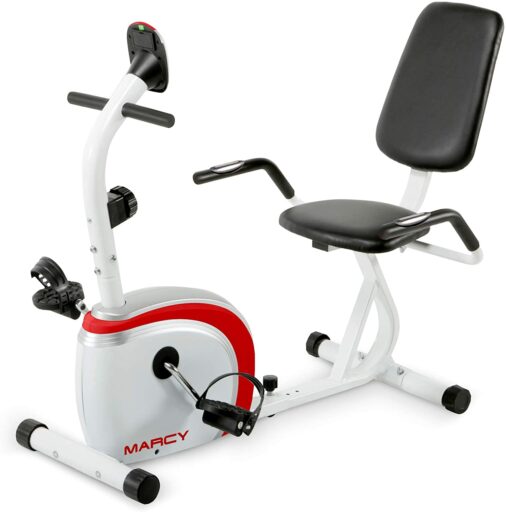 Product: Marcy NS-908R Recumbent Bike
Price: For a great deal on this bike, merely go here on Amazon
Warranty: 2 years limited
My rating: 8/10
Amazon Affiliate Disclosure: I may earn commissions on purchases made through links in this post.
Details and Specifications
Assembled dimensions: 47.6L x 24.8W x 37H inches (121L x 63W x 94H cm)
Assembled weight: 53.5 lbs (24.2 kg)
Max. user weight: 300 lbs (136 kg)
Seat: Adjustable
Pedals: With adjustable straps
Resistance: Magnetic, eight levels
Console: Time, distance, speed, calories, odometer, SCAN
Warranty: 2 years limited
NS-908R Frame construction
This Marcy exercise bike features a light frame with an assembled weight of 53.5 lbs (24.2 kg), which means it's easy to assemble, transport, and handle.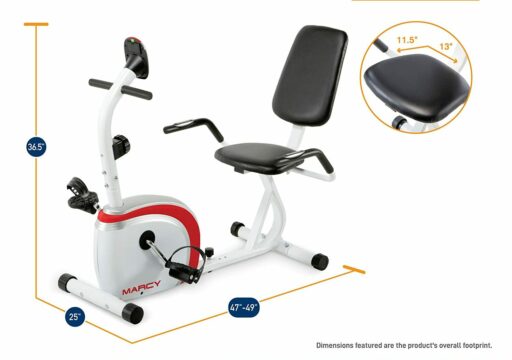 Nonetheless, it's a sturdy frame made of steel tubing and can support users up to 300 lbs (136 kg). The only major non-metallic parts in its frame construction are the flywheel guards, durable ABS material.
The frame comprises two main pieces: the rear part with the seat assembly and the front part with the resistance elements, console mast, and console.
The two parts join at the middle; the rear part's main bar serves as an adjustment bar, featuring six adjustment holes. The two parts attach via a turn knob. The frame does not fold. It has a step-through design, which can be quite a plus for users with disabilities or elderly users.
The Marcy NS-908R recumbent exercise bike isn't significant. The bike features an assembled footprint of 47.6″L x 24.8″W. However, it does require at least two feet of clearance on each side and at least one foot of room at the rear and front for safe operation.
The bike offers excellent stability. Its front base comes equipped with rotating caps that serve as wheels to facilitate its relocation. Its rear base features polygonal stabilizer caps, which allow you to level it on any flooring perfectly. A mat is advisable.
The frame's midsection integrated a small rubberized foot, which adds to this fitness machine's overall stability.
The frame has a white, corrosion-resistant powder coating finish, this being the only color available for this Marcy recumbent bike model.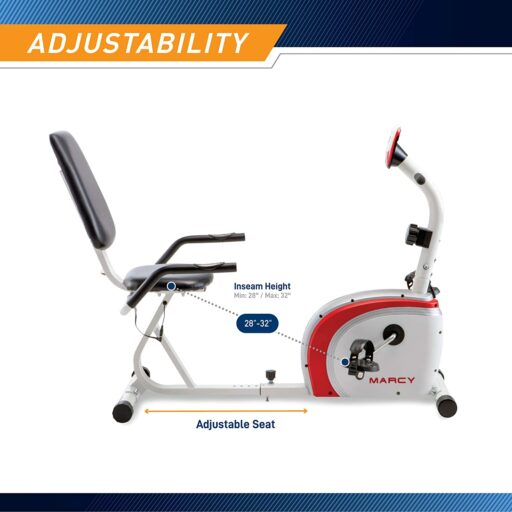 Seat and handlebars
Even though it's a pretty inexpensive exercise bike, the Marcy NS-908R comes equipped with a very comfortable seat. Both the seat and backrest integrate a thick layer of high-density foam, covered by a durable vinyl material sheet.
The backrest does not adjust independently from the seat and does not offer any reclining possibilities. It's considerably wide, providing excellent lumbar support.
The seat itself doesn't have an adjusting mechanism. It's completely attached to the rear part of the frame. But the bike does offer adjustment; the whole back part of the frame with the seat can be locked in a position closer or farther to the pedals.
Differently put, the bike offers an adjustment span of 23″ – 28″ (58.4 – 71.1 cm), being able to accommodate users between 4'10" – 6'0″ (147 – 183 cm). The seat can also support riders with a weight of up to 300 lbs (136 kg).
When it comes to handlebars, this exercise bike comes equipped with two sets, one on the console mast and one attached to the seat assembly. A sheet of rubber foam material covers both handlebar sets to provide a secure and comfortable grip.
NS-908R Resistance and drive
The Marcy NS-908R features a manual magnetic resistance system. It consists of a magnetic pad connected via a steel wire to the knob on the bike's console mast. When you turn the knob, the resistance pad will change its position to the metallic flywheel, increasing or decreasing the pedals' tension.
There are eight resistance settings available. The highest resistance levels (7-8) are not too hard, though. This exercise bike delivers a light workout, being an adequate choice for users who require recovery training or elderly users.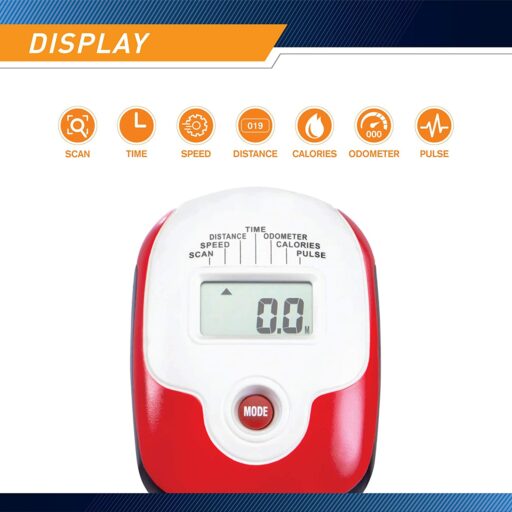 When it comes to the bike's drive system, like most other models with a manual magnetic resistance system, this particular feature features a belt drive. It uses a stretch-resistant, heavy-duty belt designed to last for many years of use. Since it's a belt-drive, it doesn't require any lubrication. The bike's operation is also very smooth and quiet.
Since it's a recumbent bike, the Marcy NS-908R is not for spin workouts. Differently put, you will probably break it if you try to pedal while standing up on the pedals. However, it's equipped with a sturdy crankset featuring solid steel crank arms.
The pedals supplied with the bike are durable PVC material; they feature a weighted design and integrate adjustable straps for maximum foot stability. They also have standard threads, so it's easy to find replacements for them if needed.
This recumbent bike features a narrow Q-Factor, which means the foot positioning onto the pedals is comfortable, without any lateral stress on your knees. Also, in case you're wondering, pedaling in reverse is possible on this bike.
Console
The Marcy NS-908R recumbent exercise bike is a basic model; therefore, its console unit is also fundamental. Nonetheless, it can track speed, distance, total distance (ODO), time, calories burned, and pulse.
For pulse reading, you need to use the integrated pulse sensors on the seat handlebars. However, the console is not telemetric and cannot read pulse via a wireless HR chest strap.
Since it's a basic unit and does not have any functions that allow you to personal input data such as age, weight, or height, the calorie reading is only an estimate.
The console has a "SCAN" function to rotate the workout stats, displaying each one for 4 seconds. It turns on when it detects pedal movement or when you press its button, and it also shuts down automatically after several minutes of inactivity on the bike. It uses a set of two AAA batteries, which are not (included) with the bike.
NS-908R Assembly and Maintenance
This exercise bike is straightforward to put together; the whole assembly process shouldn't take more than an hour. The included manual provides clear assembly instructions, and the tools come with the bike. Basically, for assembly, you will have to connect the two main frame parts, connect the base tubes, the seat, the console mast, the console, and the pedals.
Since the bike features a magnetic resistance system, there isn't any maintenance required for the internal parts. So, the only thing to do for this matter is to check for loose bolts and parts periodically.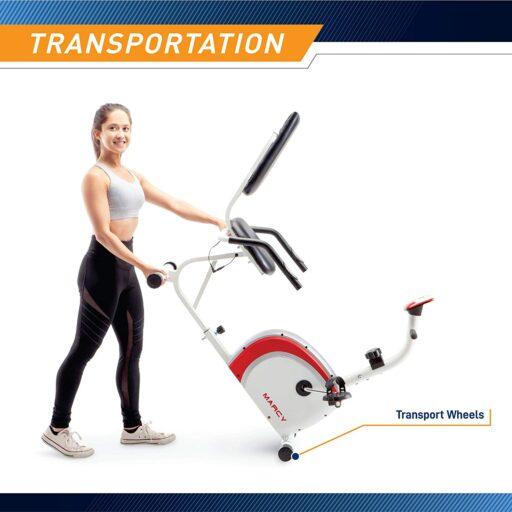 Pros
Robust frame for a light recumbent bike, with a maximum user capacity of 300 lbs;
Adjustable frame; can accommodate users between 4'10" – 6'0″;
Step-thru frame design;
Cushioned seat and backrest, for maximum comfort;
Quiet magnetic resistance system;
Adjustable resistance (8 levels);
Weighted pedals with adjustable straps and standard threads;
The fitness console included;
Easy to assemble and operate;
Lightweight, easy to handle;
Transport wheels and rear stabilizers;
Little to no maintenance is required.
Cons
No tablet holder;
No bottle holder;
The LCD does not have a backlight.
Marcy NS-908R Recumbent Bike Summary
The Marcy NS-908R is a recumbent exercise bike made for home use. It features a solid steel frame with a weight capacity of 300 lbs and manual magnetic resistance. It has an adjustable frame, padded seat, and wide backrest, and a fitness console.
The Marcy NS-908R recumbent bike is for beginners, great for light cardio workouts, stamina training, recovery training, and weight loss. You can burn up to 4-500 calories per hour on it, depending on the resistance levels used. It's one of the most affordable recumbent bikes and does offer excellent value for the price.
I hope you found this article helpful and informative. If you have anything you'd like to share or any opinions about my website, please speak up. I look forward to your comments, questions, and the sharing of ideas.