The Merax Indoor Cycling Bike is an affordable bike designed for home use. In terms of its capacity, this bike is suitable for people who weigh up to 330 pounds, making it an excellent choice for anyone who wants to lose weight. Furthermore, the steel frame guarantees you the stability and durability of the Merax Indoor Cycling Bike without a doubt!
The manual friction resistance system consists of a 30-pound solid flywheel with quality friction felt brake pad that ensures smooth, consistent, and steady pedaling. Twist the convenient tension knob to increase or decrease the resistance or press it for an emergency stop. In addition, the bike's drivetrain features a belt for a smooth and quiet operation.
The fitness console included with the bike is quite essential. It tracks time, distance, speed, calories, and total distance. The LCD is easy to operate as it comes with a single push button, and you have to toggle it to turn on or off the SCAN function and then choose the workout value your wish while they show on the screen each for a few seconds.
The Merax Indoor Cycling Bike with a 4-way fully adjustable ergonomic padded leather seat caters to the whole family-specific adjustment needs. The handlebar is 2-way adjustable (up, down) and has a multi-grip design. It offers a generous enough adjustment to help fit your size perfectly.
Learn more in my complete review below!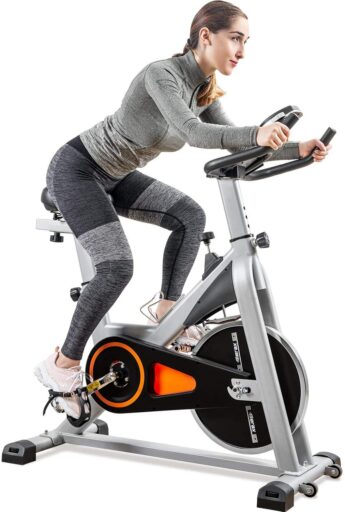 Product: Merax Indoor Cycling Bike
Price: For a great deal on this bike, merely go here on Amazon
Warranty: 1 year limited
My rating: 9/10
Affiliate Disclosure: As an Amazon Affiliate Program participant, I earn commissions on purchases made through links in this post. Full disclosure
Details and Specifications
Assembled dimensions: 41.5L x 21.1W x 48.4H inches (105L x 54W x 123H cm)
Flywheel weight: 30 lbs (13.6 kg)
Supported weight: 330 lbs (150 kg)
Seat: 4-way adjustable
Pedals: With toe cages
Drive: Belt
Resistance: Friction, cowhide pad
Fitness console: Time, speed, distance, total distance, calories, scan
Accessories: Bottle holder, the device holder
Warranty: 1 year limited
Frame construction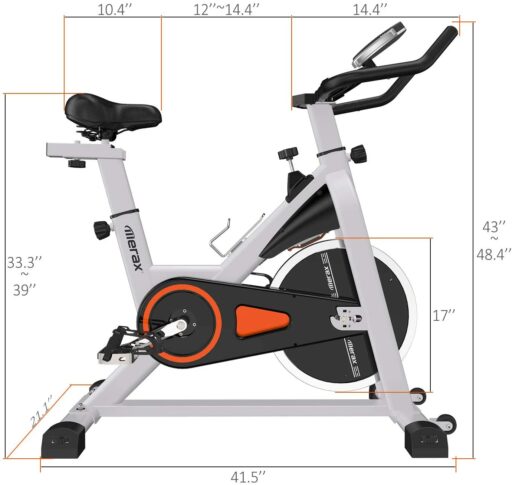 The Merax indoor cycling bike features a triangular frame combining ovalized and rectangular bars to improve sturdiness and aesthetics. The bike's frame is steel. The fully assembled bike weighs approx 70 lbs (31.7 kg), a weight that provides plenty of stability. Plus, both base bars come equipped with adjustable stabilizers.
Although the bike is relatively heavy, it is easy to move once assembled. Its front base comes equipped with two small wheels that facilitate its relocation. Using these wheels to move the bike, you won't be handling more than 30% of its total weight.
The bike's frame comes coated with a corrosion-resistant and chip-resistant paint finish. The primary color is silver. The only exception is the flywheel, which has a chrome finish. Also, the belt cover, the brake pad cover, and the flywheel side guards are durable ABS materials.
The Merax bike is not an extremely large fitness machine like most other spin bikes. However, with all the parts assembled, it is 41.5″ (105 cm) long and 21.1″ (54 cm) wide.
Also, with the handlebar extended to its maximum position, the bike's highest point is approx 48.4″ (123 cm). Therefore, it is advisable to leave at least 24″ (61 cm) of clearance all around the cycle for easy access and safe usage.
One last aspect to note regards the short horizontal bar, which connects the seat tube and the main oblique tube. This bar is a step-up element used for support stretching and other exercises, and it also allows the execution of various spin workouts that require you to dismount and mount multiple times.
Seat and handlebars
The Merax indoor cycling bike comes equipped with a soft saddle designed for superior comfort. In addition, the top of the seat is made of durable, double-stitched faux leather and has a large groove in the middle for improved breathability.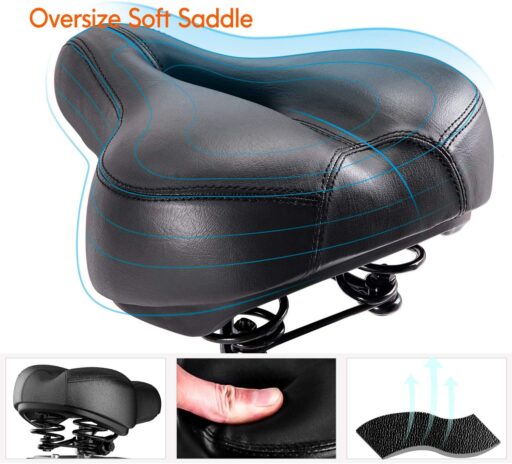 It integrates a thick layer of foam cushioning to reduce the impact on your buttocks and tailbone. It also has two suspension springs at the rear, which allow it to flex to adapt better to your body's movement during seated workouts.
Another essential aspect to mention here about the saddle regards its connection system. It features a standard collar-based attachment system. Therefore, if you ever need to replace this saddle, compatible options are widely available.
The bike's seat is four-way adjustable (up, down, forward, backward). In addition, its upright bar has several adjustment positions, while its horizontal slider offers a few extra inches of fore/aft adjustment.
Thus, the bike can accommodate users between 5'1″ and 6'4 ″ (155 – 193 cm), allowing a complete leg extension. It is also durable enough to support users up to 330 lbs (150 kg).
The bike comes equipped with a standard handlebar that offers three grip possibilities. These are climbing grip, parallel grip, and traditional grip. The handlebar also has a small loop bar in the middle to which the exercise meter needs to be attached. This bar offers the possibility of a close grip.
As opposed to the seat, the handlebar only offers vertical adjustability. It doesn't have a horizontal slider for front/back adjustment. It provides an adjustment span of approx—5.4″ (13.7 cm), between 43″ and 48.4″ (109 – 123 cm).
The handlebar does not have integrated HR pulse sensors. Instead, its side grips feature a layer of rubber foam material for extra comfort.
Drive and resistance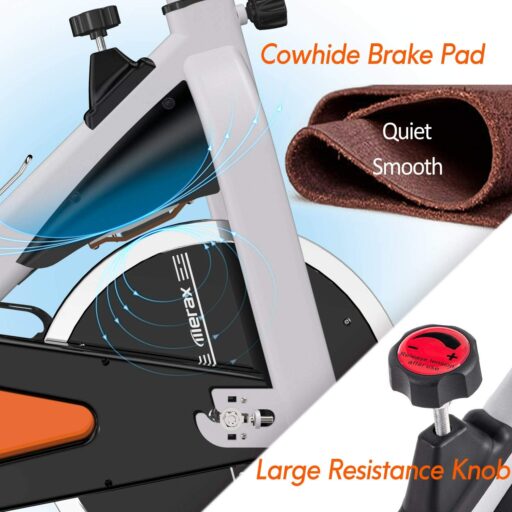 The Merax bike comes equipped with a mid-range flywheel. It weighs 30 lbs (13.6 kg) and has perimeter-weighted construction for improved inertia. It is also bi-directional. Therefore, you can pedal in reverse as well.
However, it is essential to mention that coasting is not possible on this Merax exercise bike. When pedaling in reverse, you will get the same resistance as pedaling forward.
The bike's drivetrain uses a belt. This type of transmission comes with several advantages. First of all, the belt doesn't require lubrication. Second, it generates less vibration than a chain and contributes to the overall smoothness of the ride.
The Merax indoor cycling bike comes equipped with a manual friction resistance system, so you don't have to connect the cycle to a power source. But unfortunately, it also means that the bike cannot adjust the resistance automatically.
The bike's resistance system consists of a friction-felt brake pad connected to the tension knob on top of the frame's top tube. It comes in contact with the flywheel in a top-down manner. Since it's a cow's hide pad and not a felt pad, it offers a higher resistance to wear and tear, so it shouldn't need a replacement for at least a year of daily use.
The bike's tension knob doesn't have pre-determined resistance settings on it. Instead, you tighten it until you get the pedaling resistance that fits your needs. The brake can tighten up to the point you can barely pedal. It also has an emergency brake; you can press it down to immediately stop the flywheel from spinning if needed.
Since it's a bike designed for spinning, the Merax Silver comes equipped with a heavy-duty crankset featuring solid electro-plated arms. The pedals are also metallic; they feature non-slip elements on the sides and adjustable toe cages.
They don't have SPD clips for spin shoes, but their threads are 9/16 (standard), so you can always replace them if needed.
Console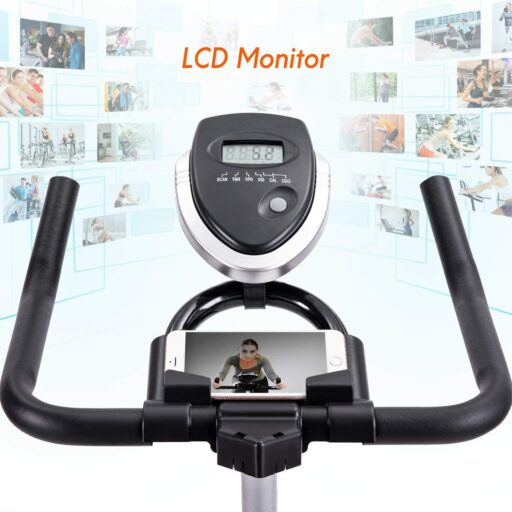 The included fitness console doesn't have any preset programs, goal settings, or online connectivity. Instead, it features an LCD that tracks time, distance, total distance, speed, and calories burned.
It does not have a pulse reading function, and the bike does not have any integrated pulse sensors. Therefore, if you want to benefit from a pulse reading during your workout, you will have to use a separate device.
The LCD is very easy to use. It only has one button. By repeatedly pressing the button, you can select any workout metrics to view on display or choose the Scan Mode, which rotates all the parameters, showing each one for a few seconds.
You can reset all the metrics to zero by pressing and holding the button. Unfortunately, there are no preset programs, and you cannot select targets for time or distance.
The LCD is battery-powered. It has a self-shutdown function. It turns off automatically if it doesn't detect any flywheel movement for four minutes. After that, you can either press its button or begin pedaling to wake it up.
Assembly and Maintenance
Most of the drive and resistance elements come pre-assembled and attached to the bike's mainframe. However, you will still have to connect the two base bars, the seat post, the handlebar post, the handlebar, the fitness console, and the pedals.
Therefore, it shouldn't take more than one hour of your time. The manual provides pretty clear assembly instructions, and all the necessary tools come with the bike.
For maintenance, the bike's brake pad may need lubrication and replacement after it completely wears out. Other than this, you only need to keep the cycle clean and periodically check for loose bolts and parts and retighten as needed.
Pros
Sturdy construction – can support users up to 330 lbs;
Small footprint, an excellent choice for a cardio fitness machine if space is an issue;
Four-way adjustable seat and handlebars;
High-comfort saddle with thick foam cushioning and a median groove for extra breathability;
Multi-grip handlebar;
A solid crankset can support just about any spin workout;
Metallic pedals with toe cages and standard threads;
Friction resistance, virtually limitless;
Abrasion-resistant cow's hide brake pad;
Smooth and quiet belt drive;
Fitness console included – it tracks time, distance, total distance, speed, and calories burned;
Little maintenance required;
Phone holder comes included;
The bottle holder included;
Easy to assemble;
All the assembly tools come with the bike.
Cons
The fitness monitor LCD does not have a backlight;
No pulse reading function.
Merax Indoor Cycling Bike Summary
The Merax Silver indoor cycling bike features a 30-lbs perimeter weighted flywheel, a standard friction resistance with a leather pad, a heavy-duty crank, and a simple fitness monitor. It's a pretty sturdy bike, rated for users up to 330 lbs.
It supports any spin workout, great for high-intensity cardio training, intervals, muscle toning, stamina development, and weight loss.
I hope you found this article helpful and informative. Would you please speak up if you have anything you'd like to share or any opinions about my website? I look forward to your comments, questions, and the sharing of ideas.
Please note: Before starting any exercise program, you should consult your physician to determine if you have any medical or physical conditions that could put your health and safety at risk or prevent you from using the equipment properly. In addition, your physician's advice is essential if you are taking medication that affects your heart rate, blood pressure, or cholesterol level.