Are you looking for a convenient way to up your fitness game? The Tunturi F20-R Recumbent Bike "Competence Series" offers all the benefits of high-quality training in the comfort and convenience of your home. You can focus on getting the fitness results you want with the support you need.
The ergonomically designed saddle, handlebars, and pedals all make your workout the most comfortable it can be. The wide pedals also feature durable foot straps to keep your feet stable and secure no matter how hard you pedal.
The seat height is easily adjusted to fit you. The sizing rail is on an incline, which helps keep all measurements in the proper position as they change. The backrest supports your back while your focus is on your workout.
Choose from 8 resistance levels and three fitness programs to customize your workout to your needs. The monitor displays essential training data, including power output, speed, distance, elapsed time, heart rate, and calories burned. With built-in heart rate sensors, track your fitness and your efforts during your workouts.
Learn more in my complete review below!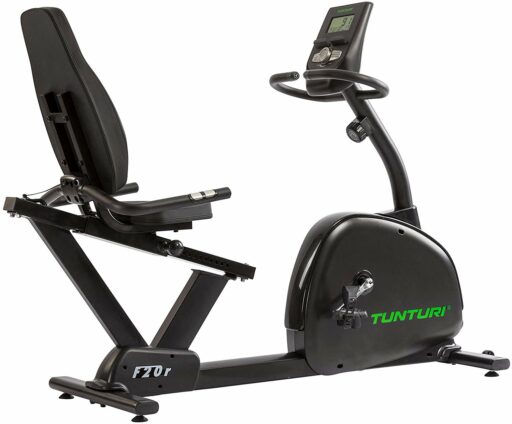 Product: Tunturi F20-R Recumbent Bike "Competence Series"
Price: For a great deal on this bike, merely go here on Amazon
Warranty: 3 years
My rating: 8.5/10
Affiliate Disclosure: As an Amazon Affiliate Program participant, I earn commissions on purchases made through links in this post. Full disclosure
Details and Specifications
Assembled dimensions: 66.2L x 25.2W x 48H inches (168L x 64W x 122H cm)
Assembled weight: 113 lbs (51.4 kg)
Flywheel weight: 20 lbs (9 kg)
Weight capacity: 297 lbs (135 kg)
Seat: Adjustable
Pedals: Weighted, with straps
Resistance: Magnetic, eight levels
Console: Time, distance, speed, calories, pulse, goals, BMI, Recovery, SCAN
Warranty: 3 years
F20-R Frame
The Tunturi F20-R features steel construction, combining rectangular with ovalized bars for superior sturdiness and aesthetics. Several ABS parts include the covers for the drive system and the covers near the seat base. However, these only have a protective role. Each steel tube comes coated with a corrosion-resistant paint finish. The color used is black, this being the only color available for this unit.
The bike features a step-through design. For instance, this can be quite a plus for users with specific disabilities or the elderly as it allows much more accessible entry and exit. This Tunturi exercise bike is slightly more extensive than other home-based recumbent bikes. It measures 66.2″ (168 cm) in length and 25.2″ (64 cm) in width. It is also advisable to leave at least two feet of clearance all around it for easy access and safe operation.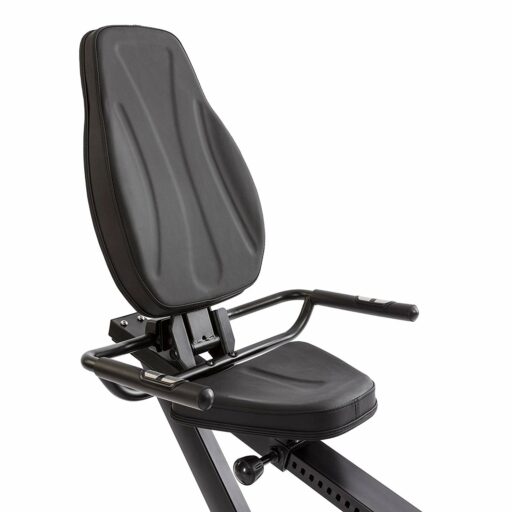 The fully assembled unit is not exactly light. It's approximately 113 lbs (51.4 kg), more than three times the average mountain bike's weight. However, all this weight delivers excellent stability for the unit.
Additionally, both its base bars come equipped with adjustable stabilizers. These have rubberized pads to provide a superior grip on the floor.
Despite the bike's weight, its transport isn't too hard once assembled. This is because the front base comes equipped with caster wheels, which facilitate its relocation. As a result, you won't have to handle more than 30% of its total weight by lifting it by its rear and using the wheels.
Seat
The Tunturi F20-R recumbent bike has a seat designed for superior comfort and support. Both its backrest and bottom section integrate a thick layer of foam padding. They're also contoured to provide better positioning for the user. Their upholstery is durable, double-stitched faux leather.
The bike's seat is attached to a relatively long oblique rail, which offers more than ten adjustment positions. Thus, the bike can accommodate 6'3 ″ (190 cm) users with no problem, allowing a complete leg extension. Also, the seat and its rail have a weight capacity of 297 lbs (135 kg).
The seat's adjustment system involves a turn-knob situated on the right side. Therefore, it is not advisable to adjust it while seated to ensure the knob is in the fitting notch.
If you're wondering, the backrest does not adjust independently from the seat. It does not recline, nor is its height adjustable. Instead, it is directly attached to the seat's metallic frame and only moves forward or backward along with it.
F20-R Handlebars
This Tunturi exercise bike comes equipped with two sets of handlebars. One is attached to the front mast and one to the seat assembly. The front handlebar curves towards the user; it's easy to reach, and you can comfortably use it without adopting an awkward posture like other recumbent exercise bikes.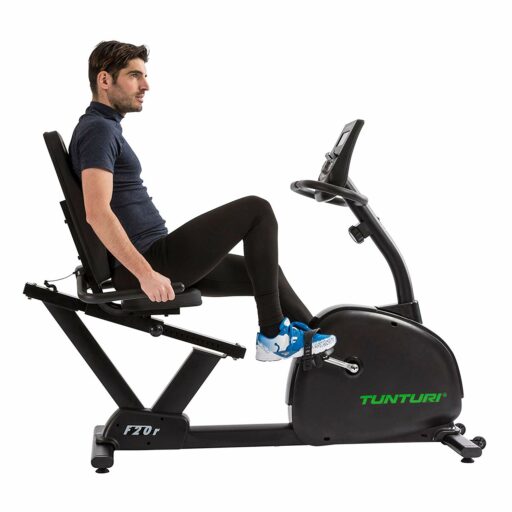 The seat handlebars incorporate metallic pulse sensors. The console can monitor your pulse and run its Recovery function at the end of the workout by holding on to the metallic pulse sensors.
Both handlebars feature a layer of high-density rubber foam material to provide a secure grip. They are non-adjustable. However, since the seat handlebars are directly attached to the seat's frame, they will move along with the seat on its rail when you adjust its position.
Resistance system
The Tunturi F20-R recumbent bike integrates a reasonably heavy flywheel. It weighs approximately 20 lbs (9 kg), which is more substantial than most home-based recumbent bikes. In addition, it has a perimeter-weighted design that provides a smooth motion and consistent momentum.
It's also bi-directional, which means that it allows pedaling in reverse. However, you cannot coast on the bike. When pedaling in reverse, it retains the resistance, and the console continues to count your main workout statistics.
The resistance system is manual magnetic. Therefore, you don't have to connect the bike to a wall outlet or other power source. The only power source required is two AA batteries for the console.
The unit's resistance system consists of an internal magnetic brake attached to the flywheel assembly. It is connected to the dial on the front mast of the bike through a steel wire. Therefore, when you turn the dial clockwise, the brake will move closer to the flywheel and increase the magnets' pull.
There are eight tension levels marked on the resistance dial. The first one delivers little resistance, making it adequate for users who require recovery training. Conversely, the 8th level of resistance provides superior cardio training possibilities.
F20-R Drive system
Like most recumbent bikes with a magnetic resistance system, the Tunturi F20R features a belt drive system. Therefore, you don't have to worry about lubricating it. As a result, the pedaling motion is smooth and quiet, and there is considerably less vibration than for a chain drive.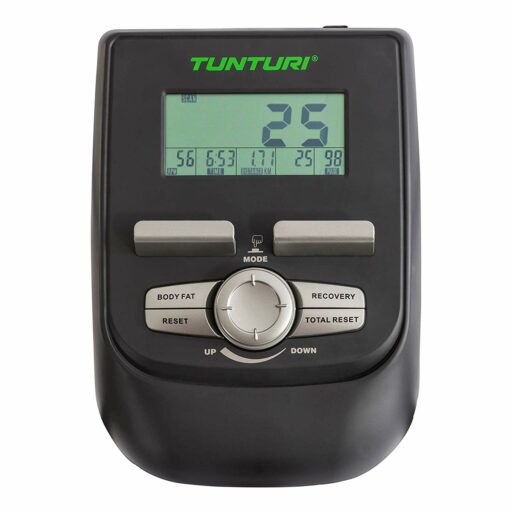 The bike comes equipped with a relatively large internal pulley. Its crank arms are steel-made and feature oversized comfort pedals. They have weight elements, so they always turn face-up if you remove your feet from them. They are also equipped with adjustable straps so you can secure your feet on them if needed.
Console
As mentioned above, the Tunturi F20-R has a manual magnetic resistance system. Therefore, the console does not play any role in its resistance adjustment. Also, it does not adjust the resistance automatically. Instead, it has a 5.5 LCD divided into several sub-sections to show most workout metrics at once.
The console tracks time, distance, speed, RPM, calories, and pulse. You can select any of these metrics to display on the top larger window or the Scan Mode, which will cycle all the parameters in the top window showing each one for a few seconds.
You can use the integrated sensors or a 5 – 5.4 kHz wireless chest strap (not included) for pulse reading.
The console includes three preset programs and offers time, distance, and calorie goal settings. If you select a goal for any of these metrics, the remaining value will display on the console until you reach that goal.
The console unit is straightforward to use. Its Mode button has a double function. You can press it to enter setup mode and then turn it to select values. The Body Fat Index and Recovery features have their keys and are Reset and Total Reset buttons.
The console requires two AA batteries. It starts up when you begin pedaling or when you press the Mode button. It also has a self-shutdown function, which initiates after 4 minutes of inactivity on the bike.
Finally, the bike's console integrates a tablet holder, divided into two small trays under the unit's prominent display. However, it does not have USB docking ports or Bluetooth to sync the console with your tablet.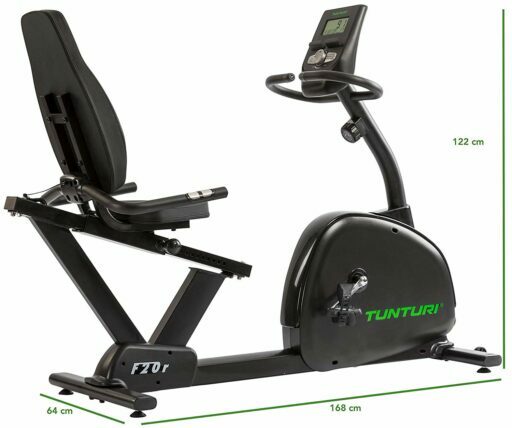 Recovery and BMI functions
Recovery and BMI functions are also available. The Recovery function measures the time your heart requires to bring your pulse to be normal after the workout. The result will give you a rating between F1 (Outstanding) and F6 (Poor).
This way, you can get an idea of your current fitness level. The BMI function is a Body Mass Index calculator. Your height, weight, gender, and age will determine your current body fat percentage.
F20-R Assembly and Maintenance
The bike's drive and resistance elements are pre-assembled and attached to the front part of the mainframe. In addition, the base frame of the seat with its slider is also pre-assembled. Therefore, you only have to connect the base bars, the seat, the backrest, the seat handlebars, the front mast, the console, and the pedals.
Consequently, it may take up to an hour of your time. However, the task is far from complicated. The manual provides precise assembly instructions. Also, all the tools needed for the assembly are (included) with the bike.
Maintenance doesn't require much. You only have to keep the unit clean, keep liquids away from the console, and periodically check for loose or broken parts.
Pros
Sturdy, steel frame – 300 lbs capacity
Adjustable, rubberized stabilizers on both bases;
Transport wheels on the front base;
Step-through frame design for easy access to the seat;
Seat handlebars with pulse sensors;
Front handlebars included;
Cushioned and contoured seat;
Multiple adjustment positions for the seat;
Quiet magnetic resistance system;
Adjustable resistance offering distinctive eight levels;
Weighted pedals with adjustable straps;
Fitness console that can track time, distance, total distance, speed, calories, and pulse;
Goal setting functions for time, distance, and calories;
Body Mass Index function;
Recovery function;
Tablet holder included;
Reasonably easy to assemble;
Little to no maintenance is required;
Decent warranty.
Cons
A tablet placed on the tablet holder will cover the LCD;
No bottle holder;
An HR chest strap does not come with the bike;
The LCD does not have a backlight.
Tunturi F20-R Summary
The Tunturi F20-R Recumbent Bike "Competence Series" is made for home use, featuring a manual magnetic resistance system, a comfortable seat, and a console that tracks the essential workout metrics. It also has a BMI and a Recovery function.
It's a great exercise bike for light to mid-range cardio training, recovery training, muscle toning, and weight loss. Depending on the tension settings, you can burn up to 4-500 calories per session. In all, it's a reasonably decent trainer, offering excellent value for the price.
I hope you found this article helpful and informative. Would you please speak up if you have anything you'd like to share or any opinions about my website? I look forward to your comments, questions, and the sharing of ideas.
Please note you should consult your physician to determine if you have any medical or physical conditions that could risk your health and safety or prevent you from using the equipment properly. In addition, your physician's advice is essential if you are taking medication that affects your heart rate, blood pressure, or cholesterol level.