The Mr. Captain Vintage Oak Water Resistance Rowing Machine is a sturdy, durable, modern, functional rower with an ergonomic design. Mr. Captain Vintage Oak Rowing Machine weighs 58.5 pounds, has a 320-pound user weight capacity, and measures 82 L x 22 W x 20 H inches.
It has a flywheel inside the water tank to offer you a quiet and smooth workout with plenty of resistance and the sound of water that will give you the feeling of rowing outdoors on the water. The oak construction absorbs the potential vibrations and sounds while the rower remains firm during a workout.
The fitness monitor has three modes: "Manual, Interval Custom, and Target." These let you manage your time and achieve your goals faster. The Bluetooth-compatible monitor tracks time, strokes per minute (SPM), total strokes, calories burned, distance, and pulse. Unfortunately, you'll require an HR chest strap for a pulse reading, which sells separately.
Please make the most of your workout as it has an ergonomic seat, active recoil system, and height-adjustable footplates with straps. After working on this rower, you can easily store it vertically in one corner of the house, thanks to its transport wheels at the base. As a result, the water can remain in the tank while held vertically.
Learn more in my complete review below!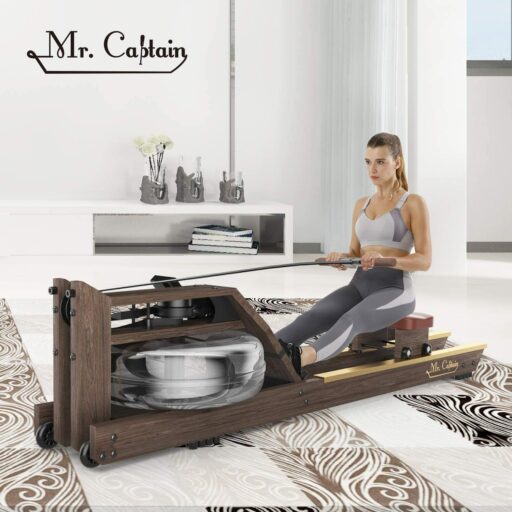 Product: Mr. Captain Vintage Oak Water Resistance Rowing Machine
Price: For a great deal on this rower, merely go here on Amazon
Warranty: Frame 1 year / components 180 days
My rating: 9/10
Affiliate Disclosure: As an Amazon Affiliate Program participant, I earn commissions on purchases made through links in this post. Full disclosure
Details and Specifications
Assembled dimensions: 82L x 22W x 20H inches (208L x 56W x 51H cm)
Assembled weight: 58.5 lbs (26.5 kg)
Supported weight: 320 lbs (145 kg)
Frame: Solid oak wood, vintage finish
Footrests: Size-adjustable, with straps
Resistance type: Water
Fitness Monitor: 3 workout modes, Bluetooth
Warranty: Frame 1 year / components 180 days
Mr. Captain Frame's construction
The Mr. Captain Vintage Oak rower features a dual-rail frame made of solid oak wood, oiled and waxed, with a vintage finish. It has a pretty durable construction, similar to the light-commercial models, and has a maximum user weight capacity of up to 320 lbs (145 kg).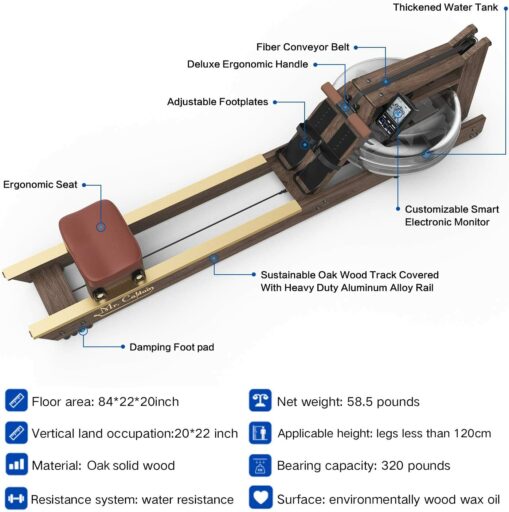 It's essential to mention that the seat slides' rail coversminum alloy, while other similar models have plastic covers that can crack or wear out over time. In addition, they have a golden finish to fit better the machine's overall colors and the "Mr. Captain" logo on the side, which is also golden.
The fully assembled machine is relatively large. It is approx 82″ (208 cm) long and 22″ (56 cm) wide. Therefore, it can accommodate users up to 6'5 ″ with no problem, allowing a complete leg extension and motion range.
The rower is not foldable but can be stored vertically. When stored in a vertical position, its footprint becomes 22″D x 20″W x 82″H (56 x 51 x 208 cm). Therefore, the water can remain inside the tank when the machine is stored vertically.
The fully assembled machine is not extremely heavy. Its net weight (without water inside the tank) is 58.5 lbs. The tank has a capacity of approx. 4.5 – 5 gal (17 – 19 liters). So, the machine's total weight can reach approximately—100 lbs (45 kg).
Nonetheless, once assembled, it is easy to relocate. Its front base features large silicone wheels, which facilitate its relocation. Also, the rower rests on four large rubberized stabilizers.
Mr. Captain Seat
Mr. Captain Vintage Oak rower comes equipped with an ergonomic seat. Its top integrates a layer of foam cushioning, which is contoured to provide better positioning for the user. Its cover is durable faux leather, which is also sweatproof.
The seat's base is the same oak wood as the rest of the frame. It is durable enough to support users up to 320 lbs (145 kg).
It has eight wheels, four slides on top of the rails, and the others on their inner sides for extra stability. The wheels integrate sealed ball bearings for a smooth seat motion. Also, their outer layer dampens the noise.
Last but not least, the seat top stands at approx. 12″ (31 cm) above floor level. Also, since the rail system is horizontal, the seat's movement is constant throughout the rowing motion.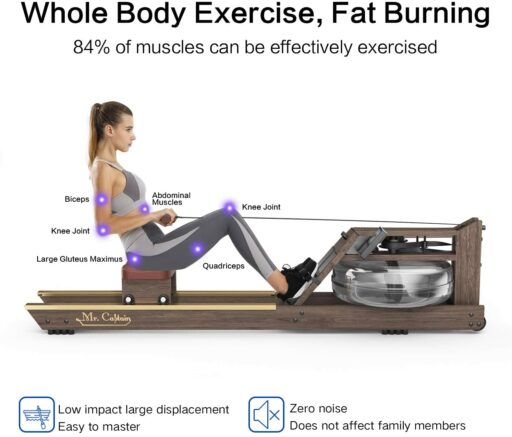 Footrests and pulling handle
The Mr. Captain Vintage Oak water resistance rower comes equipped with large, metallic footrests. They are also adjustable. Thus, they can accommodate athletic shoes of all sizes. They also have adjustable straps and heel guards for improved foot stability.
The angle of the footrests is not adjustable, though. Instead, the board they're attached to is set at approximately 45 degrees. Therefore, they provide optimal positioning for your feet.
Last but not least, the machine's pulling handle consists of a short bar with ergonomic grips. It does not integrate pulse sensors like some other, more expensive devices. Instead, it is attached to a heavy-duty nylon strap, which is highly resistant to abrasion.
The machine uses a strap and not a chain as its main element of the drive system can be quite a plus. That's because the machine's usage is quieter and smoother. In addition, the strap does not require lubrication.
Mr. Captain Resistance system
Mr. Captain Vintage Oak rower comes equipped with a water resistance system. It integrates a heavy-duty water tank made of polycarbonate material. Its exact capacity is not specified, but it is probably similar to other models' tanks and should be between 4.5-5 gal (17-19 liters).
The main resistance-generating element is a multi-blade impeller that spins in the water inside the tank as you pull the handle. The drive system also integrates a metallic spring, which recuperates the strap during recovery. Unfortunately, the tank doesn't have an extra chamber or a knob for water level adjustment. Therefore, if you want to adjust the resistance, you must add or remove some water.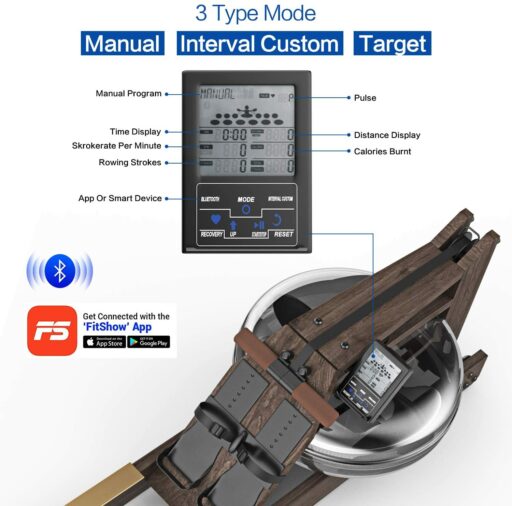 The Mr. Captain Vintage Oak model delivers a dynamic response like other water or air resistance rowers. Therefore, the rowing sensation is similar to rowing a real boat through the water.
In other words, the resistance generated by the machine depends on how hard you pull the handle. For example, the impeller will spin faster in the water inside the tank and create more resistance if you pull harder. Conversely, you will benefit from a lower resistance you will benefit from a lower resistance if you don't put as much strength behind each pull.
In terms of noise generated during usage, this rower is pretty quiet. The impeller's spinning inside the water tank does create some sound, but the level is low.
Fitness monitor
The Mr. Captain Vintage Oak rowing machine includes a reasonably decent fitness monitor. First, it features an LCD divided into multiple sub-sections: track time, strokes per minute, total strokes, calories burned, distance, and pulse.
You will need a wireless HR chest strap for the pulse reading function as the machine doesn't have any contact sensors.
The fitness monitor has three workout modes. These are Manual, Interval Custom, and Target. The Manual mode allows you to just row, and the monitor will indicate your spm, strokes, the time elapsed, etc. The Interval Mode will enable you to create a custom workout interval with rest/work periods.
And finally, the Target mode allows you to select targets for various metrics, such as time, strokes, calories, etc. When a target is assigned, the monitor will countdown until it reaches zero, indicating completing your set-up goal.
The monitor also has Bluetooth connectivity and is compatible with the FitShow app for iOS and Android. This app allows you to track your progress online and makes several other features available.
The fitness monitor is battery-powered. It starts up when you begin rowing. It automatically enters idle mode to save the battery if it does not detect machine activity for several minutes.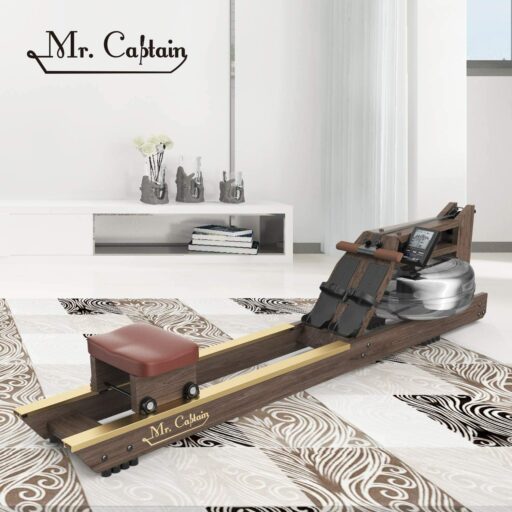 Amenities
In terms of other accessories, there are quite a few included with this machine. The most notable ones are the cover, the phone holder, and the electric water pump.
The cover is dust and moisture-proof; even though the machine is for indoor use only, this can still be useful if it will be out of service for a while.
The phone holder consists of a small shelf integrated at the bottom of the monitor. Therefore, if you sync the monitor with your smartphone via Bluetooth, you can place your phone on the monitor to use the app's interface.
The pump is battery-powered and is rechargeable via USB cable. It's a neat accessory for adding or removing water from the tank if you want to increase or decrease the rowing resistance.
Mr. Captain Assembly and Maintenance
The machine's resistance tank comes pre-assembled and is already attached to the front section of the frame. You only need to connect the rails and the seat. Therefore, it shouldn't take more than 30 minutes of your time. The manual provides all the necessary instructions, and all the tools come with the rower.
The water inside the tank requires treatment with a chlorine pill for maintenance. It's best to use rower chlorine pills, not pool chlorine tablets. Besides this, you only have to keep the unit clean, especially the rails, to prevent damage to the seat wheels.
Pros
Durable construction – can support users up to 320 lbs;
Aesthetic frame, made of solid oak with a vintage finish;
Can be stored vertically to save space;
Easy to handle and transport;
Rubberized stabilizers for extra floor protection;
Water-resistance system, providing the most natural rowing feel that you can get;
Ergonomic seat with a cushioned top for extra comfort;
Adjustable footrests;
The fitness monitor comes included;
Three workout modes on the fitness monitor (manual, target, and interval);
Bluetooth connectivity and compatibility with the FitShow App (for iOS and Android);
Smooth and quiet operation;
All the necessary tools included;
Electric (rechargeable) water pump included;
Waterproof and dustproof cover included;
Phone holder integrated into the monitor;
Little maintenance is required;
Easy to assemble.
Cons
No backlight on the fitness monitor LCD;
The HR chest strap for pulse reading does not come with the rower.
Mr. Captain Vintage Oak Rowing Machine Summary
Mr. Captain Vintage Oak is a water resistance rower featuring a durable frame with great aesthetics, superior ergonomics, aluminum rail covers, a large water tank, and a fitness monitor with three workout modes and Bluetooth connectivity. In addition, an electric water pump and a cover come with the machine.
Furthermore, it's a perfect rowing machine for a full-body cardio workout, interval training, muscle toning, and weight loss. It's also considerably more affordable than other similar machines.
I hope you found this article helpful and informative. Would you please speak up if you have anything you'd like to share on the topic or any opinions about my website? I look forward to your comments, questions, and the sharing of ideas.
Please note you should consult your physician to determine if you have any medical or physical conditions that could put your health and safety at risk or prevent you from using the equipment properly. In addition, your physician's advice is essential if you are taking medication that affects your heart rate, blood pressure, or cholesterol level.