The  NordicTrack Commercial 1750 Treadmill is entry-level for NordicTrack's Commercial Series. More advanced models (like the 2450 and 2950) have a few additional bonuses, such as superior motors and bigger touchscreens. The famous 1750 will satisfy most runners and offers exceptionally high value for walkers and joggers.
The workout surface is oversized at 22″ x 60″, so there's plenty of room to take full strides. The tread belt is high quality, two-ply, and resistant to stretching. Its maximum speed is 12 mph, and the power incline range is -3 to 15 percent.
Performance specs include a high quality 3.75 CHP motor, power incline/decline, and deck suspension with two firmness settings. The factory warranty helps make this iFit treadmill the best buy for in-home exercise. The Commercial 1750 is foldable with easy lift technology, allowing users to tuck the machine away for storage when not in use.
The NordicTrack Commercial 1750 Treadmill has 50 onboard workout routines along with unlimited iFit Coach programs available to download. Both types of workout programs direct the treadmill's speed and slope to help you reach specific goals like "burn 200 calories" or "run three miles."
Learn more in my complete review below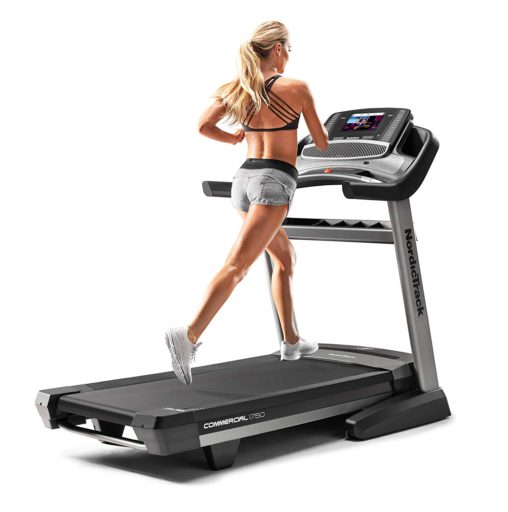 Product: NordicTrack Commercial 1750 Treadmill (includes a free 1-year iFit membership)
Price: For a great deal on this treadmill, merely go here on Amazon
Warranty: Frame and motor: Lifetime / Parts and electronics: 5 year / Labor: 2 year
My rating: 9.9/10
Amazon Affiliate Disclosure: I may earn commissions from purchases made through links in this post.
Details and Specifications
Assembled dimensions: 78.8L x 39.2W x 63H inches (200L x 99.5W x 160H cm)
Tread belt dimensions: 60L x 22W inches (152.4L x 56W cm)
Supported weight: 300 lbs (136 kg)
Motor: 3.75 CHP
Speed range: 0-12 MPH
Incline/Decline: Automatic, -3% – 15%
Deck cushioning: Runners Flex™
Console: 50 programs, Bluetooth, iFit enabled
Amenities: Sound system, tablet holder, cooling fans, accessory trays, 1-year iFit membership
Warranty: Frame lifetime / Motor lifetime / Parts 5 years / Labor 2 years
1750 Frame
The NordicTrack Commercial 1750 features a heavy-duty steel frame construction with a sturdy base and two thick ovalized front masts. Of course, the unit also has several ABS or non-metallic parts, but these only have a protective role.
Among them, we can count the side rail covers (which are also rubberized), the front base covers, several other small covers, the dashboard that sustains the console, and the accessory tray that connects the two front masts.
Just like any other heavy-duty treadmill, the NordicTrack 1750 is quite substantial. Its exact weight is not specified, but it is more massive than 250 lbs (113 kg). All this weight delivers outstanding stability. But on the other hand, its transport and assembly require at least two people. Once assembled, its relocation isn't too tricky, though. Its front metallic base features a set of transport wheels which facilitate its relocation.
The fully assembled treadmill is fairly large; its footprint is approx. 78.8″ x 39.2″ (200 x 99.5 cm). Plus, it is required to leave at least two feet of clearance on each side of the deck and at least three feet of clearance at the rear of the deck for safe and unhindered usage.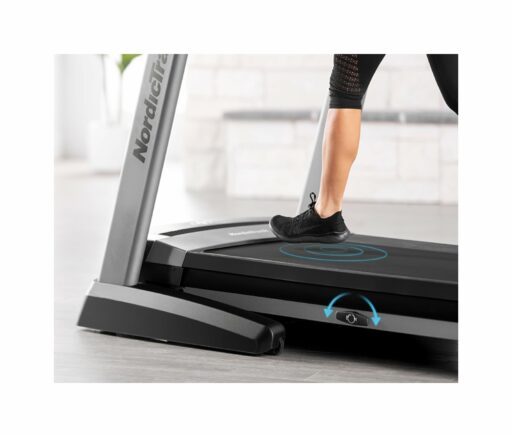 Deck
The machine has a folding design. The deck can fold up, providing better storage possibilities and allowing you to vacuum under it easily. The folding mechanism involves a hydraulic cylinder, which slowly unfolds the deck preventing it from crashing on the floor. With the deck folded up, the unit's depth is reducible to approx. 41″ (104 cm).
The NordicTrack 1750 NTL14119 features a very sturdy deck. It has a maximum user weight capacity of 300 lbs (136 kg). It uses a multi-ply belt with a rubberized, non-slip top layer.
The internal rollers are 2.5″ in diameter and have a crowned design to prolong the lifespan of the belt and provide superior traction. They also integrate industrial-grade sealed ball bearings for a smooth rotation.
The unit's tread belt provides a running surface of 60″L x 22″W (152.4 x 56 cm). Thus, the running platform is large enough for users up to 6'5″ (196 cm), promoting a satisfying range of motion and a complete stride.
As opposed to other NordicTrack treadmills which have the FlexSelect cushioning system, the 1750 (2019) model comes with the Runners Flex™ shock absorption system.
The side cushioning elements of the deck are adjustable via the dial on the deck's left side. The dial offers two modes, one for a firmer running platform, the other with more cushioning at the front to absorb the shock of each foot strike, and harder at the back for a better push-off.
1750 Incline and step-up height
The NordicTrack 1750 (2019) has a motorized incline/decline system. This means you can adjust the ramp of the deck during your workout from the controls on the console, or, if you're using one of the onboard programs, the machine will adjust the incline automatically.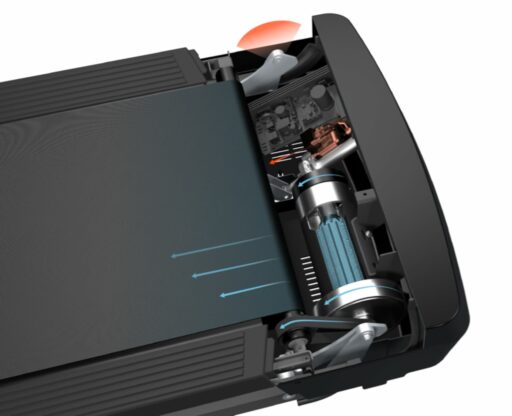 The treadmill offers 15 levels of incline from 0% to 15%, and three levels of decline from -3% to 0%. The incline/decline increments are 1%. There are buttons for quick incline and decline adjustment on the left side of the console display, while the bottom keypad offers buttons for gradual incline adjustment.
The step-up height of the deck is approx — 11″ (28 cm). Plus, with the incline set up, the front part of the deck will become elevated by a few extra inches. Therefore, it is recommended to use the machine in a room with a ceiling that is at least 20″ (51 cm) higher than your height.
Motor
The NordicTrack Commercial 1750 (2019) comes with a 3.75 CHP DurX™ Commercial Plus motor with its internal cooling system.
This prevents it from overheating, so the machine can provide the same peak performance even for the most extended workouts. The motor also has a small flywheel, which minimized vibration and promotes a very smooth rotating motion for the tread belt.
The speed range provided by the machine's motor is 0.5-12 MPH. Just as for the incline, there are buttons for gradual speed adjustment on the right side of the console display, from 0 to 12.
The arrow controls for the incremental speed adjustment are bi-functional. If pressed once, they will adjust speed by 0.1 MPH; if you press and hold a key down, the tread belt's speed will change in increments of 0.5 MPH.
The fact that you can adjust speed in increments of 0.1 is quite a plus, as you can easily find the most comfortable pace for your workout.
The motor itself is relatively quiet. But just as for any other treadmill, your running cadence will generate some noise. Differently put, in an apartment building, your neighbors will hear you running.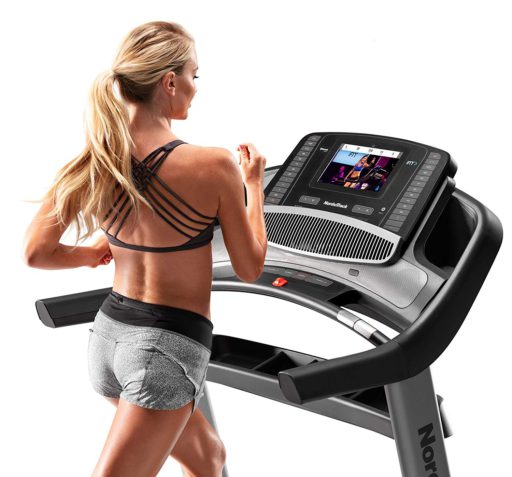 Last but not least, the treadmill requires a standard 120V circuit. It comes with a standard power cord for American-type outlets, not an AC adapter. The connector for it is situated at the front of the deck, next to the On/Off switch.
1750 Console
The NordicTrack 1750 (2019) features an advanced console with a 10″ LCD with LED backlight and integrated touchscreen technology. As opposed to the older version (2017), this one has an HDMI port along with the USB port, so you can connect it to a TV or monitor to view the console screen on a larger display if you want.
The console is iFit enabled; it also comes with one year of free membership to iFit. Therefore, you can access the iFit workout database for more than 16,000 on-demand workouts, run on virtual trails based on real-world locations, and benefit from live interactive training.
You can also draw your map workout, setting up the distance, the average amount of calories that you would like to burn, and more.
In terms of connectivity, the console has both Bluetooth and Wi-Fi technologies. Thus, you can connect the machine to your home Wi-Fi to use the iFit applications.
The Bluetooth connectivity stands for integrated speakers and HR transmitters. Therefore, you can connect your MP3 player or smartphone via Bluetooth to the console to play your music through the console speakers, or use a Bluetooth HR chest strap to monitor your pulse.
However, for pulse monitoring, there also are sensors integrated into the front handlebar.
Onboard Workout Programs
In case you don't want to use iFit, the console still has a pretty solid onboard program database. It offers 50 preset programs that cover all types of workouts focusing on weight loss, high-intensity cardio, intervals, stamina development, and much more. Also, the console display tracks all the important workout metrics, including time, distance, calories, pulse, speed, and incline.
It offers goal settings for time, distance, or the number of calories that you want to burn. The speed and distance come with a default to imperial units (MPH and miles), but there is also the option of metric units (km/h, km).
Amenities
In terms of other accessories, the console also includes two device holders, two accessory trays, and a set of two workout fans. One of the device holders attaches to the top of the unit. The other is a small shelf right under the display.
The workout fans are quite large compared to the ones on other treadmills; they're placed directly under the console display and provide excellent cooling during a more intense workout.
1750 Assembly and Maintenance
Just as for many other treadmills, the deck of the NordicTrack Commercial 1750 comes fully assembled. Thus, for the assembly task, you only need to attach the two front masts, the accessory tray, and the dashboard with the console.
This shouldn't take more than an hour. All the assembly instructions are (provided) into the included manual. All the tools required for the assembly are (included), as well.
The machine's belt is pre-lubricated, so it shouldn't require lubrication at least for a while. The running belt should be kept clean, free of dirt, textile fibers, or other objects that might be dragged under it and get caught in the motor. Also, it is recommended to inspect the machine for loose bolts and parts periodically.
Pros
Commercial-grade frame construction;
Solid deck, being able to support users up to 300 lbs;
Space-saving design – The deck, can fold up for storage or cleaning under the unit;
Soft-drop folding mechanism;
Runners Flex deck cushioning system;
2.5″ crowned rollers for improved traction and a prolonged belt lifespan;
Transport wheels included;
Motorized incline/decline system with a range between -3% and 15%;
3.75 CHP commercial-grade motor, offering a speed range between 0.5 and 12 MPH;
The unit's speed can be adjusted increments of 0.1 MPH, and 0.5 MPH allowing you to find the perfect pace for your workout;
Quick selection controls for both speed and incline/decline;
EGK pulse sensors integrated into handlebars;
Advanced console with a 10″ HD display and touchscreen technology;
50 preset workout programs;
iFit enabled, and 1-year iFit membership included;
Wi-Fi and Bluetooth connectivity;
HDMI and USB ports;
Sound system included;
Workout fans included;
Tablet holders included;
Quiet operation;
Fairly easy to assemble;
Little maintenance required;
Excellent warranty.
Cons
An HR chest strap is not (included).
Summary
The NordicTrack 1750 (2019) is a commercial-grade treadmill equipped with a 3.75 CHP drive motor, automatic incline/decline, a durable Runners Flex cushioned deck, and large LCD touchscreen console. It is iFit enabled and includes 1-year iFit membership. Thus, you can access the iFit workout database and use the iFit workout applications and progress tracking system.
It also has Wi-Fi and Bluetooth connectivity, plus an HDMI and a USB port for cable connections. It's an excellent machine for users of all levels, for light to intense cardio training, muscle toning, stamina development, and weight loss. And finally, it's not exactly an affordable fitness machine but offers excellent value for the price.
I hope you found this article helpful and informative. If you have anything that you'd like to share or any opinions about my website, please do speak up. I look forward to your comments, questions, and the sharing of ideas.
Recommended articles:
Please follow and like us: