The NordicTrack Commercial 2450 Treadmill is a commercial-grade machine with a 4 CHP self-cooling motor. 12 mph is an impressive speed and probably faster than most of us need. However, a wide speed range matters when running intervals, making sprints, or training those fast downhills at the -3% decline.
2450 features a 15% to -3% incline/decline range that provides multiple training variables at different angles, so you don't get bored training on a flat road. A -3% decline is an unusual feature on a home treadmill, especially one that folds up. Thus, it allows you to strengthen your quads and knees for gentle conditioning.
The console of 2450 is updated from a 10″ to 14″ touchscreen, making all the difference! With bright graphics and finger-touch interactivity, the screen helps you navigate the system and engages as you run. You can choose your workout program from the touchscreen, peruse iFit, and adjust speed, incline, and display.
The 50 onboard workout options feature various training options. In addition, you can select any number of worldwide routes that display full-color photos of the terrain. Bring home Interactive Personal Training powered by iFit; 30-day iFit membership included; create up to 5 individual exercise profiles; Access live, studio, and global workouts.
Learn more in my complete review below!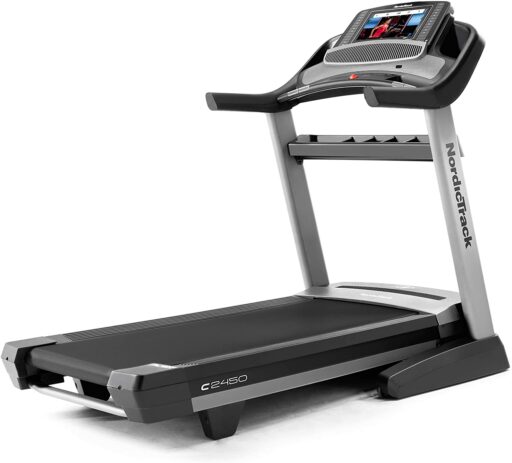 Product: NordicTrack Commercial 2450 Treadmill
Price: For a great deal on this treadmill, merely go here on Amazon
Warranty: Frame 10 years / Parts 2 years / Labor 1 year
My rating: 8.5/10
Affiliate Disclosure: As an Amazon Affiliate Program participant, I earn commissions on purchases made through links in this post. Full disclosure
Details and Specifications
Assembled dimensions: 81.2L x 39.2W x 59.2H inches (206L x 99W x 150H cm)
Tread belt dimensions: 60L x 22W inches (152.4L x 56W cm)
Supported weight: 300 lbs (136 kg)
Motor: 4.0 CHP
Speed range: 0-12 MPH
Incline/Decline: Automatic, -3% – 15%
Deck cushioning: Runners Flex™
Console: 14″ LCD, iFit enabled, Bluetooth connectivity
Amenities: Sound system, tablet holder, cooling fans, accessory trays, 30-day iFit membership
Warranty: Frame 10 years / Parts 2 years / Labor 1 year
2450 Frame construction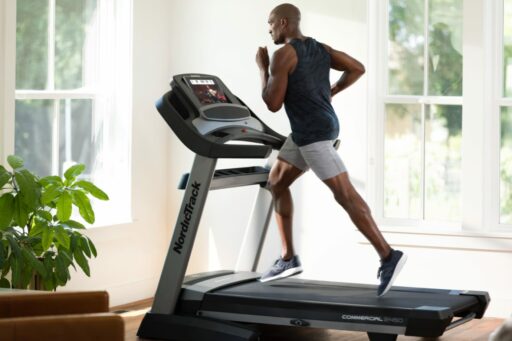 The NordicTrack Commercial 2450 treadmill features a heavy-duty steel frame combining oval and rectangular tubes in its construction. In addition, all the steel parts come coated with a corrosion-resistant paint finish, gray with the NordicTrack logo painted black.
Of course, the trainer integrates several parts of durable thermoplastic material. The most notable are the side rail covers, the motor cover, and the supportive console dashboard. These are all pretty durable, mainly the side rail covers, which support a maximum user capacity of up to 300 lbs (136 kg) with no problem.
The fully assembled machine is pretty large. Its footprint is approx. 80″L x 40″W (~206 x 99 cm). It is advisable to leave at least two feet of clearance on each side of the deck and at least three feet at its rear for easy access and safe usage.
The machine comes equipped with the EasyLiftTM folding system. It offers the possibility of folding the deck up for easy cleaning under the treadmill or saving space. The EasyLift mechanism involves a hydraulic cylinder that lets the deck lower softly when unfolding to prevent damage. With the deck folded up, the machine's footprint becomes approx. 42.6″ x 39.2″ (108 x 99 cm), while its height reaches 72.9″ (185 cm).
This NordicTrack treadmill is pretty heavy. Its net weight is not specified, but its shipping weight is 399 lbs (181 kg). So, a few people should carry the packaged unit.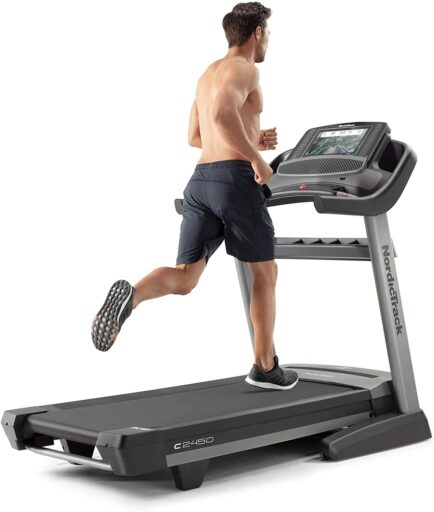 However, once assembled, one person can move the machine. You should be able to relocate the device on its transport wheels and with the deck up.
Deck Construction
The NordicTrack Commercial 2450 treadmill comes equipped with a sturdy deck. To begin with, it has a maximum weight limit of 300 lbs (136 kg). Furthermore, it offers a large running surface of 60″L x 22″W (152.4L x 56W cm), so it can comfortability accommodates users up to 6'5″ (196 cm) with no problem, allowing a complete range of motion.
The belt is multi-layered, and its top layer provides an improved grip. It moves on 2.5″ precision-balanced non-flex rollers. These rollers have a crowned design for enhanced traction and a prolonged belt lifespan. They also integrate high-grade ball bearings for a smooth belt motion.
The machine's deck comes equipped with the RunnersFlexTM cushioning system. It consists of two pairs of significant shock absorption elements reinforced by metallic springs. These are in the middle of the deck, two on each side, but unlike the older NordicTrack treadmill models, the side rail covers conceal the elements.
This cushioning system alleviates the impact generated by your cadence. Therefore, this treadmill is more forgiving on your joints and back than a run on asphalt or concrete.
2450 Incline and decline
The NordicTrack 2450 treadmill integrates a power incline/decline system. Moreover, the machine's incline/decline system is motorized, so the console can adjust automatically depending on the workout.
There are 15 levels of incline and three levels of decline available; with the incline set to the top, the deck slants by approximately 15%. Conversely, with the decline set to -3, the deck will provide an approx—3% decline.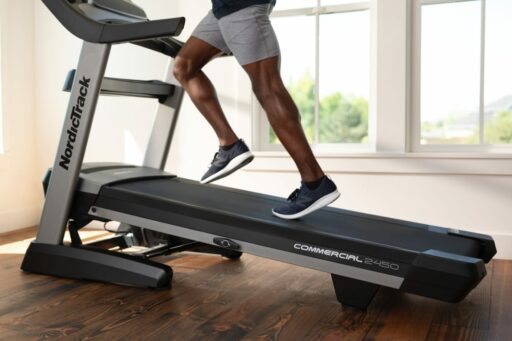 The unit's console comes with gradual and quick-selection incline/decline buttons. The incremental adjustment buttons are at the bottom of the console, and you can press and hold them until you get the desired incline/decline.
The quick selection incline/decline buttons are on the left side of the display. If a certain incline level is selected, the deck will automatically and slowly adjust its angle until it reaches the desired level.
With the incline set to zero, the height of the running platform is approx. 11″ (28 cm) above floor level. Conversely, the deck's front part will elevate with the incline set up by a few extra inches. Therefore, use the machine in a room with a ceiling at least 20″ (51 cm) higher than your height.
Drive motor
The NordicTrack Commercial 2450 treadmill comes equipped with a 4.0 CHP DurXTM motor designed to offer maximum performance during the most extended workouts, even if the user is close to 300 lbs (136 kg) weight capacity.
It comes with an internal cooling system. It also has a side flywheel to neutralize vibration and deliver a smooth motion for the running belt.
The machine has a speed range between 0.5 MPH and 12 MPH, and there are gradual adjustment keys on the lower console keypad and quick selection keys on the console display's right side.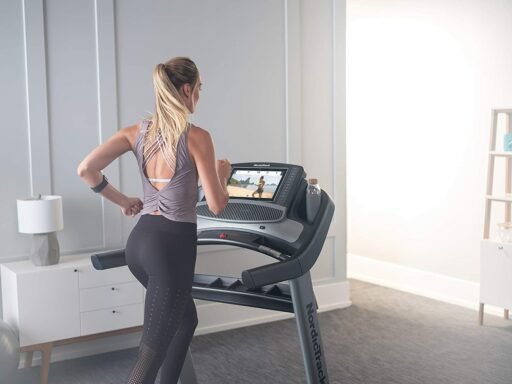 The incremental selection keys have a double function. A short press will adjust the speed in increments of 0.1 MPH, while if you press and hold them, the speed will adjust in 0.5 MPH increments.
The motor itself is reasonably quiet. But as with any other treadmill, your running cadence will generate some noise. Consequently, in an apartment building, your neighbors will hear you running.
Last but not least, the treadmill requires a standard 120V circuit. It has a standard power cord for American-type outlets, not an AC adapter. The connector is at the front of the deck, next to the On/Off switch.
2450 Console
The NordicTrack Commercial 2450 treadmill comes equipped with an advanced console unit. In addition, it features a 14″ LCD with an LED backlight for improved readability.
It has touchscreen technology, so it works like a giant tablet. WiFi and Bluetooth enabled, has an internal processor, and works on its operating system like a computer. Moreover, you can connect it to the internet and install various apps.
The machine's console works with iFit. When you start your treadmill for the first time, it will prompt you to connect to iFit. In addition, the machine comes with a 30-day iFit family membership. iFit has an extensive database of workout videos with different trainers, offers interactive workout possibilities, and allows you to create and run on your trail via Google Maps.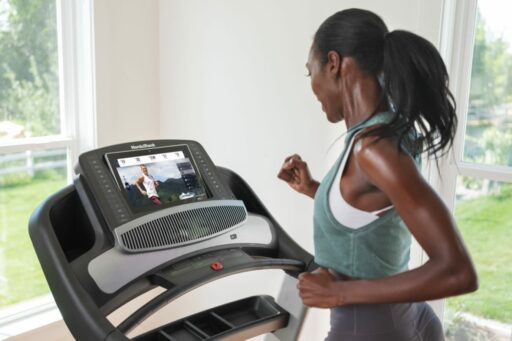 Of course, if your iFit membership expires and you don't want to renew your subscription, iFit still offers several free workouts. Plus, the treadmill provides its Manual mode, so you can manually run and adjust the speed and incline. The console also has 50 onboard workout options that feature various training choices.
The display tracks all the important workout metrics, including time, distance, speed, pace, calories burned, calories burned per hour, current heart rate, and average heart rate. The speed and distance can either be English units or Metric units.
The console can also read your pulse through the integrated sensors or a wireless HR chest strap. However, this accessory does not come included with the machine.
Amenities
I count the workout fans, the sound system, the device holder, and the accessory holders, among other notable console features. The workout fans integrate under the display. They have multiple speeds, so you can press the controls numerous times to get the desired speed.
The sound system consists of two 3″ speakers integrated at the base of the console unit. Therefore, you can play and view the iFit workouts with sound and music on the machine's console. You can also connect a set of earphones to the console via the AUX port or sync Bluetooth earphones with the console.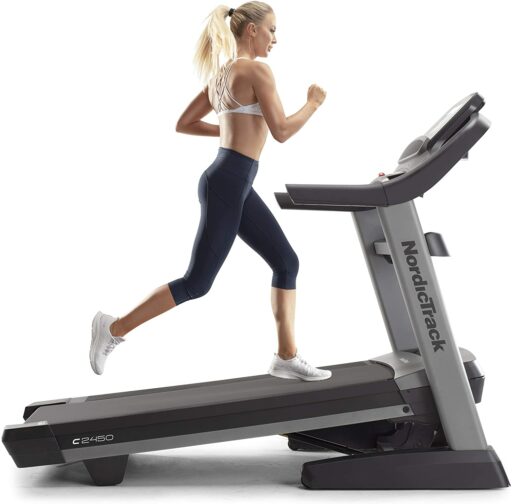 The fan's cover protrudes from the console, and its upper part has a shelf for your tablet or smartphone. And finally, the console dashboard has two large trays, one on each side, serving as a bottle or accessory holder.
2450 Assembly and Maintenance
The treadmill's deck with the motors and the other parts comes pre-assembled. However, the two upright posts, the accessory tray, and the console, require user assembly. The manual provides clear assembly instructions, and all the necessary tools come included with the machine.
Therefore, the task shouldn't take more than an hour. But due to the massive weight of the machine, at least its transport requires a minimum of two people.
The deck comes pre-lubricated, so it shouldn't need any lubrication for extended usage. However, the running belt should be kept clean and free of dirt, textile fibers, or other objects that might be dragged under it and caught in the motor. It is also advisable to periodically inspect the machine for loose bolts and parts and retighten them if necessary.
Pros
Heavy-duty commercial-grade construction;
Solid deck – can support users up to 300 lbs (136 kg);
Folding design with soft-drop hydraulic mechanism;
RunnersFlex deck cushioning system;
2.5″ crowned rollers;
Motorized incline/decline system with a range between -3% and 15%;
Commercial-grade powerful drive motor (4.0 CHP);
0.1 MPH and 0.5 MPH, speed adjustment increments, are available;
Quick selection controls for both speed and incline/decline;
Pulse sensors integrated into the front handlebars and telemetric pulse reading function;
Advanced 14-inch display console with touchscreen technology;
iFit enabled and 30-day free iFit membership;
WiFi and Bluetooth connectivity;
The sound system included;
Workout fans included;
Tablet holder included;
Reasonably easy to assemble;
Little maintenance is required;
Excellent warranty.
Cons
An HR chest strap does not come with the machine.
NordicTrack Commercial 2450 Treadmill Summary
The NordicTrack Commercial 2450 is a heavy-duty treadmill equipped with a 4.0 CHP motor, a power incline/decline system with a range between -3% and 15%, and an advanced 14″ LCD touchscreen console that is iFit enabled. In addition, the treadmill comes with 30-day free iFit membership, which you don't have to renew if you don't want to once it expires.
Moreover, it's a great trainer for high-intensity cardio workouts, stamina development, interval training, muscle toning, and weight loss. It's not exactly an affordable machine, but it offers excellent value for the price.
I hope you found this article helpful and informative. Would you please speak up if you have anything you'd like to share on the topic or any opinions about my website? I look forward to your comments, questions, and the sharing of ideas.
Please remember that you should consult your physician to determine if you have any medical or physical conditions that could risk your health and safety or prevent you from using the equipment properly. In addition, your physician's advice is essential if you are taking medication that affects your heart rate, blood pressure, or cholesterol level.