Torch more calories and enhance muscle definition with one machine. The Teeter Power10 Elliptical Rower's bi-directional elliptical path lets you engage different muscles on the push and pull to strengthen and define the entire body like no other machine.
The Power10 offers two directions for optimal muscle sculpting. First, engage and strengthen your back, biceps, delts, forearms, quads, and calves with a traditional rowing motion. Then, the patented elliptical path (the push motion) lets you switch direction mid-workout to build your chest, triceps, hamstrings, glutes, and abs.
The Teeter Power10 Elliptical Rower strengthens every major muscle group on the body's front and back, with continual core strengthening throughout the workout. Alternating muscle groups let you maintain intensity and increase calorie burn every workout. In addition, your muscle exertion is distributed throughout the entire body so that you can push yourself farther and harder with less muscle fatigue.
The Power10 features variable magnetic resistance adjustable on the fly to increase resistance for total muscle burn or lower resistance to build endurance. In addition, magnetic resistance ensures virtually silent operation and no friction or touching parts, which means long-lasting performance with little-to-no maintenance.
Learn more in my complete review below!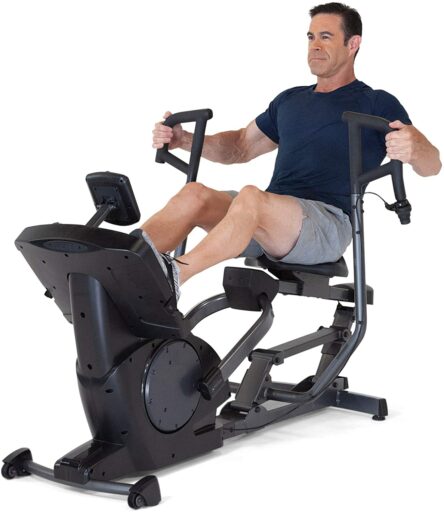 Product: Teeter Power10 Elliptical Rower
Price: For a great deal on this hybrid, merely go here on Amazon
Warranty: Frame 1 year / Parts 90
My rating: is 9/10
Affiliate Disclosure: As an Amazon Affiliate Program participant, I earn commissions on purchases made through links in this post. Full disclosure
Details and Specifications
Assembled dimensions: 62.75L x 37.5W x 43.25H inches (159L x 95W x 110H cm)
Assembled weight: 180 lbs (81.6 kg)
Weight limit: 300 lbs (136 kg)
Frame: Steel
Resistance type: Magnetic, seven levels
Fitness Monitor: Time, distance, strokes, spm, calories, pulse, time goals,
Extras: HR chest strap, the device holder
Warranty: Frame 1 year / Parts 90
Power10 Frame Construction
The Teeter Power10 rowing machine features a heavy steel tubing frame. It combines rectangular, oval, and cylindrical bars in its construction, and all the steel bars come with a corrosion-resistant dark gray paint finish.
Although the machine's frame is steel-made, the trainer integrates several parts made of thermoplastic material. The most notable ones are the footrests and the covers of the drive system.
The fully assembled rower is pretty large and bulky compared to the average. It is approximately 62.75″ (159 cm) long and 37.5″ (95 cm) wide. Plus, it is advisable to leave at least 24″ (61 cm) of clearance all around it for unhindered usage and ease of access.
The machine is not foldable like ASUNA Ventus 8580 but can store vertically, resting on its front stabilizer and the large footrest assembly. Thus, it gives you the possibility to save some space. In its vertical position, the unit's footprint becomes 43.25″L x 37.5″W (110 x 95 cm), while its height becomes approx—62″ (158 cm).
The Teeter Power10 rower is also very heavy. Its net weight is approx. 180 lbs (81.6 kg), and it comes in two separate boxes, weighing 92 lbs (41.7 kg) and 79 lbs (35.8 kg), so these should be carried by two people or via a box trolley. However, one person can quickly move the rower as its front stabilizer integrates a set of wheels once assembled.
Due to its impressive weight and low center of gravity, the machine is immovable. So you can be sure it won't rock or wobble even if you engage in the most demanding workout. In addition, its rear stabilizer has two adjustable levelers to stabilize it on any floor perfectly.
Seat and other parts
The Teeter Power10 rowing machine comes equipped with an extra-large seat, approx. 13.5″ (35 cm) wide. Its top is high-density EVA foam and thicker at the rear to provide extra protection for your tailbone. It's also contoured and has a rearguard to prevent you from sliding backward during rowing.
The seat is attached to a wide rectangular rail featuring several adjustment positions. Although the rail is not excessively long, due to the frame design and the positioning of the footrests, the machine can accommodate users between 5'0″ and 7'0″ (153 – 213 cm), allowing a complete and comfortable range of motion. Furthermore, it has a maximum user weight limit of up to 300 lbs (136 kg).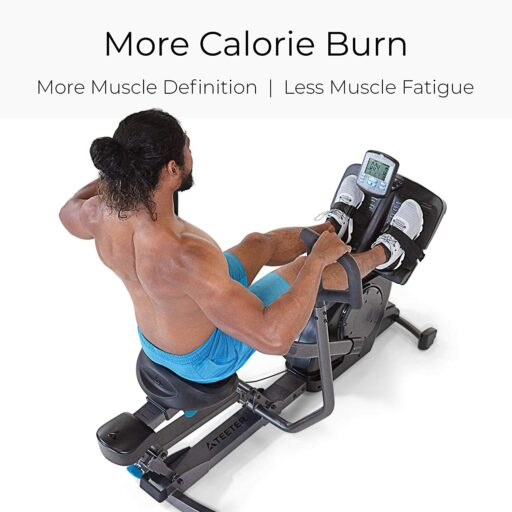 Unlike many other magnetic rowers, the Teeter Power10 comes equipped with a set of oars rather than the conventional pulling handle attached to a strap. Each oar has a multi-grip design, with its grips covered by a layer of high-density foam for improved comfort.
The rower comes equipped with an extra-large footrest assembly. It's a durable thermoplastic material, and its core is the steel frame's front part. It is large enough to accommodate athletic shoes of all sizes. In addition, it has a textured surface, adjustable straps, and heel stoppers for maximum foot stability.
The angle of the footrest assembly is non-adjustable. Therefore, it does not pivot on its axis, as for other rowers, such as the Stamina X 35-1102A. In addition, its angle is approx—60 °.
Power10 Resistance system
The Teeter Power10 rowing machine has a manual magnetic resistance system, which does not have an internal motor. Therefore, it doesn't require an adapter or an external power source. However, it also cannot adjust the resistance automatically.
The machine's resistance system consists of an internal magnetic brake connected to the tension dial on the left oar grip through a steel cable. As you turn the knob, the brake changes its position to the internal flywheel, increasing or decreasing the rowing difficulty.
This Teeter rower makes available seven resistance levels. Unfortunately, the resistance delivered by the 1-3 tension levels is not light. Thus, if your physical shape isn't the best, you'll probably work with these for quite a while.
Conversely, the 7th tension level provides considerably more tension. As a result, even a seasoned athlete may be unable to keep a high stroke rate for more than a few minutes in this challenging setting.
Drive system
The Teeter Power10 rowing machine features a unique design and drive system. It provides an elliptical rowing motion instead of the standard classic stroke.
This elliptical motion applies to the seat and the rail, and the machine delivers a considerably lower impact on your lower back. Therefore, it can be quite a plus for users with lower back pain or other problems.
The stroke length is adjustable. In addition, the rear upright bar of the machine has three adjustment positions, and the median bar that connects the oar assembly to the rear vertical bar comes equipped with an adjustment knob.
Therefore, if you attach the median bar higher, the oars' angle will change forward by a few degrees. The rower will provide an ampler motion to accommodate a taller user better.
The machine's drive system is bi-directional, similar to an elliptical trainer. Therefore, you can change from a pull to a push motion during a workout without making machine adjustments. This way, you can target different muscle groups while letting others rest and perform an almost full-body exercise.
One last aspect I must note here is the motion of the oars. As opposed to other rowers equipped with oars rather than a pulling handle, the oars of the Teeter rower only move forward and backward; they cannot move to the side.
They also cannot lock into positions to remain stationary. So, they will continue to move if you choose not to hold the oars and work only with your legs.
Power10 Fitness monitor
The Teeter Power10 rowing machine comes equipped with a mid-range fitness monitor. It features an LCD divided into six sub-sections to show all the workout metrics. It tracks time, distance, strokes per minute, calories burned, and pulse.
The distance can be miles or meters; you can press the unit on the monitor's bottom right corner. Of course, you need to wear the included Bluetooth wireless HR chest strap for the pulse reading function. And for the calorie reading to be more accurate, you can input your age (set by default to 35).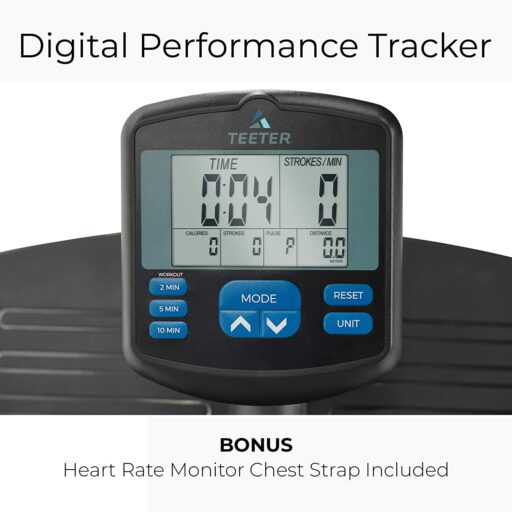 Unfortunately, the fitness monitor does not have conventional pre-set workout programs and cannot adjust the machine's resistance automatically. However, it does have three pre-set time goals, 2 minutes, 5 minutes, and 10 minutes.
Each of these time goal settings has its quick key on the fitness monitor. You can also select a desired goal for time (other than the three pre-set time goals), distance, and calories via the Mode Button.
Train on your time with the free Teeter Move app. Get inspired workouts and fitness programs from real trainers on‑demand, completely free, with the Teeter Move app.
The fitness monitor is battery-powered, requiring two AA batteries. It starts when you press the Mode button and automatically turns off after a few minutes of inactivity on the rower.
Power10 Assembly and Maintenance
Although the machine's resistance system and most frame parts come pre-assembled, several factors still require user assembly. First, you will have to connect the two main frame pieces and add the footrest platform, the seat, the oars, the oars' handles, the fitness monitor, and several small covers.
Therefore, it may take more than an hour of your time. In addition, due to the machine's two parts weight, two people should carry and assemble the machine.
However, the process is not too complicated. The manual provides all the necessary instructions and schematics, and there is also a free app that can guide you through the assembly task and all the essential tools that come with the machine.
Once assembled, maintenance does not require much. The drive's internal parts and resistance mechanism do not require lubrication. However, the rower's joints may occasionally need a bit of oiling if they develop squeaking noises. Other than this, it is advisable to keep the machine clean and periodically check for loose bolts and retighten or replace them as needed.
Pros
Solid frame – can support users up to 300 lbs (136 kg);
Heavy construction – won't rock or wobble;
Can be stored vertically to save space;
Transport wheels integrated into the front base;
Adjustable levelers on the rear stabilizer;
Large, contoured seat for maximum comfort;
Can accommodate users up to 7′ (213 cm);
Elliptical rowing motion for reduced impact;
Motion duality – you can switch from pull to push during the workout to target different muscle groups;
Large, adjustable footrest platform with straps and heel guards for maximum foot stability;
Magnetic resistance for a smooth, drag-free rowing motion;
Multi-grip oars;
Adjustable stroke length;
Teeter Move App – trainer-led workout videos – on-demand, no subscription needed.
Multi-function fitness monitor – tracks time, distance, strokes, strokes per minute, calories, and pulse;
Goal setting functions for time, distance, and calories;
The quick key for changing between miles and meters;
A wireless HR chest strap is included;
Pre-set time targets for 2, 5, and 10 minutes;
Device holder included;
Reasonably easy to assemble;
Little maintenance is required;
Decent warranty.
Cons
The fitness monitor LCD does not have a backlight.
Teeter Power10 Elliptical Rower Summary
The Teeter Power10 is a heavy-duty rower made for home use. It has a 7-level manual magnetic resistance system and an elliptical drive system for pull. In addition, it pushes workouts and has a large ergonomic seat and a fitness monitor that tracks all the essential workout metrics. In addition, it also offers an adjustable stroke length feature.
With workouts designed for every fitness level, Teeter's trainers will be your guide to total body fitness. In addition, with the Teeter Move app, you get access to trainer-led workout videos – on-demand, no subscription needed.
Moreover, it's a great trainer for a full-body aerobic workout, muscle toning, interval training, stamina and strength development, and weight loss.
I hope you found this article helpful and informative. Would you please speak up if you have anything you'd like to share on the topic or any opinions about my website? I look forward to your comments, questions, and the sharing of ideas.
Please remember that you should consult your physician to determine if you have any medical or physical conditions that could risk your health and safety or prevent you from using the equipment properly. In addition, your physician's advice is essential if you are taking medication that affects your heart rate, blood pressure, or cholesterol level.