Experience a complete body workout without leaving the comfort of home with the Marcy MWM-4965 Home Gym! This equipment is the perfect addition to your home gym. This versatile machine boasts a compact yet space-saving size that lets you execute various exercises to target specific muscle groups' development.
Its heavy-duty 14-gauge steel tube frame ensures it will last a long time. This exercise equipment lets you perform various exercises to develop your arms, legs, chest, and core to give you a total body workout at home. It comes equipped with a dual-function press arm that converts from press arms into a butterfly pec station, an abdominal crunch attachment, and a leg developer.
Improve your overall physique and build muscle through intense workouts with this machine. It developed with a press arm and vertical butterfly with independent movement and is excellent for upper-body exercises such as chest and pec fly pressing. It also features a lat bar perfect for pulldowns, targeting the chest and the back while building shoulder strength.
The Marcy MWM-4965 Home Gym measures 72 inches long by 38 inches wide by 78 inches high when assembled. Push your limits with workout equipment that combines practical design and functionality. Perform various strength-training exercises like a pro with the Marcy MWM-4965 Home Gym!
Learn more in my complete review below!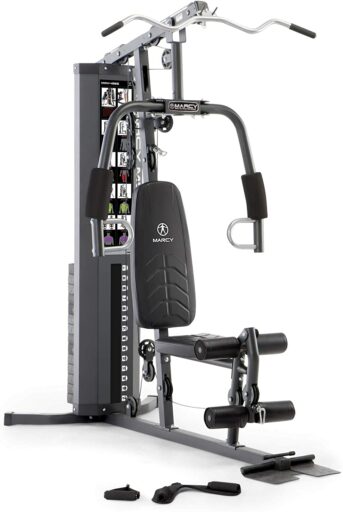 Product: Marcy MWM-4965 Home Gym
Price: For a great deal on this gym, merely go here on Amazon
Warranty: Frame 2 years
My rating: 8.75/10
Affiliate Disclosure: As an Amazon Affiliate Program participant, I earn commissions on purchases made through links in this post. Full disclosure
Details and Specifications
Assembled dimensions: 73L x 38W x 78H inches (185L x 96.5W x 198H cm)
Assembled weight: 261 lbs (118 kg)
Max. user capacity: 300 lbs (136 kg)
Stack weight: 150 lbs (68 kg)
Max. weight resistance: 200 lbs (90.7 kg) for the front press
Possible exercises: 36+
Warranty: Frame 2 years
MWM-4965 Frame
Similar to the MWM-990 model, the Marcy MWM-4965 home gym features a 14-gauge tubing steel frame. It integrates cylindrical and rectangular tubes to combine better sturdiness with aesthetics. All the steel parts come coated with a corrosion-resistance paint finish. The color used is dark gray, except for the fly press handles and the pulldown bar, which have a light gray finish.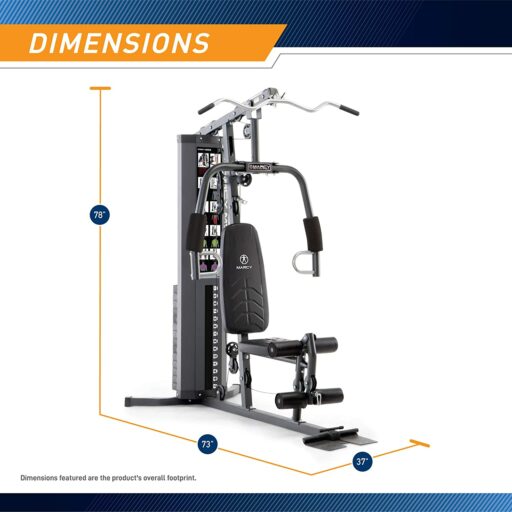 The fully assembled machine is not too large compared to other home gyms, such as the Marcy SM-4008. It is approximately 73″ (185 cm) long and 38″ (96.5 cm) wide. Its highest point is approx. 78″ (198 cm), so it should fit in a room with a 7-foot ceiling.
It's advisable to leave at least two feet of clearance on each side of the machine, and at least three feet at the front, for ease of access and correct usage.
This Marcy home gym is heavy since it has a weight stack. Its net weight is approximately 261 lbs (118 kg). Therefore, it shouldn't need to be anchored to the floor as its weight provides plenty of stability. On the other hand, two people should carry and assemble the machine. It is advisable to place it on a rubber mat to prevent floor damage.
Parts
The machine comes equipped with 18 pulleys. They're durable thermoplastic materials and integrate ball bearings for smooth operation. The cables are steel-made and rated for much more weight resistance than the included 150 lbs (90.7 kg) stack, so they should last longer. PVC sleeves cover the cables to prevent the scratching of the pulleys.
The seat of the Marcy MWM-4965 is non-adjustable. Both the backrest and bottom pad attach directly to the machine's frame. The bottom cushion is at approx. 20″ (51 cm) above the floor level, so the machine comfortably accommodates users up to 6'3″ (190 cm).
Taller users may still use this home gym, but with a limited range of motion for the chest press or the leg developer. The machine's seat assembly has a maximum user weight capacity of 300 lbs (136 kg).
Both seat pads integrate a thick layer of foam cushioning. As a result, they have a texture for more comfortable contact and extra breathability. In addition, they feature a thick vinyl cover that is sweatproof and very easy to maintain.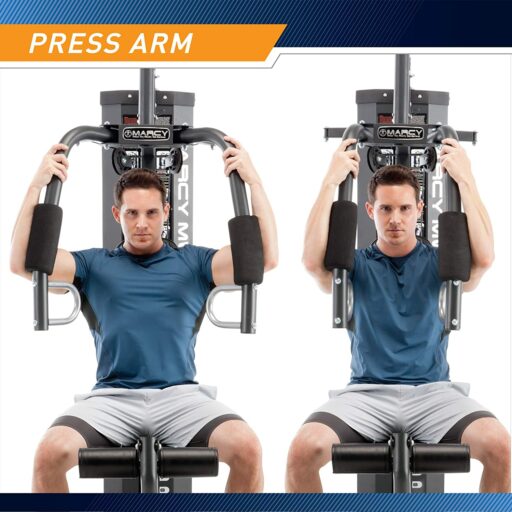 Finally, the machine's front base comes equipped with a footplate for extra support when using the lower pulley for standing rows or tricep press-downs.
MWM-4965 Workout stations, attachments, and accessories
The Marcy MWM-4965 features five different workout stations. These are:
High-pulley and lat station. This workout station features only one end pulley. It offers the possibility to perform lat pulldowns and tricep press-downs. It includes a 38″ (96.5 cm) lat bar with a zig-zag design that allows the adoption of various grips. Its ends feature rubberized sleeves for an improved grip.
Front and fly press station. The machine's front press consists of two arms connected to the pulley system. It's for standard seated front presses, but its two arms can move independently, so you can also perform seated fly presses. Each arm comes equipped with a cylindrical foam pad and a loop grip.
Mid-pulley station. This workout station consists of one end pulley integrated into the backbone of the machine's frame, right above the backrest. You can attach various accessories to it, like the included D-Handle or the Ab Harness, to perform multiple mid-pulley exercises, such as ab crunches, resistance punches, deltoid presses, and more.
Low-pulley station. The machine's low pulley integrates into its front upright bar. It offers the possibility to perform seated rows or standing rows and bicep curl exercises.
However, a short bar does not come included. So you can either opt for one or use the lat bar for these exercises. An ankle strap comes with the machine, so you can also perform leg abductions.
Leg developer. This attachment connects to the front section of the machine and the low pulley, and it offers the possibility to perform leg extensions. In addition, it features four large foam rollers for extra comfort.
Weight Resistance
The Marcy MWM-4965 home gym machine weighs 150 lbs (68 kg). It consists of 14 weight plates plus the selector weight, and each plate weighs approximately 10 lbs (4.5 kg). It's also important to note here that the stack is not upgradeable.
Depending on the number of weight plates selected, the machine's workout stations offer different weight resistance. For example, even though the weight stack is only 150 lbs (68 kg), the front press offers a maximum weight resistance of 200 lbs (90.7 kg), while the low pulley provides a maximum weight resistance of 160 lbs (72.5 kg). The table below indicates the weight resistance generated by each one of the workout stations.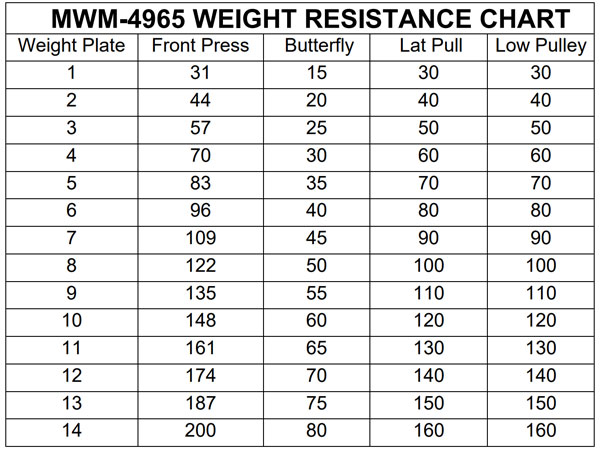 The weight plates are cement featuring durable vinyl covers. Even though they're not cast iron, like some other gyms, they're pretty solid and should last a lifetime if used properly. The weight adjustment system is simple. It consists of a selector pin placed on the inner side of the stack. Also, the covers of the weight stack have numbers for easy selection.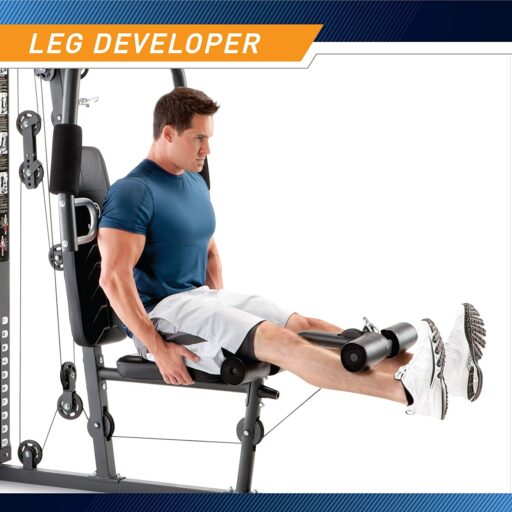 MWM-4965 Possible Exercises
This Marcy home gym has a sheet of exercises attached to the weight stack enclosure. It offers the possibility to perform at least 36 activities. Among them, I can count:
Seated Biceps Curls
Stand-up Biceps Curls
Concentration Curls
Triceps Pressdowns
Triceps Extensions
Ab Pulldowns
Ab Crunches
Mid-pulley Trunk Rotations
Low Pulley Trunk Rotations
Resistance Punches
Woodchops
Deltoid Raises
Seated Rows
Upright Rows
Vertical Grip Chest Presses
Horizontal Grip Chest Presses
Fly presses
High Cable Cross-Overs
Lat Pulldowns
One-leg Curls
Leg Abductions
Leg Extensions
Kickbacks
Squats
and more.
MWM-4965 Assembly and Maintenance
The Marcy MWM-4965 home gym comes packaged in 3 boxes. They're rather heavy; thus, two people should receive the packages, unbox and assemble them. However, the assembly is not too complicated, and the manual provides precise instructions.
However, due to the many parts that require assembly, the task may take at least a few hours. Also, it is advisable to lubricate the moving parts during assembly to ensure that all the pieces will function smoothly for a long time.
Tools for assembly do not come included with the machine. Instead, you will need two adjustable wrenches or a set of fixed wrenches, a Phillips screwdriver, and a rubber mallet.
Once completed, maintenance doesn't require much. However, the two guide rods that hold the weight stack may need some lubrication from time to time to ensure a smooth motion for the plates. Other than this, it is advisable to periodically inspect the machine to ensure that all the parts still function correctly and all the joints hold tight.
Pros
Sturdy construction, elegant frame design;
Thick, durable, and contoured vinyl upholstery with consistent padding for maximum comfort;
Foam roller padding on the chest press bars and leg developer attachment;
Relatively small footprint for a home gym system;
Five workout stations, including high-pulley, mid-pulley, low pulley, front and fly press station, and leg developer;
Ankle strap included;
D-handle included;
Lat bar included;
Ab harness included;
Over 36 exercises available;
Quiet operation, a suitable machine for apartment use;
Little maintenance is required;
Reasonably easy to assemble.
Cons
A short bar for low rows does not come included;
The weight stack is not upgradable;
Not for users taller than 6'3″ (190 cm).
Marcy MWM-4965 Home Gym Summary
The Marcy MWM-4965 is a multi-function home gym with five workout stations, including the high, mid, and low pulley, leg developer, and fly/front press. In addition, it comes equipped with a 150 lbs vinyl/cement weight stack and can generate a maximum weight resistance of 200 lbs (for the front press).
Moreover, it allows the execution of more than 36 exercises for a full-body workout. In all, it's a fairly decent machine offering excellent value for the price.
I hope you found this article helpful and informative. Would you please speak up if you have anything you'd like to share on the topic or any opinions about my website? I look forward to your comments, questions, and the sharing of ideas.
Please remember that you should consult your physician to determine if you have any medical or physical conditions that could risk your health and safety or prevent you from using the equipment properly. In addition, your physician's advice is essential if you are taking medication that affects your heart rate, blood pressure, or cholesterol level.