The NordicTrack T 6.5 S treadmill is for light to moderate cardio. The incline and speed options make it ideal for walking or jogging. FlexCushioning is an important feature that helps protect joints while simultaneously allowing you to feel the grit of the outdoors.
The NordicTrack T 6.5 S has a 2.6 CHP motor, accommodating long-duration workouts without the motor overheating or choking, even if you are working at maximum speed. Its top speed is 10 MPH, with adjustments able to be made in 0.5 MPH increments.
The NordicTrack T 6.5 S Treadmill deck features a One-Touch Automatic Lift System that provides up to 10 percent incline. Incline adjustments are automatic with some programs. In addition, you can press a button to change the slope to anywhere between 1% and 10%.
A 5″ backlit LED monitor on the console features significant digits that show workout stats, including Elapsed Time, Time Remaining, Incline, Distance, Speed, Calories Burned, 1/4 Mile Track, Pace (minutes/miles), and Heart Rate. In addition, the console has 20 built-in programs and the ability to access iFit with a paid subscription.
Learn more in our complete review below!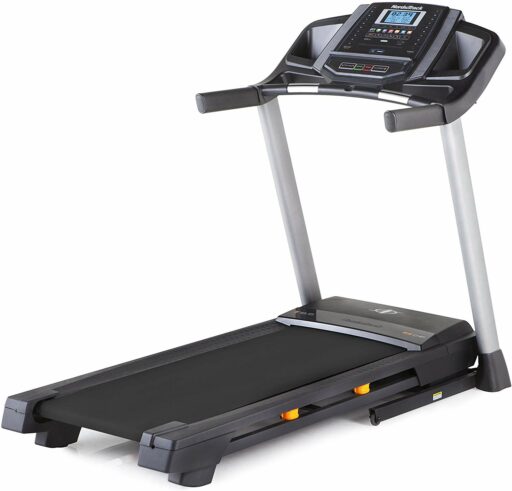 Product: NordicTrack T 6.5 S Treadmill
Price: For incredible deals on this treadmill, merely go here on Amazon
Warranty: Frame: Lifetime/Motor: 25 years/Parts and labor one year
My rating: is 9/10
Affiliate Disclosure: As an Amazon Affiliate Program participant, I earn commissions on purchases made through links in this post. Full disclosure
Details and Specifications
Assembled dimensions: 67.5L x 35.7W x 73H inches (172L x 89W x 186H cm)
Tread belt dimensions: 55L x 20W inches (139.7L x 50.8W cm)
Assembled weight: 203 lbs (92 kg)
Supported weight: 300 lbs (136 kg)
Motor: 2.6 CHP
Incline: Automatic, 0-10%
Deck cushioning: FlexSelect
Speed levels: 0-10 MPH
Console: 20 workout programs
Amenities: Sound system, tablet holder, 2x bottle holder
Warranty: Frame lifetime / Motor 25 years / Parts 1 year / Labor 1 year
T 6.5 S Frame and deck construction
This NordicTrack treadmill model features a steel-made frame. As a result, the fully-assembled machine is quite heavy, weighing over 200 lbs. However, this weight plays an essential role in its overall stability.
And speaking of stability, the front part of the treadmill rests on two rubber pads, while the rear of the deck features two adjustable stabilizers with rubber pads. In addition, the rear part of the front base frame integrates wheels, facilitating the assembled and folded machine's transport.
As we've just mentioned, this treadmill features a folding design. The folding mechanism consists of a telescopic EasyLift shock, which assists with the lifting and unfolding the deck. With the deck folded up, the machine's length approx — is 1/3 of its total length.
The treadmill's assembled footprint is not extremely wide, though. However, this machine isn't exactly small either. It takes approx. 67.5″L x 35.7″W (172 x 89 cm) of floor space; therefore, before acquiring it, make sure you have the usage space available for it.
The NordicTrack T 6.5 S treadmill features a solid deck, supporting users up to 300 lbs (136 kg) and running workout routines, not just for walking or jogging. It integrates the FlexSelect cushioning system, consisting of two suspension cells on each side of the deck. The firmness of these suspension cells is adjustable. You can rotate them to increase or decrease the overall rigidity of the deck. The deck's cushioning system can reduce up to 25% of the running impact on your joints.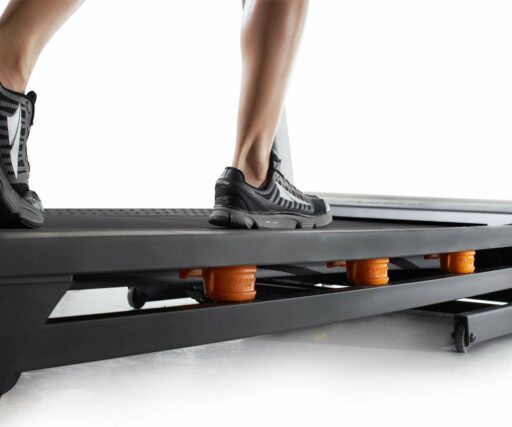 This treadmill comes with a heavy-duty one-ply belt, which offers a running surface of 55″L x 22″W (140 x 51 cm). Therefore, it comfortably accommodates users up to 6'2″ – 6'3″ (188-190 cm) for running workouts.
Of course, if you're taller, you'll still be able to run, but the treadmill may feel a bit small in this case. So the deck also uses 1.9″ (5 cm) crowned rollers and sealed ball bearings for a superior grip on the tread belt.
Incline and step-up height
The NordicTrack T 6.5 S treadmill has an automatic lift system for the deck, which provides a total slope of 10% (approx. 8°). Admittedly, it's not much compared with the 30-40 degrees that some commercial-grade treadmills can provide, but it still offers the possibility to intensify your workouts.
For example, running at 8 MPH, with the deck set up at a maximum incline, a non-professional runner may not last more than a few minutes.
Since the incline is motor-powered, you can only adjust it from the console. However, some onboard workout programs involve the machine's incline system and automatically adapt the incline, depending on the current workout segment. The rise adjusts in increments of 1%, with a total of 10 incline settings.
When it comes to step-up height, the running surface stands at approx. 8″ (20 cm) above floor level, at 0% incline. At a 10% incline, the front part will rise by a few inches, but you'll be in the middle of the deck, not at the front. Differently put, the overall elevation that you will get by running at maximum incline should be approx. 12″.
So, in conclusion, here, the ceiling height in the room where the treadmill will be in use should be higher than your size, plus about 15″ (38 cm) to avoid any issues.
T 6.5 S Motor
The drive motor on this NordicTrack treadmill is a 2.6 CHP model, built to withstand long-duration workouts without choking or overheating, even if the user is close to the maximum supported weight. It features a small flywheel for extra stability and smoothness. In addition, it supplies speeds up to 10 MPH Speed is adjustable in increments of 0.1 and 0.5 MPH, which is quite a plus, as you can easily find the most appropriate pace for your jog or run.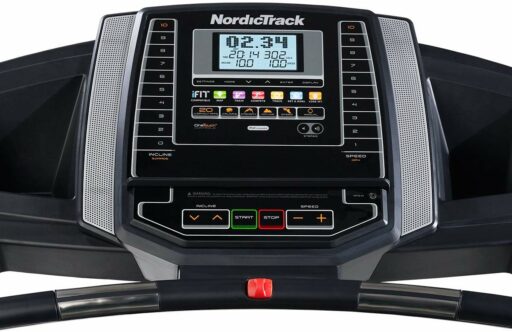 Since it's an electric motor, the treadmill requires a connection to a power circuit. It requires a 120-v, 15-amp circuit. It comes with a power plug, not an adapter, and a 4 ft cable, plugging into the machine close to its front base.
Console
The console supplied with this treadmill is a mid-range one. However, it integrates several amenities, such as a media holder, a sound system, and accessory holders.
However, it does not incorporate a cooling fan, and it's not telemetry enabled (in other words, it cannot read pulse through a chest strap transmitter, only through the sensors built into the front handlebars).
The sound system renders decent-quality sound. It has two speakers, one on each console side, and it's compatible with most MP3 players, smartphones, and tablets. The console features buttons for volume adjustment, but you can also adjust the volume from your device.
The console has a 5″ backlit display with significant digits, which is easy to read. It shows time, distance, speed, incline, pulse, and calories burned. The distance is in miles or km, but a track display function also shows the distance in laps of 1/4 miles, indicating how many laps you have completed. Speed is MPH or km/h.
There are goal setup functions for time, distance, and calories, but the console also makes available 20 preset programs, which automatically adjust speed and incline. On top of that, the console is iFit compatible. Unfortunately, the iFit module and iFit membership do not come with the treadmill.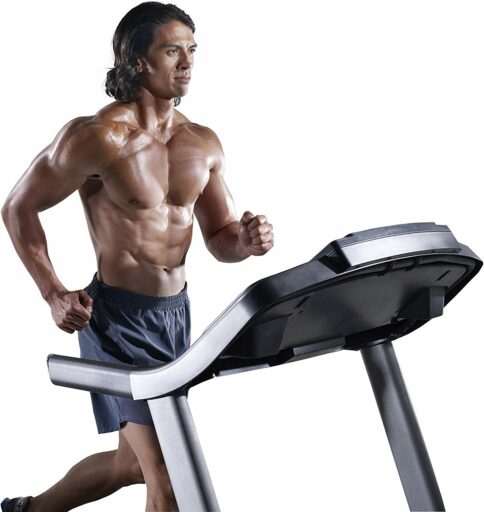 Overall, the machine's console is easy to operate. You can gradually adjust the incline and speed from the arrow and +/- keys or use the quick adjustment keys on the display side. In addition, the onboard programs have their adjustment keys by category. iFit apps also have direct access keys on the console.
And finally, there are Start and Stop keys, which allow you to put your workout on hold and resume if it's the case.
T 6.5 S Assembly and Maintenance
This NordicTrack treadmill is far from being difficult to assemble, a task that shouldn't take more than one hour. Its deck and motors are pre-assembled and attached to the front steel frame part. So all you need to do is attach the folding leg, the upright posts, and the console connecting the wires.
A hard copy is supplied with the box and provides precise assembly instructions. An Allen wrench is required for certain screws, and adjusting the belt is (included), but you'll need a Phillips screwdriver for assembly.
For maintenance, even though the belt is pre-lubricated with high-grade industrial lubricants from the factory, it may require extra lubrication after a while. In addition, you must keep the running belt clean and free of dirt, textile fibers, or other objects that might be dragged under it and caught in the motor.
Pros
Sturdy frame construction;
Solid deck, being able to support users up to 300 lbs;
An easy folding mechanism, space-saving design;
2-cell (on each side), adjustable deck cushioning;
Motorized incline, 0% – 10%;
2.6 CHP motor speeds up to 10 MPH;
Speed can be adjusted at increments of 0.1 MPH and 0.5 MPH, allowing you to find the perfect pace for your workout;
EGK pulse sensors integrated into handlebars;
20 preset workout programs;
iFit compatible;
Various amenities such as a sound system, tablet shelf, accessory trays;
Quiet operation;
Reasonably easy to assemble;
Little maintenance is required;
Excellent warranty.
Cons
A tablet placed on the reading holder will partially cover the controls;
The console is not telemetry enabled and does not work with HR chest strap transmitters.
The substantial frame requires two people to carry and assemble.
NordicTrack T 6.5 S Treadmill Summary
The NordicTrack T 6.5 S is a treadmill machine designed for residential use. It's an entry-level running treadmill, great for anyone who wants to undertake cardio, interval, and weight loss workouts, running a couple of miles per day. However, it may not be the best choice for professional long-distance runners, as its maximum speed is only 10 MPH.
It offers a decent range of onboard workouts, an automatic incline, and iFit compatibility. It's a machine with a solid construction, an excellent choice for home use as it has a folding design, offering great value for the price.
I hope you found this article helpful and informative. Would you please speak up if you have anything you'd like to share on the topic or any opinions about my website? I look forward to your comments, questions, and the sharing of ideas.
Please remember that you should consult your physician to determine if you have any medical or physical conditions that could risk your health and safety or prevent you from using the equipment properly. In addition, your physician's advice is essential if you are taking medication that affects your heart rate, blood pressure, or cholesterol level.