The BodyCraft U1000g Upright Bike considers every element of your comfort, joy, and satisfaction to give you the best workout experience without straining. Like any other BodyCraft machine, the BodyCraft U1000g Upright Bike matches the user's desired goals and fitness aspirations. 
The U1000g upright bike is a professional-quality bike and will look fantastic in your home, garage, or office gym. It is widely considered the best of the best for beginners and advanced users. If you're looking for a heavy-duty, commercial-grade upright bike, the BodyCraft U1000g Upright Bike is one that you should put on your list.
The magnetic resistance runs on the eddy current brake technology and is smoother and quieter than other resistance mechanisms. There are thirty different levels of resistance – a vast range! The U1000g flywheel is rather heavy for an upright bike weighing 29 lbs (13 kg)  and provides consistent momentum.
The touchscreen LCD keeps track of speed, distance, calories burnt, and heart rate. It is user-friendly and crafted entirely to make your workout enjoyable yet valuable.  The easy-to-use console comes with ten preloaded workout programs, and that's not the end; you can create your own. It keeps your workouts exciting and challenging.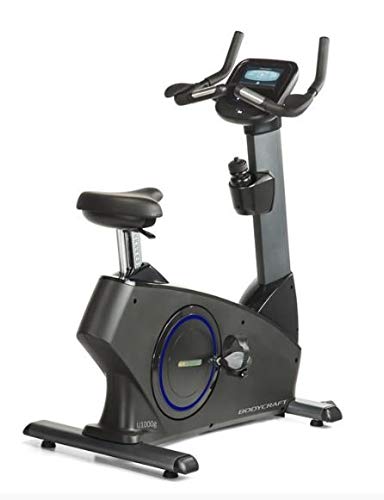 Learn more in my complete review below!
Product: BodyCraft U1000g Upright Exercise Bike
Price: For a great deal on this bike, merely go here on Amazon
Warranty: Residential: Frame lifetime / Parts 10 years / Labor 2 years (see commercial warranty below)
My rating: 9.4/10
Affiliate Disclosure: As an Amazon Affiliate Program participant, I earn commissions on purchases made through links in this post. Full disclosure
Details and Specifications
Assembled dimensions: 48L x 27W x 58H inches (122L x 69W x 147H cm)
Net weight: 157 lbs (71 kg)
Flywheel weight: 29 lbs (13 kg)
Weight capacity: 400 lbs (181 kg)
Seat: Pneumatic, 2-way adjustable
Resistance: Eddy current, self-powered, 30 levels
Console: 10 programs, four user profiles
Amenities: Tablet holder, bottle holder, elbow pads
Warranty:
Commercial: Frame 10 years / Parts 5 years / Labor 1 year
Residential: Frame lifetime / Parts 10 years / Labor 2 years
U1000g frame construction
The BodyCraft U1000g features a heavy-duty steel frame with an elegant design. The frame's primary steel tubes are double-coated with a paint finish, resistant to corrosion and abrasion. The only exception is the seat post, which has a chrome plating finish. The color used for the other parts of the frame is dark gray, this being the only color available for this cycle.
This BodyCraft exercise bike is considerably heavy. With all the parts assembled, it weighs approximately 157 lbs (71 kg). However, all this weight delivers excellent stability. It should not wobble or rock during usage even if you're close to the maximum 400 lbs (181 kg) weight capacity.
Each base bar has two rubberized levelers, which allow you to stabilize the bike on any floor correctly. They also prevent floor scratching, but placing and using the bike on a mat is advisable.
Compared to other lighter upright exercise bikes, the BodyCraft U1000g is slightly larger. It's approximately 48″ (122 cm) long and 27″ (69 cm) wide. Therefore, it requires a usage surface of at least 80″ x 50″ (203 x 127 cm).
Despite its impressive weight, the bike isn't tough to move once assembled. Its front base bar features two large wheels, which facilitate its relocation. Therefore, you won't have to handle more than half of its total weight by pressing the handlebar down and using these wheels to move the bike.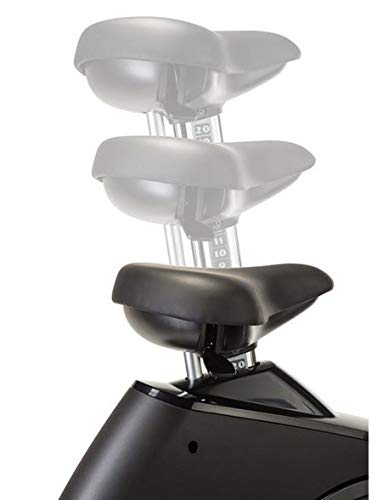 Seat and handlebars
The BodyCraft U1000g has an extra-large comfort seat. Not only that, it's approximately 14″ (34 cm) wide, providing plenty of contact surfaces for any user; it is also contoured and integrates a thick layer of foam cushioning.
However, seat cushioning is not even the best part about it. Its adjustment system is the element that takes the cake. It's only 2-way adjustable (up, down). However, it uses an air pressure system, which gives you the possibility to perfectly adapt its height to your inseam while seated by pulling the lever on its right side up, unlocking its post, finding the correct size, and releasing the lever.
The seat post has 20 height adjustment positions and can accommodate users between 5'0″ and 6'6″ (153 – 198 cm) with no problem. In addition, the whole seat assembly is sturdy enough to support users up to 400 lbs (181 kg).
The bike's handlebar assembly is non-adjustable. It's attached to a thick front mast, which delivers superior sturdiness. It offers a multi-grip design, including a standard grip, a racing grip, and a lateral grip. Furthermore, it has elbow pads, a set of accessories that many other upright bikes do not have. It also has rubberized grips for increased hand adherence and comfort.
The lower part of each handlebar integrates metallic grip pulse sensors. By holding onto these sensors, the console can monitor your heart rate. However, the console is also telemetric and can communicate with various HR belt transmitters.
U1000g Drive
The BodyCraft U1000g exercise bike has a 2-stage poly v- belt drive system and integrates two pulleys. One of the pulleys is larger, connected to the crank arms and pedals; the other is an intermediary between the primary pulley and the bike's magnetic flywheel.
A 1092J8 v-belt connects the larger pulley to the smaller mid-pulley, and another 762J8 standard belt connects the lower pulley to the wheel. This type of drivetrain leads to a smooth pedaling motion and adds extra difficulty to the ride.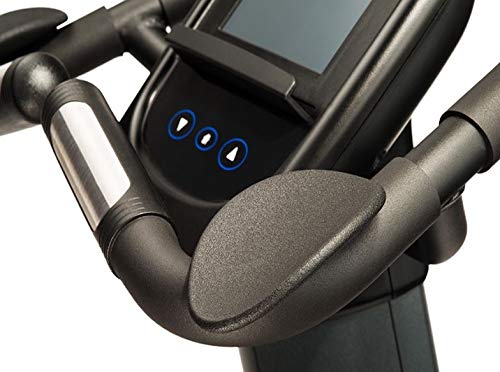 The bike also has a set of solid steel crank arms. They can support pedaling while standing up, especially if the user isn't too heavy, but it is recommended only for seated workouts because this is an upright bike.
The included pedals have a metallic core and a weight element, enabling them always to turn face-up when you remove your feet from them. In addition, they have a non-slip surface and adjustable straps so you can correctly secure your feet on them during exercising.
Resistance
This BodyCraft exercise bike uses a self-powered eddy current resistance system. Therefore, most of the energy required for powering up the console and the resistance elements is generated by your pedaling. It integrates a quiet ComGen Generator and a flywheel assembly with a magnetic brake.
As you select a certain difficulty level from the console, the brake amplifies or reduces the magnetic pull, generating more or less pedal resistance.
The bike makes available 30 distinct tension levels. The resistance is automatic. Thus, some of the onboard programs will auto-adjust the resistance if selected. The first few levels deliver very little tension, excellent for users with specific disabilities or recovery training. Conversely, the top tension levels simulate a steep climb.
The internal flywheel assembly is relatively heavy for an upright bike. It weighs approximately 29 lbs (13 kg). Therefore, it provides a more consistent momentum and adds steadiness to the ride.
Finally, the bike usage is quiet, almost entirely silent due to the magnetic brake and belt drive system.
U1000g Console
Although the console included with the BodyCraft U1000g exercise bike doesn't have an integrated sound system, nor is it compatible with any online fitness apps, it still offers an impressive range of features. To begin with, it has a touchscreen LCD WSVGA type, with a 16.2M color range.
Most functions can be accessed just like on a tablet, but the unit also has four buttons, such as Up/Down, to increase and decrease resistance, a home button, and a Go button for the QuickStart Program.
The console display covers all the essential workout metrics. It indicates distance, time, speed, RPM, Watts, pulse, and calories burned. For speed and distance, you can select between English and Metric units. In addition, you can use the integrated sensors or opt for a Polar T34 HR chest strap (not included) for the pulse reading.
The console also offers four user profiles. Each user can set up a program of their liking with their data input, such as age, weight, program duration, resistance settings, and more. In addition, for each user profile, you can set up a password to make sure that no one else may change your settings.
Workout Programs
The unit makes available ten workout programs. These are Quick Start, Manual, Random, Interval, Hill Climb, Strength, Target HR, HR Interval, Fat Burn & Cardio. As I've mentioned above, the QuickStart program can be accessed directly from the Go button on the console. It allows you to adjust the resistance as you like during pedaling.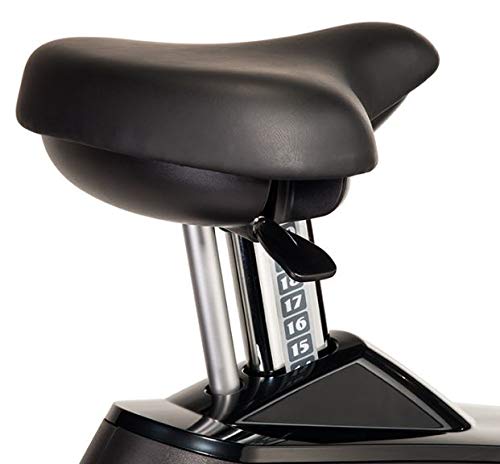 The Random program automatically generates a plan for you to try something new with every ride. The Interval, Hill Climb, and Strength are preset profile programs. The Fat Burn, Target HR, Cardio, and HR interval are all programs that depend on your heart rate.
For example, the Fat Burn and Cardio target an HR of 70% for fat burn and 80% for cardio. The console will auto-adjust the resistance during an HR-based program to keep you within the selected HR interval.
U1000g Assembly and Maintenance
The core (base) section of the bike comes pre-assembled with all the drive and resistance elements. The seat is also already attached. Therefore, you only have to connect the two base bars, the adjustable stabilizers, the console mast, the handlebars, the console, the pedals, and several small covers.
Therefore, it shouldn't take more than 30-40 minutes. Also included are all the necessary tools for assembly. Furthermore, the manual provides clear, step-by-step assembly instructions and schematics.
Maintenance doesn't require much. You only have to check for loose bolts and parts and keep the unit clean.
Pros
Commercial grade construction, sturdy frame – can support users up to 400 lbs;
Elegant design;
Fairly small footprint;
Transport wheels included;
Adjustable, rubberized stabilizers on both bases;
The extra-heavy bike provides superior stability;
Two sets of grip heart rate sensors within the handlebars;
Elbow pads on the handlebars;
Air-pressure adjusting system for the seat;
High-comfort, large saddle, integrating a thick layer of cushioning;
Automatic, eddy current resistance
Self-powering system;
Two-stage drive system for an extra-smooth pedaling motion;
30 levels of resistance;
Ten workout programs;
Four user profiles;
English and metric units on the console;
Extendable and fixed tablet holders;
The bottle holder included;
Easy to assemble;
Little maintenance required;
Great warranty package.
Cons
No online connectivity;
No sound system;
The seat is only 2-way adjustable.
BodyCraft U1000g Upright Bike Summary
The BodyCraft U1000g is a commercial-grade, heavy-duty upright bike. In particular, it features a self-generating eddy current resistance system with 30 tension levels. Furthermore, it has an LCD touchscreen console that offers ten workout programs to keep you motivated. It also excels in ergonomics, featuring a multi-grip handlebar with elbow pads and an air-assisted adjustment system for the seat.
Thus, it's an excellent exercise bike for light to intense cardio training, weight loss, and stamina development users of all levels. It's not exactly cheap since it's a commercial bike, but its quality, durability, and included warranty match its price.
I hope you found this article helpful and informative. Would you please speak up if you have anything you'd like to share on the topic or any opinions about my website? I look forward to your comments, questions, and the sharing of ideas.