The Nautilus E616 Elliptical Trainer is a mid-priced trainer for home gyms and fitness enthusiasts who want a low-impact workout. The Nautilus E616 provides excellent cardiovascular exercise by combining upper and lower body flexibility and coordination into impact-free motion.
It features 29 customizable workout programs and 25 varying levels of resistance. These workouts will provide the necessary intensity for a great workout and burn serious calories. The best programs are the 12 workout profiles pre-loaded and ready to go. Therefore, it's like having a personal trainer.
The E616 elliptical has a 20-inch stride length, making it a good fit for most people. The 22-pound flywheel of the Nautilus E616 is perimeter weighted, and the resistance comes from an eddy current system rather than friction between the flywheel and brake pads.
Whether you are a long-time fitness enthusiast or just starting your fitness journey, the Nautilus E616 elliptical trainer has workouts to fit your needs. The E616 separates its preprogrammed profile workouts into three categories: Fun Rides, Mountains, and Challenges. Choose which works best with your workout goal of the day!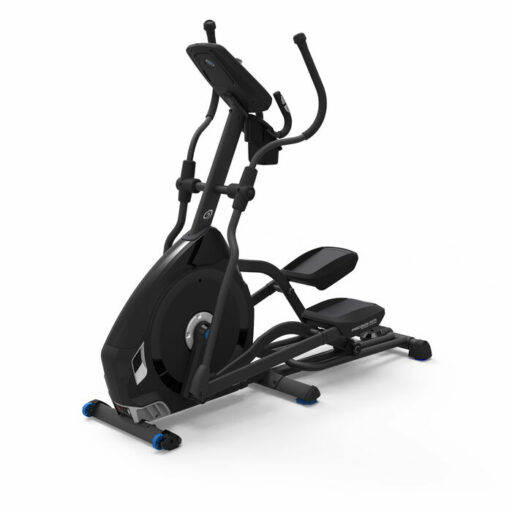 Learn more in my complete review below!
Product: Nautilus E616 Elliptical Trainer
Price: For a great deal on this elliptical, merely go here to Nautilus.com
Warranty: Frame 10 years / Parts 3 years / Electronics 3 years / Labor 1 year
My rating: 8.5/10
Affiliate Disclosure: As a Nautilus and Schwinn Partner Program participant, I earn commissions on purchases made through links in the post. Full disclosure
Details and Specifications
Assembled dimensions: 71.5L x 26.7W x 63.2H inches (181.7L x 67.7W x 160.5H cm)
Product weight: 173.3 lbs (78.6 kg)
Supported weight: 300 lbs (136 kg)
Stride: 20 inches (51 cm)
Incline: Motorized, 0-10°
Footplates: Articulating, with cushioning
Handlebars: Both mobile and fixed (with integrated pulse sensors)
Resistance system: Eddy current, 25 levels
Fitness Monitor: 29 workout programs, Bluetooth
Sync with the free Explore the World App
Amenities: Accessory shelf, tablet holder, sound system, fan
Warranty: Frame 10 years / Parts 3 years / Electronics 3 years / Labor 1 year
E616 Frame
The Nautilus E616 frame construction is pretty similar to the Schwinn 470 Elliptical. Most parts are steel tubing, including the mainframe piece, rail assembly, legs, arms, cranks, monitor mast, and bases.
The flywheel, pulley enclosure, and several other cosmetic parts are made of heavy-duty plastic. All metallic components are double-coated with scratch-resistant and rust-resistant black paint.
The frame features three bases. All of them have decorative plastic shrouds on their ends. The middle and rear bases come with adjustable stabilizing feet. The front base rests on two rubber pads and does not feature stabilizers. However, the front base comes with caster wheels, which ease the transportation of the assembled device.
The machine is heavy, weighing approximately 174 lbs (79 kg). However, relocating it once assembled is no problem. Its rear base lifts the elliptical onto its front wheels. So, moving the machine to the desired position is quick and easy.
Like most elliptical trainers, the Nautilus E616 has a relatively large footprint, taking 71.5″L x 26.7″W (approx. 182 x 68 cm) of floor space. Therefore, to operate the elliptical safely, you should add two feet of clearance.
Thus, the machine is not space-saving, and its frame does not have a folding design. However, it's still relatively smaller length-wise than other models, such as the Sole E95.
One last aspect of the frame is the accessory shelf, situated on the console mast under the monitor. This piece offers a spacious compartment to hold your phone, MP3 player, water bottle, etc. It also acts as a shroud for the joint of the mobile arms of the machine.
Incline and stride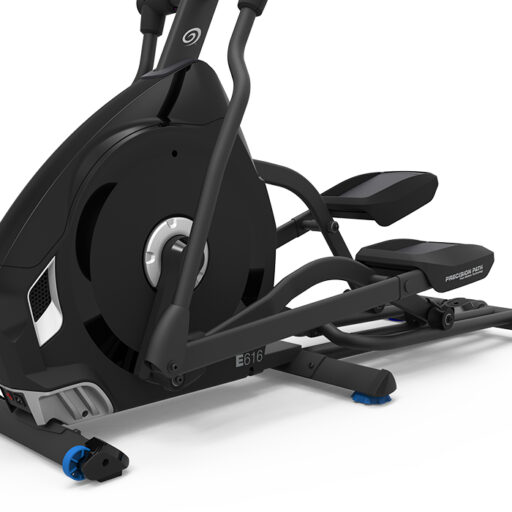 The Nautilus E616 comes with a motorized, automatic incline system. The inclined arm is connected to the machine's rail assembly, lifting it as the incline increases. Since the incline is motorized, it's adjustable via the console only.
It can be changed directly by the user, or it will self-adjust if you're using one of the onboard workouts which involve incline. The maximum incline level isn't extreme. At maximum setting, the elliptical offers approx. 10° of incline.
There are two important aspects regarding the incline of this Nautilus fitness machine that you should know.
One, its maximum level, gives you quite an elevation, adding approx. 27″ to 29″ (68.6 – 73.6 cm) to your height, depending on how you position your feet on the footrests. Therefore add this dimension to your size to determine whether your home has the appropriate ceiling height to fit you while using the machine.
Two, the feel generated by the incline differs quite a bit from the slope given by a treadmill. If the rise simulates climbing on a treadmill, adding a pitch to this elliptical feels more like going downhill. Thus, this isn't necessarily bad because it intensifies your workout and focuses more on your glutes and hamstrings.
This elliptical trainer features a non-adjustable, medium-range stride. At 20″ (51 cm), it makes the unit perfectly viable for users between 5'3″ – 6'0″ (160 – 183 cm). Now, this stride range shouldn't be a problem for taller users.
A user up to 6'5″ (195.5 cm) should feel comfortable on it. However, depending on their inseam, users shorter than 5'3″ (160 cm) may feel the stride length is too long.
E616 Drive System
This particular machine's drive can be very smooth and quiet, as the transmission between the pulley and the flywheel is via a belt, not a chain.
The wheel is perimeter-weighted and balanced, adding smoothness to the pedaling motion. The pulley is more significant in diameter than the flywheel, integrating two strong crank arms to hold users up to 300 lbs (136 kg).
The machine's footrests are large enough to accommodate feet of all sizes. In addition, they integrate the Precision Path™ foot motion technology, supplying a comfortable contact and pedaling motion. In other words, the footrests feature a padded, ribbed deck with articulation.
One last aspect to cover here is the machine's arms and grips. Like most commercial ellipticals, this model features both fixed and mobile grips. The fixed grips incorporate pulse sensors, enabling the fitness monitor to track your heart rate.
The grips on the moveable arms are long enough to offer comfortable hand positioning for users of all heights and promote a more extensive array of workout postures. In addition, both fixed and mobile grips come with rubber foam for a more comfortable hold.
Resistance System
An eddy current brake is the crucial element of the magnetic resistance system. When adjusting the resistance from the console, a servo motor adjusts the magnet's pull. You can adjust resistance freely as you work out with the Manual mode or choose one of the onboard workout apps, which automatically changes resistance.
The Nautilus E616 Elliptical Trainer offers 25 levels of resistance. The lowest levels provide a light workout, which is great for users who must undergo a rehab training regimen. Conversely, the highest resistance levels, backed up by the incline, offer intense cardio training.
Since it uses an eddy current brake, this machine requires connecting to a power circuit. It comes with a UL-listed adapter, rated 120VAC, 60 Hz input, and 2A. The adapter should be used in a grounded outlet and features the American system plug. The machine's connector for the adapter is near the front base.
E616 Fitness monitor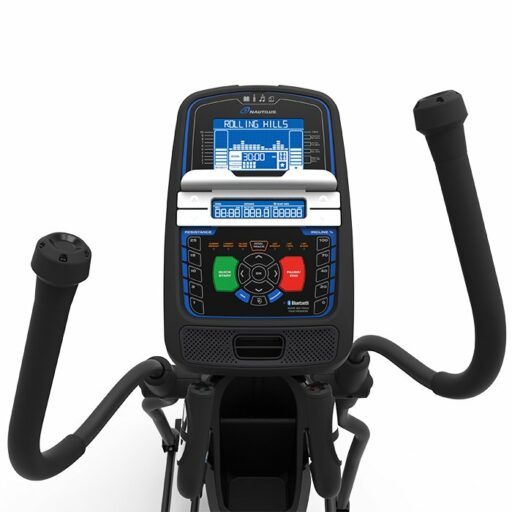 The fitness monitor is pretty similar to the Nautilus U616 upright bike. It features two LCDs backlit with blue light, offering easy readability.
The top, more expansive display covers the current program data, the workout intensity and resistance level, heart rate zone, and user profile, and it keeps track of your goals.
The lower, smaller display tracks speed, time, distance, calories, and RPM and indicates the current resistance level and heart rate. In addition, you can sync your data with popular fitness apps.
This monitor allows for setting and tracking goals for time, distance, and calories. It also has 29 built-in workout programs, including 12 profiles, nine heart rate monitoring, two fitness tests, four custom, one recovery, and one quick start.
The 12 profile programs cover 4 Fun Rides, 4 Mountains courses, and 4 Challenges. You can create your workouts or save individual settings to use at different times via the custom programs. Also, this function is great if multiple persons use the elliptical.
The remaining programs speak for themselves. The heart rate programs focus on cardio training and different HR intervals; the fitness tests establish your current fitness level. The recovery program is for active resting, and the quick start is the free workout program.
The console features USB connectivity, and the USB port also acts as a charging port for compatible devices. In addition, you can use the USB port to save your workout data and export it online.
Bluetooth connectivity
However, the Nautilus E616 also features Bluetooth connectivity, enabling it to sync with the Explore the World app. The Explore the World app allows you to virtually travel the globe from home comfort and automatically adjusts in real-time to the speed of your Bluetooth-enabled Nautilus Fitness products.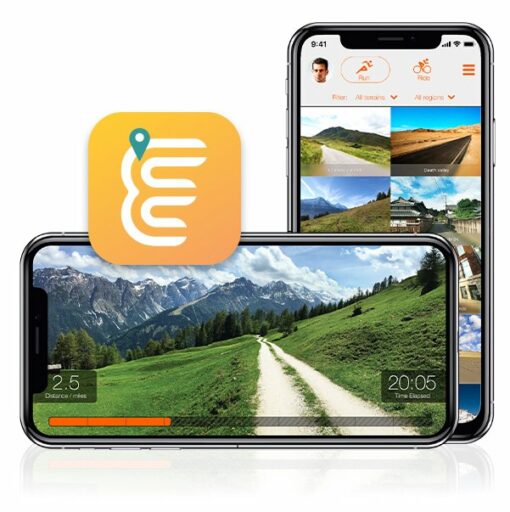 Take control of your journey with dozens of high-definition destinations and course lengths, including 5Ks through the Japanese countryside, 10Ks through the Scottish Highlands, full marathons through the streets of Prague, and many more.* Challenge yourself to travel the globe and stay motivated with new destinations added each month.
*Explore dozens of locations from around the world.
See your progress each week.
The adaptive video playback matches your speed.
Keeps a journal of your progress — if you can track it, you can improve it!
Sync your data with Apple Health or your Strava account.
* 3 free courses available. Unlock all courses with an Explore the World™ subscription.
Amenities
This elliptical machine's fitness monitor offers quite a few, including a sound system, a 3-speed fan, and a tablet tray in terms of amenities. The sound system consists of two acoustic chambered speakers at the bottom of the monitor.
It's compatible with most MP3 players, smartphones, or tablets. The sound is controlled from your device, though. Also, the sound rendered features a surprisingly clear quality for such a small unit.
An important aspect regarding the sound system is that it cannot function via Bluetooth. Instead, you need to connect your music device to the monitor via cable to use the sound system.
The fan is at the bottom of the monitor, flanked by the speakers. It's not an extremely powerful fan, but it does offer some cooling. The tablet shelf is under the larger LCD of the monitor, in a position meant to host a tablet in a landscape position.
Last but not least, the fitness monitor is telemetry enabled. Therefore, it can communicate with a wireless HR chest strap transmitter to read your pulse. The HR chest strap comes with the machine.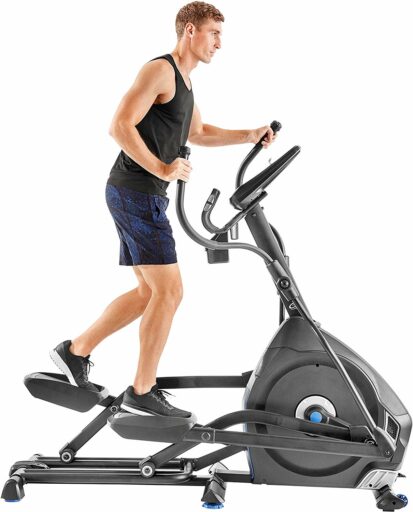 E616 Assembly and Maintenance
Although the assembly of the E616 is not incredibly complicated, it's rather demanding for two reasons. First, the machine is heavy and requires two people to assemble; second, there are many parts and pieces to connect. Thus, it can take up to two hours to complete.
The drive and resistance mechanisms are pre-assembled and enclosed by the shrouds. Next, you must add the rear part with the rail, the legs, arms, the frame's bases, and the monitor mast, connect the inclined arm to the rail assembly, and add the fitness monitor. A hard copy of the user's manual and the tools for construction come with the trainer.
Maintenance requires the periodic cleaning of the gliding rails. In addition, joints call for re-tightening from time to time. Also, squeaky parts may require lubrication.
Since the machine is heavy, placing it on a mat is best. Thus, it will prevent any damage to your floor or carpet, but it also maximizes the stability of the device.
Pros
Sturdy frame and overall construction;
Elegant design lines;
Adjustable stabilizers;
Transport wheels
Precision Path, ergonomic footplates;
Automatic incline, with up to 10° slope;
Resistance for all levels of fitness, 25 levels;
Smooth and quiet drive;
Both fixed and mobile handlebars;
Pulse sensors integrate within the fixed handlebars;
29 built-in workout programs;
Goal tracking functions;
Multiple amenities including sound system, tablet tray, accessory shelf, and 3-speed fan;
A USB port for data transfer and charging your device;
Bluetooth connectivity for workout data transfer;
Compatibility with NautilusConnect and MyFitnessPal;
Little maintenance is required;
Excellent warranty package;
Cons
Not an elliptical for short users due to its 20″ fixed stride;
The Q factor is a bit wide;
A tablet situated on the media tray will cover the fitness monitor LCD.
Nautilus E616 Elliptical Trainer Summary
The Nautilus E616 elliptical trainer offers an impressive array of features similar to many commercial-grade ellipticals. But overall, it's an exceptional machine with outstanding construction, which can provide a full-body training setting for users of all levels.
Moreover, it's a machine excellent for muscle toning, cardio training, stamina building, and weight loss, with a minimal impact on the joints. It's not exactly the most affordable model out there, but it's safe to say that it comes with an excellent price/quality ratio for its consistent number of features and functions.
I hope you found this article helpful and informative. Would you please speak up if you have anything you'd like to share or any opinions about my website? I look forward to your comments, questions, and the sharing of ideas.
Please remember that you should consult your physician to determine if you have any medical or physical conditions that could risk your health and safety or prevent you from using the equipment properly. In addition, your physician's advice is essential if you are taking medication that affects your heart rate, blood pressure, or cholesterol level.