The anti-corrosive steel frame of the OVICX Q2S Folding Treadmill makes it durable and capable of supporting a maximum user weight capacity of 265 lbs (120 kg). This treadmill doesn't take up much space for workouts or storage. It is usable out of the box, meaning no assembly is required.
The Q2S  is not a typical runner's treadmill but incorporates a 1.25/3.0 horsepower (peak power) motor at the front base with a vent. Therefore, it has enough drive capacity to provide a sustained speed range of 0.6-8.7 mph without overheating or breaking down, no matter how frequently or consistently it's in use.
The OVICX Q2S folding treadmill doesn't have the traditional dashboard of a treadmill. Instead, it's small and innovative and features soft-touch navigation buttons such as +/- Speed Keys, Starts/Stops Key, Function key, and Fatigue Slowdown Key (intelligent speed reduction).
It also features an LED monitor that tracks workout data in real-time, such as time, speed, distance, calories burned, and pulse. It is also possible to track and record your workout stats via Bluetooth via a smartphone or tablet with the OVICX or FitShow app that connects to the treadmill. The app is free and downloadable from Google Play or the Apple store.
Learn more in my complete review below!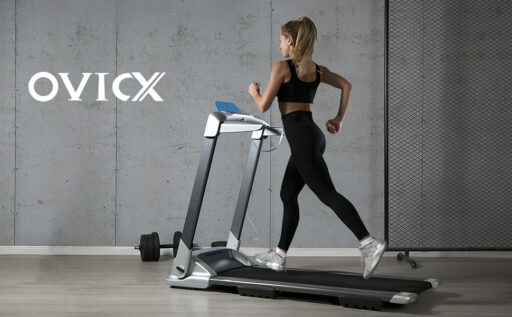 Product: OVICX Q2S Folding Treadmill
Price: For a great deal on this treadmill, merely go here on Amazon
Warranty: 1 year limited
My rating: 9.25/10
Affiliate Disclosure: As an Amazon Affiliate Program participant, I earn commissions on purchases made through links in this post. Full disclosure
Details and Specifications
Assembled dimensions: 64.96L x 25.59W x 44.88H inches (165L x 65W x 114H cm)
Tread belt dimensions: 49.2L x 16.9W inches (125L x 43W cm)
Assembled weight: 94.8 lbs (43 kg)
Supported weight: 264 lbs (120 kg)
Motor: 1.25/3.0 HP (peak power)
Speed range: 0.6 – 14 kph (up to a maximum of 8.7 MPH)
Console: Time, speed, distance, calories burned, and pulse – compatible with the OVICX app or the FitShow app
Extras: Device holder
Warranty: 1 year limited
Q2S Frame Construction
One of the essential features of the OVICX Q2S folding treadmill is its portability. The machine features a fold-flat design, allowing the two upright bars to fold over the deck with the sidearm grips. Therefore, it results in very slim packing and superior storage possibilities.
In particular, you can even store it under a bed if there is a clearance of at least 10″ (25 cm). In addition, its front section has two folding foot stabilizers, which offer the possibility of storing the machine vertically.
The treadmill is not too large, with the frame unfolded and set for exercising. However, it does take approx—65″L x 25″W (165 x 65 cm) of floor space. Therefore, leaving at least two feet of clearance on each side of the deck and three feet behind the machine is advisable for safe usage and easy access.
Although the OVICX treadmill has a slim construction, it is not lightweight, weighing approx—94.8 lbs (43 kg). Therefore, two people should carry the packaged machine. However, once unboxed, one person can quickly relocate the treadmill. Its front base integrates two small wheels that facilitate its relocation.
Considering that most of the machine's weight is its deck, the treadmill has a low center of gravity when set up for exercising. Thus, it provides excellent stability.
The machine's frame is steel-made. The deck frame and the two upright bars are rectangular tubings coated with a corrosion-resistant paint finish. However, the console dashboard, the motor cover, and several other parts are made of durable thermoplastic materials.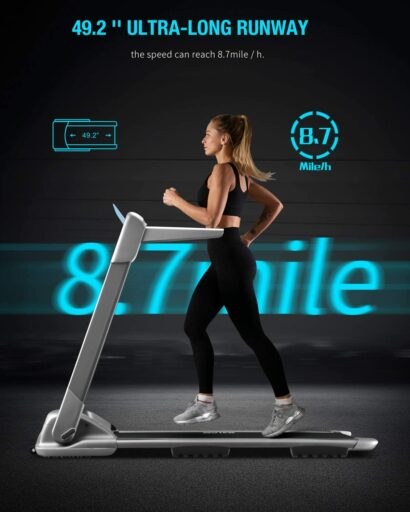 Deck and running surface
The OVICX Q2S folding treadmill offers a reasonably decent running surface for a small treadmill. It is approx 49.2″ (125 cm) long and 16.9″ (43 cm) wide. Therefore, it should accommodate users up to 6'0″ (183 cm) for all workouts or even taller users if used only for walking. In addition, the deck also has a maximum user weight limit of 264 lbs (120 kg).
The machine's belt is multi-layered, with its top layer rubberized for an improved grip. The exact diameter of the rollers that set the belt in motion is not specified. However, they integrate high-grade ball bearings for a smooth belt motion. In addition, the side covers of the running platform feature a textured surface for improved foot stability.
The treadmill's deck comes equipped with Silkworm Shock Absorption Technology. Accordingly, the machine's base rests on six high-density foam stabilizers, acting as shock absorption elements. Moreover, the machine should provide more comfortable walking, jogging, or running, as it reduces the impact on your knees and ankles.
Unfortunately, the OVICX Q2S treadmill doesn't have an incline system. Therefore, the running platform is perfectly horizontal for exercising. The deck is also pretty slim, so the step-up height is only approx—4″ (10 cm). Thus, you won't have to worry about ceiling height issues.
Q2S Drive motor
The OVICX Q2S treadmill has a 1.25/3.0 HP (peak power) motor. It offers a speed up to 8.7 MPH ( 0.6 – 14 kph) and provides a continuous belt motion during prolonged workouts even if the user is close to the maximum limit of 264 lbs (120 kg).
In addition, it has a power cord connecting to the machine's front base section. There is also an On/Off switch next to the connection port of the power cord.
The speed adjustment increments are 0.1 kph. Therefore, the transition from one level to another is smooth without jerks or sudden changes, so you can quickly adapt your pace. Unfortunately, the console doesn't have quick selection keys for certain speed levels.
Thus, it is a downside as it takes quite a bit to increase the speed to the highest settings. But the speed adjustment buttons have a double function. A short press increases the speed by 0.1 kph, while if you press and hold the controller, the speed will increase faster.
Regarding speed adjustment, the treadmill also has a function that allows a quick switch between walking speed and the previous speed setting, which is quite helpful during interval workouts.
The motor itself is reasonably quiet. Therefore, it doesn't generate much noise when used, but your cadence may create some noise during running depending on your weight, running technique, floor material, and other factors.
Console
The OVICX Q2S folding treadmill comes equipped with a reasonably simple console. It features an LED display with three windows that indicate (from left to right) speed, time, and calories/distance/pulse.
The speed and distance are in kph and kilometers only. Unfortunately, you cannot change the readings to Imperial MPH readings. Thus, the maximum speed is 14 kph (equivalent to approximately 8.7 MPH).
The console has metallic HR pulse sensors integrated on each display side for pulse reading. Therefore, if you want the console to read your pulse, you must hold on to them. Unfortunately, the console cannot read your pulse from a wireless HR chest strap or Bluetooth device. So, holding on to the incorporated sensors is the only way to monitor your pulse.
Although the console doesn't have workout programs, it does have built-in Bluetooth. Therefore, you can sync it with your smartphone or tablet via the OVICX app (30-day free trial) or the FitShow App, which keeps track of your workout history and offers features like workout goals and programs. If you sync your device with the treadmill, you can also control the speed of your machine.
Unfortunately, the console doesn't have features like incorporated speakers or a workout fan. However, a device holder comes with the machine. It connects to the top part of the console and supports your phone or tablet.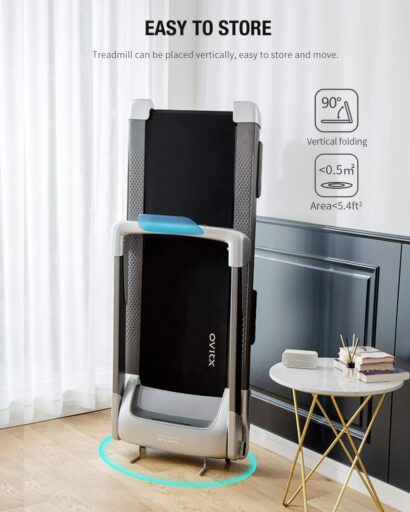 Q2S Assembly and Maintenance
The OVICX Q2S treadmill comes pre-assembled. Therefore, you only have to unbox it, unfold it, secure the upright bars and the armrests in a usable position, plug it in, turn it on, and connect the safety key to start. Consequently, it shouldn't take more than 10 minutes of your time.
For maintenance, the deck requires periodic lubrication. However, it comes pre-lubricated from the factory and shouldn't require lubrication before the first use.
The manual provides instructions on lubricating the belt. A bottle of lubricant also comes included with the machine. Besides this, you only have to keep the machine clean, especially the belt, to prevent debris from being caught in the motor.
Pros
Slim folding design;
Can be stored upright;
Decent weight capacity (264 lbs);
Comes fully assembled;
Foldable side arms;
Transport wheels on the front base;
Shock absorption elements integrated into the deck;
Speed range between 0.6 –  14 kph (up to a maximum of 8.7 MPH);
Speed increments of 0.1 kph give you the possibility to find the perfect pace for your workout;
Easy-to-use LED-based console which tracks time, distance, calories burned, speed, and pulse;
The speedshift button changes the walking speed to the last selected speed, which is great for interval workouts;
Bluetooth connectivity;
Compatible with the OVICX app (30-day free trial) or the FitShow App for online workout history tracking, workout programs, and more;
Device holder included;
Little maintenance is required.
Cons
No quick speed selection buttons on the console;
The console does not have any onboard programs;
The speed and distance are in kph and kilometers only.
OVICX Q2S Folding Treadmill Summary
The OVICX Q2S is a folding electric treadmill for home use. It comes equipped with a 1.25/3.0 HP (peak power) motor, a speed range of 0.6 – 14 kph (up to a maximum of 8.7 MPH), and an LED console compatible with the OVICX app (30-day free trial) or the FitShow app for online progress tracking and other features.
In addition, it also folds flat or stores vertically to save space. Furthermore, it's pre-assembled; you only have to unfold it, plug it in, and be ready. Moreover, it's a reasonably decent treadmill for light to medium-intensity cardio workouts, interval workouts, stamina development, and weight loss.
I hope you found this article helpful and informative. Would you please speak up if you have anything you'd like to share on the topic or any opinions about my website? I look forward to your comments, questions, and the sharing of ideas.
Please remember to consult your physician to determine if you have any medical or physical conditions that could put your health and safety at risk or prevent you from using the equipment properly. In addition, your physician's advice is essential if you are taking medication that affects your heart rate, blood pressure, or cholesterol level.