The PowerBoostConcept Rowing Machine provides a challenging workout for beginners to experienced athletes. This rower is relatively light with a steel alloy frame, only weighing 75 lbs (34 kg) but has a maximum user capacity of 500 lbs (225 kg).
It features a damper with ten adjustment positions to increase or decrease the rowing difficulty. You'll find a level to suit your strength and endurance, and then get started! This rowing machine simulates an actual rowing experience from the comfort of your home.
The PowerBoostConcept rowing machine comes with a fitness monitor with an LCD to keep you up-to-date with your time, distance, watts, calories, strokes, total strokes, and pulse. Use the monitor to select 20/10 and 10/20 interval programs and challenge yourself. The Bluetooth connection allows you to record your real-time progress and enjoy the benefits of your app.
The seat is 14 inches (36 cm) from the ground and padded to suit the contours of your body. The contoured design takes the pressure off your tailbone, ensuring a comfortable row every time. Thus, combining comfort with function, the PowerBoostConcept rowing machine encourages correct posture while rowing, minimizing the risk of injury.
Learn more in my complete review below!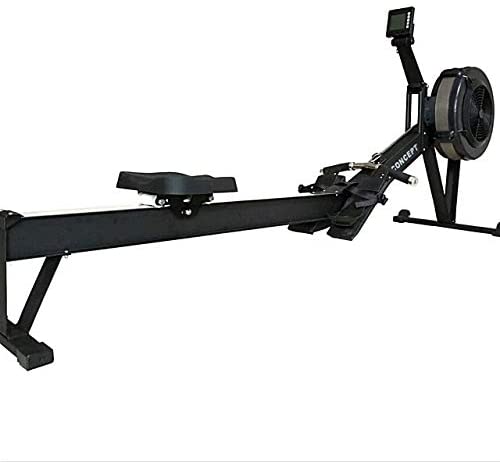 Product: PowerBoostConcept Rowing Machine
Price: For a great deal on this rower, merely go here to Amazon.com
Warranty: 5 years
My rating: 8/10
Affiliate Disclosure: As an Amazon Affiliate Program participant, I earn commissions on purchases made through links in this post. Full disclosure
Details and Specifications
Assembled dimensions: 98.4L x 24.4W x 44.5H inches (250L x 62W x 113H cm)
Assembled weight: 75 lbs (34 kg)
Supported weight: 500 lbs (227 kg)
Frame: Steel, foldable
Footrests: Adjustable, with straps
Resistance: Air, ten levels
Fitness Monitor: Time, distance, strokes, total strokes, calories, watts, pulse, intervals, recovery, Bluetooth
Warranty: 5 years
Frame Construction
The PowerBoostConcept rowing machine features a heavy-duty steel frame combining oval, cylindrical, and rectangular tubes in its construction. In addition, it is double-coated with a corrosion-resistant black paint finish.
The machine is pretty extensive, especially lengthwise. It is approximately 98.4″ (250 cm) long and 24.4″ (62 cm) wide. Plus, it is advisable to allow at least two feet of clearance at the rear of the rail and on each side for easy access and correct usage. Therefore, it may not fit too well in a small room or apartment.
However, the rower is foldable. In addition, the rail with the seat detaches from the front section of the machine. Thus, the two main parts can store either vertically or horizontally, allowing you to save some space when you're not using the machine.
This rower is pretty heavy. Its net weight is approx—75 lbs (34 kg). Thus, two people should transport the packaged machine. However, once assembled, one person can easily transport the unit as its front base integrates two transport wheels.
The machine's rail is long, approximately 55″ (140 cm). Therefore, the rower comfortably accommodates users of all sizes. In addition, the rail has a protective stainless steel plate on top to prevent the wear of the paint.
The machine is horizontal, providing a standard, neutral rowing motion. It is also pretty sturdy, having a maximum user weight capacity of 500 lbs (227 kg).
Seat and other parts
The PowerBoostConcept rower comes equipped with a seat designed for optimal comfort. Its top section features a layer of thick, high-density foam. In addition, it is contoured to provide better positioning for the user. It is approx. 12.5″ (31.7 cm) wide provides plenty of contact surface.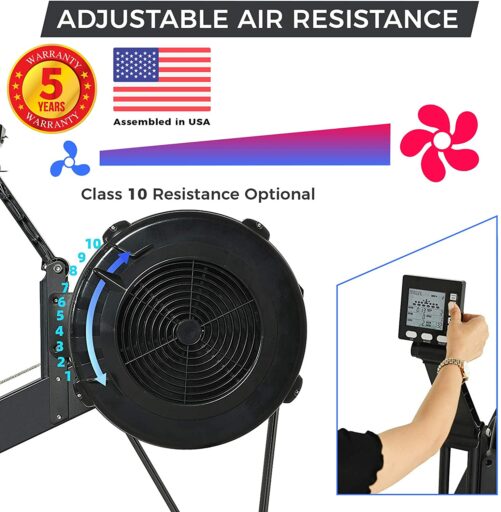 The seat's frame is steel, and it integrates three sets of wheels. Two slides are on top of the rail, while the third slides are under the protective plate for extra stability. The wheels have built-in sealed ball bearings for smooth seat motion. They also have a rubber coating layer on the outside to reduce noise.
The height of the seat is approx. 14″ (36 cm) above floor level. It is pretty high, so most users should not have trouble positioning themselves on the rower.
The rower comes with an ergonomic pulling handle. It is slightly curved to reduce the impact on your wrists during rowing. In addition, it has rubber foam grips for improved comfort. It is also chrome-plated for an extra aesthetic touch.
The machine's pulling handle attaches to a chain similar to a bike chain. Therefore, its drive system can last a lifetime. However, compared to a rope or a synthetic mesh strap, the usage of the machine is a bit noisier. Plus, the chain needs to lubricate to prevent it from catching rust.
The PowerBoostConcept rower comes with two adjustable footrests. They have heel guards and straps so you can perfectly stabilize your feet on them. They do not pivot on their axis, though. Their angle is approx—45 ° for optimal foot positioning during rowing.
Resistance system
The PowerBoostConcept rowing machine comes equipped with an air resistance system. Its main resistance-generating element is a large fan concealed by the front plastic covers. The fan connects to the chain drive system through a set of pulleys. Therefore, pulling the handle spins inside its casing, generating resistance.
The rower does not have a magnetic brake or any other resistance elements. However, its casing features a damper with ten adjustment positions. By adjusting the drag, the case allows more or less air inside, which leads to more or less resistance.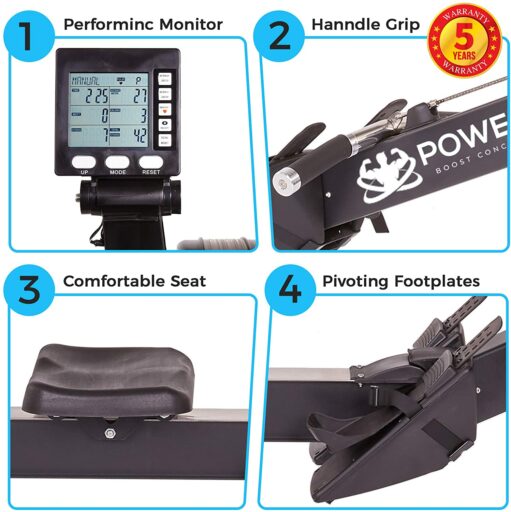 Like any other fitness machine with an air resistance system, the PowerBoostConcept rower delivers a dynamic response during usage. The resistance depends on your stroke rate. Therefore, the faster you pull the handle, the faster the fan will spin inside its casing and the more resistance you will get.
Therefore, it resembles (up to a point) the rowing of a real boat through the water, and the rowing experience is more authentic.
Most air-resistance rowers are pretty noisy compared to magnetic rowers. The PowerBoostConcept model makes no exception. Although it does not generate a loud noise during usage, you can still hear it. Its exact decibel output is not specified, but the sound level produced during rowing compares to a large electric fan as a general idea.
Fitness Monitor
The PowerBoostConcept comes equipped with a different fitness monitor than the standard PM5 with the Concept2 rowers. It features an LCD that divides into multiple sub-sections to show as many workout metrics as possible at once, so you won't have to use a Scan Mode to rotate them.
It tracks time, distance, watts, calories, strokes, total strokes, and pulse. The distance displays in meters. The pulse reading function requires you to wear a wireless HR chest strap transmitter, as the machine does not have any built-in contact sensors. Unfortunately, an HR chest strap does not come with the machine, but the monitor works with any 5.3 kHz chest strap.
The fitness monitor has several programs to keep you motivated. To begin with, it has the Manual mode, which records your strokes, meters, watts, calories, etc., as you row.
Next, there are two interval programs, one with a work interval of 20 seconds and a rest interval of 10 seconds, the other with a work interval of 10 seconds and a rest interval of 20 seconds. Both these programs have quick selection keys on the monitor.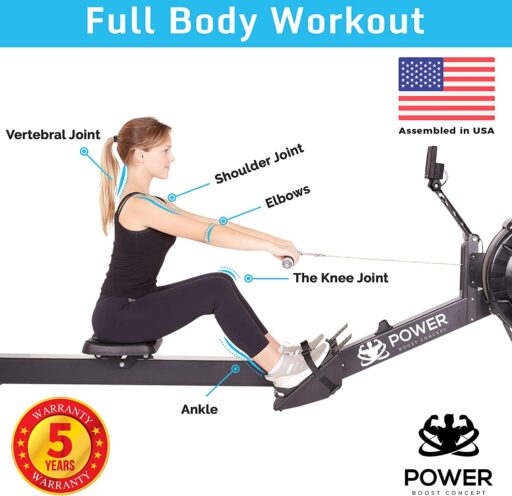 And finally, there is a Recovery Test function, which requires you to wear an HR chest strap. It enables the monitor to count your pulse at the end of your workout and, based on how quickly your heart rate returns to its normal BPM. It will give you a fitness rating between F1 – Excellent and F6 – Poor.
The monitor also has Bluetooth connectivity, so you can sync it with your favorite fitness app and keep track of your progress online.
The fitness monitor is battery-powered. It has a long mount that allows for angle adjustment. It starts when you begin rowing and automatically turns off if it does not detect any activity on the rower for several minutes. Unfortunately, it does not have a device holder or any ports for connecting it to a PC, phone, or tablet via cable.
Assembly and Maintenance
The machine's resistance unit comes pre-assembled. You only need to attach the front stabilizer, insert the seat on the rail, and add the rear stabilizer and the fitness monitor. Therefore, it shouldn't take more than 30 minutes of your time. All the necessary tools come with the rower, and the manual provides precise assembly instructions.
The machine requires cleaning, especially the rail, to prevent damage to the seat's wheels for maintenance. In addition, it would be best to oil the chain after a while to avoid link locking and rust.
If the fan accumulates dust, you can vacuum it from outside without separating its casing. You should also periodically check for loose bolts and parts and retighten them as needed.
Pros
Heavy-duty frame construction;
Superior weight capacity – can support users up to 500 lbs (227 kg);
Aesthetic design;
The rail can easily detach from the front unit to provide better storage possibilities;
Transport wheels on the front stabilizer;
Extra-long rail for users of all sizes;
Ergonomic seat with a contoured top;
Adjustable footrests with heel guards and straps;
Air resistance for a dynamic response;
10-level damper for resistance adjustment;
Fitness monitor included – it tracks time, distance, SPM, total strokes, watts, calories, and pulse;
20/10 and 10/20 interval programs;
Pulse recovery function;
Bluetooth connectivity;
Angle-adjustable mount for the fitness monitor;
Minor assembly is required;
Little maintenance is needed.
Cons
An HR chest strap does not come with the rower;
The fitness monitor LCD does not have a backlight.
PowerBoostConcept Rowing Machine Summary
A PowerBoostConcept rower is a fitness machine made for home use. It features a steel frame with an extra-long rail, rated for a maximum user weight limit of 500 lbs, and it comes equipped with a 10-level air damper resistance system and fitness monitor that tracks the essential workout metrics. It is also foldable.
Moreover, it's a decent machine for a full-body cardio workout, muscle toning, stamina development, and weight loss.
I hope you found this article helpful and informative. Would you please speak up if you have anything you'd like to share on the topic or any opinions about my website? I look forward to your comments, questions, and the sharing of ideas.
Please note you should consult your physician to determine if you have any medical or physical conditions that could put your health and safety at risk or prevent you from using the equipment properly. In addition, your physician's advice is essential if you are taking medication that affects your heart rate, blood pressure, or cholesterol level.