The Precor EFX 225 Elliptical Trainer part of Precor's Energy Series is among the best elliptical trainers you won't outgrow. Whether you're a newcomer to cardio training or have an exceptional experience, this cross-trainer with a motorized incline can provide workouts with just the proper challenge. Moreover, you can expect it to serve you well for many years too.
Additionally, the rear-drive Precor EFX 225 is among the top ellipticals in a world-famous lineup. Compared with home ellipticals from other brands, any Precor EFX is likely the winner regarding delivering joint-friendly cardio training with just the right amount of challenge.
In particular, its eight-level motorized incline, which can boost the famously smooth Precor stride from flat to a maximum of 25 degrees for supercharged calorie burn and targeted muscle toning.
Additional performance points are movable or stationary armbars, preset workout programs for all challenge levels, and wireless heart rate monitoring. Furthermore, as for entertainment and multitasking, the EFX 225 console can support your tablet computer and has convenient volume controls for your MP3 player or smartphone.
Learn more in my complete review below!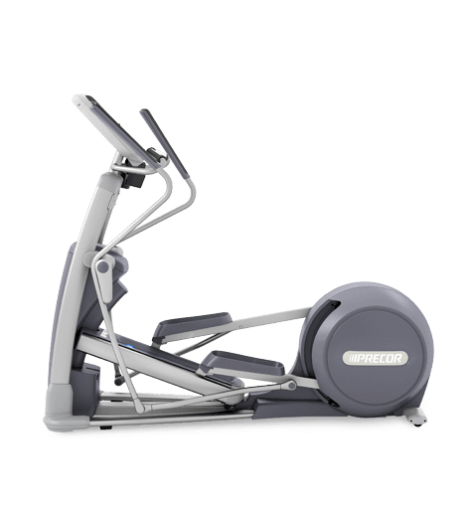 Product: Precor EFX 225 Elliptical Trainer
Price: For a great deal on this elliptical, merely go here on Amazon
Warranty: Frame: Lifetime, Parts: 5 years, Console: 3 years, Labor: 1 year
My rating: 9/10
Affiliate Disclosure: As an Amazon Affiliate Program participant, I earn commissions on purchases made through links in this post. Full disclosure
Details and Specifications
Adjustable Incline Range: Motorized variable
CrossRamp Elevation Levels/Range: 8 levels, 15-25 degrees
Variable Stride Length: 18-21 in (46-53 cm)
Handlebars: Moving
Resistance Levels: 16
In-Workout Feedback Metrics: 13
Pre-Programmed Workouts: 10
Maximum Resistance: 550 Watts
Recommended Maximum User Weight: up to 275 lbs (125 kg)
Child Safety Pedal Lock: Yes
Mobile Device Charger: No
Power Requirements: 120V
Warranty: Lifetime frame and welds / 5-year parts and wear items / 3-year console / 1-year labor
EFX 225 Overview
Precor revolutionized cardio training in 1995 when it introduced the world's first elliptical cross-trainer, the Precor EFX. ("EFX" means "Elliptical Fitness Crosstrainer.") Today Precor remains a leader and builds various EFX models for health clubs and home gyms.
The Precor EFX 225 is a home elliptical trainer with a commercial feel. Therefore, just like Precor's club trainers, it's designed to fit about 95% of women and 95% of men regarding height and weight. It's the patented elliptical path that creates the same comfortable, effective, and ergonomically correct workouts as you might experience in a commercial gym.
Especially suitable are the full range of magnetic resistance options, and two compelling options for each workout are relevant: 1) upper-body training with movable armbars and 2) a motorized incline with eight settings. Furthermore, diverse training programs are all adaptable for beginners, mid-level, and advanced trainees.
The machine is known for its durability and carries a competitive residential warranty. Finally, here are details and other specs for the Precor EFX 225 Energy Series Crosstrainer.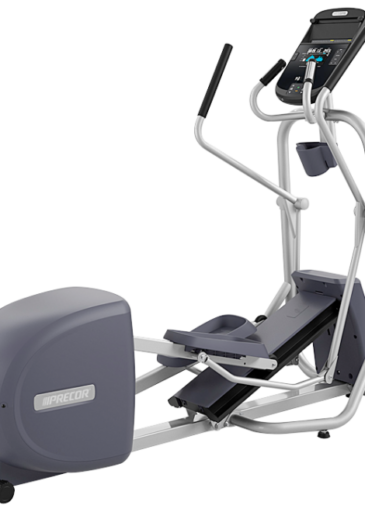 Design features
The Precor EFX 225 Elliptical's main benefit is combining the elements of rear-driven and front-driven designs into a single machine. In addition, this is also one of the 3 Energy Series models, including moving handles to activate your core and arms, and lower body muscles.
With the CrossRamp incline set at its lowest angle, you have the same smooth, little impact running motion that you would expect to find on a rear-driven elliptical. However, as soon as you start to increase the incline, you're able to switch the focus onto your quads and calf muscles. Thus, in a similar way to the range of motion created by a front-driven design.
The foot pedals' angle also automatically follows your natural foot position, reducing the pressure placed on the front of your feet. Positioning the flywheel unit at the back of the frame also allows your body to be much closer to the handles, promoting a more natural upright posture.
Precor has added three base levelers to ensure no unwanted movement, which you can adjust to compensate for any slightly uneven ground.
While this does help with stability, unfortunately, there isn't a front base stabilizer for attaching a transport wheelset. Weighing in at close to 200 lbs, this is certainly something worth bearing in mind if you may need to move the elliptical at any point in the future.
EFX 225  CrossRamp Technology
One of the most significant differences I encounter is how the incline settings adjust to treadmill design. The incline feature is crucial for your workout's intensity, and it's worth the price difference when you compare a manual incline with a power incline.
The Precor EFX 225 was the first machine to offer the motorized CrossRamp. Although this feature is on the earlier 221 and 222 models, for both of those machines, you need to manually set the incline to one of 3 preset positions before you start your workout.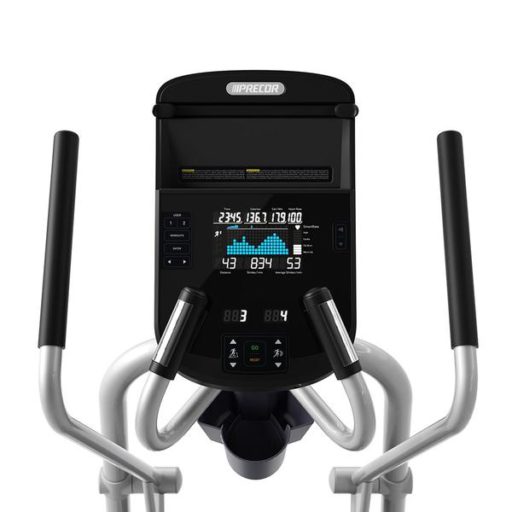 While this doesn't take long, many people prefer to adjust everything via the console to save any interruptions to their running stride. Compared to the earlier two models, the 225 also offers a broader range of incline settings.
You can now adjust this in much smaller increments than you could before. The EFX 225 has eight possible positions compared to the three offered by the 222 and 221 models. In addition, you can monitor and adjust the angle electronically rather than manually, thanks to the addition of some subtle new buttons and an additional display screen on the console.
Console
As I compare the ellipticals in Precor's Energy Series, I've found that very little has changed regarding their display consoles. The high contrast of the white and blue feedback against the black ensures that your most crucial workout information is always clearly visible.
Although there aren't any speakers like you might find on some of the other ellipticals available. In many cases, people didn't rate the sound quality particularly highly anyway, which isn't a significant loss. You can still listen to your favorite music and films using headphones connected via the side socket.
The console's top still has plenty of space for tablets, MP3 players, and smartphones. They are kept securely in place thanks to the SmartGrip holder.
In addition, this is the last elliptical model to require actual button presses in terms of the button functions. Precor decided to use touch screen technology with the later 245 models and a slightly different incline and resistance adjustment form.
However, this also introduces the need for an options menu, which means it takes slightly longer to select your chosen workout. The Precor EFX 225 does, yet still, provide the same level of workout metric feedback. It includes elapsed time, calories burned, target heart rate, distance, and strides per minute. You also have the additional screen alongside the resistance displayed to keep you informed of the current incline setting.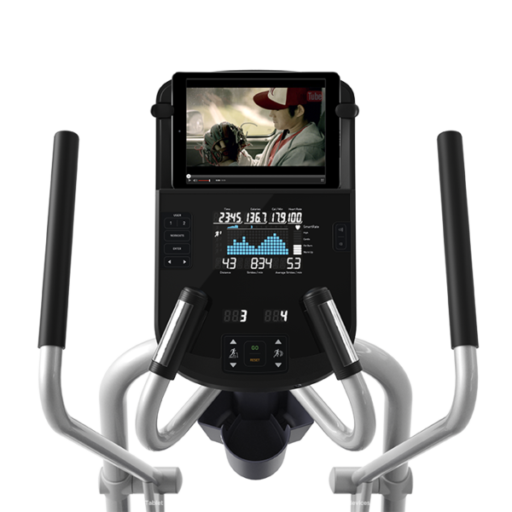 EFX 225 Preset Workout Programs
Unlike treadmills, elliptical trainers are generally much more limited in the number of workout programs they can provide. For example, this is usually because your running speed is self-generated rather than relying on keeping up with a tread belt's speed.
A lot of thought has also gone into ensuring these programs aren't too similar. To provide enough variation while at the same time allowing you to work towards specific fitness goals.
Workout programs:
This program follows no strict pattern, with constant automatic adjustments being made to the incline to simulate the feeling of running outdoors. In addition, the Cross Country program prompts you to take advantage of the bi-directional pedal motion by switching your running direction after 25%, 50%, and 75% of your total workout time has passed.
This program places a much greater emphasis on your glutes and thighs, continuously increasing intensity. The gradual increase in resistance will help build strength and endurance in each associated muscle group (glutes, hamstrings, quads). These are the most responsible for improving your posture and reducing the risk of lower-body injuries as you build up the muscle around the joints.
Designed to improve cardiovascular health by gradually increasing the incline as the workout progresses. The slope will then return to its lowest position at the end of each cycle, with resistance adjustments being possible at any point.
It features a workout profile that gradually progresses through climbs and declines. The Crosstrainer workout helps to strengthen and tone all lower-body muscles, including your calves. As with the other workout programs, resistance adjusts to increase or decrease the intensity.
The ideal option is not to follow any strict profile and want to start your workout.
There are also five other workouts you can choose from that will help you gain lower body strength. These are the Interval 1-1, Interval 1-2, Weight Loss, Basic Heart Control, and Hill Climb.
Additionally, each workout program has beginner, intermediate, and advanced levels. Furthermore, five of the programs display tips to help you enhance each training session.
Workout data
Also, the workout data is on an easy-to-read LCD. The 13 categories of feedback demonstrated throughout each workout are: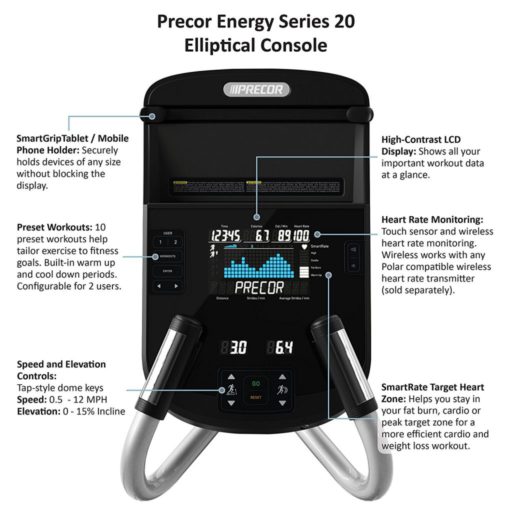 CrossRamp® (incline level)
Time Remaining
Time Elapsed
Distance
Calories Burned
Calories/Minute
Strides/Minute
Average Strides/Minute
Resistance
Heart Rate
Target Heart Rate
SmartRate® Zone
Percent Complete.
Note: To get heart rate data, you can wear a wireless chest strap or use the elliptical's contact sensors.
Following each workout, you'll receive a summary. It shows the time Elapsed, Total Distance, Average Strides/Minutes, and Total Calories.
Two users can save profiles to the console.
EFX 225 Assembly
If you already have experience assembling an elliptical trainer, you probably already know how difficult it can be due to their weight and size. Fortunately, Precor has simplified the process by keeping the parts and assembly steps to a minimum and doing most of the assembly before the box even leaves the factory.
Once you start unpacking everything, you'll notice a hardware kit that contains all the bolts, washers, and tools you need to complete the remaining steps. Because most of the frame designs are similar, the assembly instructions for the Precor EFX 225 are with the instructions for the other ellipticals in their Energy and Precision Series'.
The base frame, lower link arms, and ramp have already been put together for you. Thus, it leaves very little for you to do to get the machine up and working. The left and right stabilizers attached are required to connect the console bracket, console, and moveable arms.
The bulk of the parts have been pre-assembled by Precor, so assembly time should be less than 60 minutes.
Pros
Motorized incline (15 to 25 degrees, eight options)
Armbars can be moving or fixed
Adjustable stride (Locks manually with a pin)
Reversible motion
Ten diverse workout programs
16 resistance levels (10 watts to 550 watts)
Quiet performance (Magnetic resistance)
iPod/iPhone/Android compatible (Volume control)
Tablet computer holder
Wireless heart rate monitoring
Contact heart rate monitoring
Two user profiles
13 data points
Metric and standard data choices
Water bottle holder
Accessory holder
Competitive warranty
Great customer service from Precor
Cons
Delivery costs extra (free shipping for Amazon Prime members)
Not foldable for storage between workouts; footprint is 76″ x 29."
Precor EFX 225 Elliptical Trainer Summary
The Precor EFX 225 has many high-tech features and accessories to make your exercise routine more enjoyable. For instance, you can connect your tablet or music device, such as an iPod or MPS player, to the speakers and control them from the console.
There are two user profiles, so you and a friend or family member can both track your progress. However, you cannot save specific workout programs under either profile. The ten preset workouts give you a variety of options to reach your fitness goals. However, but custom programming is not available.
The Precor EFX 225 Elliptical Trainer features adjustable CrossRamp technology, which means you can adjust the elliptical path's height. Therefore, it allows for a specific muscle group's particular target, or if you prefer, the entire lower body. Adjustable handlebars also provide a total body experience. Thus, getting you fit and fabulous in the comfort of your own home, on your own time.
I hope you found this article helpful and informative. Would you please speak up if you have anything you'd like to share on the topic or any opinions about my website? I look forward to your comments, questions, and the sharing of ideas.