The Bodycraft SPX Club Indoor Cycling Bike is an excellent club-level cycle that's also great for the home user. It's a quality product with a robust design and top-notch components. Starting with the rust and corrosion-resistant heavy-duty steel frame down to the 46 lb perimeter weighted flywheel. In terms of pedal stroke, inertia, and momentum, the SPX by BodyCraft is unmatched.
The BodyCraft SPX spin cycle features original SKF bearings that play a significant role in bike maintenance, sound, and smoothness. But what makes the BodyCraft SPX spin bike ideal for everyone is the adjustment. The BodyCraft SPX exercise bike features a fore/aft saddle and handlebar adjustable to provide a perfect fit for all heights.
These components, combined with the automotive quality, maintenance-free drive belt, this cycle provide the quiet performance that every user is looking for in their home. The icing on the cake is that the Bodycraft SPX comes with a lifetime frame and five-year parts warranty.
The BodyCraft SPX Club Indoor Cycling Bike is affordable for home use. So, if you are a beginner or a pro cyclist who has been looking for a simple yet, smooth and durable spin bike, don't look further. The BodyCraft SPX club indoor bike is perfect for your training; it is unsurpassed in quality and durability.
Learn more in my complete review below!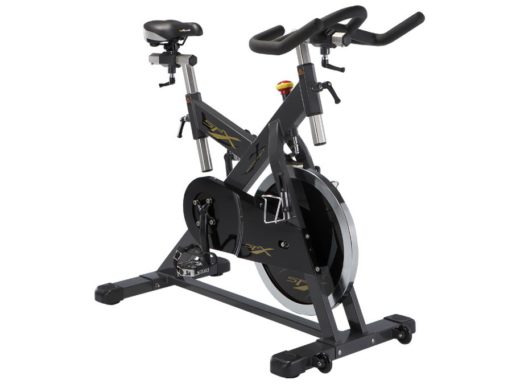 Product: Bodycraft SPX Club Indoor Cycling Bike
Price: For a great deal on this bike, merely go here on Amazon
Warranty: Lifetime frame / five years parts / 1-year wear items / two years labor
My rating: 9/10
Affiliate Disclosure: As an Amazon Affiliate Program participant, I earn commissions on purchases made through links in this post. Full disclosure
Details and Specifications
Max User Weight: 350 lbs.
Floor Space: 43″ Long x 24″ Wide x 47″ High
Height: 47″
Width: 24″
Length: 43″
Bike Weight: 125 Pounds
Inseam Capacity: 27″ to 38″
Transport Wheels: Yes
Base Adjustment Levelers: Yes
Water Bottle Holder: Yes
Warranty: Frame Lifetime / parts 5 years / wear item 1 year / Labor 2 years
SPX Frame Construction
Its structure is heavy-duty steel, which prevents flexing or shaking while pedaling hard in or out of the saddle. In addition, the handlebars and seat don't shake when correctly tightened up, and the hexagonal shape of the posts helps to ensure the l-levers get a good firm grip stopping any movement.
The 46 lbs flywheel is perimeter weighted and turns on quality SKF sealed bearing. Thus, keep it rolling and pulling the pedals through the cycling motion, so you have a natural and smooth riding motion. Therefore, it's a low impact that is easy on the joints.
This bike easily fits a broad range of sizes between 5 ft 2 ins and 6 ft 7 ins. Adjusting the cycle is easy. You loosen the L-clamps on the adjustment poles and sliders, move the handlebars or seat into position and tighten up. You can set them to exactly where you want them to go, so you get the best fit possible, and you are not restricted to pre-set holes.
There are markings on the poles to help adjust the bike back to your settings if it has moved since you last used the bike. Adjusting is quick, making the bike able to be used by multi-users. It also means you can quickly get on with your workout without messing about with the cycle. Like me, you find anything getting in the way of your training annoying when you are ready to get going.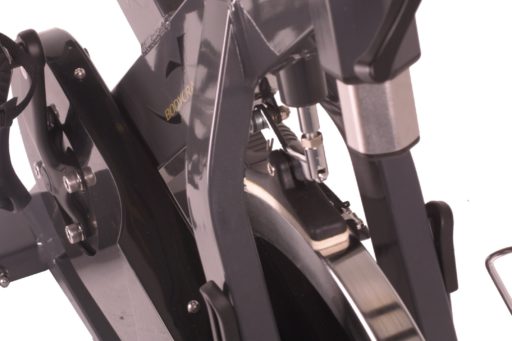 SPX Resistance
This bike uses friction to increase hill climb workouts for building strength, intensity, and endurance. It uses a tension knob you turn that pushes down on a lever attached to a resistance pad that sits on top of the flywheel.
It seems the resistance is constant, which prevents the wheel from slipping. In addition, the strength increases at a good steady pace without being too sensitive, so it is easy to control how much you are putting on or taking off as you workout. There are no markings to indicate the level of resistance.
To stop the flywheel quickly so you can get off, you push down hard on the tension knob, and the resistance pad works as the brake.
The pad is going to need replacing due to the friction wearing it down. The pads are available by contacting the supplier. There is no guard or cover to prevent sweat from dripping onto the pad, so you may find it needs replacing more often than those with one like the Spinner Blade.
Drive Type
The Bodycraft SPX Club Indoor Cycling Bike has a Hutchinson 5PK v-ribbed automotive belt for a drive. The V-rib provides a better nonslip pedaling experience by providing a full grip to give extra surety when standing on the pedals. In addition, the extra toughness of the automotive belt should result in a more extensive riding experience before it needs replacing.
On a day-to-day basis, there should not be any maintenance required as you have a chain drive. However, sometimes, it will need replacing in a few years or so, which will probably need to be done by someone with specialist skills.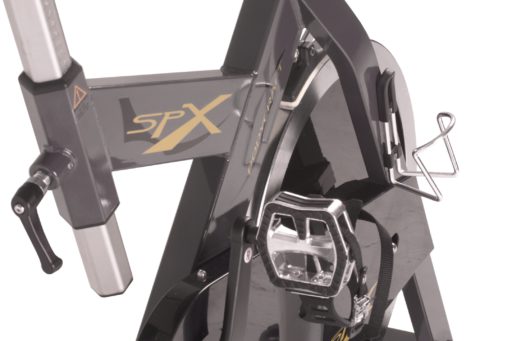 It is a very quiet bike to with the belt being almost silent. However, you may lose some of the bike sense because there are no slight variations in the pull you get with a chain drive.
It is a fixed gear, so you can't coast. The flywheel's inertia will continue to pull the pedals through the pedal motion when you stop pedaling. To control the pedals, you can use your legs and feet to slow them down gently. Or apply the brake feature of the resistance pad.
SPX Pedals
The pedals are an aluminum alloy with toe straps for athletic shoes. Along with the forged steel crank, there is no unusual movement from the pedals when standing, and they are sturdy enough for standing upon and pushing as hard as you want. In addition, you get a good grip on pedals, so your foot shouldn't slip while pedaling in any position.
They don't fit specialist shoes, but you can replace them with specialist bike pedals, taking standard bike fitting pedals.
The q factor, the horizontal measurement between the inside of the pedals, is 175 mm, which is amongst the narrowest I've seen on a spin bike. Thus, it helps keep the hips, knees, and ankles in alignment, providing a more efficient workout. Another benefit is preventing an injury.
Seat and Handlebars
The handlebars and seat can move vertically and horizontally to get it all fitting correctly for a comfortable and efficient workout. Therefore, reducing the risk of injury from straining or cramped positions or not adjusting for the best pedal stroke.
The bike's seat is described as comfortable by most people who sit on it for extended periods. I've not come across a review that says it is too hard. However, everyone is different, and you may not like the seat. You can change it for one more to your liking. Alternatively, you can try a gel seat cover or padded bike shorts.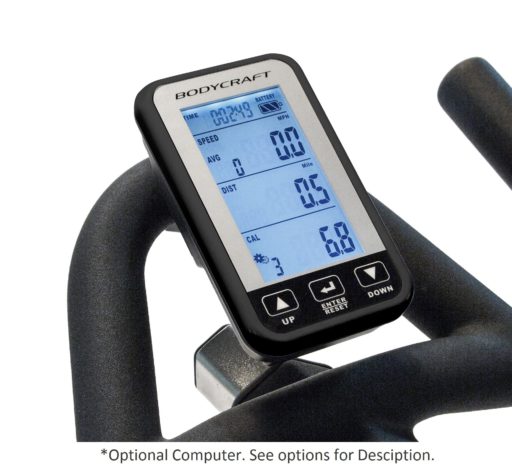 The handlebars are covered to make them easier to grip and prevent blisters, especially when your hands get moist from sweat.
You can use the handlebars for the standard hand positions for spinning, plus you can lean on them with your forearms in the aero position. However, you may find that they are not padded enough, and your arms may start to hurt after a period.
SPX Assembly
The bike comes mostly assembled, and to complete this should take less than an hour. There are no specialist skills needed to do this. You have to connect the stabilizer bars, pedals, adjustment stems, handlebars, seat, and a water bottle holder.
It comes with the tools required to complete the bike. The instructions included are adequate but could be more explicit. However, it is a simple job, and they cover the basics.
The most challenging part of the job is handling the weight of the bike. The shipping weight of the bike is 129 lbs. You'll want someone to hold the bike while you attach the stabilizer bars to prevent injury.
Accessories
The bike does not come with a console as standard, but you can buy one separately. The BodyCraft computer V2 costs about $120 and monitors speed, time, distance, calories. If you purchase a heart rate strap for around $50, you can track your heart rate and training in your heart rate zone. The below-listed accessories are available for optional purchase.
(accessory prices are approximate and are available from BodyCraft)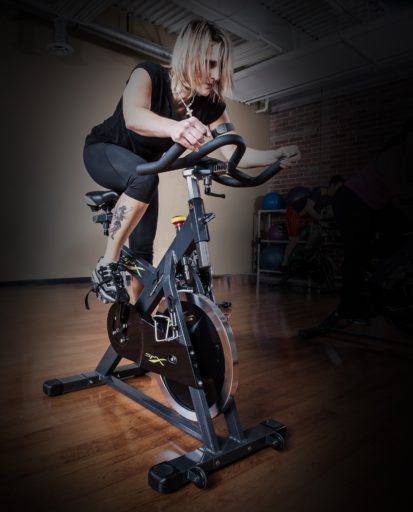 Pros
Heavy-duty, stable, and sturdy steel frame.
46lbs flywheel is precision machined and a perimeter weighted for optimal inertia and efficiency.
The bike comes with a direct drive maintenance-free Hutchinson automotive Kevlar-reinforced drive belt.
A micro-adjust knob controls BodyCraft's patented friction-brake for extra-smooth performance.
3 Piece cold-forged steel.
Maintenance-free SKF precision sealed bearings.
It comes with a bio-mechanically correct narrow 175 mm Q-factor.
It has stainless steel saddle and handlebar post with fore and aft adjustments.
SPX bike assembly is super easy.
4-Way adjustable high-performance racing saddle.
SPX features a Multi-grip handlebar with aero, cross, and bull-horn grip positions.
SPX provides a 4 point contact with two adjustable levelers and ball bearing transport wheels.
Easy to reach the water bottle holder attached to the handlebars.
Cons
Resistance levels are not marked, making it difficult to return to previous settings.
It does not have the drop and armrests for upper body workout variety and comfort.
Bodycraft SPX Club Indoor Cycling Bike Summary
The BodyCraft SPX Club Indoor Cycling Bike is a reliable and uncomplicated mid-priced bike that can offer a great workout and recreate a natural and smooth indoor cycling experience while being easy to use and adjust. Comfortable and 4-way adjustable, it's perfect for both beginners and experienced cycling enthusiasts.
The SPX lacks the bike fitness monitor; it makes up for it with a heavy flywheel, narrow q-factor, commercial quality, and provides one of the best warranties available. If a fitness monitor is not a factor, you won't be disappointed with the BodyCraft SPX Club indoor cycling bike. In addition, the SPX Club indoor bike comes at a reasonable price for commercial quality, offering value for money.
I hope you found this article helpful and informative. Would you please speak up if you have anything you'd like to share on the topic or any opinions about my website? I look forward to your comments, questions, and the sharing of ideas.