Are you looking for a bike with a complete cardio workout but a small amount of living space? Then, the Marcy Foldable Upright Bike NS-652 is perfect for you. You also have the ergonomically designed seat and handlebars to help you maintain a natural posture and reduce pressure on the lower back.
This Marcy NS-652 is an upright bike model with magnetic Resistance. It's for light to medium cardio training. If you're wondering, it's not for intense spin workouts. But it can provide the daily cardio training that you need.
If you're looking for a decently built exercise bike with a folding frame, the Marcy Foldable Upright Bike NS-652 deserves your consideration. This review looks at the design features, fitness monitor functions, and benefits of owning such a compact exercise bike.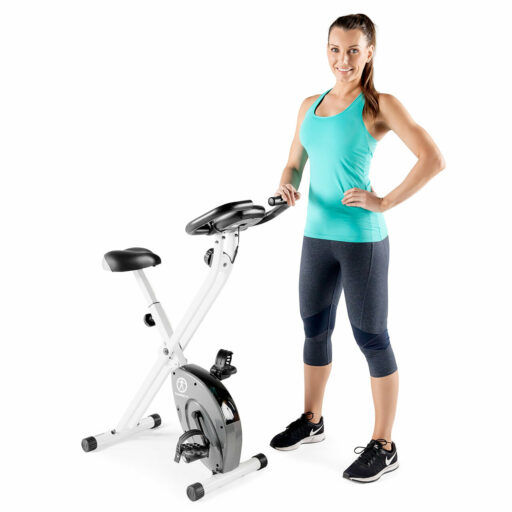 Learn more in my complete review below!
Product: Marcy Foldable Upright Bike NS-652
Price: For a great deal on this bike, merely go here on Amazon
Warranty: 2 years limited
My rating: 8.5/10
Affiliate Disclosure: As an Amazon Affiliate Program participant, I earn commissions on purchases made through links in this post. Full disclosure
Details and Specifications
Assembled dimensions: 34L x 18.25W x 45.25H inches (86.3L x 46.3W x 115H cm)
Assembled weight: 36 lbs (16.3 kg)
Supported weight: 250 lbs (136 kg)
Handlebar: Non-adjustable
Seat: Adjustable (up/down)
Pedals: With Straps
Resistance: Magnetic, eight levels
Fitness Monitor: Included
Warranty: 2 years limited
NS-652 Frame Construction
The Marcy Foldable Upright Bike NS-652 features a folding frame. It consists of two main pieces, connected at the middle, one integrating the seat and the drive system, the other the handlebar, console, and tension adjusting knob.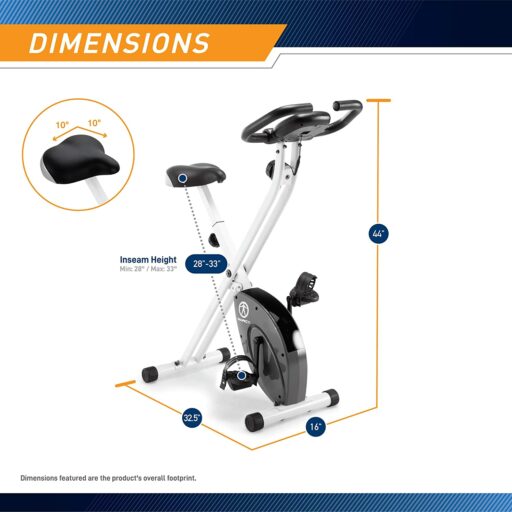 All frame parts are made of steel and coated with corrosion-resistant paint. As a result, the bike has quite a durable construction, sturdy enough to support users up to 250 lbs (136 kg), which is the maximum user weight capacity.
This bike also offers a small footprint compared to other fitness equipment and foldability. In addition, it takes only 34″L x 18″W (83 x 46 cm) of floor space, an aspect that makes it an excellent choice for smaller rooms or apartments. But despite its tiny footprint, it's still a very stable bike.
It shouldn't rock or tip to the side, even if you engage in more demanding workouts while keeping the correct upright form. When folded, the bike's height increases slightly, up to approx. 57″ (145 cm), but its depth decreases to approximately 21″ (55 cm). Thus, the bike can easily fit in the average closet.
The frame features a simple, cylindrical design with plastic caps for better stability. Unfortunately, they don't integrate wheels for transport, but the bike is lightweight. It is fully assembled, weighs 36 lbs (16.3 kg), and just about anyone should be able to move, fold, or store it easily.
Seat and handlebars
The Marcy foldable upright bike NS-652 features a standard seat, 10.5″L x 10″W (26.6 x 25.4 cm). It's not consistently cushioned but does integrate some padding. In addition, it supplies more comfort since it's wider than most spin bike seats. However, if you feel uncomfortable, you can replace it with a different model.
The seat is two-way adjustable (up/down). Its post offers enough adjustment length to accommodate users between 5'0″ and 6'1″ (152 – 185 cm) comfortably. There are seven adjustment holes on the seat's post, the distance between them slightly more than 1 inch. The seat is locked into the desired position via a pin with a turn-knob.
The bike's handlebars are non-adjustable, but they feature a multi-grip design. They don't have integrated elbow rests; however, they have thick foam padding, and you can rest your elbows on them with no problem.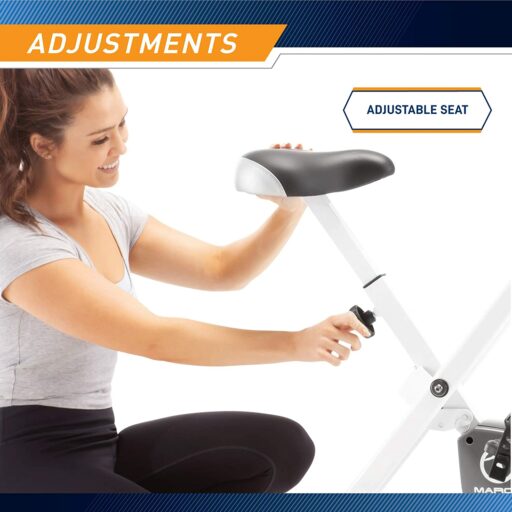 NS-652 Resistance and drive
This Marcy Foldable Upright Bike NS-652 features a manual magnetic resistance system involving a small flywheel and a C-shaped magnetic pad. The magnetic pad is only adjustable via the bike's tension knob. As you turn the knob, the pad sets closer or farther to the flywheel, thus increasing or decreasing Resistance.
The bike offers eight distinctive resistance levels. But as I've mentioned above, this is not a spin bike. It's not for intensive spin workout routines. Instead, it's a bike for light to medium cardio training and muscle toning.
From 1 to 4, Resistance is relatively light. But the 7-8 resistance settings can help you break a sweat, even if you have an average fitness level.
The Marcy NS-652 bike features a smooth and quiet drive, making it an excellent choice for apartment use and its small footprint. You can be sure the neighbors won't hear it because it generates almost no noise. It uses a durable v-belt for transmission, while the flywheel has most of its weight in its perimeter, which adds consistency to the pedaling motion.
The pedals supplied with this bike are pretty standard, made of durable polycarbonate material. They have adjustable straps with four adjustment settings. The crank arms are steel-made, and the whole crank assembly is relatively permanent. However, the bike's design does not promote stand-up workouts. It's a bike made for seated exercises only.
Lastly, this Marcy model has a pretty narrow Q factor of approximately 9″. So pedaling on it is pretty comfortable and won't put any side pressure on your knees or ankles.
Fitness monitor
This Marcy foldable upright bike NS-652 comes equipped with a fitness monitor. Its display can track time, speed, calories, and distance, and it also features an odometer function to display the total length traveled on this bike. Distance is measured in miles, while speed is in MPH. Unfortunately, the monitor does not track RPM or pulse.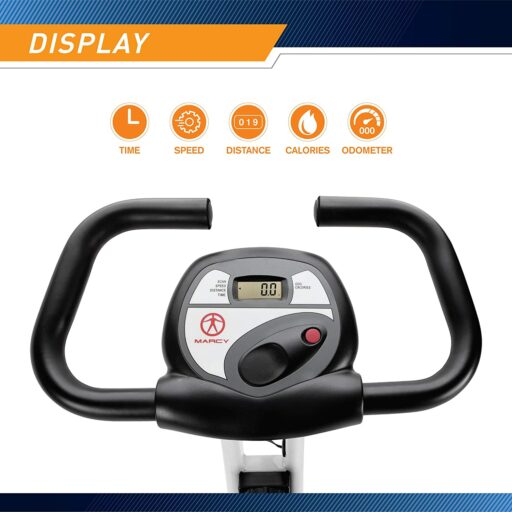 The fitness monitor is pretty easy to use. It has only one (MODE) button. It turns on when you push the button or detect flywheel movement. The unit will default use a SCAN function for cycling through the values, displaying each on-screen for 4 seconds.
However, you can stop the SCAN function and select only one value to be displayed by pressing and holding the button for a few seconds.
The monitor shuts off after 5 minutes of inactivity on the bike. To completely reset the values, remove the batteries from the unit. It uses 2 AAA-type batteries.
NS-652 Assembly and Maintenance
Putting this bike together is an easy task. First, the two main frame parts connect, and the bike's mechanism is assembled and enclosed onto the seat's tube. Next, you'll need to join the bike's bases, chair, pedals, and handlebar with the fitness monitor.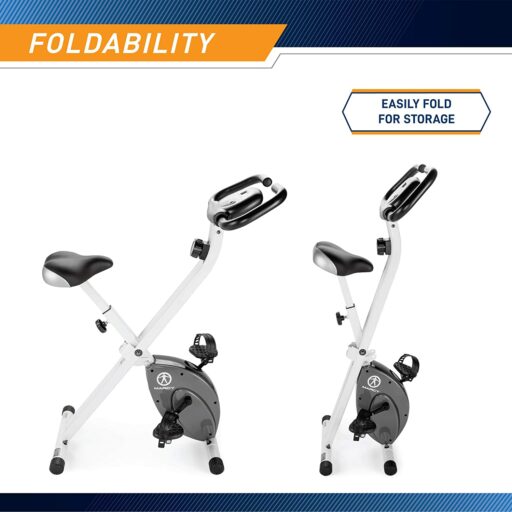 Since it's a belt-driven bike, its internal components don't need any magnetic resistance maintenance. However, maintenance requires you to wipe the dust from the frame and console and, from time to time, check if the bolts still hold tight and retighten them if necessary.
Pros
Reliable and stable frame design, able to hold 250 lbs of user weight;
Space-saving design;
Small footprint when fully assembled;
Multi-grip handlebar;
Magnetic resistance system, virtually wear-free, supplying eight distinctive levels of tension;
Smooth belt drive;
Quiet operation;
The fitness monitor included;
Easy to assemble;
Very little maintenance is required.
Cons
Limited user height;
It doesn't have a device holder.
Marcy Foldable Upright Bike NS-652 Summary
If you're looking for an exercise bike for under $150.00, the Marcy Foldable Upright Bike NS-652 is good. The Marcy NS-652 is one of the most basic and affordable upright bikes.
First, remember that you will get what you pay for, so don't expect a machine that will last forever. The NS-652 is an entry-level bike with a 250 lb user weight capacity. So it's not going to take a beating and keep on ticking. But despite this fact, it still offers a decent frame and drives mechanism.
Moreover, it's a bike for light to medium cardio training, muscle toning, and stamina building, and it can also help you lose weight. All in all, it's a bike with an excellent price/quality ratio.
I hope you found this article helpful and informative. Would you please speak up if you have anything you'd like to share on the topic or any opinions about my website? I look forward to your comments, questions, and the sharing of ideas.
Please remember that you should consult your physician to determine if you have any medical or physical conditions that could risk your health and safety or prevent you from using the equipment properly. In addition, your physician's advice is essential if you are taking medication that affects your heart rate, blood pressure, or cholesterol level.