The Precor TRM 835 Treadmill with either the P30 or P31 console is Precor's top-performing and most popular machine. In addition, the TRM 835 is the mid-range model in Precor's Experience™ Series Commercial Treadmills, a series of treadmills designed for comfort, performance, and reliability.
Accordingly, the Precor TRM 835 treadmill delivers a responsive and smooth running performance with Precor's signature Ground Effects impact control system (GFX) and the Integrated Footplant Technology (IFT).
Also, the TRM 835 is designed with features to optimize the user's experience. For example, TRM 835 has 25 preset workout programs, and this unit comes with either the P30 or P31 console, which are highly advanced LED consoles.
Moreover, these performance and comfort features combined with the robust 4.0 HP motor and ultra-sturdy frame make for a commercial treadmill ideal for gym owners and home use. The TRM 835 is available in a choice of silver metallic or pearl black color finishes.
Learn more in my complete review below!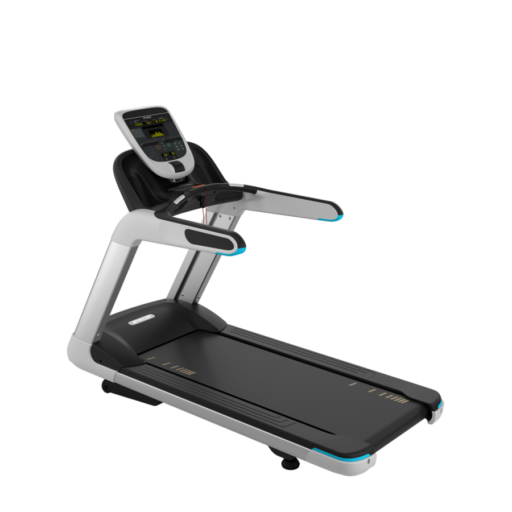 Product: Precor TRM 835 Treadmill
Price: For a great deal on this treadmill, merely go here on Amazon
Warranty: In-home: frame lifetime/motor and electrical parts ten years/console three years/Labor 1 year (See below for the commercial warranty)
My rating: 9.6/10
Affiliate Disclosure: As an Amazon Affiliate Program participant, I earn commissions on purchases made through links in this post. Full disclosure
Details and Specifications
Motor: 4.0 HP
Incline:-3 to 15%
Running Area: 22″ x 60″
Folding: No
Top Speed: 16 MPH
User Weight Capacity: 400 LBS (181 kg)
Dimensions: 88″ L x 35″ W x 64″ H
Weight: 456 lbs (207 kg)
Deck: One-inch Slik-Dek bed composed of 52 lb high-density fiberboard core with phenolic laminate bonded on both sides.
Reversible deck: Yes
Belt: Seigling E8 unique weave multi-ply polyester belt, with dry lubricant integrated into the material, is exclusive to Precor.
Rollers: 4-inch steel tapered rollers keep the belt centered on reducing maintenance and noise.
Frame: A two-step powder-coating process applies a rust-resistant undercoat and cosmetic topcoat to the steel frame.
Elevation System: Generates up to 1000 lbs of thrust and is operated in compression for reliable operation.
Power requirements: NEMA 5-20R 120v / 20 Amps, Dedicated Circuit Required
Heart rate monitoring: Contact & Wireless
Built-In Programs: 25
Warranty Commercial: frame seven years/motor five years/parts and console two years/labor one year
Warranty In-home: frame lifetime/motor and electrical parts ten years/console three years/Labor 1 year
TRM 835 Integrated Footplant Technology™ (IFT™)
Integrated Footplant Technology™ (IFT™) takes a straightforward fact into account: When you run, the speed of your foot changes. Precor treadmills with IFT™ recognize this change in speed when your foot strikes the belt and adjust to match every stride.
Therefore, the ability to respond to your natural foot speed results in a smooth, fluid feel that enhances your workout experience.
Precor Integrated Footplant Technology redefines treadmill design to synchronize machine movements with human motion. For example, when your heel strikes a treadmill, the foot delivers a powerful spike of energy. Furthermore, Integrated Footplant Technology™ reads this energy spike and uses the information to make minute belt-speed adjustments as you run.
The result is your running stride remains fluid, and you experience an enhanced workout that:
Feels completely smooth and natural
Reduces joint stress and minimizes fatigue
Maximizes aerobic benefit for heart and lungs
1. Mimics natural running motion
When running or walking, the foot accelerates and slows during each step. However, if exercising outdoors, the ground's firm surface supports the natural acceleration at the beginning of each stride.
Correctly, Precor's technology works with this natural acceleration by precisely adjusting belt speed as the foot hits the deck. Thus, supporting the natural motion and preventing drag can pull the foot backward as the runner moves forward.
2. Harmonizes running speed and belt speed
Precor treadmill design calibrates belt speed so that the treadmill surface shares the stationary benefits of running outside. For this purpose, equipment software monitors heel strikes and communicates with equipment hardware to adjust the motor speed with a user's natural stride.
Thus, the resulting harmony between runners and machines means a smooth, fluid, and rhythmic running experience.
3. Promotes workout ease and comfort
Relative Perceived Exertion (RPE) is the difference between how hard your brain says you're working and how hard your heart works. For example, if you're jogging, the perceived level of exertion drops when the impact on your ankle, knee, and other affected joints reduces. So you experience a more comfortable workout that keeps you motivated and moving toward your fitness goals.
Experience™ Series P30 and P31 Console
The P30 and P31 consoles feature a large LED display and motion controls and mobile device charging for all mobile phones, including those running Android™, Apple®, BlackBerry™, and Windows®, operating systems and small MP3 players.  In particular, this console includes six workout keys with up to 27 workouts, a numeric keypad, QuickStart, and all the exercise metrics to keep users informed.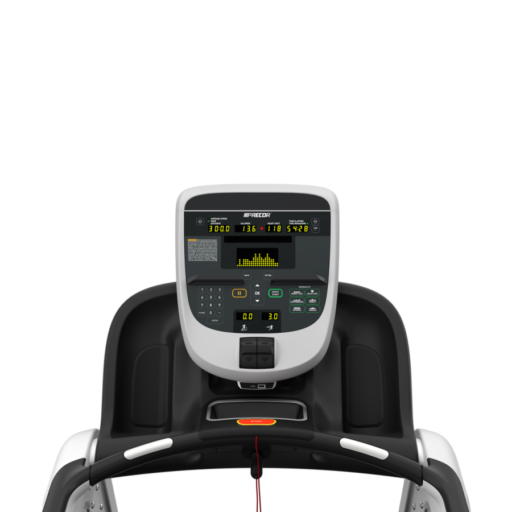 Created to complement the entire Experience™ Series product line, the P30 console features easy-to-use motion controls and an LED-based display. Thereby providing the essential fitness stats that keep users informed and engaged.
To add an optional Entertainment Cap to provide access to a selection of audio channels or a Personal Viewing System (PVS). Thus, giving exercisers a more personal entertainment experience, with choice and control.
Optional Personal Viewing System (PVS)
They give the user a more personal experience, with natural choice and control. In addition, a PVS provides the ultimate visual entertainment incorporating digital technology and an energy-saving Power Save feature, which shuts down the screen when not in use.
TRM 835 P30 and P31 Console Features
Display Type: LED
Electronic Readouts: Resistance Level
Cross Ramp level distance, Strides/Min, Total Strides
Calories
Heart Rate
Time Remaining, Time Elapsed, % Complete, Time in Zone, Segment Time Remaining, Average Speed (strides per min), Calories/Min, Calories/Hour, Watts, METS, Target HR, Average HR
Numeric Keypad: Yes
Motion Controls: Speed and Incline (TRM), Speed and Resistance (EFX), Resistance and Stride Height (AMT), Resistance (RBK & UBK)
Tactile Dome Keys: Yes
QuickStart: Yes
Tap Control: N/A
Console Language(s): English, French, German, Spanish, Dutch, Italian, Russian, Portuguese, Chinese, Japanese
Units Selection: Metric or US. Standard
Maximum Standby Mode Delay: N/A
Muscle Monitor: Yes
Maximum Workout Time: Unlimited
Maximum Summary Time Out: N/A
Preset Workouts: up to 27 preset programs accessed by six workout keys: Manual, Interval, Variety, Performance, Heart Rate, and Weight Loss
Favorite Workouts: N/A
Featured Workout of the Day: N/A
Reading Rack: Integrated
Pause Range: 1 to 60 seconds
Default Pause Setting: 30 seconds
Heart Rate Monitoring
Touch: Handheld heart rate sensors located on fixed handlebars for increased accuracy and ease of use by users of all sizes.
Telemetry: It comes equipped for heart rate telemetry reading using a chest strap.
Heart Rate Sensor Advisory
The heart rate features are for reference only. Therefore, they may not be accurate for every user or at every speed. In addition, holding the heart rate handle touch sensor while exercising at a higher intensity may also decrease reading accuracy and is not advisable.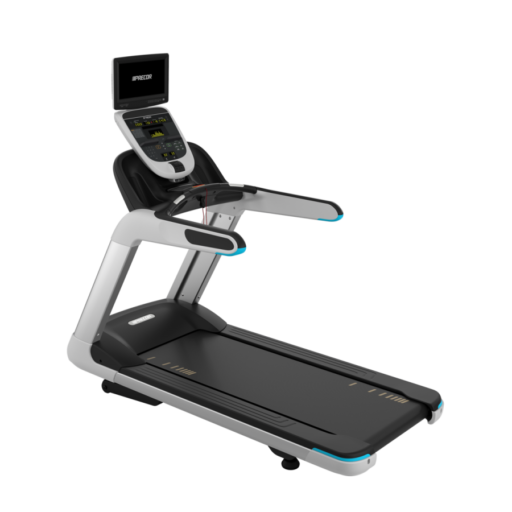 Integrated Entertainment Options
Mobile Device Charger: Yes
Personal Viewing System (PVS): Optional 15″ in / 38.1 cm personal viewing system
Entertainment Cap / Wireless Receiver: Optional
Pros
Ergonomic Design: The unique stride support feature and Ground Effects® Impact Control System makes for an incredibly smooth and natural feeling of running and walking.
Console: The redesigned P30 console features lever motion controls for easy changes in speed or incline with a lever's tap. Also, an LED screen offers users basic fitness stats and is easy to read.
Workout Programs: 25 preset workout programs make this treadmill the perfect workout machine for variety.
Incline/Decline: This capability is the TRM 835's claim to fame, with options up to 15% and down to -3% decline.
Speed: Few treadmills will offer speeds of up to 16 mph, but the TRM 835 does, great for sprint running and interval training.
Motor: This model has a 4HP AC motor, which stands for alternating current. AC motors are typically found only in gym treadmills and start quicker than Direct Current (DC) engines.
Deck: At 60 inches by 22 inches, the extra-long deck and wide running area are ideal for users of all shapes and sizes. The belt is also reversible and made with multi-ply pre-waxed polyester for no required maintenance and improved durability.
User Weight Capacity: This treadmill's suggested max user weight is 400 pounds, which signifies a strong motor and a durable, sturdy deck.
Network Capabilities: C-SAFE (Communications Specification for Fitness Equipment) enabled and FitLinxx compatible. Thus, gym owners can customize this treadmill for users by changing the display, setting max exercise time and cool down limits, and enabling/disabling programs (to name a few).
Maintenance Features: The Active Status Light at the front of the machine alerts you to the machine's operating condition, notifying users when required maintenance is needed.
Cons
The TRM 835 is expensive.
No cooling fan
Precor TRM 835 Treadmill Summary
First, the TRM 835 is a well-built and durable treadmill that will last years and years. Furthermore, the Precor TRM 835 Treadmill offers a steep incline and decline, perfecting multiple muscle groups and simulating varying terrain. Additionally, the impressive number of workout programs provides excellent variety to users with different workout goals and fitness needs.
Moreover, while expensive, the TRM 835 is a well-built, sturdy, and reliable treadmill that will keep owners satisfied.
I hope you found this article helpful and informative. Would you please speak up if you have anything you'd like to share on the topic or any opinions about my website? I look forward to your comments, questions, and the sharing of ideas.