The Body-Solid G1S Home Gym has five workout stations centered on a 160-pound weight stack. With both upper and lower body workouts in mind, the Body-Solid G1S home gym provides more than 40+ toning, trimming, and muscle-building exercises. In addition, it packs powerful functionality into a small footprint and has a lifetime manufacturer's warranty.
With the contoured, adjustable seat, and comfortable back support padding, you can perform a wide range of exercises from home without needing a spotter or any additional safety equipment.
The four pulleys, including the separate low cable for curling, help prevent any switching of attachments between exercises. In addition, it also helps to develop a well-rounded physique by targeting muscles from a variety of angles.
This machine doesn't have an upgradeable resistance capacity, but you can buy accessories to enhance your workout experience. These include a stack adapter plate, a crunch harness, and a multi-purpose bar. In addition, the G1S comes standard with a lat bar, straight bar, ankle strap, ab/triceps strap, Total Body Workout DVD, water bottle holder, and towel holder.
Learn more in my complete review below!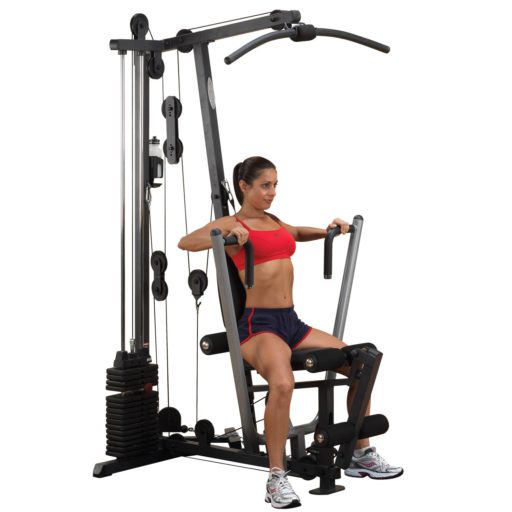 Product: Body-Solid G1S Home Gym
Price: For a great deal on this gym, merely go here on Amazon
Warranty: In-Home Lifetime Warranty
My rating: is 9/10
Affiliate Disclosure: As an Amazon Affiliate Program participant, I earn commissions on purchases made through links in this post. Full disclosure
Details and Specifications
Assembled dimensions: 49L x 36W x 83.5H inches (125L x 92W x 212H cm)
Assembled weight: 323 lbs (146.5 kg)
Weight resistance system: Metallic alloy plate stack
Max. weight resistance: 160 lbs (72.5 kg)
Possible exercises: 40+
Warranty: Lifetime
G1S Frame Construction
Compared to other similar weight stack gym systems,  the GS1 model from Body-Solid has a smaller footprint. It takes only 49″L x 36″W (125 x 92 cm) of floor space, which means it may be an excellent choice for anyone who lacks storage and usage space.
However, the machine does require a slightly larger usage surface for safe operation, the recommended usage space being 73″L x 47″W (185 x 119 cm). Also, the highest point of the assembled machine is 83.5″ (212 cm). Therefore, it should fit in a room with a seven ′ (213 cm), but it would be pretty tight.
The Body-Solid G1S selectorized home gym features a 12-gauge steel frame. It comes with a scratch-resistant and corrosion-resistant electrostatically applied powder coat finish, and the only available color is dark gray.
The G1S has a total assembled weight being 323 lbs (146.5 kg). Once built, due to its total weight, it's not easily moved. However, due to its weight, it delivers excellent stability. It doesn't require anchoring to the floor. Its rear base also features rubberized pads, which maximize its durability.
The leg development attachment has 4″ (10 cm) foam rollers, which deliver excellent comfort for leg extensions. In addition, the chest press station's arms, short bar, and lat bar feature a rubber foam coating providing optimal comfort and a secure grip.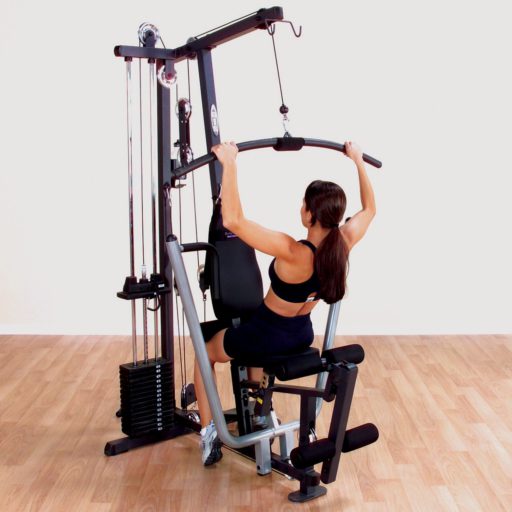 Adjustable Seat
This Body-Solid home gym system has an adjustable seat. Its vertical post has six adjustment positions, so you can adapt its height to find the most comfortable place. The machine can accommodate users comfortably up to 6'3″ (190 cm), given the adjustment possibilities.
Taller users should also perform various exercises on this machine without any hindrance but may not benefit from a complete range of motion for all users.
The backrest of the machine is non-adjustable, attaching to the oblique frame bar via two screws. Both seat and backrest feature 2″ (5 cm) thick padding, providing optimal comfort for all exercises. The upholstery on them is heavy-duty, waterproof, vinyl material.
G1S Pulleys and Cables
The standard pulleys included with this home gym system are four 1/2″ (11.4 cm) in diameter, made from fiberglass-reinforced nylon. However, the option of aluminum pulleys is available. All pulleys integrate industrial quality, sealed ball bearings for smooth operation and prolonged use.
The cables supplied by the machine are 2,200 lbs (998 kg) tension-strength steel ropes. They should withstand much more weight than the included 160 lbs (72.5 kg) weight stack. All cables have a sheet of PVC materials for smooth gliding over the pulleys.
Accessories and Upgrades
In terms of included accessories with this machine, the list consists of a lat bar, short straight bar, ankle strap, ab & triceps strap, bottle holder with a water bottle, and a Total Body Workout DVD, which covers all the exercises possible on this machine.
Regarding available options and upgrades for this machine, I can mention the weight stack adapter plates for 2.5 lbs and 5 lbs increments. Furthermore, there's the option for aluminum pulley upgrades. However, the machine does not offer the possibility of installing a preacher pad or a leg press; such attachments are unavailable for the G1S.
G1S Workout stations
Chest press station – this station has a different placement compared to other home gyms. It's connected to the lower part of the frame rather than the top. In addition, it features multi-position handgrips, which offer the correct execution of various chest press exercises, along with the adjustable seat.
High pulley station – the high-pulley offers the possibility to perform lat pulldown exercises, triceps press downs, cable crossovers, and several other uses. The machine also comes with a lat pulldown bar.
Mid-pulley station – various home gyms within this range of features do not include a mid-pulley. However, this particular workout station allows for ab crunches, core, and triceps exercises.
Leg developer – designed mainly for leg extensions; however, you can also perform stand-up hamstring curls, using one leg at a time.
Low pulley station – along with the leg developer, which also uses lower pulleys, the low pulley station is situated on the machine's left, even integrating a vertical and a horizontal footpad for seated rows of stand-up biceps curls.
Weight Resistance System
One of the best aspects of the Body-Solid G1S home gym is its weight stack. Unlike similar machines, this model comes with a set of metallic alloy weight plates, which are considerably more durable than vinyl/concrete slabs.
The stack includes 15 plates, 10 lbs (4.5 kg) each, the top plate attachment that seals it, also weighing 10 lbs. Thus, the total weight of the stack is 160 lbs (72.5 kg).
The weight stack is not upgradeable. Its selector rod features only 15 holes, so if you were to add other plates, you wouldn't be able to lock them conventionally on the rod. However, since the machine cables have a 2,200 lbs rating, you can always improvise with the total weight.
Another essential aspect to mention here regards the machine's weight ratios. Although its exact weight ratios are not specified anywhere, various users have reported that the lat pulldown station has approximately a one-for-one weight ratio. At the same time, the leg developer generates a weight resistance of 150%.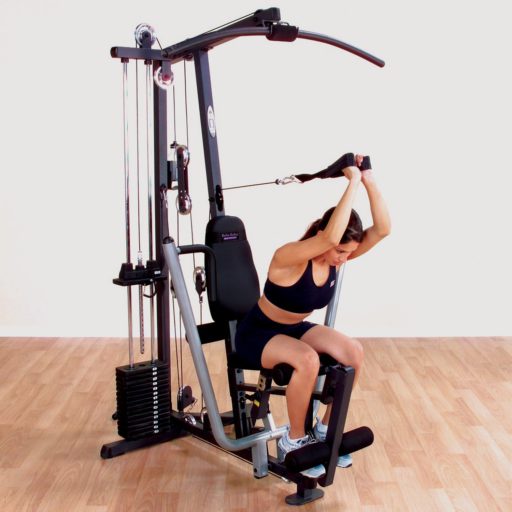 G1S Possible Exercises
This Body-Solid home gym system can perform more than 40+ exercises. Among the most important of them to be mentioned are:
Vertical grip chest press
Horizontal grip chest press
Incline chest press
High cable crossover
Lat pulldown
Close grip lat pulldown
Seated row
Stand-up row
Squat
Shrug
Seated triceps extension
Triceps press down
Triceps kickback
Standing biceps curl
Concentration curl
Deltoid Raise
Upright row
Ab crunch
Trunk rotation
Oblique crunch
Standing leg curl
Leg extension
Leg abduction and Leg Adduction
Glute kickback
and more.
This home gym does not come equipped with a pec fly station. So to work those muscles on it, you'll have to perform different tasks, such as mid-pulley trunk rotations.
Other machines can install a curl pad to perform preacher curl exercises. Unfortunately, such an addition is not available for this home gym. Furthermore, a leg press attachment isn't available for it either.
To perform Seated rows, place feet on the foot bar under the machine's left side's low pulley while sitting on the floor.
G1S Assembly and Maintenance
Although this machine's assembly is pretty straightforward, the whole task will take at least a few hours due to the many parts you'll have to put together. However, the manual provides clear step-by-step assembly instructions. Unfortunately, tools for assembly do not come with the gym, and you'll need a set of Allen wrenches and an adjustable wrench.
For maintenance, you'll need to periodically inspect for loose bolts, joints, and parts and tighten them if necessary. Also, if certain joints begin to squeak, lubrication should solve the problem.
Pros
Sturdy, all-steel frame;
Heavy construction, which adds excellent stability (does not require to be anchored to the floor);
Durable upholstery on seat and back support, with 2″ thick padding for optimal comfort;
Heavy-duty, fiberglass reinforced pulleys with sealed ball bearings;
Aluminum pulleys option available;
Adjustable seat;
It has five workout stations, including a chest press station, lat pulldown station, leg attachment, low pulley station, and intermediate pulley station.
40+ exercises available;
Highly durable metallic alloy weight stack;
Relatively small footprint for a home gym system;
Lat bar, short bar, ankle strap, ab/triceps strap included;
Bottle holder with a water bottle included;
Total Body Workout™ DVD included;
Quiet operation;
Easy to set up;
Little maintenance is required;
Excellent warranty.
Cons
Weight stack is not upgradeable (unless you improvise);
It doesn't come with a curl pad or leg press attachments.
Body-Solid G1S Home Gym Summary
The Body-Solid G1S Home Gym is a weight-stack gym system designed for home use. It features a 160 lbs metallic alloy weight stack and five distinctive workout stations, and it can perform more than 40+ gym-quality exercises. As a result, it's a perfect choice for beginners and intermediate users. Unfortunately, it may not suffice for advanced users since the weight stack is not upgradeable.
This upgraded version of the popular EXM1500S has the industry's best warranty, the Body-Solid In-Home Lifetime Warranty covering everything. Forever. In all, this home gym system offers excellent value for the price.
I hope you found this article helpful and informative. Would you please speak up if you have anything you'd like to share on the topic or any opinions about my website? I look forward to your comments, questions, and the sharing of ideas.
Please remember that you should consult your physician to determine if you have any medical or physical conditions that could risk your health and safety or prevent you from using the equipment properly. In addition, your physician's advice is essential if you are taking medication that affects your heart rate, blood pressure, or cholesterol level.