The commercial-grade FDF S6 Laguna AR (Adjustable Resistance) Fluid Rower is designed and engineered by professional rowers and craftsmen. Only the highest degree of quality components are used – ensuring complete satisfaction in function, performance, and reliability.
With its robust and durable construction, the FDF S6 Laguna AR Fluid Rower inspires confidence and challenges, for even the fittest of rowers. Its unique Direct Drive design ensures that all you feel, hear, and see is water churning through the high density and resilient tank.
The FDF S6 is adaptable to each individual and allows the user to control and adjust the 16 levels of variable fluid resistance. It ranges from "Feather light" to "Olympic sprint," delivering a silky smooth resistance to the user's effort and instantaneous response to input with no "flat sport."
The FDF S6  features an advanced computer monitor providing the rower with measurable performance output.  With the updated USB connectivity and your computer, you can record your workout sessions, connect with the internet for online racing, and access the web-based logging and ranking system.
Learn more in my complete review below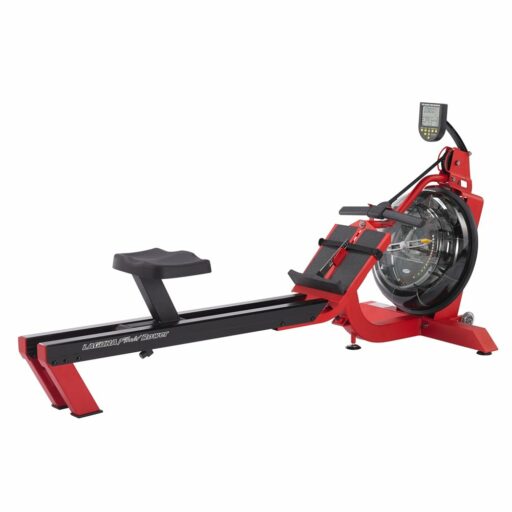 Product: FDF S6 Laguna AR Fluid Rower
Price: For a great deal on this rower, merely go here on Amazon
Warranty: Frame 10 years / Tank and seals three years / Mechanical 2 years / Wear parts two years
My rating: 9.8/10
Amazon Affiliate Disclosure: I may earn commissions on purchases made through links in this post.
S6 Frame
The frame construction of this First Degree Fitness rower integrates aluminum and steel parts. The framework that sustains and protects the water tank, as well as the rear base stabilizers, are made of steel tubing.
The gliding rails of the seat, on the other hand, are made of anodized aluminum, for a smoother glide. The steel parts are coated with red paint, while the rails have a black finish. The paint finish on the frame is corrosion-resistant, but this rower is for indoor use only. Moisture can still cause damage to the console.
This fitness machine takes quite a bit of space, especially lengthwise. It's 83.5″ (212 cm) long, and 31.9″ (81 cm) wide. It doesn't have a folding design, but it can be stored vertically, resting on its metallic front frame. The rails are long enough to supply a complete leg extension for users up to 6'5″ (195 cm).
The machine is rather heavy, weighing approx — 122 lbs (55.3 kg). By adding water in the tank will add approximately 16 lbs (7 kg) of weight to it. It's equipped with a set of silicone wheels though, which facilitate its relocation.
Also, in case you're wondering, the water can remain in the tank when the unit is stored vertically. You don't need to empty/refill the container between uses.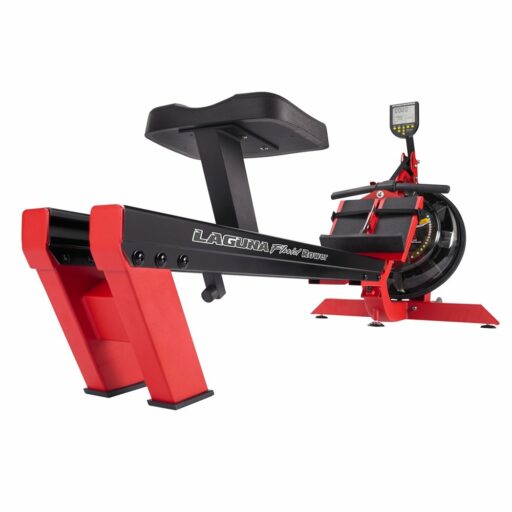 The front part of the frame integrates three adjustable stabilizers, with rubber caps. The rear "feet" are non-adjustable, but their bases feature heat-injected rubber pads. Therefore, the machine offers excellent stability.
Seat, Pulling Handle and Footrests
The seat on this FDF rower features a metallic frame itself. It glides on two sets of wheels, placed on the inside parts of the rails. The wheels integrate stainless steel ball bearings for smooth gliding and a long lifespan. The top of the seat features a contoured surface with a thin sheet of padding, to provide optimal comfort.
It's approx. 2′ (61 cm) above floor level. Thus, taking a position on the seat is more manageable, which can be quite a plus for users with disabilities. Also, the seat assembly is designed to withstand up to 330 lbs (150 kg) of user weight.
The machine's pulling handle is a simple bar, slightly curved towards the user, to provide a more natural grip. It's connected to a solid nylon strap, which transfers the traction to the flywheel.
Last but not least, the footpads of the machine are adjustable and large enough to accommodate shoes of all sizes. They come with adjustable straps for extra foot stability in case it's necessary.
They feature heel guards, which also add stability to the positioning of the feet. The angle of the footpads can't be adjusted, though. The metallic plate which they're on is part of the steel frame, and they don't move. However, they have an angle of approx — 45 °, providing for optimal comfort.
S6 Water tank and resistance system
The FDF S6 Laguna fluid rower features a different water tank construction than the tanks on other FDF models, such as the Daytona Challenge or Viking 2 AR. First of all, it's a lighter tank, with only two gals (7.6 liters) capacity. It's a heavy-duty, transparent polycarbonate material.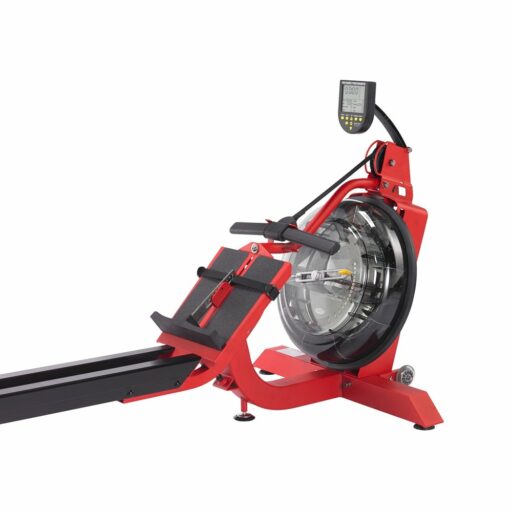 The flywheel/impeller is more substantial, though, made of stainless steel material, connected to a system of bungee cords and pulleys, which also add resistance to the overall rowing motion.
The tank offers adjustable resistance, a feature that some of the other rowing machines don't have. It's divided into two chambers, a "storage" chamber, and an "active" one.
The more water in the "active" chamber, the higher the resistance the machine will provide. Moreover, the dial on top of the tank controls the water level in the active chamber, offering up to 16 different levels.
The first 1-3 levels offer light resistance, great for recovery training, muscle toning, or in general, a light cardio workout. Conversely, the top resistance levels can offer the intensity required by professional athletes.
Since it's a water rowing machine, the resistance is variable, regardless of the water level in the active chamber. In other words, the resistance behind each stroke is also conditioned by how fast (or how hard) you pull.
Moreover, the rowing feel is similar to rowing a real boat. Also, the operation of the machine is quiet, and most users have described the sound generated by the spin of the impeller in the water tank as "soothing."
Console
The computer unit supplied with the FDF S6 Laguna fluid rower is considerably more inclusive than a basic one. First of all, it features a multi-panel LCD, which means it can show all your workout statistics simultaneously.
So, you won't have to scroll through them or use a SCAN function to roll between them. Moreover, it accurately displays all data required by a professional rower, including time, distance, speed, heart rate, watts, calories, revolutions per minute, strokes per minute, and 500/m units.
The range can be displayed in miles or km, while speed in MPH or km/h. Also, an HR receiver (is included) with the machine.
Since this FDF rowing machine features a water tank with 16 levels of resistance, the computer unit also has 16 intensity levels. Therefore, to benefit from the correct reading of calories burned and other parameters, it's required to correlate the console with the water tank.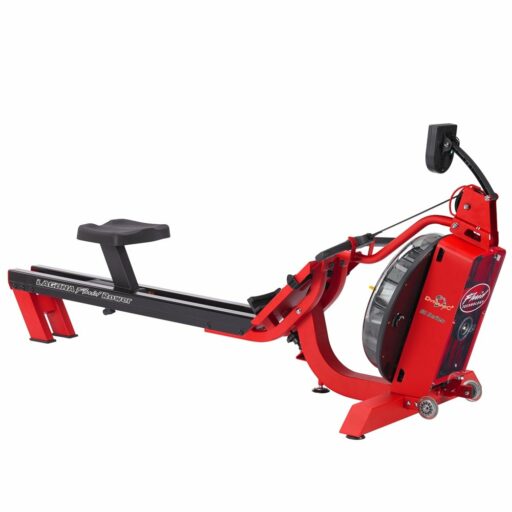 The console offers several on-board, interval-based workout programs, and goal setting functions for time and distance. However, it also features online connectivity via its integrated USB port.
It's compatible with online apps, such as the NetAthlon 2 XF for Rowers, to compete with others or train solo in a virtual 3D environment, record your progress, and access web-based logging and ranking systems.
The console requires 2 AA batteries, which (are included).
S6 Assembly and Maintenance
The assembly of the FDF S6 is far from being confusing. The water tank and its pulley system are pre-assembled and comes connected to the front part of the frame. So, all you need to do is connect it to the rest of the front steel frame, add the rails, the seat, the rear foot stabilizers, and join the console wires.
The manual provides clear step-by-step assembly instructions and all the tools required for assembly (are included). Also, a siphon pump comes with the S6 for filling/emptying the tank.
Maintenance requires treating the water in the tank periodically, with one of the supplied chlorine pills. It's also advisable to wipe the rails with a dry cloth before each use. This will remove any sand, dust, fibers, or any other small objects that might be on them, which may cause damage to the rails or the wheels of the seat.
Details and Specifications
Assembled dimensions: 83.5″L x 31.9″W x 40.2″H (212L x 81W x 102H cm)
Assembled weight: 122 lbs (55.3)
Supported weight: 330 lbs (150 kg)
Frame: Aluminum / steel / acrylic combo
Footrests: Adjustable, with straps
Resistance type: Water, adjustable (16 levels)
Fitness computer: Time, distance, strokes per minute, watts, calories/hour, 500m split time, HR capable, USB port, online connectivity
Warranty: Frame 10 years / Tank and seals three years / Mechanical 2 years / Wear parts two years
Pros
Sturdy frame, built by commercial standards;
High user capacity, up to 330 lbs (150 kg);
Dual aluminum rails for extra stability;
Superior aesthetics, aluminum, and steel frame;
Can be stored vertically, and the water doesn't require to be (drained) for storage;
Adjustable foot stabilizers;
Easy to handle and transport;
Water-resistance system, providing the most natural rowing feel that you can get;
Dual-chamber water tank, with 16 distinctive water resistance levels;
Contoured and padded, ergonomically designed seat;
High seat placement, which makes it easy to take a position on the rower, great feature for users with disabilities;
Advanced, multi-panel fitness computer, that tracks time, 500m time, pulse, distance, strokes per minute, watts, RPMs, and calories;
Heart rater receiver included;
Its operation is smooth and quiet;
The S6 is for users of all fitness levels;
Little maintenance required;
Easy to assemble;
Tools for assembly included;
Excellent warranty package.
Cons
The console isn't backlit.
FDF S6 Laguna Summary
The FDF S6 Laguna is a rowing machine designed by commercial standards, with a steel and aluminum frame, and high user capacity. It's a water resistance rower, featuring a tank with 16 distinctive levels of resistance and a multi-function console, with online connectivity capabilities.
With this in mind, the S6 is a rowing machine for users of all levels, from beginners to pro athletes. In particular, the S6 delivers a consistent cardio workout, which involves multiple muscle groups. It's also great for stamina training, interval training, and weight loss.
Finally, it's not exactly an affordable rowing machine. However, it's a commercial-grade rower; the quality in its construction and parts stand up to the price.
I hope you found this article helpful and informative. If you have anything that you'd like to share or any opinions about my website, please do speak up. I look forward to your comments, questions, and the sharing of ideas.
Recommended articles:
Please follow and like us: