Achieve a great workout with the Efitment RB034 Magnetic Recumbent Bike. The easy step-through design allows you to quickly get on the RB034 recumbent bike and sit down without having to step over any metal bars. In addition, the extra thick padded seating and backrest will provide additional support for those longer workouts.
Hold onto the foam gripped padded handles on the sides of your indoor recumbent bike for extra safety. The coated handles come with pulse monitors, so you can track your heart rate and assure you are pedaling at your pace. Also, the front handlebars allow you to pull yourself forward and target different leg muscles.
Read all of your fitness stats on the easy-to-read performance monitor. Check the scan, time, speed, distance, odometer, calories burned, and pulse! Set your tablet or mobile device right on the tablet bracket and follow along with your favorite fitness videos.
With this in mind, the Efitment RB034 Magnetic Recumbent Bike will help you work out today so that you can become stronger tomorrow! Step into the adjustable strap pedals for a comfortable fit. As you pedal, increase or decrease the resistance to challenge yourself and work up a sweat. Don't just wish for a sound body. Work for it!
Learn more in my complete review below!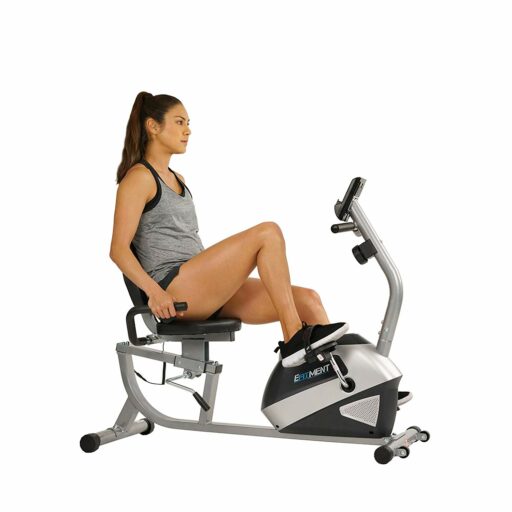 Product: Efitment RB034 Recumbent Bike
Price: For a great deal on this bike, merely go here on Amazon
Warranty: 3 years
My rating: 8.25/10
Affiliate Disclosure: As an Amazon Affiliate Program participant, I earn commissions on purchases made through links in this post. Full disclosure
Details & Specifications
Assembled dimensions: 54L x 25W x 38.5H inches (137L x 66W x 99H cm)
Assembled weight: 60 lbs (27 kg)
Weight capacity: 300 lbs (136 kg)
Seat: Adjustable
Resistance: Magnetic, eight levels
Console: Time, distance, speed, calories, RPM, odometer, goal functions
Amenities: Tablet holder, bottle holder
Warranty: 3 years
RB034 Frame construction
The RB034 features a frame made of steel tubing; the only significant parts in its development that are not steel cover the drive and resistance elements. It has a one-piece chassis, which considerably improves its overall sturdiness. It combines cylindrical and square tubing boasting a fairly decent-looking design.
The frame features a step-through design. Therefore, it offers excellent entry and exit possibilities, even for elderly users or users with specific disabilities. In addition, the bike's body's front section has a molded bottle holder that can accommodate most types of hydration bottles.
All the steel parts in its construction have a rust-resistant paint finish. The color used is silver, this being the only color available for this bike. The flywheel covers are black/silver, with the Efitment logo written in white/blue.
The fully assembled unit is relatively large. It measured approx. 54″ (137 cm) in length, and 25″ (66 cm) in width, while its highest point is the top of the console, which is at approx. 38.5″ (99 cm) above floor level. It's also advisable to leave at least two feet of clearance on the bike's sides and at least one foot at its front and rear for safe access and operation.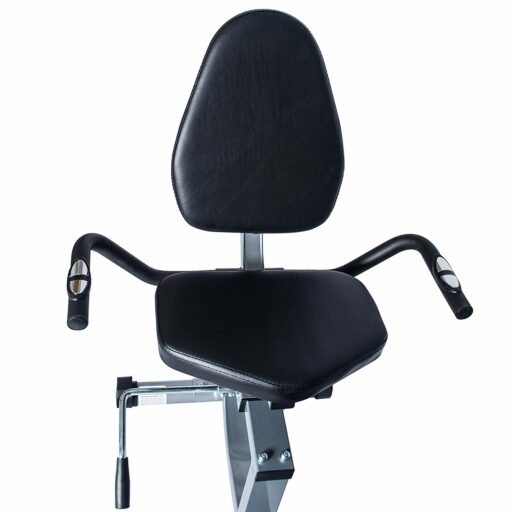 The bike isn't hefty. It weighs approximately 60 lbs (27 kg) with all the parts assembled. But its front base incorporates transport wheels which facilitate its relocation. Also, its rear base has polygonal caps that can rotate to provide better stability for the unit.
Seat & handlebars
The Efitment RB034 exercise bike comes with a pretty standard seat. Its bottom and backrest integrate a thick layer of padding and feature durable vinyl upholstery. The seat and backrest have approx—14″ (34 cm) at their widest points, providing plenty of contact surface.
The whole seat assembly is attached to an oblique monorail. In case you're wondering, at its highest point, the bottom of the seat is at approx. 17″ (43 cm) above floor level. The adjustment system is lever-based. Therefore, you can quickly move it forward or backward while seated only by pressing and releasing the lever on its right side.
The backrest cannot be adjusted independently from the seat. It doesn't tilt or move up/down. Since it's attached directly to the seat frame, it can only move along with the adjustment rail seat.
The seat offers plenty of travel on its rail. It can accommodate users with an inseam between 29″ and 34″ (73.6 – 86.3 cm). It's also durable enough to support users up to 300 lbs (136 kg).
The bike has two sets of handlebars. One set is attached to the front mast, and the other is attached to the seat assembly. These integrate pulse sensors. Both handlebar sets have rubber foam grips to provide optimal comfort.
RB034 Drive & resistance
This Efitment recumbent bike comes with an internal belt drive system, providing quiet operation. A belt drive generates less vibration than a chain and does not require lubrication.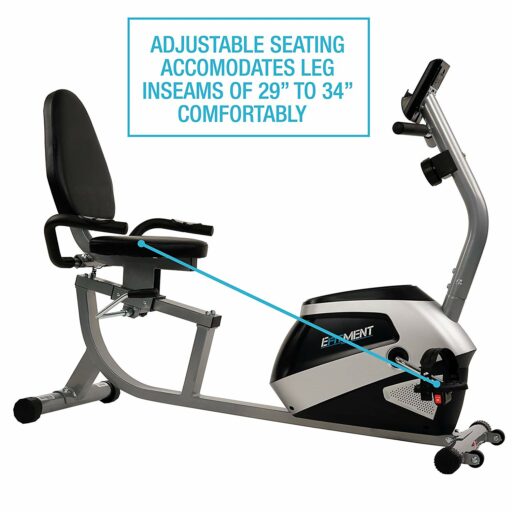 The internal flywheel's weight is approximately six and a half lbs (3 kg). It has a perimeter-weighted structure to provide a steady motion and consistent momentum. It also offers the possibility to pedal in reverse. Therefore, you can diversify your workouts.
The bike's crankset features solid steel crank arms equipped with nylon pedals. Each pedal has a weight element at the bottom, enabling it to turn face-up if you remove your foot from it. Also, the pedals have standard 9/16 threads and adjustable straps.
The Efitment RB034 comes with a magnetic resistance system. It integrates a magnetic brake attached to the tension knob on the front mast. The brake is mechanical, with a manual action, so it does not need a power circuit connection.
There are eight resistance levels on the tension knob. By turning the knob clockwise, the brake moves closer to the flywheel, which increases the internal magnetic field, and the bike generates more resistance.
Moreover, the first resistance level is relatively light, providing little pedaling difficulty. The 7-8 levels aren't extreme, though. Thus, the bike is for light to medium-intensity workouts.
Console
The console included with this Efitment exercise bike features an LCD that tracks time, distance, total distance, speed, calories, and pulse. Unfortunately, the unit is not telemetric. It cannot track your pulse via an ANT or Polar HR chest strap. However, you can still benefit from a pulse reading using the sensors integrated into the seat handlebars.
The console doesn't have any preset programs, nor does it have any online capabilities. However, it does offer goal settings for time, distance, and calories. You can select a value for any of these metrics, and it will begin to countdown from the specified value until it reaches zero. Furthermore, the speed and distance are in English units (MPH and miles). There are not any metric settings.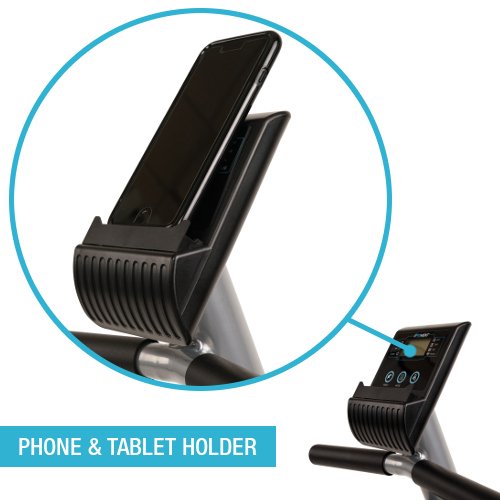 The unit is relatively easy to operate. There are three main buttons: SET, MODE, and RESET. The SET button allows you to enter setup mode and select a goal for time, distance, and calories. The MODE button toggles ON/OFF the unit's scan function. Finally, as the term suggests, the RESET button clears all the values to zero.
The unit uses two 1.5V (AA) batteries, which do not come with the bike. It starts up when you begin to pedal or press a button. It also has a sleep mode to enter if there is no bike activity for 4 minutes.
A tablet holder is (also integrated) into the console. This accessory is large enough to accommodate any tablet. However, a tablet placed on it will cover the console display.
RB034 Assembly & Maintenance
The bike's base frame with all the drive and resistance elements comes pre-assembled. You only have to attach the base stabilizers, the console mast, the console, the seat, and the pedals.
Therefore, it may take an hour of your time. However, the included booklet provides step-by-step assembly instructions. There's also an essential toolkit with all the necessary tools for the assembly.
Maintenance doesn't require much. You only have to keep the unit clean, keep liquids away from the console, and periodically check for loose or broken parts.
Pros
Sturdy, steel frame – 300 lbs capacity
Adjustable rear stabilizers;
Transport wheels;
Step-through frame design for easy access to the seat;
Seat handlebars with pulse sensors;
Front handlebars;
Padded seat and backrest for optimal comfort;
Lever-based seat adjustment;
Quiet magnetic resistance system;
Adjustable resistance offering distinctive eight levels;
Weighted pedals with adjustable straps;
A console that can track time, distance, total distance, speed, calories, and pulse;
Goal setting functions for time, distance, and calories;
Tablet holder included;
Bottle holder included;
It's lightweight and easy to handle;
Reasonably easy to assemble;
Little to no maintenance required;
Decent warranty.
Cons
A tablet placed on the tablet holder will cover the LCD.
Efitment RB034 Recumbent Bike Summary
The Efitment RB034 Recumbent Bike is for home use. It offers several extra features than most other basic bikes, such as a level-adjustment system for the seat and goal settings for the console.
It has a durable construction, and it has a maximum user weight capacity of up to 300 lbs. In particular, it's a great trainer for light to medium-intensity cardio workouts, muscle toning, and weight loss. It's also an affordable trainer, currently available for less than $200.
I hope you found this article helpful and informative. Would you please speak up if you have anything you'd like to share on the topic or any opinions about my website? I look forward to your comments, questions, and the sharing of ideas.