H2O Fitness says with the ProRower RX-750 Water Rower, and they're "Bringing Commercial Grade Quality to Your Home at an Affordable Price"! The frame is exceptionally durable, so durable the manufacturer gives it a lifetime warranty. It also has a maximum user weight capacity of up to 350 pounds (159 kg).
The RX-750 uses an innovative hydro-power drive system, enabling the rower to function similarly to water resistance to someone rowing in a boat. Your rowing intensity generates the level of resistance you feel. If you take it easy and row with low energy, you get less resistance.  If you ramp up the effort and row with more intensity, you get more resistance.
The ProRower RX-750 Water Rower comes with a multi-functional performance monitor that tracks the Time, Distance, 500M Split Time, Strokes per Minute, Calories burned, and Heart Rate. Overall the ProRower RX-750 monitor is a reasonable monitor that tracks all of the necessary fitness data.
The ProRower RX-750 is sound equipment and one of the best in this price range. If you are looking for a machine that provides full-body cardio, then this one is the best. Its lifelong frame warranty itself tells its rugged build quality.
Learn more in my complete review below!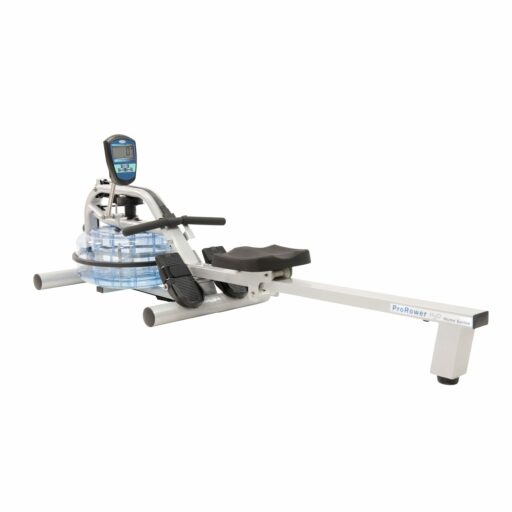 Product: ProRower RX-750 Water Rower by H2O Fitness
Price: For a great deal on this rower, merely go here on Amazon
Warranty: Frame lifetime / Tank and seals 3 years / Mechanical 2 years / Parts 2 year
Affiliate Disclosure: As an Amazon Affiliate Program participant, I earn commissions on purchases made through links in this post. Full disclosure
Details and Specifications
Assembled dimensions: 78L x 22W x 20H inches (198L x 56W x 51H cm)
Product weight: 65 lbs (30 kg)
Maximum user weight: 350 lbs (159 kg)
Frame: Aluminum / steel / acrylic combo
Footrests: Pivoting, with straps
Resistance type: Water
Performance monitor: Yes
Warranty: Frame lifetime / Tank and seals 3 years / Mechanical 2 years / Parts 2 year
RX-750 Frame
The frame construction of this rower is quite similar to the FDF Pacific Challenge rower. It combines parts of anodized aluminum, steel, and hard plastic. It has a nice silver finish, resistant to corrosion. The frame consists of two main parts: the front part, which sustains the water tank, and the rear part, the rail with the gliding seat.
The frame rests on three bases. The front part features two bases, consisting of tubing a bit higher in diameter, finished with hard plastic caps. The front base also features transport wheels, which considerably help with the machine's relocation and storage. The rear base is more superficial, consisting of a little square metallic tube with plastic padding on the lower part.
The frame is not foldable. However, it can be stored vertically, resting on the front base and the water tank's metallic guard. Thus, the water doesn't require removal from the container for the storage of the machine.
When in a vertical position, it save quite some space having a footprint of 20″L x 22″W (51 x 56 cm). On the other hand, when in a fully assembled and ready-to-use position, the machine takes quite some floor space, especially length-wise.
Its footprint is 78″L x 22″W (198 x 56 cm), therefore before choosing this machine, make sure you have the available space for it.
On the other hand, this rather long footprint is a plus, as the gliding rail is pretty long, being able to accommodate even tall users, up to 6'7″-6'8″ (200 – 203 cm), or in other words, users with an inseam up to 39″ (99 cm).
Gliding rail, seat, and footrests
This rower's gliding rail is anodized aluminum, pretty durable, capable of withstanding a maximum user weight capacity of up to 350 lbs (159 kg). In addition, it's completely horizontal, not slightly inclined as some other rower models, providing a correct rowing position.
The seat uses high-grade rollers, made to last for many years of use, and comes concealed to maximize safety and ensure a smooth operation.
The seat provided with the H2O ProRower RX-750 is quite full in size, with a contoured, ergonomic design meant to minimize the stress on the buttocks. If you're wondering, the seat will give you an elevation from the floor of about 11″ (28 cm).
The footrests on this rower are not size-adjustable, but they have a pivoting design, which allows the adjustment of their angle. This is quite a great feature to have, as many rowing machines offer only fixed footrests at an angle of 45°, and not all users may be comfortable with it. In addition, the footrests feature a heel guard and adjustable straps to prevent foot slippage.
RX-750 Water tank
The water tank is pretty similar to the ones used in most other fluid rowers. It's a polycarbonate material tank equipped with a triple-blade impeller designed to simulate the natural, water-resistance, and natural rowing feel.
The rower's drive system involves a pulley, a belt, and a 1″ nylon bungee cord, similar to a car's seat belt, quite durable. The bungee cord is attached to a slightly curved handle, with grips covered in rubber foam padding to prevent blistering.
The curved pulling handle helps a lot complete the stroking motion, being more comfortable pulling it closer to the chest.
The tank's maximum capacity is 17 liters (4.5 gals), and for the proper functioning of the unit, it requires a water level between 9 – 17 liters (2.3 – 4.5 gal). The water tank does not feature any resistance adjusting dials or resistance system.
The only adjustment you can make is the water level inside the tank; the more water, the more resistance it is for the average stroke. There are markings on the side of the water tank recommending water levels for it.
Resistance
On the other hand, since it's a water-based rower, the resistance isn't constant. Instead, it generates the amount of strength you put into each stroke; the harder you pull, the more resistance you will get.
This is pretty much the same principle as rowing an actual boat. Also, to get an idea of this rower's overall resistance, it's going to be pretty challenging to last for several minutes by pulling as hard as you can if you don't have the physical shape and stamina of a professional rower.
The box includes a siphon with a flexible hose for filling/emptying the water tank. You also get chlorine pills for treating the water in the tank to prevent the formation of algae.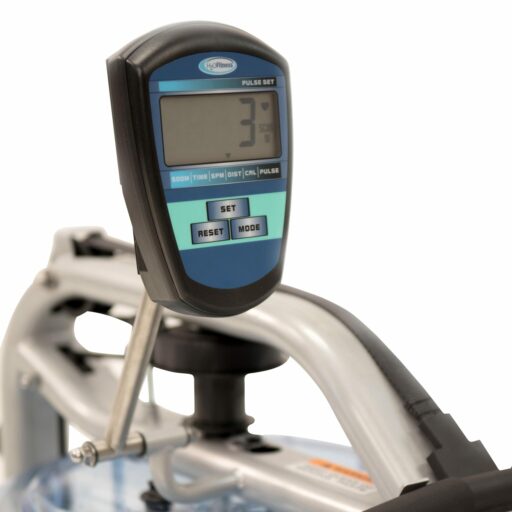 RX-750 Console
The performance computer supplied with the H2O RX-750 ProRower is a MyRower model. It's a pretty basic rower fitness console but does cover all the user's values to know during their workout.
This console displays and keeps track of time, distance, calorie/hour, heart rate, and strokes per minute (SPM). It also has a 500M function, which indicates your time for 500 meters of rowing.
The MyRower computer is relatively easy to use. It features three buttons: MODE, SET, and RESET. The MODE button is your key button for all functions. It's for setting goals for time, distance, and heart rate.
SET is used to insert your desired value and RESET to reset the value. It also has an AutoScan mode, which will cycle through the metrics mentioned above, showing each one for 5 seconds.
This rower doesn't integrate any sensors that can read heart rate when it comes to heart rate. However, the console is compatible with most Polar HR chest straps and will track pulse with one of those. However, an HR chest strap does not come included with the rower.
Finally, the console is battery-powered. It requires 2 x AA-type batteries. Unfortunately, the batteries do not come included with the rower either.
RX-750 Assembly and Maintenance
The assembly of the ProRower RX-750 is far from being confusing. It shouldn't take more than 30 minutes. There are eight steps to assemble this unit, and the whole assembly requires you to connect the rail to the central part of the frame, add the seat, the rear base, and attach the console.
And, of course, fill up the tank by using the siphon and funnel provided. The owner's manual comes with the rower and several tools necessary for the assembly.
The machine isn't wholly maintenance-free. It requires changing and treating water in the tank from time to time with the supplied chlorine pills. As a general idea, if you run out of chlorine pills, just about any 1″ chlorine pill for pool use should do. They can't possibly generate any damage to the tank.
Other than water replacement and treatment, the rollers may require greasing from time to time. The gliding rail must also be kept free from any debris to avoid any damage to the rollers.
Pros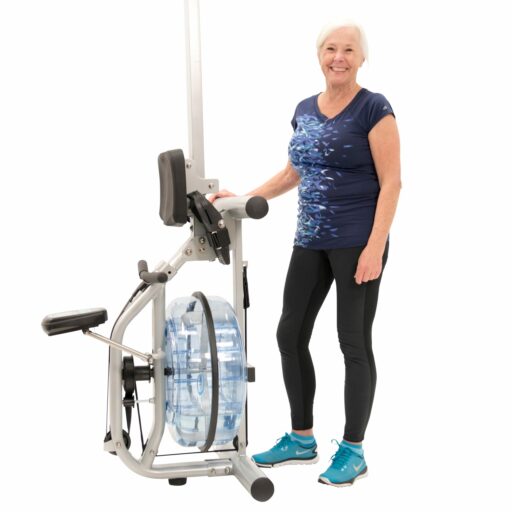 Water resistance, offering a natural rowing feel, the best that you can get from a rowing machine;
Solid frame, with quite an appealing design;
You can store the rower vertically;
Sturdy gliding rail, being able to support users up to 350 lbs;
Top-quality seat rollers, with heavy-duty ball bearings;
Concealed gliding rail for maximum safety;
Comfortable, ergonomically designed seat;
Pivoting footrests;
Ergonomically designed handle;
Performance monitor included;
Easy to assemble and handle;
Quiet machine, great for apartment use;
Little maintenance;
Excellent warranty package.
Cons
Footplates are pivoting, but they're non-adjustable size-wise;
An HR chest strap does not come included with the rower.
ProRower H2O RX-750 Water Rower Summary
The H2O Fitness ProRower RX-750 Water Rower is one of the best and most affordable fluid rowers that you can find at the moment.
Although it doesn't offer the full range of "belts and whistles" a commercial-grade rower typically provides, it still is a machine pretty close to the quality of those used in most gyms. So think of it as a gym-grade rower, tweaked for home use.
Moreover, it's an excellent machine for a low-impact full-body workout for users of all levels; it supplies a natural rowing feel and has a relaxing effect. And lastly, it's an excellent price/quality ratio that won't break the bank.
I hope you found this article helpful and informative. If you have anything you'd like to share or any opinions about my website, please speak up. I look forward to your comments, questions, and the sharing of ideas.