Comfort and quality are built into the Reebok A2.0 AstroRide Treadmill. This treadmill features a 51″L x 17.7″W (130 x 45 cm) running deck with Astroride Cushioning Tech spring back cushioning for reduced heel impact, allowing you to stretch out your running stride without being jarred by the impact.
Featuring the FUTURE control console, the A2.0's LED display tracks distance, time, calories burned, speed, and pulse for optimal training. In addition, with built-in hand pulse sensors, the A2.0 can relay live heart rate data for more effective, targeted, and safe home cardio workouts.
The Reebok A2.0 is the most affordable Reebok A series of treadmills. It's a machine made for home use. The A2.0 offers 36 preset workouts, a 1.5 horsepower motor that produces a top speed of 8 miles per hour, and two manual incline levels to give you various exercises.
Learn more in my complete review below!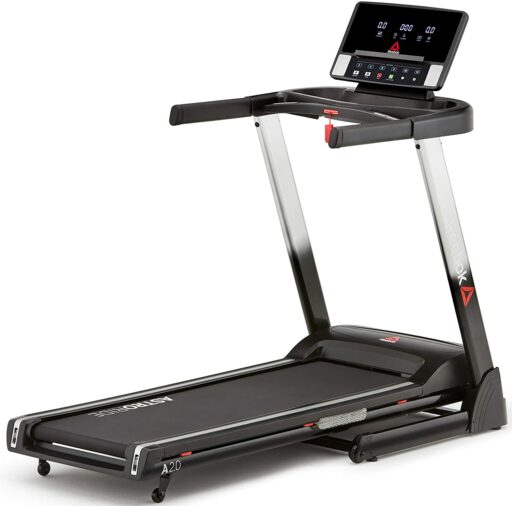 Product: Reebok A2.0 AstroRide Treadmill
Price: For a great deal on this treadmill, merely go here on Amazon
Warranty: 2 years limited
My rating: 7.75/10
Affiliate Disclosure: As an Amazon Affiliate Program participant, I earn commissions on purchases made through links in this post. Full disclosure
Details and Specifications
Assembled dimensions: 66L x 30W x 55H inches (167.5L x 76.5W x 140H cm)
Tread belt dimensions: 51L x 17.7W inches (130L x 45W cm)
Assembled weight: 126 lbs (57 kg)
Supported weight: 265 lbs (120 kg)
Motor: 1.5 HP
Speed range: 0.6 – 8.0 MPH
Incline: Manual, two levels
Deck cushioning: AstroRide Cushioning Tech
Console: 36 preset programs, three user programs, three target programs, and BMI
Extras: Tablet holder, accessory tray
Warranty: 2 years limited
A2.0 Frame and deck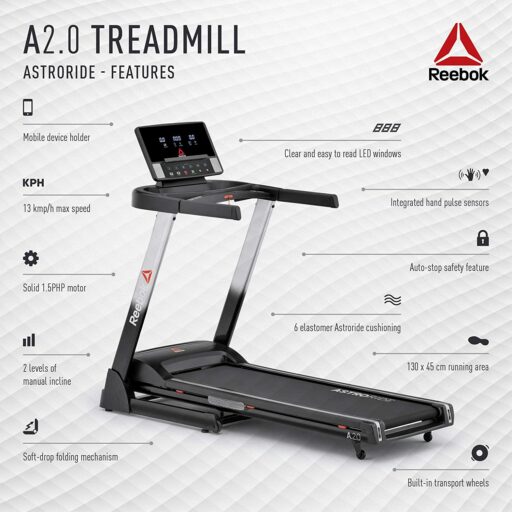 The Reebok A2.0 treadmill features a steel frame and integrates several ABS parts in its construction. For example, the motor cover, the side rail covers, the front tray, and several other small covers are ABS made. In addition, all the steel parts come coated with a corrosion-resistant paint finish; the colors used are black & gray, with the Reebok logo painted red.
The Reebok A2.0 has a pretty durable deck. Moreover, it has a maximum user weight capacity of 265 lbs (120 kg), which is not bad for a home-use machine. In addition, it offers a running platform of 51″L x 17.7″W (130 x 45 cm), which should fit users up to 6'0″ (183 cm) for running workouts.
Of course, taller users can still use this treadmill but may not benefit from a complete range of motion during running workouts.
The fully assembled machine has a smaller footprint than other models. However, it still takes approx. 66″L x 30″W (167.5 x 76.5 cm) of floor space. Plus, it is advisable to leave some clearance on each side and at the rear of the deck for better safety and ease of access.
This treadmill has a folding design. Its deck can fold up to save space. With the deck folded up, its length reduces to 40.5″ (103 cm). The folding mechanism involves a hydraulic cylinder that allows the deck to unfold slowly, decreasing the risk of any damage or injuries.
The Reebok A2.0 treadmill is a pretty heavy machine. Its net weight is approx—126 lbs (57 kg). Therefore, two persons should transport the transport of the boxed unit. However, one person can quickly move the treadmill; its front metallic base has incorporated wheels that facilitate its relocation. Also, the front base frame features adjustable levelers.
The machine's running platform comes equipped with the AstroRide cushioning system. It integrates six small cushion elements (three on each side) and two more prominent cushioning elements (one on each side) for vibration reduction. Thus, the unit's deck reduces the impact on your joints during running.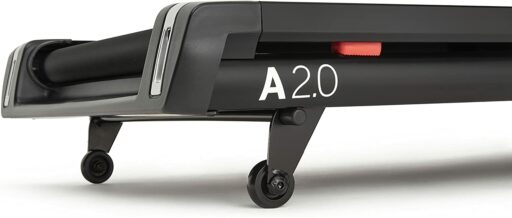 Incline and step-up height
The Reebok A2.0 treadmill doesn't have an automatic incline system but offers two incline levels. In addition, its rear stabilizer can fold, so you can have the running platform either wholly horizontal or incline by approx. 1-2 degrees.
Of course, it's not the professional 30-40% incline provided by the commercial-grade machines, but even a one-degree slope can still add quite a bit of difficulty to the ride.
Since the machine's incline system is manual, you cannot adjust it while running on the treadmill. Therefore, it is advisable for the machine to be idle or turned off when changing the incline.
With the deck in a horizontal position, the machine's step-up height is approx 8″ (21 cm). Thus, it's not too difficult to step onto the belt. Conversely, with the rear stabilizer element folded, the machine's step-up height remains at approx—5″ (13 cm).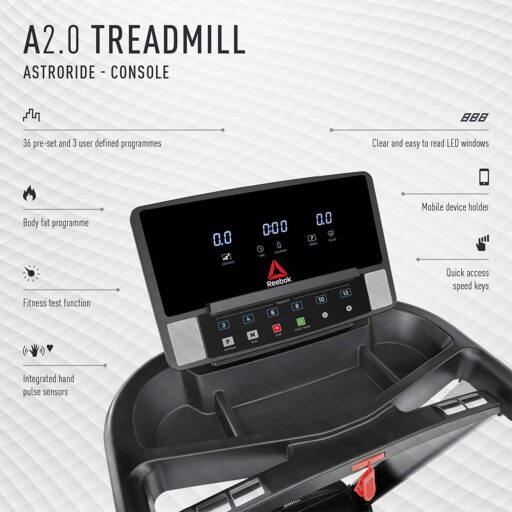 A2.0 Drive motor and speed range
The Reebok A2.0 treadmill comes equipped with a 1.5 horsepower drive motor. It also comes equipped with a small flywheel for extra stability and delivers a reasonably decent duty even if used at maximum speed for a long time.
The unit's motor offers a speed range between 0.6 MPH and 8.0 MPH. The exact speed increments are not specified, but they are between 0.1 MPH and 0.5 MPH. It's important to note that the console is metric km/h. However, you can select the console for English units as well. It also has quick speed controls for 2, 4, 6, 8, 10, 12 km/h.
The machine's console offers several programs; if you choose to exercise via one of these programs, the treadmill automatically adjusts the speed according to each workout segment in use.
The motor itself doesn't generate a lot of noise when in use, but your cadence will generate noise when running at a higher speed. Also, since it's a 1.5 HP motor, you won't have to worry about a high electricity bill even if you use the machine daily.
Console
The Reebok A2.0 features a LED display console. It has three main sections that show distance, time/calories, and speed/pulse. As mentioned earlier, speed and distance are default set to metric units, but you can change them to English units in setup mode.
Also, the unit is not telemetric and does not have Bluetooth. Therefore, you have to hold on to the sensors integrated into the machine's front grips for the console to read and display your pulse.
The console of the Reebok A2.0 does not have online connectivity and is not compatible with any existing fitness apps. However, it has a pretty decent range of workout programs to keep you motivated. To begin with, it has 36 preset programs.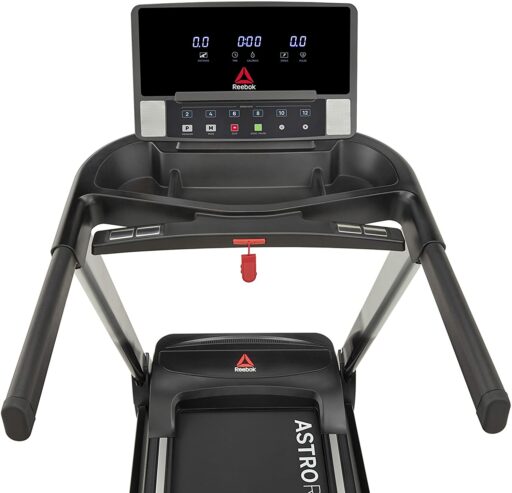 Depending on their segment layout, some are greater for stamina development, others for interval training, and others for improving cardiovascular health. Unfortunately, the console does not display each program's grid, but their layouts are in the manual.
Three custom user programs are also available on the console. These give you the possibility to create and save your workout. And finally, the machine offers a Manual mode and a BMI function. You can select targets for time, distance, or calories during the Manual mode. The BMI program calculates your body fat percentage based on your input data (gender, age, height, weight).
The console also integrates a tablet holder. This accessory consists of a shelf above the unit's controls. It is large enough to accommodate any tablet. The console does not have connectors such as a USB port or an AUX port for your console or smartphone.
A2.0 Assembly and Maintenance
Like most other treadmills, the Reebok A2.0 requires some user assembly, but the deck with the motor, belt, rollers, and other elements is pre-assembled. Therefore, you only have to attach the two upright bars, the two joint covers, the dashboard, and the console.
Therefore, it shouldn't take more than one hour of your time. The manual provides clear assembly instructions and schematics, and all the necessary tools come included with the machine.
It is advisable to keep the belt clean to prevent any textile fibers or debris from getting caught in the motor for maintenance.
The belt requires lubrication every 3 to 6 months, depending on how frequently you use the machine. It would also help if you periodically inspected the machine for loose bolts or damaged parts to re-tighten or replace them before any accidents can happen.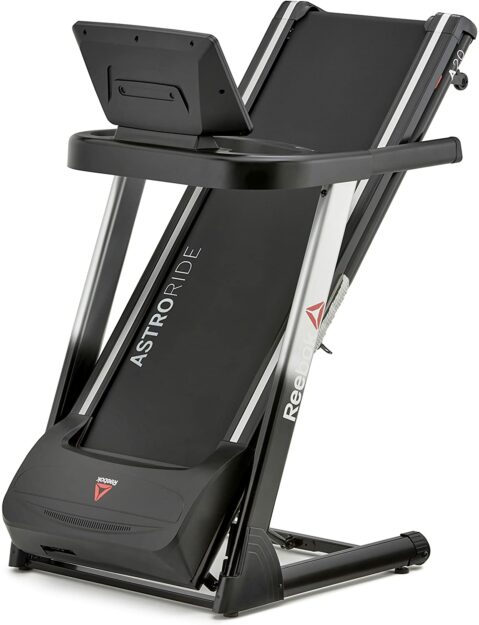 Pros
Sturdy deck – can support users up to 265 lbs;
Folding design;
Soft-drop unfolding mechanism;
Transport wheels;
Adjustable levelers on the front base;
AstroRide cushioning system integrated into the deck;
Manual incline with two levels of adjustment;
Speed settings up to 8.0 MPH;
Pulse reading function available;
Start/Stop and speed controls integrated into the handlebars;
Low power consumption;
LED display console which tracks time, distance, speed, calories, and pulse;
36 preset workout programs;
Three user programs;
Goal settings for time, distance, and calories;
BMI function included;
Tablet holder included;
Large accessory tray
Very easy to assemble;
Little maintenance is required.
Cons
No online connectivity;
A tablet placed on the tablet holder will (partially) cover the LCD.
Reebok A2.0 AstroRide Treadmill Summary
The Reebok A2.0 is a treadmill made for home use. It comes equipped with a 1.5 HP motor, speeds up to 8.0 MPH, a manual incline system with two positions, and an LED display console with 36 preset programs.
Moreover, it's a decent fitness machine, perfect for light to medium-intensity workouts, muscle toning, recovery training, stamina development, and weight loss. It's also an affordable treadmill, offering excellent value for the price.
I hope you found this article helpful and informative. Would you please speak up if you have anything you'd like to share on the topic or any opinions about my website? I look forward to your comments, questions, and the sharing of ideas.
Please note: Before starting any exercise program, you should consult your physician to determine if you have any medical or physical conditions that could put your health and safety at risk or prevent you from using the equipment properly. In addition, your physician's advice is essential if you are taking medication that affects your heart rate, blood pressure, or cholesterol level.