The SNODE Magnetic Rowing Machine will help you shape your body, lose weight, enhance cardiopulmonary function, challenge your body's limit, and relieve stress without going outdoors. Also, the compact rowing machine is easily assembled and stored. The assembled dimensions are  79×19.3×32.3 inches (201×49×82cm), and the folding size is 36×19×51 inches (92×49×129cm).
The SNODE S600 has 12 levels of manual magnetic resistance. Turn the knob to achieve the resistance you need quickly. The magnetic resistance and belt-driven system will provide you with a smooth and quiet workout.
Tracking your progress with SNODE Magnetic Rowing Machine is simple with the included fitness console. The LCD digital screen will display real-time data, including time, count, calories, total count, and distance while exercising.
The SNODE S600 rowing seat is designed with an ergonomic shape and has a soft surface. It will help you keep your body stable and feel comfortable while rowing for a long time rowing. Also, the foot pedals come with a safety strap to firmly hold your feet in place. The handlebar comes covered with soft and non-slip foam, which can protect your palms.
Learn more in my complete review below!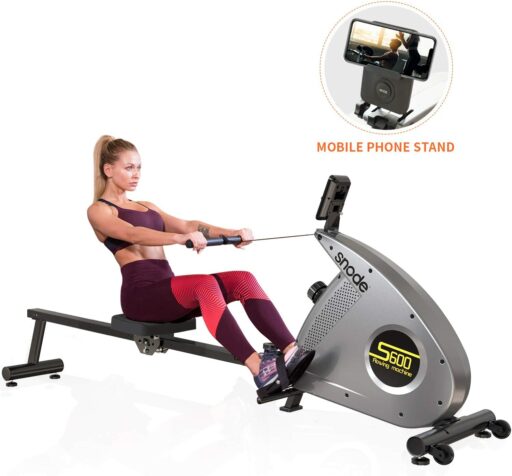 Product: SNODE Magnetic Rowing Machine
Price: For a great deal on this rower, merely go here on Amazon
Warranty: 1 year limited
My rating: 8/10
Affiliate Disclosure: As an Amazon Affiliate Program participant, I earn commissions on purchases made through links in this post. Full disclosure
Details and Specifications
Assembled dimensions: 79L x 19W x 32H inches (201L x 49W x 82H cm)
Shipping weight: 64 lbs (29 kg)
Weight capacity: 250 lbs (113 kg)
Frame: Steel
Resistance type: Magnetic, 12 levels
Extras: Device holder
Console: Time, count, total count, distance, calories, scan
Warranty: 1 year limited
S600 Frame construction
The SNODE S600 features a steel frame, combining rectangular and cylindrical tubes in its construction. Although its structure is steel-made, it is pretty light. With all the parts assembled, it only weighs approx 60 lbs (27 kg).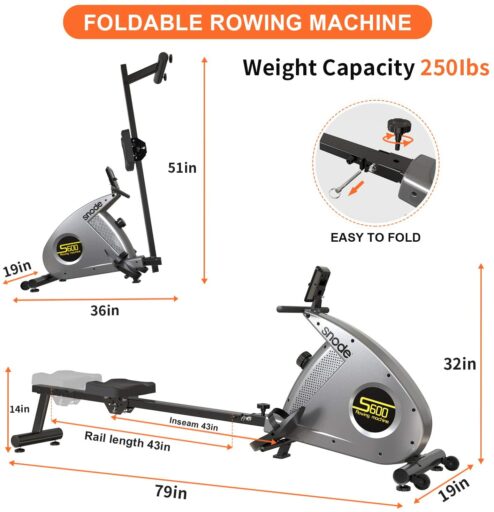 Therefore, it is easily carried and assembled by only one person. Plus, its front base features a set of large silicone wheels, which considerably ease the assembled unit's relocation.
All the steel parts within the machine's frame come coated with a corrosion-resistant paint finish. The color used is black for the frame, while the ABS covers the drive, and resistance elements are metallic gray, with the "S600″ model number in yellow. Unfortunately, these are the only colors available for this rower (at least for the moment).
The fully assembled rower measures approx 79″ (201 cm) in length and 19″ (49 cm) in width. Its highest point is the top of the console, which reaches approx. 32″ (82 cm) above floor level.
It is a folding rower, though. Its rail with the seat is foldable to save space when it is not in use. With the rail folded up, its length reduces to approx. 36″ (91.4 cm), while its height becomes 51″ (~130 cm).
The machine's rail provides approx. 43″ (109 cm) of travel for the seat. Thus, the SNODE S600 can accommodate users up to 6'5" (196 cm) with no problem, allowing a complete leg extension. The rail and the seat assembly are also durable enough to support users up to 250 lbs (113 kg).
Both base bars of the machine come with adjustable levelers so you can correctly stabilize them on any floor. They also have large rubber pads to provide a better grip on a slippery floor if it's the case.
Seat and other parts
The SNODE S600 rower comes equipped with a pretty comfortable seat made of high-density foam. It is approx. 10″ (25.4 cm) deep and 12″ (30.4 cm) wide, so it provides plenty of contact surface. It is also contoured to ensure better positioning for the user.
The base of the seat is steel, similar to the rest of the frame. It integrates three sets of rollers. Two of them are placed above the rail, while the third is underneath it for extra stability.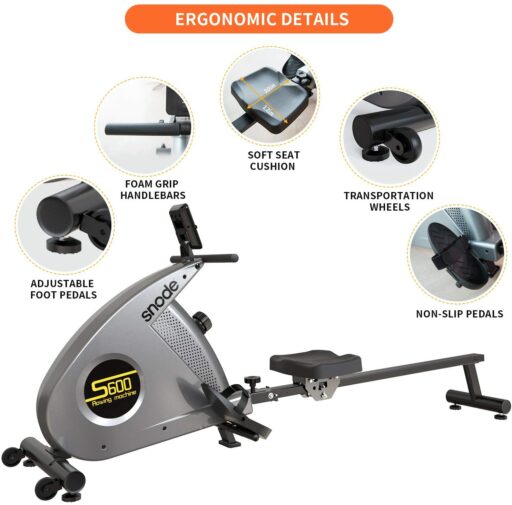 All the rollers integrate industrial-grade sealed steel ball bearings for smooth seat movement. They also have a rubberized outer layer for reduced noise.
The machine's rail is slightly oblique, inclined forward by several degrees. This means that the recovery motion is faster, and the machine provides a somewhat more consistent workout for the legs. Also, in case you're wondering, the rear stabilizer provides a maximum elevation of approx—14″ (35.5 cm) for the seat.
The SNODE S600 comes equipped with two large footrests made of durable plastic material (probably polypropylene). They have a textured, non-slip surface, heel guards, and adjustable straps for maximum foot stability. In addition, they feature a pivoting design. However, they also have rear stoppers, so they can't tilt backward for more than approx—50 °.
The rower's pulling handle consists of a short straight bar. It does not integrate any resistance controls or pulse sensors like the more expensive commercial rowers. However, its grips have a layer of rubber foam material for improved comfort.
The pulling handle is attached to a heavy-duty, abrasion-resistant nylon strap. Therefore, it generates less vibration during rowing than a chain. It also doesn't require lubrication.
S600 Resistance system
The SNODE S600 is a full-magnetic rower. In other words, it doesn't have an integrated fan or any water resistance elements.
Its resistance system consists of a mechanical, magnetic brake that connects to the tension knob on the machine's front unit. By turning this knob clockwise, the brake moves closer to the internal flywheel, which increases the workout load.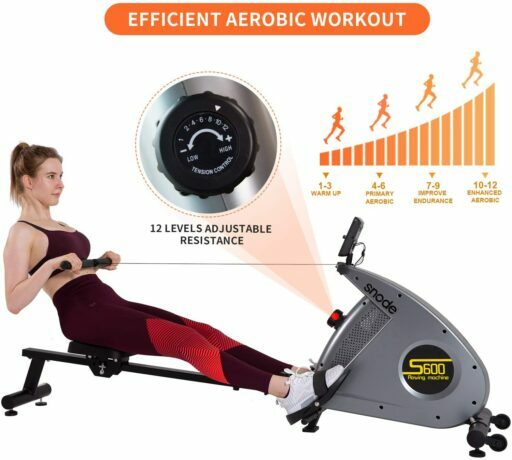 This SNODE rowing machine makes available 12 levels of resistance. The first few levels deliver a reasonably light workout load, great for stamina development, muscle toning, and a prolonged workout.
Conversely, the 12th tension level provides considerably more resistance, great for anyone who wants to push their limits or reach a high cardio rate in a short period.
The machine's resistance system is entirely manual. This means you don't need a power adapter for your rower. But on the other hand, the performance computer only tracks your workout metrics; it does not have pre-set workout programs and automatically adjusts the resistance.
It's important to mention here that the machine does not generate a dynamic response during rowing. This means that the resistance remains constant throughout the rowing motion; it is not affected by the strength you put behind each stroke, as is the case for an air resistance rower or a water resistance rower.
Nonetheless, the machine still provides a very consistent, full-body cardio workout. The only difference is the rowing feel, closer to rowing a real boat for an air rower or water rower.
On the other hand, since it's full-magnetic, the SNODE S600 rower generates almost no noise during usage. The brake and all the other resistance elements do not touch. There is no friction, so the only sound you can barely hear is the seat's movement.
Console
The SNODE S600 comes equipped with a fitness console. This means it doesn't have any workout programs, nor it offers online connectivity. Instead, it features an LCD (without backlight) and tracks time, count, total count, calories burned, and distance traveled.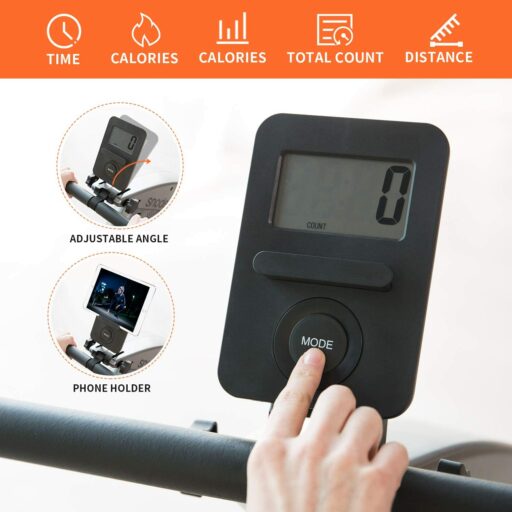 It is not telemetric and has a pulse reading function, so it cannot communicate with a wireless HR chest strap. Thus, if you want to monitor your pulse during workouts, you must use a separate device.
The console is straightforward to use. It only has one button. By pressing the button repeatedly, you can select any of the workout metrics to view at all times. You can also set the Scan Mode, which rotates all the workout metrics showing each one for a few seconds.
The console is battery-powered. It uses two AAA batteries. It starts up when you begin rowing or when you press the button. Additionally, it automatically turns off after a few minutes of inactivity on the machine to save the battery.
One last feature to mention here regards the device holder integrated into the console. This accessory consists of a small shelf on which you can place your smartphone or tablet. However, the unit does not offer any connectivity for your device. For example, it doesn't have a USB port or an AUX port.
S600 Assembly and Maintenance
The front unit of the rower with all the drive and resistance elements comes pre-assembled. You only need to attach the rail to it, the front base bar, insert the seat onto the railing, add the rear stabilizer, and connect the performance console.
This shouldn't take more than 30-40 minutes of your time. The manual provides all the necessary instructions. A set of essential tools also comes included.
For maintenance, the internal parts don't need any lubrication. So, all you have to do is keep the machine clean, especially the monorail, and periodically check for loose or broken parts.
Pros
Sturdy frame for a home-use machine – can hold users up to 250 lbs;
Folding rail and aesthetic design;
Large transport wheels on the front base;
Adjustable stabilizers on both base bars;
Large, padded seat for improved comfort;
Relatively long rail – can accommodate users up to 6'5″;
Pivoting footrests with adjustable straps;
Quiet magnetic resistance with 12 distinct levels;
Fitness console included – it tracks time, count, total count, distance, and calories burned;
Device holder included;
Easy to assemble;
Little maintenance is required.
Cons
The LCD does not have a backlight;
The console does not have goal settings or programs;
No pulse reading function.
SNODE Magnetic Rowing Machine Summary
The SNODE S600 is a standard manual-magnetic rower made for home use. It features a sturdy steel frame with a long rail and a user weight limit of 250 lbs, 12 levels of magnetic resistance, a relatively large and padded seat, and a console that tracks time, count, total count, distance, and calories burned.
Also, its rail is foldable to save space. Finally, it's a decent trainer for a full-body cardio workout, stamina development, muscle toning, and weight loss.
I hope you found this article helpful and informative. Would you please speak up if you have anything you'd like to share or any opinions about my website? I look forward to your comments, questions, and the sharing of ideas.