The Sole R92 Recumbent Bike has genuinely revolutionized the way we experience the budget recumbent exercise at home. The Sole Fitness R92 recumbent exercise bike is a mid-range comfortable, and durable machine that's going to stand up hours of workout daily for multiple users.
The R92 has a forward and backward adjustable seat that allows the users between 5.3 – 6.4  height to find the correct seated position to work out. The adjustment is made with an easy to reach lever located on the left side of the seat. You can adjust the seat while seated and don't need to get up.
Sole Recumbent Bike R92 features a maintenance-free quiet belt drive combined with Eddy Current Magnetic Resistance (ECR).  There are 20 resistance levels easily adjustable through the controls on the console. The combination of the belt and ECR technology brings a quiet and smooth ride, especially when it's combined with a 20-Lb flywheel.
With a backlit 9-inch LCD, this Sole recumbent exercise bike provides an engaging workout. The Sole R92 recumbent bike features Bluetooth connection capability. It allows you to connect with the virtual environment to fitness Apps such as Sole and other compatible Apps.
Learn more in my complete review below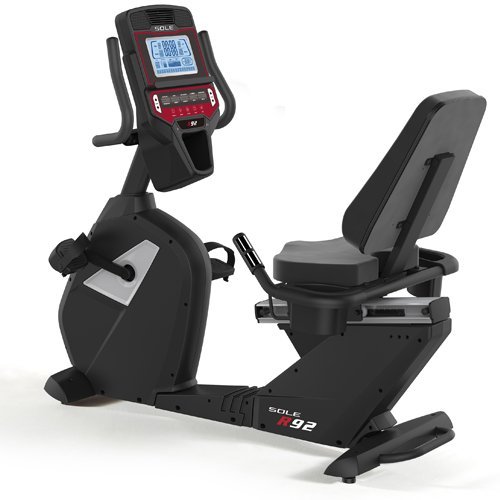 Product: Sole R92 Recumbent Bike
Price: For a great deal on this bike, merely go here on Amazon
Warranty: Frame lifetime / Parts 3 years / Electronics 3 years / Labor 1 year
My rating: 9/10
Amazon Affiliate Disclosure: I may earn commissions from purchases made through links in this post.
R92 Frame
The Sole Fitness R92 exercise bike features a robust steel frame with aluminum / plastic shrouds for a compact design. The bike has a sturdy construction, is rated for users up to 325 lbs (147 kg). The frame and seat themselves can withstand users of higher capacity. However, depending on a user's body shape, the distance between the recumbent handlebars may not be full enough.
Compared with other fitness machines, such as the Sole E95 elliptical trainer, for example, this recumbent bike is not that large. Its footprint is 57″L x 30″W (145 x 76 cm) and should fit even into a smaller room. It's a rather heavy piece of equipment, though, weighing 152 lbs (69 kg).
Thus you might need another person to help you to carry, unpack, and assemble it. Weight adds to its overall stability, though. In other words, the bike won't rock or tip even if the user is pretty close to the maximum supported capacity, and engages in a more consistent workout.
On top of that, both bases of the bike come with adjustable levelers. Thus you should be able to stabilize it entirely even on irregular surfaces. Stabilizers are finished with rubber caps to prevent any damage to the floor.
The front base features transport wheels, and the rear base incorporates a handle to facilitate the tipping of the bike forward on its wheels for more comfortable relocation. Both stations have plastic covers, which add to the compactness of the bike. The frame has quite a sleek, professional aspect, which can always serve as a significant motivating factor to workout on it.
Seat and comfort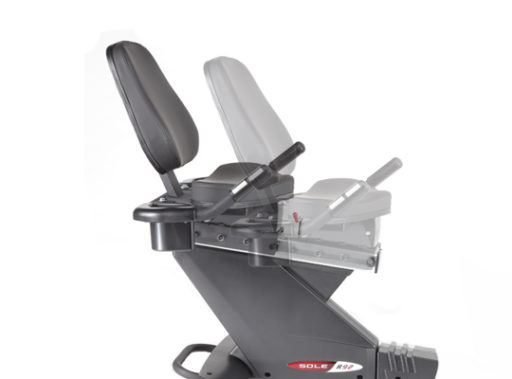 The Sole R92 exercise bike comes with a contoured seat, with foam cushioning, offering a grade of satisfaction similar to an armchair. The backrest, although non-adjustable such as the one equipped on the Diamondback 510sr, supplies excellent support without cutting at your shoulder blades, promoting a comfortable posture, yet a firm back support.
Also, the angle of the backrest enables it supports quite an essential part of the weight of your upper body, relieving some of the stress on the lumbar and pelvic area. Differently said, the seat is designed to accommodate the user's upper bodyweight uniformly.
Thus, you can be sure that this bike is an excellent choice for just about anyone with back problems, recovering from various related injuries, or elderly users. The fabric on the seat and backrest is synthetic leather, pretty thick and resistant to wear and tear.
The seat is adjustable. It features an optical rail with 14 adjustment positions. The distance between the adjustment locking positions is approximately 1 inch. In other words, this bike is adequate for a wide range of users when it comes to height.
It's viable for users as short as 4'8″, and up to 6'5″ (142 – 195 cm). Taller users can also use the bike, but they may not benefit from a full leg stretch, and this may harm their overall workout.
Last but not least, the recumbent handlebars are attached to the seat. They move with the seat when you adjust it, but they are not angle-adjustable. The handlebar assembly incorporates two cup holders, one on each side. The angle of the hand-grips is roughly 45°, and they have integrated pulse sensors.
R92 Resistance and drive systems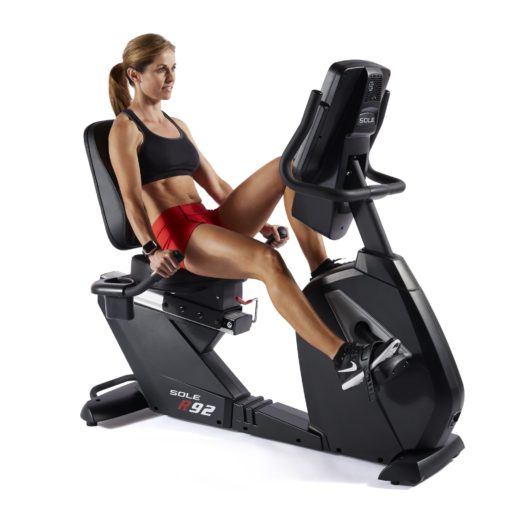 The Sole R92 recumbent bike features an electronically assisted magnetic resistance system. This means the resistance is only adjustable from the bike's console. Since the bike has several onboard workout programs, these will automatically change resistance.
Of course, since the brake system involves magnets, the resistance generating elements (the flywheel and the magnetic brake pads) do not touch. Therefore, there's virtually no wear and tear concerning these parts. Also, due to this fact, the bike is unusually quiet, and the pedaling motion is smooth, without any jarring or dragging feel.
The bike features 20 levels of resistance, offering a more extensive array of training possibilities. The highest resistance settings provide quite a workout, simulating a rather steep climb. Since it features an advanced console and an eddy current brake, it requires a connection to a 120 VAC power circuit.
It comes with an adapter, but this bike model does not feature an ON/OFF switch. To turn it off, you have to unplug it. Also, in case you're wondering, this bike is not self-powered. To benefit from the resistance, you have to plug it in.
The bike's drive system is belt-powered, involving a heavy-duty belt, and a solid crankset that sets the flywheel in motion. The wheel weighs 26 lbs (11.7 kg), pretty heavy for a recumbent bike, supplying a steady and consistent momentum, and eliminating the "stair climbing" effect, which some bikes feature.
The bike features a rather narrow Q factor for an exercise bike, similar to the Q factor in most mountain bikes. The crank arms come with weighted, self-adjusting pedals with toe straps.
Console
When it comes to the fitness functions of the console unit, the first aspect to mention is that it can track time, distance, speed, calories, watts, RPM, and pulse. There are six regular workouts on the console, including Manual, Hill, FatBurn, Cardio, Strength, and Interval, each one having its right key. Two heart rate oriented programs are also available.
However, the console also offers two custom user profiles, which give you the possibility to configure your workout programs and save them for future workouts. For the Manual and custom user modes, the console gives you the option to insert data such as your age and weight, to quantify your values with higher accuracy.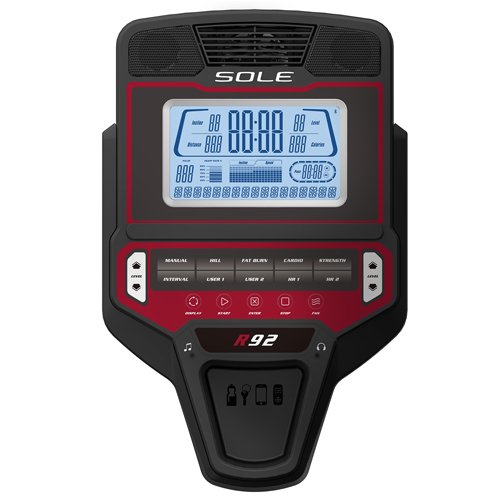 The console unit of this bike features quick keys and keys for the gradual adjustment of the resistance. There's also a Stop button for times when you need to interrupt your workout.
And lastly, the console is telemetry enabled, meaning that it can read pulse via a heart rate chest strap. An HR chest strap is (included) with the bike.
R92 Amenities
The bike's console is quite multifunctional, including several other accessories, apart from the performance computer. First of all, its angle can be adjusted, featuring several positions, meant to offer better visibility of the screen.
The upper part incorporates a sound system, consisting of two speakers, and a cooling fan with a one-speed setting. The sound rendered by the speakers isn't extraordinary sharp. They can't compare to the speakers of a dedicated sound system.
However, these give you the possibility to exercise while having your music close, and without using headphones or earplugs, which may become uncomfortable or even unbearable during exercising. The front part of the console has a port for your MP3 player, phone, or tablet.
The console also has a compartment for small accessories, such as keys, remote control, or phone. Above the workout keys, there's a tablet or magazine rack, pretty insignificant but useful accessory. Therefore, you can watch a movie on your tablet while exercising or browse the web.
R92 Assembly and Maintenance
The Sole R92 is a rather heavy bike, and you may need another person to help you with the unboxing and assembly process. Most of the frame comes already assembled. You do, however, have to attach the seat, backrest, pedals, bases, the cosmetic covers for the bike's stations, the console mast, seat and mast handlebars, and finally connect the console.
The assembly process is far from being complicated, though. It shouldn't take more than one hour. The box includes a well-written, step-by-step assembly manual and all the tools for this task.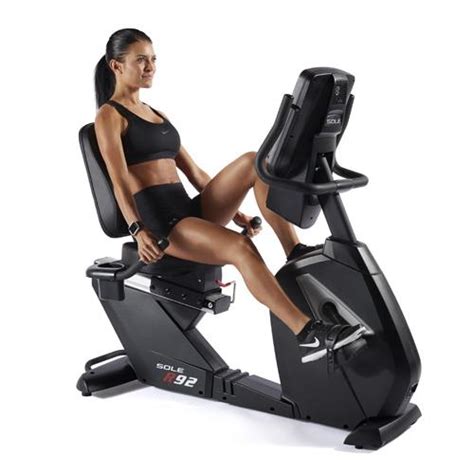 The bike pretty much doesn't require any maintenance. All you have to do is remove the dust that may accumulate on it. Also, make sure all the bolts and nuts hold tight in place.
Technical Details and Specifications
Assembled dimensions: 57L x 30W x 50H inches (144.7L x 76W x 127H cm)
Assembled weight: 152 lbs (69 kg)
Flywheel weight: 26 lbs (11.7 kg)
Supported weight: 325 lbs (147.4 kg)
Handlebars: With pulse sensors
Seat: Foam cushioning, contoured, adjustable
Pedals: With Straps
Brakes: Eddy current
Resistance: Adjustable, 20 levels
Performance computer: 10 workout apps
Bottle/accessory holder: Yes
Speakers: Built-in console
Fan: Built-in console
Warranty: Frame lifetime / Parts 3 years / Electronics 3 years / Labor 1 year
Pros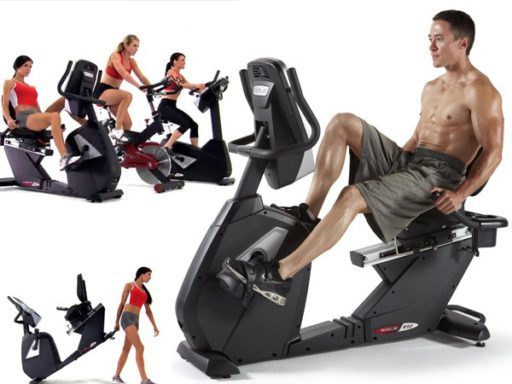 High-quality, sturdy frame, able to support users up to 325 lbs;
Superior aesthetics;
Superior ergonomics;
Cushioned seat and backrest;
Highly resistant material on the seat and backrest;
Adjustable seat, accommodating a wide range of users;
Pulse sensors;
An HR chest strap included;
Eddy current brake, for smooth and consistent resistance;
20 levels of resistance;
Self-leveling pedals, with straps;
Multiple accessories, including bottle holders, accessory holders, tablet rack, sound system, fan;
Ten onboard programs, including six standards, two custom user, and two heart rate;
Quiet bike;
Fairly easy to assemble;
Excellent warranty plan.
Cons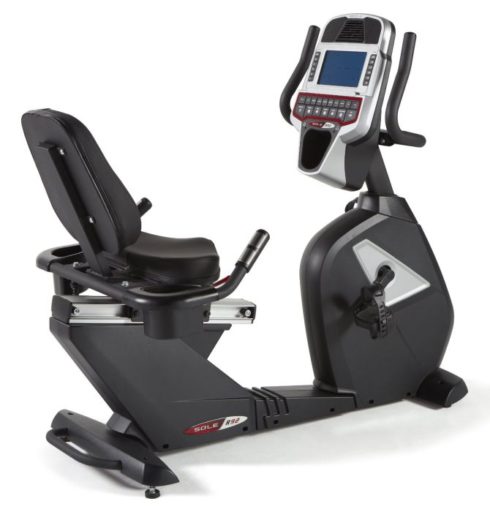 Sole R92 Recumbent Bike Summary
The Sole R92 may not exactly be the most affordable recumbent bike out there. However, quality rarely comes cheap. This model has an excellent price/quality ratio and offers a range of features pretty close to commercial-grade bikes.
It's a great fitness machine for a light and medium cardio workout, easy on the joints and back, also being a well-constructed exercise bike with high ergonomics and aesthetics. It's a perfect choice for anyone who needs to get back into shape, lose weight, build stamina, or undergo a recovery training regimen.
I hope you found this article helpful and informative. If you have anything that you'd like to share or opinions about the content on my site, please do speak up. I look forward to your comments, questions, and the sharing of ideas.
Recommended articles:
Please follow and like us: