The Sunny SF-B2721 Comfort XL is a lightweight, compact, and foldable upright- semi-recumbent belt-driven exercise bike with magnetic resistance and a modern design. It is suitable for users of different fitness levels at home and not in commercial gyms.
The Sunny SF-B2721 Comfort XL is a unique entry-level upright bike because of its reclining designed seat and its affordability. However, this bike has many more features, making it difficult not to have a second look. It is indeed a bike without hype, and I will explain why in this review.
You will feel comfortable on the large, padded seat with a backrest during your long sessions. It is sturdy and durable, with a decent user weight capacity of 300 pounds. It runs smoothly and quietly, and your ride will feel stable with the smooth and durable belt drive. Furthermore, it will help you be stronger, healthier, and have more energy.
It comes equipped with ten levels of adjustable magnetic resistance with a convenient tension knob on the smooth 3.3-pound flywheel on this excellent and high-quality upright semi-recumbent bike. In addition, it comes with a small LCD-backlit fitness monitor that indicates the distance, speed, time, calories, ODOmeter, Scan, and pulse rate.
Learn more in my complete review below!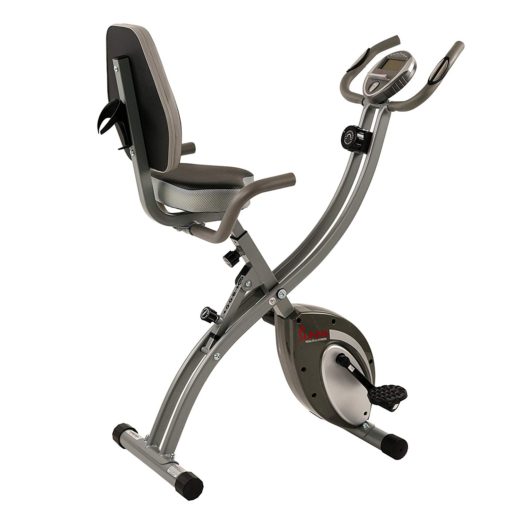 Product: Sunny SF-B2721 Comfort XL Folding Upright Bike
Price: For a great deal on this bike, merely go here to Sunny Health & Fitness.com
Warranty: Frame 3 Years / Parts 180 days
My rating: 8.25/10
Affiliate Disclosure: As a Sunny Health & Fitness Affiliate Program participant, I earn commissions on purchases made through links in the post. Full disclosure
Details and Specifications
35'' Length
21'' Width
50'' Height
12″ Length (folded)
20″ Width (folded)
57″ Height (folded)
Supports up to 300 pounds maximum user weight capacity
Weighs 38 pounds / 17 kg
3 pounds flywheel
Belt drive system
Magnetic resistance system
Adjustable Inseam height 22 inches min. / 28 inches max.
Fitness Monitor tracks time, speed, distance, calories, Odometer, and heart rate
Warranty: Frame 3 Years / Parts 180 days
SF-B2721 Frame Construction
The Sunny SF-B2721 Comfort XL Folding Upright Bike provides maximum comfort while you work out to achieve your fitness goals. It is incredible how it is incorporated with valuable features and portability without compromising the quality of support and exercises it provides.
The Sunny SF-B2721 foldable design reduces the length size to more than half the original assembled size. Its constructed dimensions are 35 inches long by 21 inches wide by 50 inches tall. The folded dimensions are 12.5 inches long by 20 inches wide by 57 inches tall.
Thus, it does not take up space when fully assembled and even takes less space when folded up. In addition, it comes with two stabilizer bars designed to enhance its stability. One is at the rear base, and the other is at the front base. Each has protective rubber caps on each end.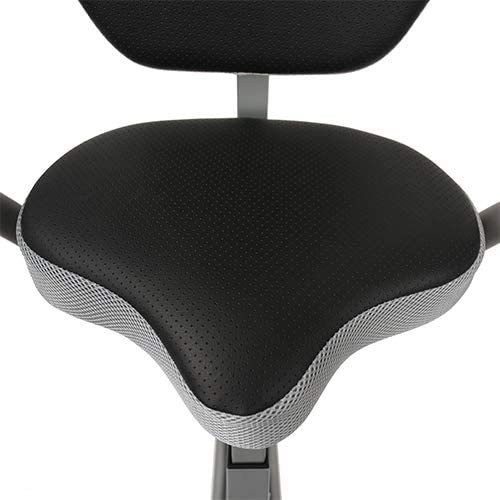 The steel parts of the bike come with anti-corrosion and scratch paint that prevents rust and scratches. However, it is essential to note that this bike is designed for indoor use only. Thus, avoiding damage to the machine and console.
It integrates with 3.3 pounds flywheel that provides smooth and consistent motion. In addition, it's 300 pounds maximum user weight capacity, which is impressive considering it is a compact machine.
Seat
The seat, handlebars, and pedals are the elements that ensure the Sunny SF-B2721 Comfort XL Folding Recumbent Bike provides optimal comfort, and that depends on the overall design.
The seat is an extra-large recumbent-styled seat compared to other folding exercise bikes. The cushioning and padding of both the seat and the backrest are extra-large. The manufacturer rightly pointed out that the seat relieves the tailbone's pressure points due to prolonged sitting.
SF-B2721 Handlebars
There are adjustable side handles/armbars on each side of the seat, which support pushing or pedaling harder during a workout while you sit back. Its adjustability also allows you to mount and dismount the bike quickly.
You're able to adjust the seat up to 3 recline levels. It provides multiple workout positions with a minimum inseam of 22 inches and a maximum of 28 inches. The seat is also adjustable vertically, which is the chance to accommodate different users.
The handlebars have a rubber/foam material designed to provide a comfortable grip and prevent slippage due to sweaty palms and blisters in the palms. In addition, each time you grip the integrated pulse sensors in the handlebars, the console monitors your heart rate data.
Drive and Pedals
The Sunny SF-B2721 Comfort XL Folding Semi-Recumbent Bike has a belt drive system known for operating without generating noise. It's equipment for workouts at home, school, and the workplace. You won't disturb others during workouts, and you can conveniently watch your favorite TV show or listen to good music.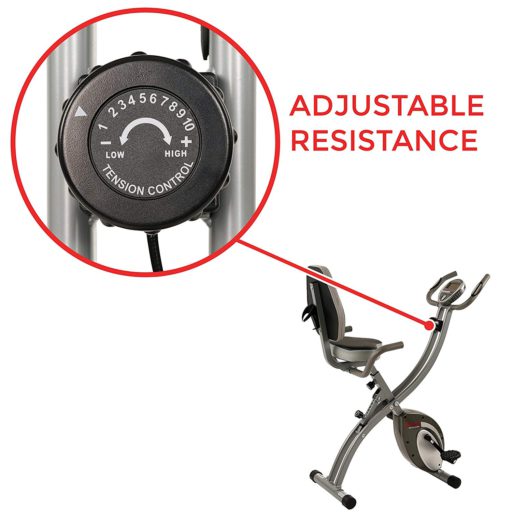 The belt drive system with the 3.3-pound flywheel provides a remarkably smooth and quiet workout experience.
The pedals have an adjustable safety strap to secure your feet and prevent accidents during vigorous workouts.
SF-B2721 Resistance System
This foldable bike features a manual magnetic resistance system with ten adjustable levels. The resistance levels are adjusted manually via the tension knob specified with resistance levels 1 to 10.
The adjustment is simple: you can increase or decrease the resistance level by turning the tension knob clockwise and anti-clockwise. In addition, the Sunny SF-B2721  presents you with a challenging workout experience. You'll be able to engage multiple muscle groups to achieve your fitness goals.
The magnetic resistance system doesn't require you to maintain or replace any part of the resistance system due to tear and wear. Therefore, it is maintenance-free.
Console
The Sunny SF-B2721 XL Comfort Folding Bike features a handy fitness monitor for your workouts and achieving your fitness goals. You'll be able to track your workout progress by viewing data such as the time, speed, distance, calories burned, Odometer, and Pulse through its monitor.
The monitor provides high-quality readability. However, it is not a backlit design. The monitor only has one button responsible for the setting of the LCD. You can view all the workout metrics one at a time using the SCAN function, or you may wish to have a specific metric display.
The ability to see your heart rate data is essential as it enables you to maintain your target heart rate zone.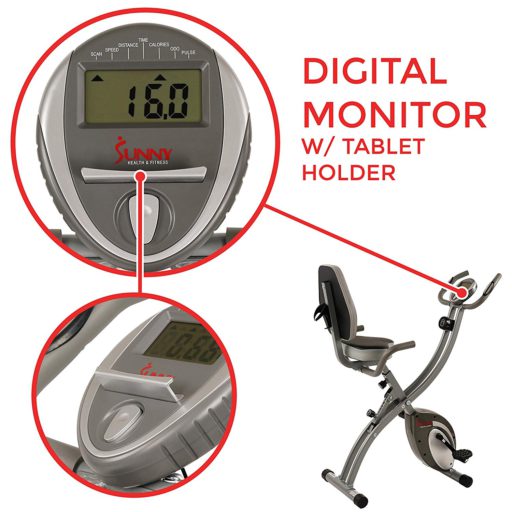 The monitor is battery-operated and requires two AA batteries that come with the bike. The power automatically turns off when there is no bike activity 4 minutes to save battery lifespan. It also turns on when there is an activity by pedaling the bike.
SF-B2721 Storage
The storage process of the SF-B2721 Folding Bike is straightforward and convenient because of its foldable design. Furthermore, the transport wheels facilitate the relocation of the unit. Moreover, it is a lightweight machine that weighs about 38.5 pounds, approximately 17 kg.
Shipping, Assembly, and Maintenance
The shipping cost of the Sunny SF-B2721 XL Comfort Folding Semi-Recumbent Bike depends on the retailer. However, Amazon provides free shipping and usually delivers within 2 to 3 days of the order.
The assembly of the unit is a straightforward process. It comes assembled except for a few parts that require attaching, such as the stabilizer bars, the fitness monitor, the handlebars, the seat, and the pedals.
The instruction manual will walk you through the process of assembly.
Thus, this is a maintenance-free folding bike that only requires a routine check. Other than that, always keep clean from dust and sweat.
Pros
Sturdy and well constructed to support up to 300 pounds /136 kg;
Very affordable;
It has an extra sizeable recumbent seat that is well padded and cushioned with arm support on each side;
The seat is vertically adjustable, that is, upward/downward;
The seat also has three levels of recline adjustments;
It has a fitness monitor with LCD that allows you to track your workout progress;
Pulse sensors embedded in the handlebars;
Its dimensions are 35 inches long by 21 inches wide by 50 inches tall and foldable with dimensions of 12.5 inches long by 20 inches wide by 57 inches tall;
It features a manual magnetic resistance system with 3.3 pounds flywheel that provides quiet, smooth, and consistent resistance operation;
Ten levels of magnetic resistance;
It integrates with a belt drive system;
A lightweight machine that weighs 38.5 pounds /17 kg;
Transport wheels for the smooth relocation process;
Water bottle and phone holders available;
Very easy to assemble.
Cons
Not the ideal bike for any serious and advanced user;
The water bottle holder is difficult to reach;
Your phone blocks the LCD when placed on the holder.
Sunny SF-B2721 Comfort XL Folding Upright Bike Summary
Anyone that is on a budget will appreciate the value-orientated price. However, you will still be able to achieve your physical health goals in the convenience and comfort of your home. Therefore, there isn't any reason not to recommend this bike. The Sunny Health & Fitness SF-B2721 Comfort XL Folding Upright Bike is the right choice.
I hope you found this article helpful and informative. Would you please speak up if you have anything you'd like to share on the topic or any opinions about my website? I look forward to your comments, questions, and the sharing of ideas.
Please remember that you should consult your physician to determine if you have any medical or physical conditions that could risk your health and safety or prevent you from using the equipment properly. In addition, your physician's advice is essential if you are taking medication that affects your heart rate, blood pressure, or cholesterol level.