The Sole S77 Non-Folding Treadmill is for the fitness enthusiast who wants all the features of a gym treadmill at home. As a result, it's easier than ever to integrate your favorite devices and get the challenging workout you thought was only available at the gym.
With a running area size more suited to commercial club-quality machines, including the Cushion Flex running deck system, the Sole Fitness S77 Non-Folding Treadmill has several features that make it the ideal choice for serious and casual runners alike.
The Sole S77 is a durable treadmill with a long-lasting belt, a large running area, and high weight capacity. It withstands daily usage, and though there aren't a lot of high-tech frills, this machine's powerful 4.0 CHP motor will keep you running strong for many years to come.
Learn more in my complete review below!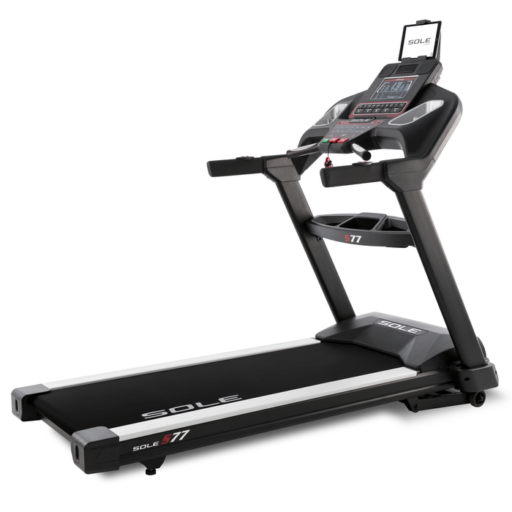 Product: Sole S77 Non-Folding Treadmill
Price: For a great deal on this gym, merely go here on Sole Fitness.com
Warranty: Frame Lifetime / Motor Lifetime / Deck Lifetime / Electronics 5 years / Labor 2 years
My rating: 9.5/10
Affiliate Disclosure: As a participant of the Sole Fitness Affiliate Program, I earn commissions on purchases made through links in the post. Full disclosure
Details and Specifications
Dimensions: 58″ H x 36″ W x 82″ L
Item Weight: 258 lbs.
Weight Capacity: 400 lbs.
Motor: 4.0 HP, DC Type
Speed: .5 – 12 mph
Incline: 15%
Decline: No
Workout Display: 10.1″ TFT LCD
Running Surface: 22″ X 60″
Rollers: 2.75″
Box Dimensions: 84″ X 38″ X 17″
Step Up Height: 8″
Warranty: Frame Lifetime / Motor Lifetime / Deck Lifetime / Electronics 5 years / Labor 2 years
S77 Construction
The Sole S77 non-folding treadmill is for intensive conditioning, so it works well for high-volume training or multi-user households. The steel side and cross beams support the deck, while powder-coated uprights, steel handrails with a spongy overlay, and a reinforced console keep the top end sturdy.
Additionally, both the S77 chassis and motor are commercial grades. Finally, the S77 features Sole's Flex Whisper deck, allowing extra travel underfoot as you run. For instance, this reduces impact shock by 40% so that you can run harder for longer without impact injury or fatigue.
You can walk, jog, or run on the S77, supporting more significant users up to 400 lbs. Sole builds the S77 with a precision welded frame which enhances durability. In addition, the industrial quality frame uses an all-steel zinc-coated flywheel for a vibration-free running surface. The flywheel aids the motor to not overheating and requires less amp draw from your wall outlet.
This treadmill comes with heavy-duty steel construction, which lasts for a lifetime. It measures 77″ L x 36″ W x 58″ H, and the deck measures 30″ x 80″.
The vast running space measuring 22″ x 60″, a two-ply belt, and 2.75″ rollers make it comfortable for any runner. Though primarily built for runners, it also suits the requirements of walkers. It weighs 265 lbs and has a capacity of up to 400 lbs user weight.
Deck
Sole's proprietary Cushion Flex Whisper Deck system allows for extra travel under the deck to absorb impact. Sole claims this reduces foot impact by 40% compared to outdoor surfaces. While the S77 provides shock absorption, it isn't as much as I expected. Sole's focus is strength and durability, which limits flex in the deck.
For some users, this added stiffness enhances the training value of the S77 since it more closely resembles outdoor surfaces. However, for those looking for extensive cushioning, it may not be as soft as expected. Running on the Cushion Flex Whisper deck is not uncomfortable, but it could be an issue for those who have joint or mobility issues.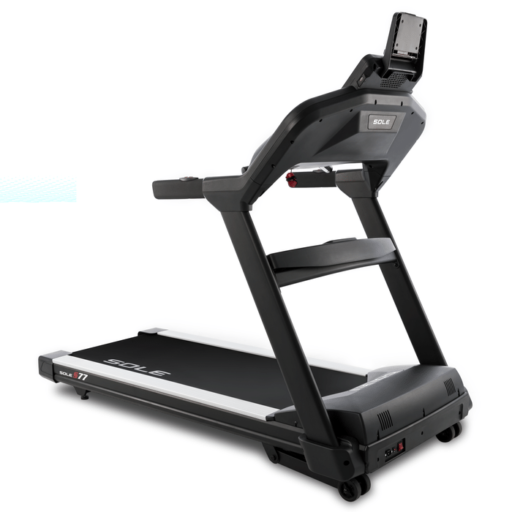 The 60″ long by 22″ wide running belt provides plenty of space. Moreover, you have plenty of room for a full forward stride and rear kickback. However, one issue we consistently have with Sole treadmills is the large motor hood on the front end of the deck. The motor hood protects the motor, and in folding machines, it is vital to have it on the front end.
The 2-ply belt has a gently textured surface and feels supportive underfoot. There is no slapping sound underfoot, and the belt nestles against the side rails as it moves along. The belt is wax-lubricated for reduced maintenance.
2.75″ rollers reduce the belt's friction and lengthen the belt and motor life since there is less heat and lower torque. In addition, the rollers have a sealed bearing design, and copper ground wires reduce static, creating a smooth, static-free motion that will stand the test of time.
S77 Drive Motor
The hearty 4.0 horsepower motor will support heavy training, interval work, and intense conditioning. In addition, the 4.0 HP industrial-grade motor has a large, heavy flywheel that helps reduce torque on the motor. As a result, the S77 works well in homes with dedicated runners who plan to use and train on it for hours at a time.
It also works well in homes with multiple users at different conditioning levels. The low step-up height makes it ideal for anyone with limited mobility or joint issues. The motor drives the overall performance of the treadmill by facilitating incline and maintaining and adjusting speed.
You can incline and change the speed at the same time without any lag from the motor. It is also surprisingly quiet — the most noise generated on the S77 is from foot impact, not the belt or motor. Thanks to the smooth operation of the motor, you feel very stable and don't have to grab the handrails for support during speed or incline changes.
Incline
The Sole S77 offers a 15% incline. Incline training helps strengthen the glutes and hamstrings to offset quad dominance and facilitate muscular balance in the lower body. Adding incline variability to a training regimen helps prevent overuse injuries and ensure muscular balance.
Studies evaluating caloric expenditure have estimated that users can burn up to 30% more calories when working an incline instead of a flat grade. You can walk and stay low-impact but still get a high-intensity workout on the S77. At a 0% grade, the S77 has an 8″ deck height, making it easy to step on and off.
S77 Console
The console on the S77 features a 10.1 TFT LCD that tracks speed, incline, 1/4 mile track, heart rate, calories burned, time, distance, and the current workout program. Furthermore, this is crucial for ensuring you're on the way to beating your previous workout, which is vital to improving your fitness.
The running belt will automatically adjust to your chosen setting by pressing either the quick-select incline or quick-select speed. Moreover, this improves the efficiency of your workouts and means you don't have to worry about holding down the 'up' and 'down' buttons that take much longer due to the smaller adjustment increments.
Despite not having a foldable running deck, you can still increase its incline by 15 degrees. These are easy to make thanks to the quick-select buttons on either side of the screen.
Although not quite as important as the range of incline or speed settings, having a fully functioning display console can help make your workouts more enjoyable.
Workout programs
Preset workout programs are essential if you prefer not to jump on the treadmill and start a workout without worrying about adjusting the resistance. The Sole Fitness S77 has ten programs built-in to the console, designed to help you achieve a specific fitness goal.
These break down into four main categories; manual, preset profiles, user-defined, and heart rate control. If you want to follow a specific routine that you've created, the preset profiles are the ones that will provide the most benefits to your training.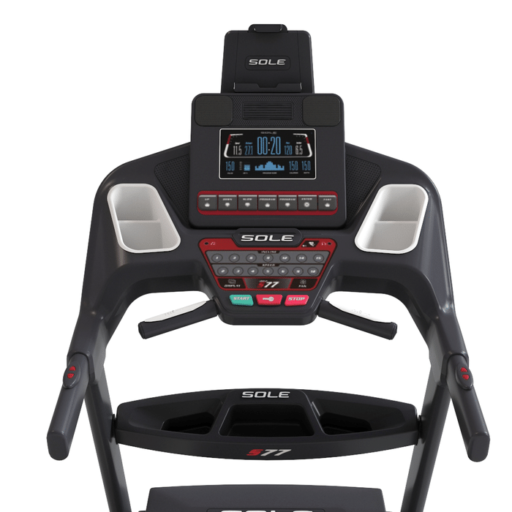 5 Preset Programs:
Hill: As the name suggests, this program simulates running up and down a slope by varying the deck's incline.
Fat Burn: Specifically designed by Sole Fitness to maximize the burning of fat, this program builds up to a set level of speed or incline (ideally keeping your heart rate at 60% to 70% of your maximum), then maintains a steady pace until the end of the workout.
Cardio: This program increases cardiovascular endurance by creating and maintaining a higher level of intensity using a combination of running belt speed and incline.
Strength: Like the Cardio program in the sense that it very quickly builds up to a high level of intensity, the Strength program differs by keeping your passion there rather than including slight fluctuations in work. Therefore, this helps to build and tone the muscle in your lower body.
Interval: You've probably already come across this type of workout due to its popularity, but the Interval program will switch between low and high workout intensity periods. For example, this works on the principle of depleting and then replenishing oxygen stores so that you can recover quickly after cardiovascular exercise.
The S77 also includes two heart-rate-controlled workout options, whereby the treadmill will display a heart rate zone graph on the console while adjusting the incline to keep you in your target zone.
Enhance Your Workout With STUDIO
Sole Fitness workouts are done for all levels and range from 10 minutes to 60 minutes. In addition, Sole utilizes heart rate metrics and data from your equipment across all of your workouts to help you exercise smarter.
Connect your Bluetooth-enabled Sole Treadmill, Elliptical, and Spin Bike to get real-time metrics such as Speed, Incline, RPM, and Power. Also, connect any Bluetooth Heart Rate Monitor to see real-time metrics of how your heart rate responds to workouts.
Train with the world's best instructors from the country's top fitness studios. Our instructors will motivate and push you to your next personal best in running, cycling, boxing, rowing, and more.
Give it your best and go toe-to-toe with other beginners or pros on STUDIO's community-powered leaderboard. Your position is determined by your heart rate, evening the playing field while pushing you to your next record.
Over 3,000+ boutique fitness classes led by leading fitness instructors, with more added daily. Pick up the pace with treadmill or outdoor runs, then switch it up for cycling, rowing, strength, boxing, and more.
You'll earn FITCOIN during every workout. The harder you push, the more you'll make. Redeem prizes, offers, and rewards with your hard-earned FITCOIN. You don't have to do it alone. Sweat with the community, connect, follow, and invite your friends to work out together.
S77 Amenities
This Sole S77 non-folding treadmill now includes an integrated tablet holder. Therefore, you can use your smart devices to watch shows or follow your workout routines.
The S77 provides an audio jack for connecting your MP3 player or smartphone, a headphone jack for listening to music via headphones, and even a set of speakers if you find the headphones restrict your movement when running.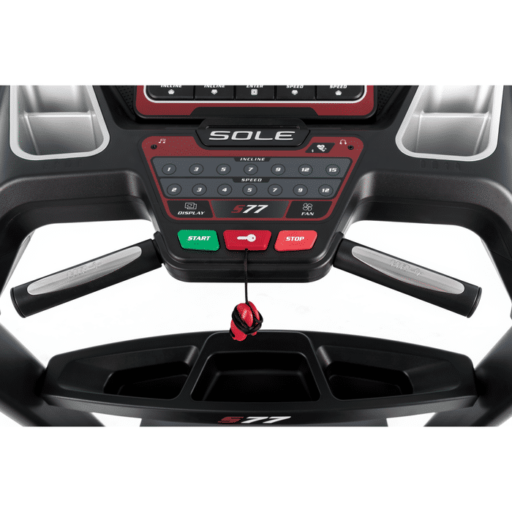 Moving away from entertainment options and more towards functionality, Sole has also built cooling fans into the top of the console. Although this may not seem like much, keeping cool while you work out has improved your performance and allowed you to run longer.
Assembly and Maintenance
The assembly instructions are well documented in the user manual, resulting in a faster setup. In addition, the entire treadmill deck comes pre-assembled for you before delivery; there's very little involved in completing the structure for the Sole Fitness S77.
With the running deck being responsible for most of the weight, you might find it helpful to have an extra pair of hands available to position this part where you need it. With the running deck in place, all required is to attach the uprights, connect the display console, and attach a couple of minor pieces, like the end caps and accessory tray.
If you can get the running deck to the position where you intend to use the treadmill and have all the parts unpacked in front of you, the assembly can take less than 45 minutes.
Maintenance requires the cleaning of the belt regularly with a damp cloth. As the treadmill uses a low-friction deck featuring a wax coating that should withstand up to 20,000 miles of use, it shouldn't require lubrication. Vacuuming under the deck is also necessary, as dust or pet hair accumulating underneath may block air inlets.
Pros
60″ long by 22″  wide 2-ply belt caters to the running stride of taller users;
Cushion Flex Whisper Deck reduces foot strike impact by 40%;
15% motorized incline;
The machine is sturdy and prevents any unwanted movement when running;
Precision welded frame;
Maximum user weight limit of 400 lbs;
4.0 horsepower DC motor;
The powerful motor means adjustments in speed are felt on the treadmill belt sooner;
Handrail speed and incline adjustment buttons;
10.1″ TFT display console with plenty of room for water bottle, MP3 player, etc.;
Ten workout programs to suit different fitness goals;
Bluetooth connectivity;
Includes wireless HR pulse strap;
Compatible with various fitness apps;
Audio jack for connecting your MP3 player or smartphone;
Device charging USB port.
Cons
Dual cooling fans tend to be relatively low-powered.
Sole S77 Non-Folding Treadmill Summary
With the design features of the Sole S77 treadmill, it should meet all of your expectations, particularly regarding the warranty. Some cardio machines only offer 90 days of coverage, whereas the S77 covers most of the more significant moving parts with a lifetime warranty.
The Sole S77 Treadmill easily earns positive reviews. It rivals commercial treadmills but costs much less. You'd be hard-pressed to find another treadmill with such a roomy track and high performance at this price. I recommend buying the S77 directly from Sole Fitness for the best overall value (cost, free shipping, and buyer protection).
I hope you found this article helpful and informative. Would you please speak up if you have anything you'd like to share on the topic or any opinions about my website? I look forward to your comments, questions, and the sharing of ideas.
Please remember that you should consult your physician to determine if you have any medical or physical conditions that could risk your health and safety or prevent you from using the equipment properly. In addition, your physician's advice is essential if you are taking medication that affects your heart rate, blood pressure, or cholesterol level.