The SOVNIA Fitness Indoor Cycling Bike comes equipped with a 35-pound (15.8 kg) bidirectional flywheel with a low-maintenance belt drive system. The thickened triangular steel frame of the bike accords its exceptional stability and sturdiness, and this bike has a maximum user weight capacity of up to 285 lbs (129 kg). As a result, it's a perfect indoor exercise bike for beginners and professionals.
The resistance knob allows you to apply emergency braking to halt the operation of the exercise bike. The medium-sized knob turns smoothly and is convenient to use while riding the bike. The brake pad of the SOVNIA exercise bike is pure, good-quality wool. In addition, the bike comes with an extra brake pad that allows you to replace it after regular use.
The SOVNIA Fitness Indoor Cycling Bike features an LCD fitness monitor that tracks time, speed, distance, odometer, and calories burned. This allows you to keep track of your progress in your fitness goals. In addition, the smartphone or tablet holder offers the convenience of multitasking while working out.
The seat of an exercise bike makes a significant impact on the workout experience. SOVNIA recognizes this and has equipped the bike with a comfortable seat, generous cushioning, and an ergonomic design. Besides the seat, the bike also boasts anti-slip, cage-shaped steel pedals with flexible straps to fit feet of different sizes and firmly ensure complete protection.
Learn more in my complete review below!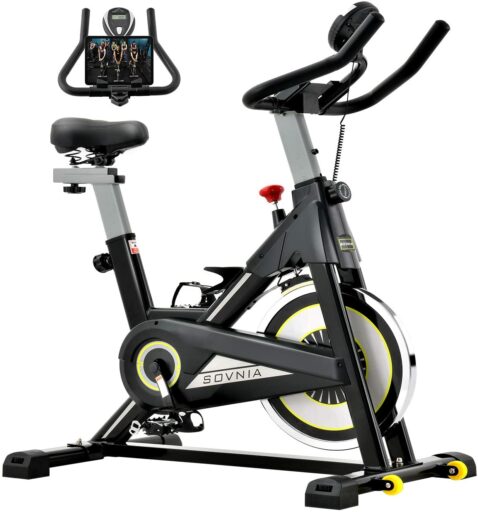 Product: SOVNIA Fitness Indoor Cycling Bike
Price: For a great deal on this bike, merely go here to Amazon.com
Warranty: 2 years limited
My rating: 8.5/10
Affiliate Disclosure: As an Amazon Affiliate Program participant, I earn commissions on purchases made through links in this post. Full disclosure
Please note that some images contain a tablet that does not come included with the bike.
Details and Specifications
Assembled dimensions: 40.2L x 21.7W x 47.8H inches (102L x 55W x 121H cm)
Shipping weight: 75 lbs (34 kg)
Flywheel weight: 35 lbs (15.8 kg)
Supported weight: 285 lbs (129 kg)
Seat: 4-way adjustable
Drive mechanism: Belt
Resistance: Friction, felt pad
Fitness Monitor: Time, speed, distance, odometer, calories, scan
Warranty: 2 years limited
Frame Construction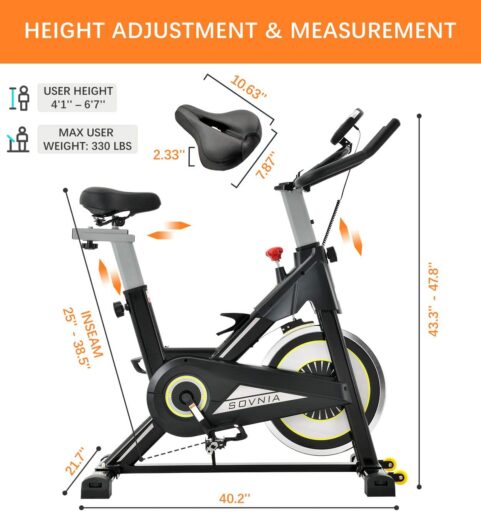 The SOVNIA Fitness indoor cycling bike features a pretty standard triangular frame combining oval and rectangular tubes in its construction. The mainframe features a black/white double-coating finish, while the seat and handlebar posts have a gray paint finish. The flywheel is chrome-plated with plastic side panels. The cover of the drive belt is also made of durable thermoplastic material.
The bike's frame integrates a step-up bar. This small tube connects the seat tube to the main oblique tube. Not all spin bikes have this feature, and it's quite a plus, especially for specific spin workouts that require the user to dismount, do stretches, and step on / step down the frame.
The SNOVIA bike is for home use, so it's not too bulky. With all the parts assembled, it is approximately 40.2″ (102 cm) long and 21.7″ (55 cm) wide. Its highest point, with the handlebar extended to maximum, is approximately 47.8″ (121 cm). It's advisable to leave two feet of clearance on each side and one foot at the front and rear for safety.
The bike is not too heavy. The specified gross weight is 75 lbs (34 kg), so its net weight is probably around 70 lbs (31.7 kg). Thus, two people should carry assemble the bike. However, once completed, one person can easily transport the bike as its front stabilizer features small wheels. Also, both its base stabilizers have integrated adjustable levelers.
Seat and handlebars
The SOVNIA Fitness exercise bike features a 4-way adjustable seat. Its vertical post offers approx. 13.5″ (34 cm) of adjustment for an applicable inseam range of 25″ to 38.5″ (63 – 98 cm). Its horizontal slider adds a few inches of front-to-back adjustment as well. Thus, the bike can comfortably accommodate users between 5'0″ and 6'5″ (153 – 196 cm).
Taller people can still use this bike but may not benefit from a complete range of motion. Also, the seat has a maximum user weight capacity of up to 285 lbs (129 kg).
The included saddle is relatively large, approximately 10.6″ (27 cm) long, and 7.8″ (20 cm) wide. It integrates a thick layer of cushioning for improved comfort, while its top cover is a durable vinyl. In addition, two suspension springs are combined at the rear of the saddle, enabling it to flex to adapt better to your movement during seated workouts. And finally, it has a middle cutout which improves breathability.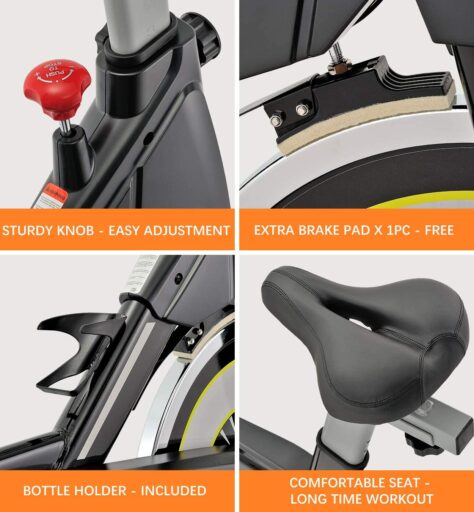 The bike's handlebar is only two-way adjustable (up, down). In addition, it does not have a horizontal slider like the seat. Instead, it offers approximately 4.5″ (11 cm) vertical adjustment. Finally, a device holder comes included; this accessory attaches to the base bar and should accommodate most tablets.
The handlebar features a multi-grip design. It offers the possibility to adopt a cruise grip, a climbing grip, and a standard grip. It has a small loop bar in the center, allowing for a close grip. Its side grips feature PVC covers for improved comfort and contact. However, they do not integrate HR pulse sensors like some other bikes.
Resistance system
The SOVNIA Fitness indoor cycling bike has a standard friction resistance system with manual adjustment. Therefore, you don't need an external power source for the bike or a power adapter. However, the cycle cannot automatically adjust the resistance, and the included fitness monitor does not have pre-set workout programs.
The bike's resistance system consists of a standard felt wool brake pad that attaches under the main oblique tube of the bike and connects to the tension knob. To adjust the resistance, you must tighten or loosen the knob so that the brake pad applies more or less friction to the flywheel.
The advantage of the felt pad friction resistance is that you can tighten the brake to the point where you can barely pedal for a challenging difficulty level. Furthermore, the brake pad requires lubrication and will eventually wear out, so you must replace it. A free replacement comes with the bike.
The bike's brake does not have pre-determined tension levels, like bikes with a magnetic resistance system. Instead, you tighten or loosen the brake knob until you obtain a satisfying pedaling difficulty. The tension knob is also an emergency brake. By pressing down, you'll instantly stop the flywheel from spinning.
Drive system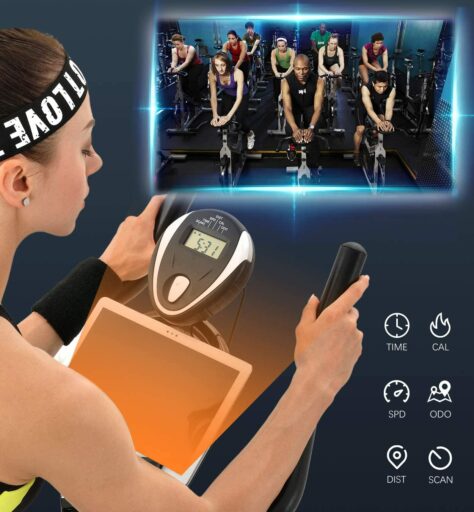 First, the SNOVIA exercise bike integrates a heavy 35-lb (15.8 kg) flywheel, which is not bad for a home-use bike. The flywheel is perimeter-weighted and designed to provide improved inertia. As I've mentioned, it is chrome-plated with plastic side covers for enhanced aesthetics.
The flywheel is bi-directional. Therefore, you can diversify your workouts by alternating reverse pedaling sessions with forwarding pedaling sessions. However, it's important to note that coasting is not possible on the bike, and when pedaling in reverse, you will get the same resistance as when pedaling forward.
The bike integrates a belt drive system. It comes with a poly-v belt which has a large plastic guard. Just like any other belt-driven system, it comes with a series of advantages. First of all, you don't need to lubricate it. Second, it delivers an extraordinarily smooth pedaling motion, generating less vibration than a chain. And finally, it contributes to the quietness of the ride.
The SNOVIA bike comes equipped with a heavy-duty 3-piece crankset featuring solid steel, oval arms similar to road bikes. The included pedals are aluminum alloy, so pedaling while standing up shouldn't be a problem.
The bike should be able to withstand any spin workout. The pedals have adjustable straps but not SPD elements for spin shoes. However, their threads are 9/16 (standard), so compatible replacements are widely available.
Fitness monitor
The SNOVIA Fitness indoor cycling bike comes equipped with a simple fitness monitor. It features an LCD that tracks time, distance, total distance, speed, and calories burned. Unfortunately, it does not have RPM or a pulse reading function. It also does not have pre-set programs or online connectivity.
The monitor is easy to use. It only has one button. You can scroll through the workout metrics by pressing the button and selecting the one you want to view. A scan mode is also available.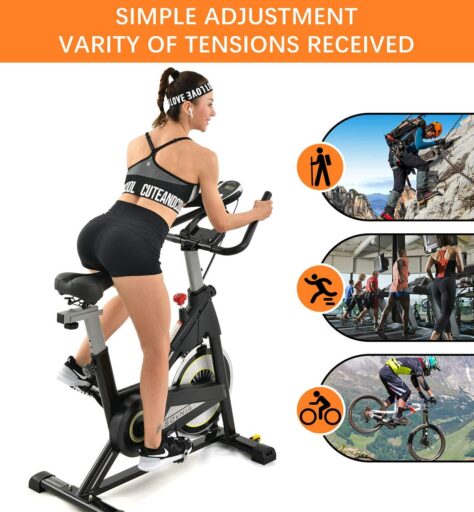 In Scan Mode, the monitor rotates all the metrics showing each one for approx. 6 seconds. The button also covers the console's reset function. So you can press and hold it for a few seconds to clear all the values on it to zero.
The fitness monitor is battery-powered, requiring two AAA batteries that do not come with the bike. It starts up when you begin pedaling or when you push the button. It also automatically turns off after a few minutes of bike activity.
Assembly and Maintenance
The bike's main frame comes pre-assembled. The flywheel, the brake, the crankset, and the belt are already pre-assembled into the frame. You only have to add the two base bars, the seat post, the saddle, the handlebar post, the handlebar, the pedals, and the fitness monitor.
Consequently, this shouldn't take more than 20-30 minutes of your time. The task is pretty straightforward, the manual provides step-by-step assembly instructions, and all the necessary tools come with the bike.
Since the bike has a belt drive system, its transmission does not require lubrication. However, the brake pad may require a bit of silicone lubricant to provide a smoother flywheel motion. Besides, you only have to clean the bike, periodically check for loose parts, and retighten it as needed.
Pros
Sturdy construction – can support users up to 285 lbs;
Adjustable levelers on both base bars;
Transport wheels on the front base;
4-way adjustable seat;
High-comfort cushioned saddle with rear springs and a median groove for extra ventilation;
Multi-grip handlebar;
Smooth, almost silent belt drive;
Perimeter-weighted 35-lbs flywheel for a consistent momentum;
Standard friction resistance;
Fitness monitor included – it can track time, distance, total distance, speed, and calories;
Device holder included;
Bottle holder included;
Easy to assemble;
Little maintenance is required.
Cons
The fitness does not have a pulse reading function;
The fitness monitor does not have any goals function;
The fitness monitor LCD does not have a backlight.
SOVNIA Fitness Indoor Cycling Bike Summary
The SOVNIA Fitness indoor cycling bike is a fitness machine for home use. It's a bike designed for spin workouts, featuring a 35-lb flywheel, a friction resistance system, a high-comfort seat, and a fitness monitor that tracks the essential workout metrics.
Moreover, it's a bike for users of all levels, great for high-intensity cardio workouts, muscle toning, stamina and strength development, and weight loss.
I hope you found this article helpful and informative. Please speak up if you have anything you'd like to share on the topic or opinions about my website.? I look forward to your comments, questions, and the sharing of ideas.
Please remember that you should consult your physician to determine if you have any medical or physical conditions that could risk your health and safety or prevent you from using the equipment properly. In addition, your physician's advice is essential if you are taking medication that affects your heart rate, blood pressure, or cholesterol level.