Designed for convenience, the Echelon Stride Folding Treadmill features auto-fold technology to make heart-pumping workouts more accessible. In addition, the lightweight design and built-in wheels make it easy to move and store the Stride wherever, whenever. Just 10 inches in depth when folded, the Stride can fit in just about any size space.
At 55 inches long and 20 inches wide, the Stride has a relatively sizeable running surface. However, it's about 5 inches shorter and 2 inches narrower than high-end models. Regardless, it works well for running at any pace with little worry of catching the side rails or stepping off the back.
With a top speed of 12 mph,  it is suitable for everything from walking and jogging to sprint workouts, although the deck doesn't have the most impressive cushioning. The incline is adjustable from 0 to 10%, and while that is substantial given the size, weight, and storability of the Stride, it falls a bit short of the competition.
The Echelon Stride folding treadmill uses Bluetooth to connect to your device and the Echelon app. It doesn't need to be used with the app but offers a massive selection of live and on-demand treadmill workouts. If you're the type who enjoys the instruction and motivation that fitness apps like Echelon provide, there's no shortage of quality options.
Learn more in my complete review below!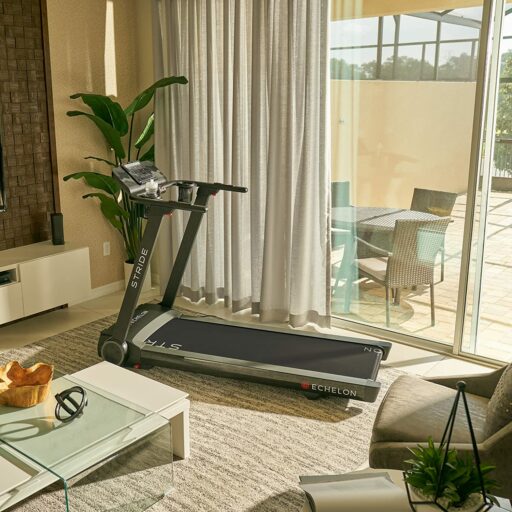 Product: Echelon Stride Folding Treadmill
Price: For a great deal on this treadmill, merely go here to Amazon.com
Warranty: 1 year limited
My rating: 8.25/10
Affiliate Disclosure: As an Amazon Affiliate Program participant, I earn commissions on purchases made through links in this post. Full disclosure
Details and Specifications
Assembled dimensions: 69.3L x 31W x 49.2H inches (176L x 79W x 125H cm)
Tread belt dimensions: 55L x 20W inches (140L x 51W cm)
Assembled weight: 156 lbs (70.7 kg)
Supported weight: 300 lbs (136 kg)
Motor: 3.0 HP, 0.5 – 12 MPH
Incline: Motorized, 12 levels (0% – 10%)
Console: eight pre-set programs, three user programs, 1 BMI program, Bluetooth
Extras: Bottle holders, device holder, USB charging port
Warranty: 1 year limited
Stride Frame Construction
Like most other treadmills, the Echelon Stride folding treadmill features a steel frame. Its base frame and the two upright bars are rectangular tubings, while the bar that supports the console is oval. All the steel tubes have a rust-resistant black paint finish.
The side rail covers are extruded aluminum, while the motor and several other small covers are ABS plastic. Overall, the machine has a pretty sturdy construction.
The Echelon Stride is a medium-sized treadmill. In its usage position, it is approx. 69.3″ long (176 cm) and 31″ (79 cm) wide, while its highest point is the top of the console, which reaches approx. 49.2″ (125 cm) above the floor level.
Therefore, it is also advisable to leave at least three feet of clearance at the rear of the deck, and at least two feet of clearance on each side of the machine, for easy access and unhindered safe usage.
The treadmill is foldable. The console with the handrails and the two supporting bars can fold down over the deck. Thus, the machine becomes compact, with a total height of approx—10″ (25 cm). So, if you have at least that much clearance under a bed or couch, you should be able to store it underneath it. However, the unit can also store vertically against a wall.
The folding mechanism is automatic. Once initiated, the console and supporting bars fold slowly and safely over the deck.
The treadmill is pretty heavy, weighing 156 lbs (70.7 kg). Therefore, two people should carry and assemble the treadmill. However, once completed, one person can quickly move it. Its rear base integrates a bar for easy lifting, and its front base has transport wheels.
Deck Construction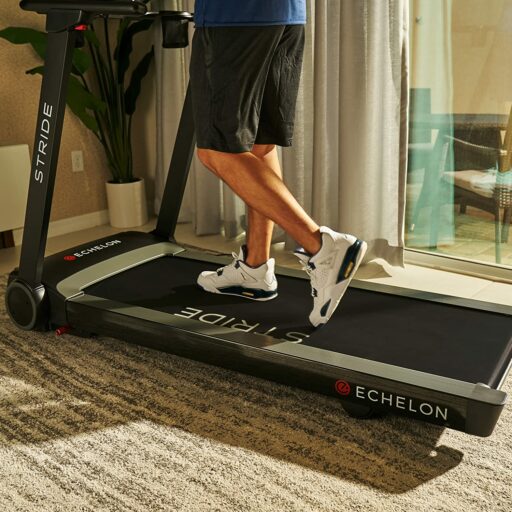 First, the Echelon Stride folding treadmill offers a 55″ (140 cm) long by 20″ (51 cm) wide running surface, which is pretty decent for a home-use machine. This active area should accommodate users up to 6'3″ (190 cm) for running workouts with no problem, allowing a complete range of motion.
The deck has a solid construction, as well. In addition, it has a maximum user weight limit of 300 lbs (136 kg), which is excellent, considering that the machine also has an incline system that can support all that weight with no problem.
The machine's deck comes with several concealed shock absorption elements. The internal deck board also has a bit of flex, adding to the shock absorption system. Therefore, the treadmill offers a less impactful ride for your joints and lower back.
The tread belt has a multi-layered construction. In addition, the top layer has a textured surface for an improved grip. Conversely, the bottom layer sticks better to the rollers. Finally, the intermediary layer adds to the overall shock absorption of the base.
Stride Incline system
The Echelon Stride folding treadmill has a motorized incline system. Therefore, you can adjust the running platform's incline without pausing your workout, like treadmills with a manual incline. The console also has several workout programs that automatically adjust the incline depending on the current segment.
The machine's incline system consists of two lifting arms placed under the front section of the deck and an incline motor (which is different from the machine's drive motor). Thus, when you adjust the incline, or the console automatically adjusts the incline, the motor controls the two arms that slowly elevate or lower the front section of the deck.
The machine offers 12 levels, with an incline range between 0% and 10%. In particular, you can adjust the incline gradually from the keys integrated into the left handlebar of the machine. In addition, the console has digital controls for quick incline adjustment for 3%, 6%, and 9%.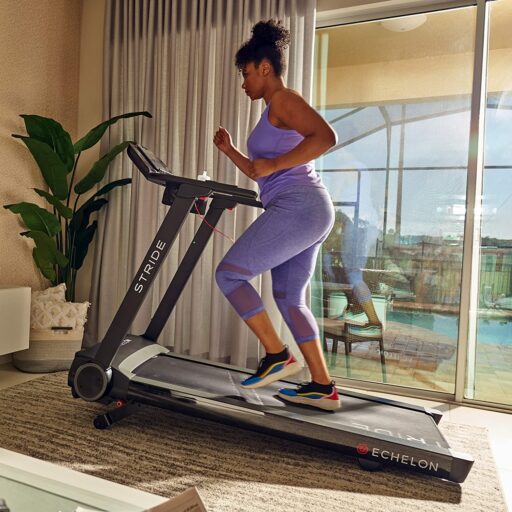 Drive motor
The Echelon Stride folding treadmill is a motorized treadmill. Thus, you will have to connect it to an external power source. A power cord with a standard US plug comes with it and requires a 110V standard voltage. The cable connector is in the front of the deck, and the machine has an ON/OFF switch next to the cable connector.
The treadmill has a 1.75 continuous power (CHP) motor, which offers a 3.0 HP peak power. Thus, it is pretty decent for a home-use machine. Furthermore, the motor can run for several hours without overheating or losing performance, even if you use the highest speed settings. In addition, it also integrates a small flywheel for improved motion stability.
The motor offers a speed range of 0.5 MPH – 12 MPH. The speed adjustment increments are 0.1 MPH, which is excellent, as it easily allows you to adjust your pace. The right handrail integrates controls for a gradual speed adjustment system. However, there also are quick speed selection controls on the console for 3, 6, and 9 MPH.
Last but not least, the unit's motor is not very loud. It generates a low noise even if the treadmill is on the highest speed level. However, your cadence may create more noise depending on weight, running technique, shoes, etc. Therefore, people may still hear you when you run.
Stride Console
The Echelon Stride folding treadmill has a smart console featuring a LED display. It indicates time, speed, distance, incline, pace, calories burned, and pulse. In addition, it also has a step count function.
The speed and distance are default set to Imperial units, but they can also be metric units. The pulse reading function is hand-grip only. For the console to track your pulse, you must hold on to the sensors integrated into the machine's handrails.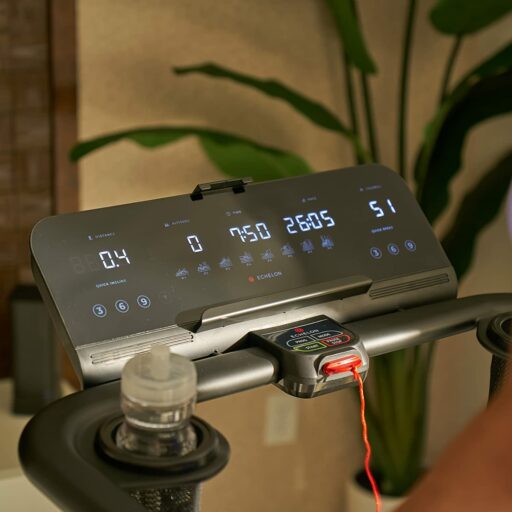 The console is pretty easy to use. As I've mentioned earlier, speed and incline are adjustable from the controls integrated into the right handrails or from the quick settings on display. In addition, there are four buttons at the base for the Program selection, Start, Pause, and Mode.
The console offers several workout programs. First, eight are pre-set and have a segmented grid marked on the console. These control both the speed and the incline automatically. Next, there are three user-defined programs; each one offers the possibility to set your speed and incline variation, as well as the duration of the program.
A BMI program is also available; you must input gender, age, height, and weight data. In addition, you can also set workout targets for time, distance, and calories from the Mode button. After choosing a target, the console counts down from the selected value. And finally, there is the Quick Start mode, which allows work out freely while the console monitors your data.
Regarding the "smart" feature, the console has Bluetooth connectivity and is compatible with the Echelon Fit app. This app is available for Android and iOS devices. In addition, it offers a wide array of live and on-demand fitness classes, online data tracking, and more. Unfortunately, the app is not free, but you should get a three-month free trial with the treadmill purchase.
Last but not least, the console also has a tablet holder and a USB charging port. In addition, two bottle/accessory holders also come with the treadmill.
Stride Assembly and Maintenance
This Echelon treadmill comes completely assembled. Therefore, you only have to remove it from the box, unfold it, attach the cable and plug it in. All the necessary instructions are in the manual, and no tools are needed.
For maintenance, you only have to keep the machine clean, especially the belt, to prevent any dirt or textile fibers from being caught in the moto or the rollers. In addition, the belt comes pre-lubricated with a high-grade lubricant, so it shouldn't need further lubrication for a long time.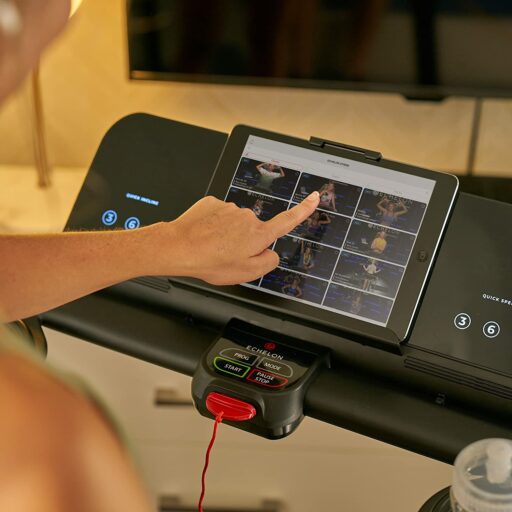 Pros
Sturdy construction – can support users up to 300 lbs;
Folding deck, space-saving design, low profile;
Transport wheels on the front base frame;
Lifting bar on the rear base;
Pulse sensors and controls integrated into the handrails;
Shock absorption elements incorporated into the deck;
Power incline with 12 levels of adjustment (from 0% to 10%).
Fairly decent, 3.0 HP drive motor;
Speed range between 0.5 and 12 MPH;
Speed adjustment increments of 0.1 MPH;
Quick selection speed controls for 3%, 6%, 9%, and 3, 6, 9 MPH;
Eight pre-set workout programs, three user-defined programs, and 1 BMI program;
Goal settings for time, distance, and calories;
Bluetooth connectivity and compatibility with the Echelon Fit app;
Three months free trial for the app;
USB charging port;
Device holder integrated into the console;
Two bottle holders;
No assembly is required;
Little maintenance is needed.
Cons
The fitness app requires paid subscription once the free trial expires.
Echelon Stride Folding Treadmill Summary
The Echelon Stride is a home-use treadmill. It has a 3.0 HP motor with a 0.5 – 12 speed range and a 12-level motorized incline system. In addition, it features a console with multiple workout programs and Bluetooth connectivity for the Echelon Fit app.
In addition, it also offers a pretty decent running surface of 55″L x 20″W and a maximum user weight limit of 300 lbs. Moreover, it's a good cardio training machine for low to high-intensity workouts, muscle toning, stamina development, and weight loss. Unfortunately, it's not exactly the most affordable in this feature range.
I hope you found this article helpful and informative. Would you please speak up if you have anything you'd like to share on the topic or any opinions about my website? I look forward to your comments, questions, and the sharing of ideas.
Please remember that you should consult your physician to determine if you have any medical or physical conditions that could risk your health and safety or prevent you from using the equipment properly. In addition, your physician's advice is essential if you are taking medication that affects your heart rate, blood pressure, or cholesterol level.