The Valor Fitness CB-12 Lat Pulldown Machine is perhaps the most durable and sturdy machine on the market. Equipped with a 12-gauge steel frame that measures 2 x 2 inches, it boasts a corrosion-resistant finish that makes the machine all the more durable and reliable.
The plate loading carriage is located at the back of the unit and ensures an easy-find location for plates. It can hold up to 250 pounds each. Finally, the seat pad delivers ultimate comfort. It features a dual-layer pad with exceptionally dense foam and conforms to your body shape for maximum support.
Also featured is a Neoprene Ab Crunch Harness with soft handles to help your ab workout. Other accessories include a front lower cable attachment for various leg exercises and an adjustable front footplate for performing seated and upright rows.
The CB-12 is perfect for those who want to get in shape, as it is small and easy to operate. This small-sized machine packs a powerful punch, which is why it is one of the best Lat Pulldown Machines.
Learn more in my complete review below!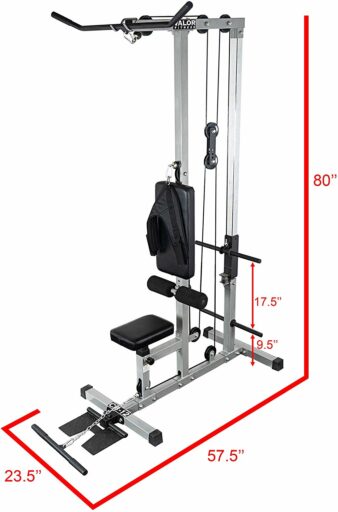 Product: Valor Fitness CB-12 Lat Pulldown Machine
Price: For a great deal on this gym, merely go here on Amazon
Warranty: Frame 3 years / Seat pad two years / Cables 1 year / Poppe pin one year
My rating: 8.75/10
Affiliate Disclosure: As an Amazon Affiliate Program participant, I earn commissions on purchases made through links in this post. Full disclosure
Please note that the weight plates contained in some images are sold separately.
Details and Specifications
Assembled dimensions: 57.5″L x 23.5″W x 80″H inches (146L x 60W x 203H cm)
Shipping weight: 84 lbs (38 kg)
Weight capacity:
User: 325 lbs (147.4 kg)
Carriage load: 250 lbs (113.3 kg)
Seat: Adjustable
Possible exercises: 25+
Accessories: Lat bar, short bar, extension chain, ab harness, 25 mm spring clips
Warranty: Frame 3 years / Seat pad two years / Cables 1 year / Poppe pin one year
CB-12 Frame Construction 
The Valor CB-12 lat machine features a 12-gauge steel frame with a pewter finish, resistant to corrosion and chipping. The only exceptions are the loading pegs with a black paint finish, while the back post, which serves as a guide for the load carriage, features a chrome finish.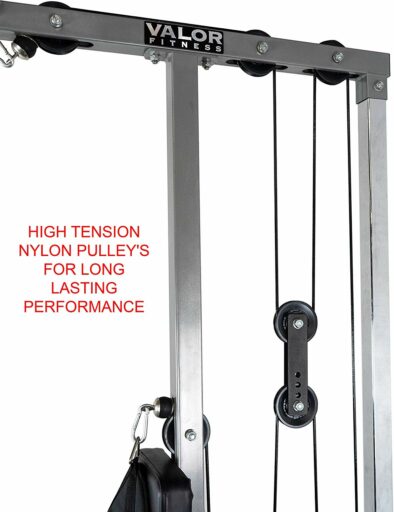 The fully assembled machine isn't giant. It has a footprint of approx. 57.5″L x 23.5″W (146 x 60 cm); however, the lat bar is 38″ (96.5 cm), so you will need a usage area for the unit of at least 80″ x 70″ (203 x 178 cm) for ease of access.
The height of the unit is 80″ (203 cm). Thus, the machine fits into a room with a seven-foot (213 cm). It is essential to consider that the lat bar holder will enable the lat bar to turn upward, and its grips will add approx—2″ (5 cm) to the machine's overall height.
This Valor Fitness lat machine does not include a weight stack, nor it consists of any weight plates. You will have to use your own. Therefore, its net weight is approximately 80 lbs (36 kg) without any weight plates loaded. This weight provides plenty of stability. Plus, you can load weight plates on the storage pegs at the back of the unit, which results in extra strength.
If you're wondering, the base of the machine does not have any adjustable stabilizers. Also, its base bars do not have any holes for anchoring it to the floor, just the ABS end caps. You can drill holes into the base if you want to anchor it, but this will void the warranty.
Seat and other parts
This Valor Fitness CB-12 features an adjustable seat. Its post has four adjustment positions and offers an adjustment span of approx—5″ (13 cm). The backrest is non-adjustable. Thus, the unit can accommodate users up to 6'2 ″ (188 cm).
Taller users should still use it but may not benefit from a full range of motion for specific exercises. Also, the seat has a maximum user weight capacity of 325 lbs (147 kg).
Both the seat and the backrest feature approx. 2″ (5 cm) of foam cushioning. Their upholstery is a durable vinyl material that is also sweatproof.
The machine comes equipped with a set of 9 pulleys. They're made of heavy-duty nylon material and integrate metallic ball bearings to supply a smooth trip for the cables and weight load. The cable is steel-made and covered by a sheet of PVC material to prevent the scratching of the pulleys.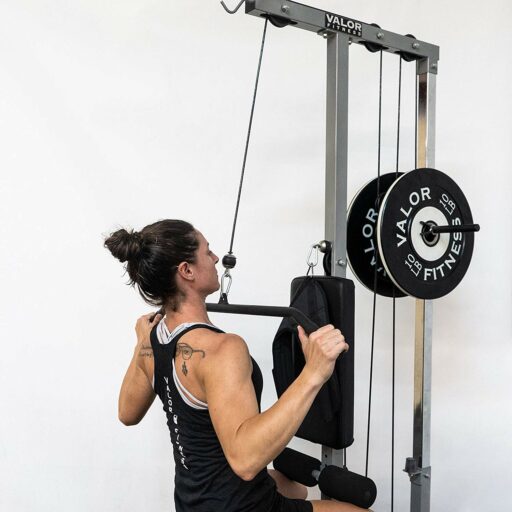 The knee stopper bar features thick foam rollers for extra comfort and stability during heavy-load lat pulldown exercises. It is approx. 20″ (51 cm) long and has several height adjustment positions, just like the seat pad.
The unit's metallic footplate is textured to provide extra foot adherence. It is usable unfolded for standing-up bicep curls or folded up for seated rows.
The pegs of the carriage element, the storage pegs at the rear of the unit, are 1″ in diameter and hold Standard weight plates. They are 8.5″ (21.5 cm) long and can store several weight plates each. In addition, they have a continuous construction (one single steel rod), which considerably improves the overall sturdiness of the carriage unit and plate storage element.
CB-12 Accessories
In terms of accessories, the Valor Fitness CB-12 lat machine includes the lat bar, the short row bar with the extension chain, and a neoprene ab harness with foam handles. A set of 25mm spring clips for securing weight plates on the pegs is also (included) with the machine.
The machine does not include 2″ peg adapters for Olympic weight plates, but it is compatible with various models from Valor Fitness or other manufacturers.
Workout stations
Unlike other lat machines with top and low pulleys, the Valor Fitness CB-12 has three different workout stations. These are:
High pulley station. The unit's high pulley station comes equipped with only one pulley, which is stationary (it does not swivel). I've mentioned above that the lat bar is (included); it is a 38″ (96.5 cm) standard bar with curved, rubberized grips. This workout station allows you to perform exercises to develop shoulders, triceps, and back muscles.
Mid pulley station. The middle pulley incorporates into the main upright bar of the machine, right above the backrest. It allows you to perform exercises such as ab crunches, trunk rotations, mid rows, or triceps extensions. An ab harness accessory is (included) with the machine.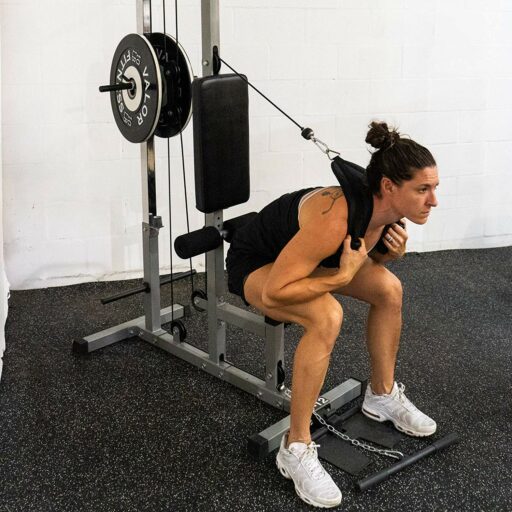 Low pulley station. The low pulley station can execute various exercises, including low rows, standing rows, bicep curls, leg abductions, or leg curls. The short bar (20″ – 51 cm) is (included) for it.
However, an ankle cuff for various exercises does not come included. Also, the machine doesn't offer a leg developer attachment for leg extensions.
CB-12 Weight Resistance
As mentioned above, the Valor Fitness CB-12 does not include weight plates. Therefore, you will have to use the ones you already have or purchase a set separately. The carriage comes designed for Standard 1″ weight plates, but it can also be loaded with Olympic 2″ weight plates if you opt for a set of Olympic adapters.
The machine provides a 1:1 weight ratio (or at least pretty close to it). Thus, if you load the weight carriage with 200 lbs (90.7 kg) of plates, you will benefit from a weight resistance of 200 lbs (90.7 kg).
The unit's cable has a maximum weight capacity of 300 lbs (136 kg). Therefore, the advisable load for this machine is 250 lbs (113 kg). Furthermore, the cable's length of travel is 42″ (106 cm), so it provides plenty of movement range even for users above 6'2 ″ (188 cm).
Possible Exercises
Lat pulldowns
Behind neck lat pulldowns
Close grip lat pulldowns
Reverse grip lat pulldowns
One-arm lat pulldowns
Straight arm pulldowns
Triceps press downs
Ab crunches
Woodchops
Mid rows
Mid-pulley tricep pushdowns
One-arm flies
Seated rows
Stand-up rows
Biceps curls
One-arm deltoid raises
One-arm shoulder presses
Cable forward lunges
Cable reverse lunges
One stand-up leg curls
Hip adductions
Hip abductions
and more.
CB-12 Assembly and Maintenance
This lat machine is shipped in two boxes 77″ x 8″ x 7″ / 51lbs (195 x 20 x 18 cm / 23 kg) and 20″ x 14″ x 9″ / 33lbs (51 x 36 x 23 cm / 15 kg). All the parts require assembly, and the task may take more than one hour.
The manual provides clear step-by-step instructions, but tools for the assembly do not come with the machine. Instead, you will need adjustable wrenches, Allen wrenches, and a rubber mallet.
Once assembled, its maintenance doesn't require much. However, the guide bar of the weight carriage may need a bit of lubrication sometimes; this also goes for the pulleys. Other than this, periodically checking for loose bolts and parts and retightening them as required is advisable.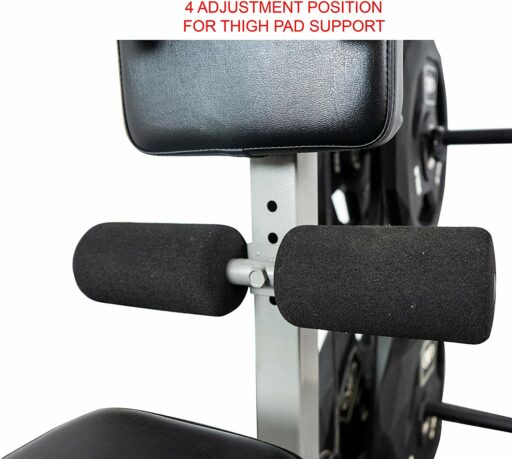 Pros
Sturdy steel frame;
250 lbs load capacity for the weight carriage;
Relatively small footprint;
Adjustable seat;
Adjustable knee stopper;
Thick foam rollers are the knee-stopper element;
Three workout stations, including the high pulley, mid pulley, and low pulley;
Heavy-duty nylon pulleys with sealed ball bearings;
Supports both 1″ and 2″ weight plates;
1:1 weight ratio;
Lat bar included;
A short bar with an extension chain comes included with the machine;
Ab harness included;
Offers the possibility to perform more than 25 exercises;
Easy to assemble;
Little maintenance is required;
Excellent warranty.
Cons
Olympic sleeve adapters for the load carriage do not come with the machine;
The ankle cuff does not come with the machine.
Please note that the weight plates contained in some images are sold separately.
Valor Fitness CB-12 Summary
The Valor Fitness CB-12 is a lat machine that offers three workout stations (lat station, mid-pulley station, and low-pulley station). It features a reasonably sturdy construction and a weight capacity for its load carriage of 250 lbs.
In particular, it allows the execution of over 25 exercises, including pulldowns, curls, press downs, mid rows, low rows, and more. In addition, it comes with several accessories, including the lat bar, the short bar, and the ab harness. It's also an affordable machine for less than $300.
I hope you found this article helpful and informative. Please speak up if you have anything you'd like to share on the topic or opinions about my website.? I look forward to your comments, questions, and the sharing of ideas.
Please remember that you should consult your physician to determine if you have any medical or physical conditions that could risk your health and safety or prevent you from using the equipment properly. In addition, your physician's advice is essential if you are taking medication that affects your heart rate, blood pressure, or cholesterol level.