The Spirit Spirit XRW600 Rower is well constructed and well designed, with smooth and natural resistance by the air/magnetic system.  You get 16 different levels to choose from that can be changed with the up/down arrows' touch.
The XRW600 features a 5.5" advanced console. You get a large blue backlit display showing you strokes, time, distance, heart rate, calories, watts, and level, as well as a mode button and reset functions. In addition, you can adjust the console itself and the arm to put it in the ideal position for viewing.
There are 11 different workouts to choose from, including time, distance, manual, calories, intervals, fat burn, strength, cardio, and game mode. The Spirit Fitness XRW600 Rower has wireless heart rate monitoring, but you have to buy it separately as it doesn't come with the machine.
Performance is top-of-the-class with a smooth action aluminum monorail, industrial strength handle strap, pedals with easy adjustment, and the combination of both air and magnetic resistance (16 levels) for an exercise experience second to none.
Learn more in my complete review below!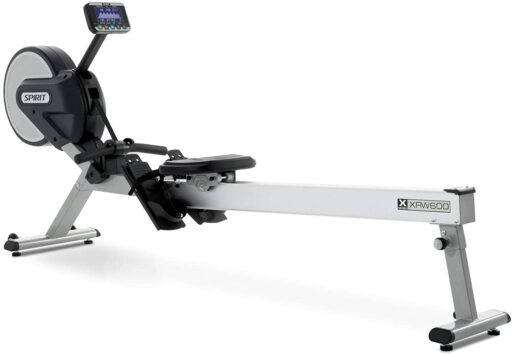 Product: Spirit XRW600 Rower from Spirit Fitness
Price: For a great deal on this rower, merely go here on Amazon
Warranty: Frame lifetime / Parts 5 years / Labor 1 year
My rating: 9/10
Affiliate Disclosure: As an Amazon Affiliate Program participant, I earn commissions on purchases made through links in this post. Full disclosure
Details and Specifications
Assembled dimensions: 91L x 18W x 38H inches (231L x 46W x 96H cm)
Assembled weight: 81 lbs (36.7 kg)
Weight capacity: 350 lbs (159 kg)
Frame: Steel & aluminum
Resistance type: Air & magnetic, 16 levels
Console: 11 programs
Warranty: Frame lifetime / Parts 5 years / Labor 1 year
XRW600 Frame construction
The Spirit Fitness XRW600 combines steel, aluminum, and ABS parts in its construction. The front section of the frame that sustains the drive and resistance system is steel-made, and the rear base stabilizers. The unit's sliding rail is extruded aluminum for a smooth seat journey and lighter overall construction. The fan casing and several other covers are durable ABS materials.
The frame steel parts come coated with a corrosion-resistant paint finish; the color used is gray. The aluminum rail has its natural polish, and the fan casing is gray/black, these being the only colors available for this machine.
The fully assembled trainer is pretty significant. It is approx 91″ (231 cm) long and 18″ (46 cm) wide. Plus, it is recommended to leave at least 24″ (61 cm) of clearance on each side and at the rear of the unit for ease of access and unobstructed usage.
It is also reasonably substantial; its net weight is approx—81 lbs (36.7 kg). Nonetheless, one person can quickly relocate as its front base features a set of silicone wheels.
The XRW600 rower features a folding frame. Its rail is foldable to save space. With the rail folded up, the unit's length is reduced to 52.5″ (133 cm), while its height becomes 62″ (157.5 cm)
Last but not least, this Spirit Fitness rower is equipped with adjustable levelers so you can correctly stabilize it on any floor. They also have rubberized pads that prevent them from sliding forward or backward on a wooden or tile floor.
Seat and other parts
The Spirit Fitness XRW600 rower comes equipped with a similar seat to other rowers. Its top is high-density foam material with a contoured surface for better positioning and improved comfort. It is approx. 12.5″ (32 cm) wide, offering plenty of contact surface.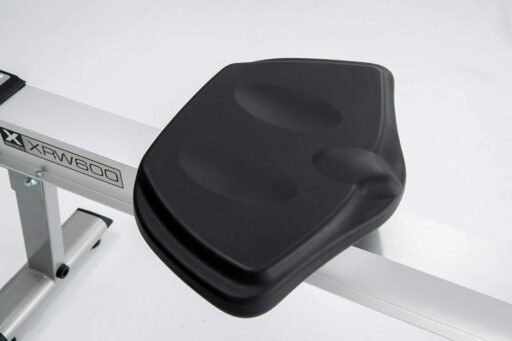 The base of the seat is steel-made. It comes equipped with three rollers. Two slides on top of the rail, while the third is underneath for extra stability. The rollers come equipped with high-grade sealed ball bearings and an outer rubberized coating to minimize noise.
The rail and the seat assembly have a weight capacity of 350 lbs (~159 kg), which is not bad for a home-use machine. Also, the seat stands at approx. 20″ (51 cm) above floor level. This can be quite a plus for users with specific disabilities as the machine provides easy entry and exit.
The Spirit Fitness XRW600 rower comes equipped with two adjustable footrests. Their base is metallic, while the adjustable element is flexible nylon material.
They have multiple adjustment positions, and they're relatively large to accommodate athletic shoes of all sizes. In addition, they come equipped with heel guards and adjustable straps for maximum foot stability.
The footrests sit at an angle of approx 45°. Therefore, they do not pivot on their axis like other rowers' footrests, such as Fitness Reality 1000 Plus.
The unit's pulling handle features an ergonomic design. It is slightly curved towards the user to better position the hands and reduce the wrists' lateral stress.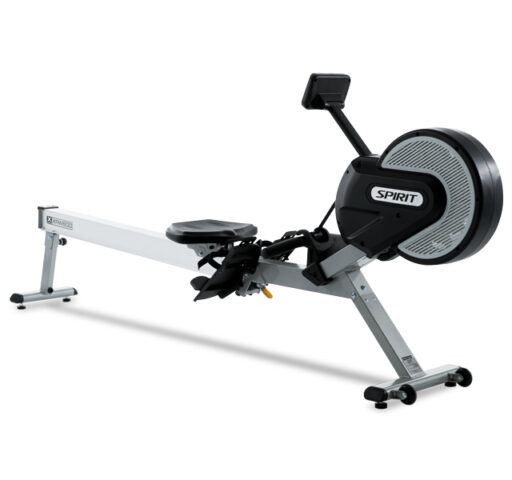 The pulling handle has cushioned grips but does not integrate any pulse sensors or resistance controls, as is the case for other commercial-grade trainers. It is attached to a heavy-duty nylon strap, which is highly resistant to abrasion. Since the machine uses a belt and not a chain, it does not require lubrication.
XRW600 Resistance system
The Spirit Fitness XRW600 comes equipped with an air & magnetic resistance system. The main resistance generating element is a massive fan, integrated at the machine's front and concealed by the side covers. Just as water resistance, air resistance is excellent because it provides a dynamic response during rowing.
In other words, the rowing sensation is similar to rowing a real boat; the harder you pull, the more resistance you will get.
Of course, along with the flywheel fan, the machine also has an eddy current magnetic resistance system. This allows you to add extra resistance apart from the one generated by the fan. Unfortunately, it also means connecting the machine to a power source to use the magnetic brake. A power cord comes included with the rower.
The unit's magnetic resistance system consists of a magnetic brake and an internal servo motor connected to the console. Therefore, as you adjust the Up/Down arrows' resistance, the motor changes the magnets' pull on the internal flywheel, increasing or decreasing the overall workout load.
The XRW600 rower makes available 16 levels of resistance. The lowest level provides reasonably low resistance, excellent for anyone who wants to regain their stamina or recovery training. The top (16th) tension level considerably increases the machine's load and allows you to burn more calories.
Like most other air resistance rowers, the Spirit Fitness XRW600 is not entirely silent, even though its resistance system is partly magnetic. The fan does generate some noise, mainly when you row at a higher rate. However, the sound is far from being loud. It is comparable to the noise made by an electric fan of the same size.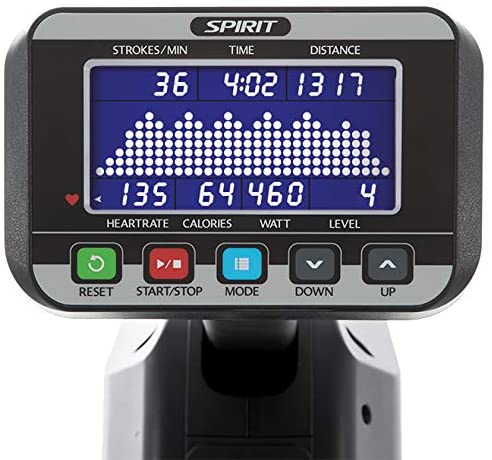 Console
The Spirit Fitness XRW600 includes a multi-function console. First of all, it features a 5.5″ LCD with an LED backlight and significant digits for improved readability. The display divides into multiple sub-sections. It tracks time, distance, strokes per minute, calories, watts, pulse, and the selected tension level. A time/500m function is also available for several workout programs.
The console unit is telemetric. This means it can read your pulse from a wireless HR chest strap transmitter. However, this device does not come included.
The console unit offers 11 workout programs. These are Manual, Distance, Time, Calories, 20/10 Interval, 10/20 Interval, Custom Interval, Fat Burn, Cardio, Strength, and Game. The Manual mode allows rows freely while the console will monitor your SPM, distance traveled, calories burned, etc.
The Distance, Time, and Calories programs are goal settings. They offer the possibility to select targets for these workout metrics, and the console will count down from the set value until you reach zero and complete your goal.
The following three programs are interval-based. The 20/10 Interval program is for 20-sec work and 10-sec rest; the 10/20 Interval program is for 10-sec work and 20-sec rest. The Custom Interval program allows you to select the duration of work/rest intervals.
The Cardio, Strength, and Fat Burn programs are preset, but each one allows certain adjustments. They offer three different types of workouts for improving cardiovascular shape, strength, and weight loss.
The last program is a Game. It indicates your "boat" as a small line on the left of the display while different obstacles come from the right. To avoid them, you have to row faster (to move the boat up) or reduce the stroke frequency (to move the boat down).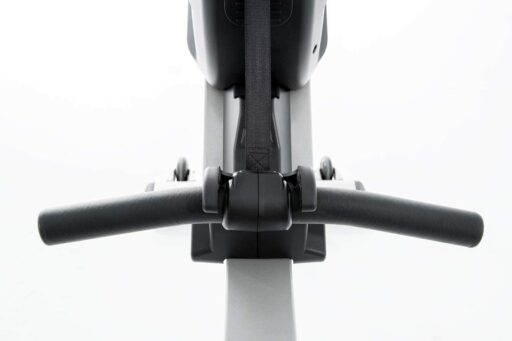 Finally, the console is mounted on a long arm and tilts to provide better display visibility for the user. Unfortunately, it doesn't have online connectivity, and it is not compatible with any fitness apps.
XRW600 Assembly and Maintenance
The front section of the machine with the fan and the other resistance elements comes pre-assembled. Therefore, you only need to attach the front base bar, connect the rail to the front part of the frame, add the seat, the rear base stabilizer, the footrests, and the console.
This shouldn't take more than one hour. The manual provides step-by-step assembly instructions and suggestive schematics, and a set of necessary tools come with the rower.
For maintenance, it is advisable to keep the unit clean. If dust accumulates in the fan unit, you can vacuum it from the outside. The internal parts don't need any lubrication. It is also advisable to periodically check the machine for loose bolts or parts and re-tighten them if necessary.
Pros
Sturdy frame – can support users up to 350 lbs;
Folding frame;
Transport wheels for smooth relocation;
Adjustable stabilizers on both base bars;
Contoured and padded seat;
Adjustable footrests with straps and heel guards;
Air resistance for a dynamic response;
16 levels of magnetic resistance for overall tension adjustability;
The advanced console which indicates time, SPM, watts, distance, calories, and pulse;
11 workout programs;
Smooth and quiet operation;
Tools for assembly come included;
Little maintenance required;
Easy to assemble;
Excellent warranty.
Cons
An HR chest strap does not come included;
No online connectivity.
Spirit Fitness XRW600 Rower Summary
The Spirit Fitness XRW600 is air and magnetic rower featuring a sturdy frame, a thick aluminum rail rated for 350 lbs, and a console with 11 workout programs. Its eddy current brake offers 16 levels of resistance while the fan delivers a dynamic response.
Moreover, it's an excellent trainer for a full-body cardio workout, strength training, stamina development, intervals, muscle toning, and weight loss. And finally, it's not exactly one of the most affordable rowers but offers excellent quality for the price.
I hope you found this article helpful and informative. Would you please speak up if you have anything you'd like to share or any opinions about my website? I look forward to your comments, questions, and the sharing of ideas.