The Spirit XBU55 Upright Bike from Spirit Fitness provides sturdy and stable construction and provides a comfortable ride with a wide range of features. With this in mind, its features make it one of the ideal bikes for working out. It gives a full workout experience with versatility by improving cardiovascular health, burning calories and fat, and increasing metabolism.
The XBU55 upright bike helps improve fitness and strengthens the entire body, including legs, thighs, hips, calves, arms, and chests. Working out on this bike can be a great way to get the heart pumping and improve blood and oxygen flow throughout the body.
The Spirit XBU55 comes equipped with a 7.5 inches blue backlit LCD that displays nine pieces of data, including RPM, calories, time, distance, pulse, level, Mets, segment time, program, watt, and laps to keep you motivated and informed. And the console is also Bluetooth compatible with the Spirit Fit app for Andriod and iOS.
The XBU55 bike has 20 levels of resistance and a 30 lb flywheel for a smooth and intense workout. Additionally, the bike's Poly-V belt drive system comes with a self-tensioner and three-piece crank with cold-forged steel and case hardened axle and commercial-grade sealed bearings.
Learn more in my complete review below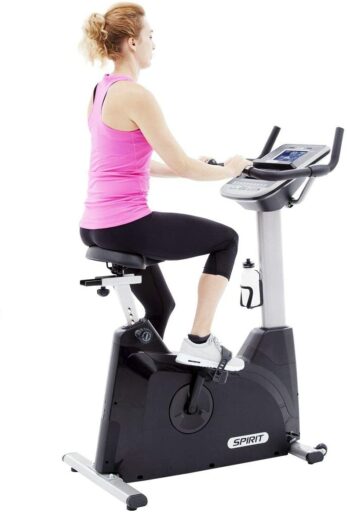 Product: Spirit XBU55 Upright Bike from Spirit Fitness
Price: For a great deal on this bike, merely go here on Amazon
Warranty: Frame lifetime / Brake lifetime / Parts 10 years / Labor 1 year
My rating: 9.5/10
Amazon Affiliate Disclosure: I may earn commissions on purchases made through links in this post.
Details and Specifications
Assembled dimensions: 43L x 22W x 54H inches (110L x 56W x 137H cm)
Assembled weight: 100 lbs (45.3 kg)
Flywheel weight: 30 lbs (13.6 kg)
Supported weight: 355 lbs (161 kg)
Seat: 4-way adjustable
Resistance: Eddy current, 20 levels
Console: 10 programs, Bluetooth, Spirit Fit App
Extras: Sound system, cooling fan, tablet holder, bottle holder
Warranty: Frame lifetime / Brake lifetime / Parts 10 years / Labor 1 year
XBU55 Frame construction
The Spirit Fitness XBU55 features a heavy-duty steel frame offering an impressive weight capacity of 355 lbs (161 kg). It has heavy-gauge, ovalized steel tubing for improved sturdiness and aesthetics.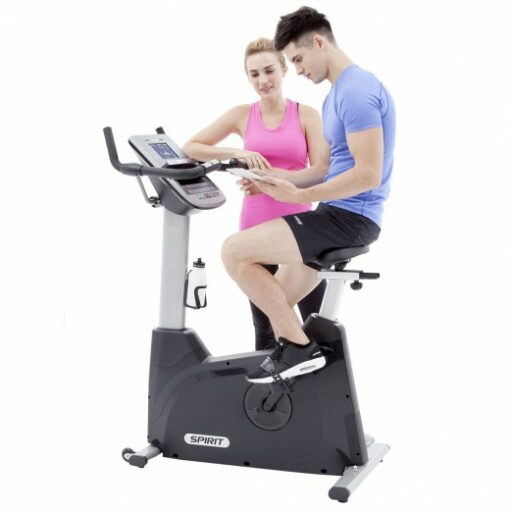 Furthermore, all of the steel parts in its construction are double-coated with a corrosion-resistant and abrasion-resistant paint finish. The color used is light gray, this being the only color available for this model. Durable ABS panels cover the base of the bike along with the drivetrain and the main resistance elements.
The XBU55 bike has a pretty heavy construction. With all the parts assembled, it weighs 100 lbs (45.3 kg). This weight, along with a low center of gravity, provides superior stability. You can be sure that the bike won't rock or move even if you engage in the most demanding workouts.
Despite its weight, the bike is relatively easy to move. Its front base bar comes equipped with two large silicone wheels. Therefore, by using these wheels, you won't be handling more than 30% of the bike's total weight when relocating it.
Also, both base bars come equipped with adjustable stabilizers featuring rubber pads, which considerably improve the unit's grip on the floor and allow you to level your bike correctly.
Like most other upright bikes, the Spirit Fitness XBU55 is not extremely large. With all the parts assembled, it is approximately 43″ (110 cm) long and 22″ (56 cm) wide. Also, its highest points are its handgrips, which reach approx. 54″ (137 cm) above floor level.
It is advisable to assign at least 24″ (61 cm) of clearance on each side of the bike and at least 12″ (30.4 cm) of clearance at its front and rear for ease of access and unhindered usage.
Seat and handlebars
The Spirit Fitness XBU55 upright exercise bike includes a pretty standard saddle. Its top is polyurethane material featuring a layer of foam padding and a durable vinyl cover. It is considerably larger than a race seat, so it provides extra contact surface and extra comfort.
The saddle features a standard, collar-based attachment system. This means you can easily disconnect it, if necessary. It also means that compatible options are widely available. You can find a compatible seat with the bike in any bike shop.
The seat offers four-way adjustability (up, down, forward, backward). Its upright post features multiple adjustment positions with increments of approx. 1″ (2.5 cm), while its horizontal slider adds several inches of fore/aft adjustment. Thus, the bike can accommodate users between 5'0 ″ and 6'5 ″ (153 – 196 cm) with no problem. As I've mentioned earlier, the seat assembly supports users of up to 355 lbs (161 kg).
The bike comes equipped with a multi-grip handlebar. It offers the possibility to adopt a standard grip, a racing grip, a climbing grip, and a parallel grip. Its sidebars feature a layer of rubber foam material for improved comfort. Also, its lower grips integrate metallic pulse sensors.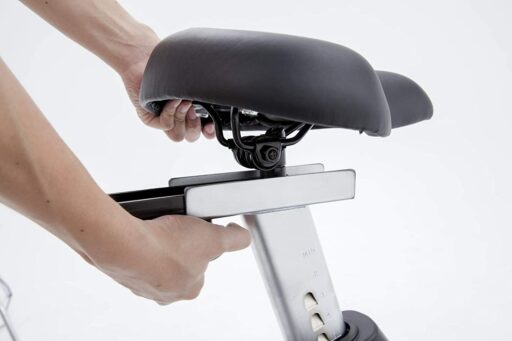 The bike's handlebar assembly is non-adjustable. It attaches to the front mast of the bike via bolts, so you cannot adjust its angle. Also, the front upright bar doesn't offer any adjustability.
XBU55 Resistance system
The Spirit Fitness XBU55 upright bike comes equipped with an eddy current resistance system. This means you can only adjust the console's resistance, and the console must be powered-up by connecting the bike to an electrical outlet (110v). A power cord comes included with the bike. It also means that the cycle can automatically adjust the resistance.
The bike's resistance system consists of a magnetic brake and a servo motor. As you adjust the console's resistance, or as the console automatically adjusts the resistance during a program, the motor changes magnets' pull to increase or decrease the pedaling load.
The bike offers 20 resistance levels. For example, its first few levels provide a relatively light pedaling difficulty and serve recovery training. Conversely, the 20th tension level is considerably higher, offering the possibility to improve strength, build muscle and stamina.
Drive system
The Spirit XBU55 comes equipped with a reasonably heavy internal flywheel for an upright bike. It weighs 30 lbs and has a perimeter-weighted structure for improved inertia. The wheel is bi-directional, but it also permits coasting; in other words, you can stop pedaling while it will continue to spin so that you won't lose all the momentum.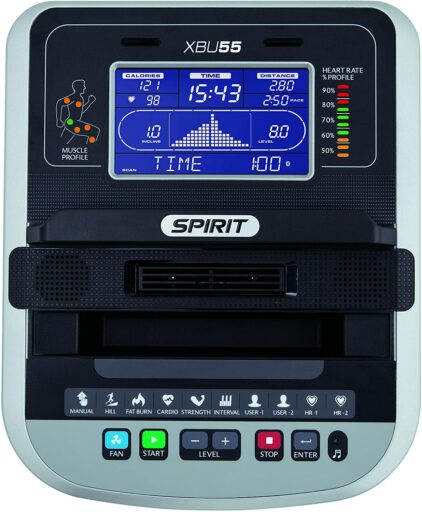 The bike features a heavy-duty 3-piece crankset featuring arms similar to spin bikes. However, since this is an upright bike, standing up on the pedals is not recommended. The pedals are weighted and equipped with adjustable straps for improved foot stability. They also have 2° of inversion for correct and more comfortable foot positioning.
Last but not least, the bike's drivetrain uses a belt, not a chain. This means the pedaling motion is very smooth, also considering that it has a magnetic resistance system. The belt produces less vibration than a chain. Also, a belt drive system does not require periodic lubrication.
XBU55 Console
The Spirit XBU55 upright bike comes equipped with an advanced console. To begin with, it has a 7.5″ LCD with LED backlight and significant digits for superior readability. It tracks time, distance, calories, pace, speed, pulse, and watts. Distance is also on display as a 1/4-mile track, and the console indicates the number of laps you have completed.
The console unit is telemetric. It can read your pulse from a Polar T34 transmitter or other types of HR chest straps. An HR chest strap does not come included, but you can still benefit from a pulse reading if you hold on to the pulse sensors integrated into the handlebars even without one.
The console makes available ten workout programs. These are 1 Manual Program, 5 Preset Programs (Hill, Fat Burn, Cardio, Strength, and Interval), 2 User Defined Programs, and 2 Heart Rate Programs. Each program has its quick selection button on the console.
The Manual Program allows free pedaling and manual resistance adjustment during the session. Each one of the preset programs covers a specific type of workout (as their name suggests). The workout load for each one is adjustable.
The Heart Rate programs are for a maximum HR of 60% and 80%. Just like the other programs, they are also customizable. And finally, the User Defined Programs allow you to design, save and re-use your custom workouts.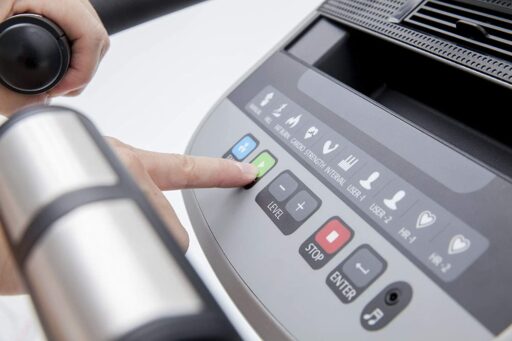 Amenities
The console has Bluetooth connectivity and is compatible with the Spirit Fit App for Android and iOS. Therefore, you can sync your smartphone or tablet with the bike's console to stream your workout data into your online Spirit Fit account for better monitoring.
We can count a sound system, a cooling fan, and a tablet holder, among other console features. The sound system consists of two speakers and an AUX port on the bottom-right corner of the unit. Thus, you can connect your smartphone or tablet to the console and play your music through the integrated speakers.
The cooling fan is not a large one; it comes integrated into the middle of the unit. The tablet holder consists of a small shelf placed above the speakers and fan system. It is large enough to support any tablet.
XBU55 Assembly and Maintenance
The base body of the bike comes pre-assembled. Therefore, you only need to attach the two front and rear base bars, the front mast, the handlebars, the console, the seat post, the saddle, and the pedals. This shouldn't take more than one hour of your time. The manual offers pretty clear assembly instructions and schematics, and an essential toolkit comes included as well.
The bike's internal parts don't need periodic lubrication. Therefore, once assembled, you only have to keep it clean and periodically check for loose bolts or parts.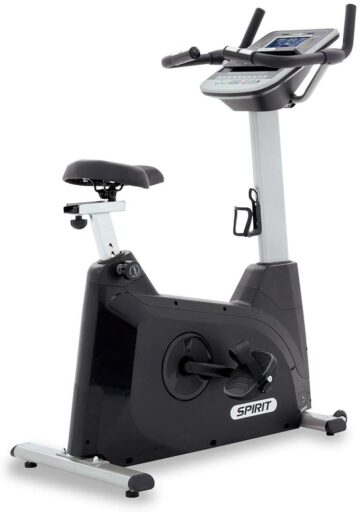 Pros
Heavy-duty construction – can support users up to 355 lbs (161 kg);
Aesthetic and compact design;
Transport wheels on the front base;
Adjustable stabilizers on both base bars;
Multi-grip handlebar;
Pulse reading function;
4-way adjustable, padded seat;
Hefty (30 lbs) internal flywheel for a consistent momentum and improved stability;
Weighted, ergonomic pedals with 2° tilt for a natural foot positioning;
Quiet belt drive;
20-level eddy current resistance;
7.5″ console display with LED backlight;
Ten workout programs;
Each workout program has its quick-access key on the console;
Bluetooth connectivity;
Compatible with the Spirit Fit app;
Can read pulse from a wireless HR chest strap;
Sound system included;
Cooling fan included;
Tablet holder included;
Easy to assemble;
Little maintenance required;
Excellent warranty.
Cons
A tablet placed on the tablet support will cover the LCD;
The cooling fan is not too overpowering;
A wireless HR chest strap does not come included.
Spirit XBU55 Upright Bike Summary
The Spirit XBU55 is a heavy-duty, commercial-grade upright bike that features a 20-level eddy current resistance system, a heavy internal flywheel, and a console with ten workout programs. The console is also compatible with the Spirit Fit app for online progress tracking.
Moreover, it's a great exercise bike for light to intense cardio training, intervals, stamina and strength development, recovery training, and weight loss. It's not exactly an affordable bike but offers excellent value for the price.
I hope you found this article helpful and informative. If you have anything you'd like to share or any opinions about my website, please speak up. I look forward to your comments, questions, and the sharing of ideas.